The world's most exclusive holiday destinations
These vacation spots top the charts when it comes to luxury – and have the price tag to match
Aquarium-adjacent suites, £5k-per-day cabanas, George Clooney as a neighbour – if you have cash to flash and a passport in need of a few more stamps, there is a world of uber-exclusive holiday destinations at your feet. From islands owned by billionaires to the world's most expensive hotel, these are the travel spots frequented by the rich and famous – you know, for when Benidorm won't cut it.
Lake Como, Tuscany, Portofino and Sardinia, Italy
Italy excels in everything from culture to cuisine, so it's no surprise that the well-to-do travel here routinely. Lake Como is hugely popular – the Lombardy beauty spot is home to neoclassical villas set against Alpine foothills zig-zagged by shiny Ferraris. Before celebrities like George and Amal Clooney (who reportedly spend four months of the year in their $10 million mansion) moved in, Como was the go-to for European aristos, endowing it with the sort of Twenties-era opulence captured in Hitchcock's The Pleasure Garden, which was filmed in the fêted Villa d'Este.
Wealthy travellers may also choose Tuscany, whose pastoral landscape encompasses the Apennine Mountains, Chianti's olive groves and the Tyrrhenian Sea. Or they might opt for Portofino, a quaint fishing village-turned-celebrity-hangout (Steven Spielberg and Rihanna have been spotted here). Pop over to Sardinia and you'll discover Costa Smeralda, a stretch of coastline populated by hotels, boutiques and restaurants, where Silvio Berlusconi once owned an enormous 68-room retreat.
Côte d'Azur, France
France's Mediterranean coast has been synonymous with the high life since the 19th century, later gaining traction with the 1960s 'jet set' after Saint Tropez featured in the 1956 Brigitte Bardot film, And God Created Woman. Today, the French Riviera comprises long stretches of beach lined with establishments that positively ooze savoir faire. Antibes is popular with yachties, as is Monaco. The super-rich also flock to the one-square-mile city-state for the annual Grand Prix, migrating to the famous casino (once frequented by Princess Grace) come nightfall. Film lovers go to Cannes, and there are few things more fabulous than sunbathing on the Promenade des Anglais in Nice.
Seychelles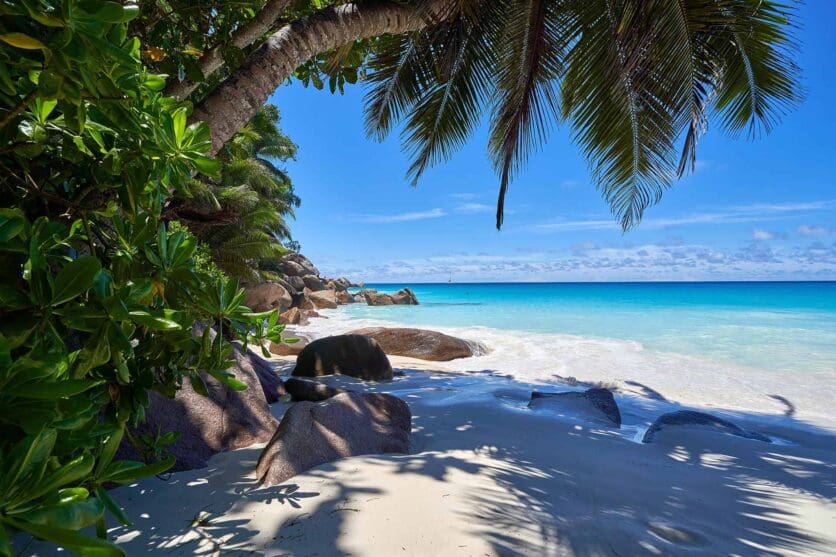 Boasting miles of tropical coastline and an arresting topography of granite boulders, it's easy to see why this East African archipelago is a favourite with the well-heeled. Situated off the coast of Tanzania, Seychelles is made up of around 115 islands boasting white-sand beaches and reef-filled waters – in fact, Anse Source d'Argent on La Digue is one of the most photographed beaches in the world. You might recognise it: it appeared in the Tom Hanks movie Castaway. There are actually not too many hotels and resorts in this Indian Ocean paradise, making it a veritable haven – it's little wonder, then, that celebrities like Jennifer Aniston and Brad Pitt, Paul McCartney and Heather Mills, and a certain Duke and Duchess of Cambridge opted to honeymoon here.
BVIs and St Barths, The Caribbean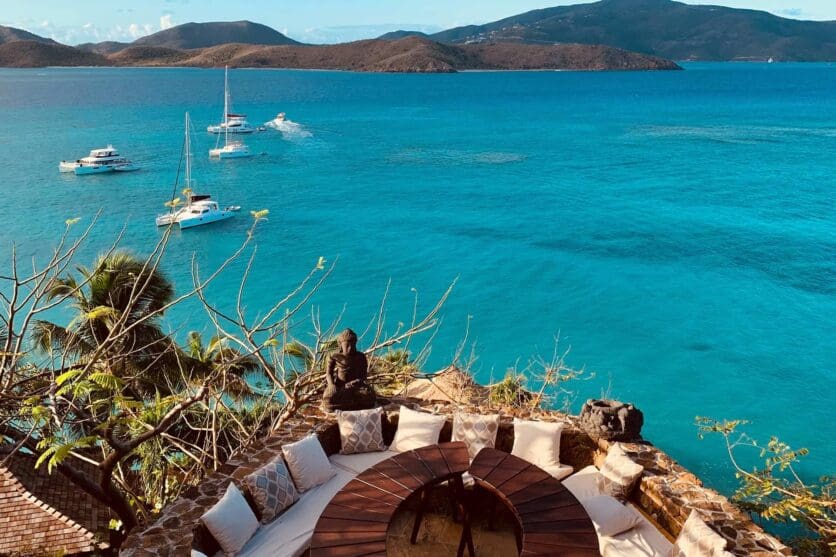 From the Greater Antilles to the Leeward Islands, this region draws tourists in droves. Want to vacation like Richard Branson? Then visit the British Virgin Islands and, more specifically, the Virgin founder's private island, Necker Island. For (up to) £62,500 a night, you can experience the Balinese-style villas and beaches roamed by lemurs, flamingoes, and tortoises (Necker Island is the most biodiverse destination in the BVI). Kate Moss spent her 40th birthday here, and Mariah Carey, Barack Obama, Kate Winslet, Nelson Mandela and Princess Diana have all also reportedly visited.
Saint Barthélemy is another renowned playground for the rich. It's an island about twice the size of Heathrow airport, but with superyachts packing out the harbour, you'd be forgiven for thinking that Saint Barths is the centre of the universe. Roman Abramovich has anchored offshore, and the likes of Jeff Bezos, Mike Tyson and Dua Lipa have holidayed here.
The Maldives
When you think of a dream destination, chances are the overwater suites of the Maldives spring to mind – you know, those grass-roofed villas that fan from the distinctive aquamarine-ringed atolls? In this Indian Ocean archipelago, located off the southern coasts of Sri Lanka and India, about half of the islands are privately owned, so it's one resort per island (accessed either by speedboat or seaplane). Since the first opened in the '70s, tourism has burgeoned to make up about 28 per cent of the Maldives' GDP. Maldivians know how to do hospitality, so expect top-end amenities and world-class service.
The Alps
The close of summer means one thing for the upper crust: skiing. Bundled into their Dior salopettes and Fendi moon boots, they would rather die than miss a season. It all dates back to the booming popularity of winter sports during the Roaring Twenties, when skiing's remote locations and specialist equipment made it extremely exclusive. Thus, the snow-dusted towns of the Alps host more than just pistes – the likes of St. Moritz, Cortina d'Ampezzo and Gstaad are home to a suite of world-famous, high-altitude chalets, restaurants and spas.
The Hamptons, USA
In the States, anyone who's anyone summers in east Long Island. The area is populated by beachfront shingle homes and 18th-century estates hidden behind vast boxwood hedges. You'll find all the things that polite society likes to indulge in here, including the Shinnecock Golf Club and Hampton Classic Horse Show. Beyoncé and Jay-Z, the Clintons, and Calvin Klein all own property on this slice of Atlantic Ocean coastline, while Alec Baldwin, Jimmy Fallon and a handful of Real Housewives holiday here regularly – alongside plenty of other American elites too posh to sweat it out in the city.
Ibiza, Spain
Once upon a time, Ibiza had a bit of a hippy vibe – considered a laid-back retreat for European bohèmes in floaty dresses. Then it was a party island – a Mecca for house music lovers who worshipped at the Playa d'en Bossa. But recently, Ibiza has grown up a bit, and into a role as a serious luxury destination. With surroundings this beautiful (it's home to more than 220 square miles of UNESCO World Heritage land), it was probably only a matter of time. Sure, the glitterati still come here to let loose, but Ibiza is also now home to a slew of clifftop eco-retreats and rustic culinary resorts with decidedly five-star credentials.
The Greek Islands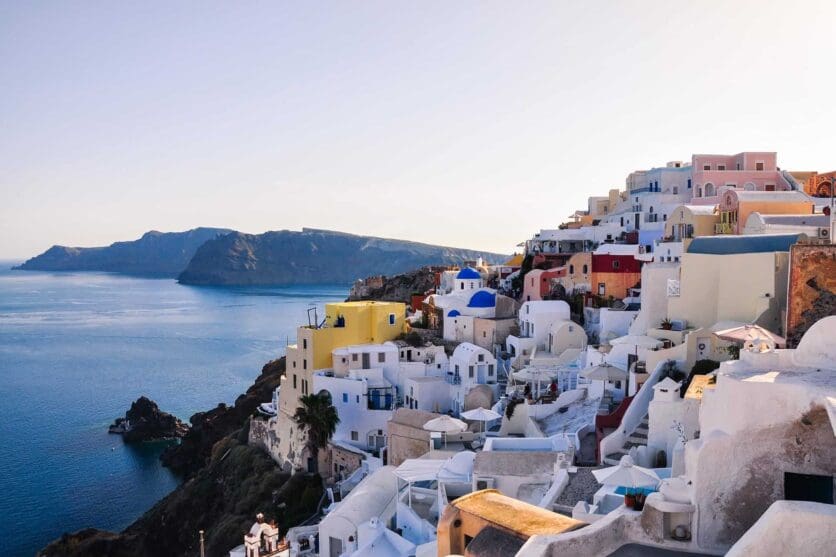 Greece is blessed with 227 inhabited islands, whose bougainvillea-studded coastlines make them hugely popular with tourists – and there's plenty to be had for the haut monde. The islands have lured A-listers since Jackie Kennedy set foot on Hydra in 1961, but the most renowned, perhaps, are Mykonos and Santorini. The former is known for its party atmosphere – it's home to the (in)famous Billionaire nightclub, as well as the boisterous Paradise and Super Paradise beaches. Kendall Jenner and Bella Hadid recently revelled at the Nammos beach club, where cabanas can cost $5,000 per day and champagne tops out at $140,000.
Santorini, meanwhile, is quieter, and possibly more beautiful – if that's the right word. The Aegean Sea island was devastated by a volcanic eruption in the 16th century, contorting the landscape. This, combined with the iconic cubiform houses of Fira and Oia, make it a celebrity hotspot, as Angelina Jolie, Shakira, and her husband Gerard Piqué have proven.
Dubai, UAE
Look, Dubai isn't for everyone. But its ascension from desert wasteland to modern super-city within the space of 50 years has certainly been fuelled by an influx of super-monied individuals. The Gulf State poured its oil riches into gravity-defying skyscrapers, man-made land masses, and a slew of state-of-the-art hotels – including the Burj al Arab, which is considered the world's most expensive. Those staying in one of the Royal Suites are privy to not one, but two jacuzzis, and an entryway decked out in marble and gold, all for a starting price of $9,000 per night. Atlantis the Palm, meanwhile, has hosted celebrities from Michael Jackson to Kim Kardashian, and the 'underwater' suites have floor-to-ceiling windows peering into a three-million-gallon aquarium.
Read more: Arabian nights: Where to holiday in the Middle East this winter