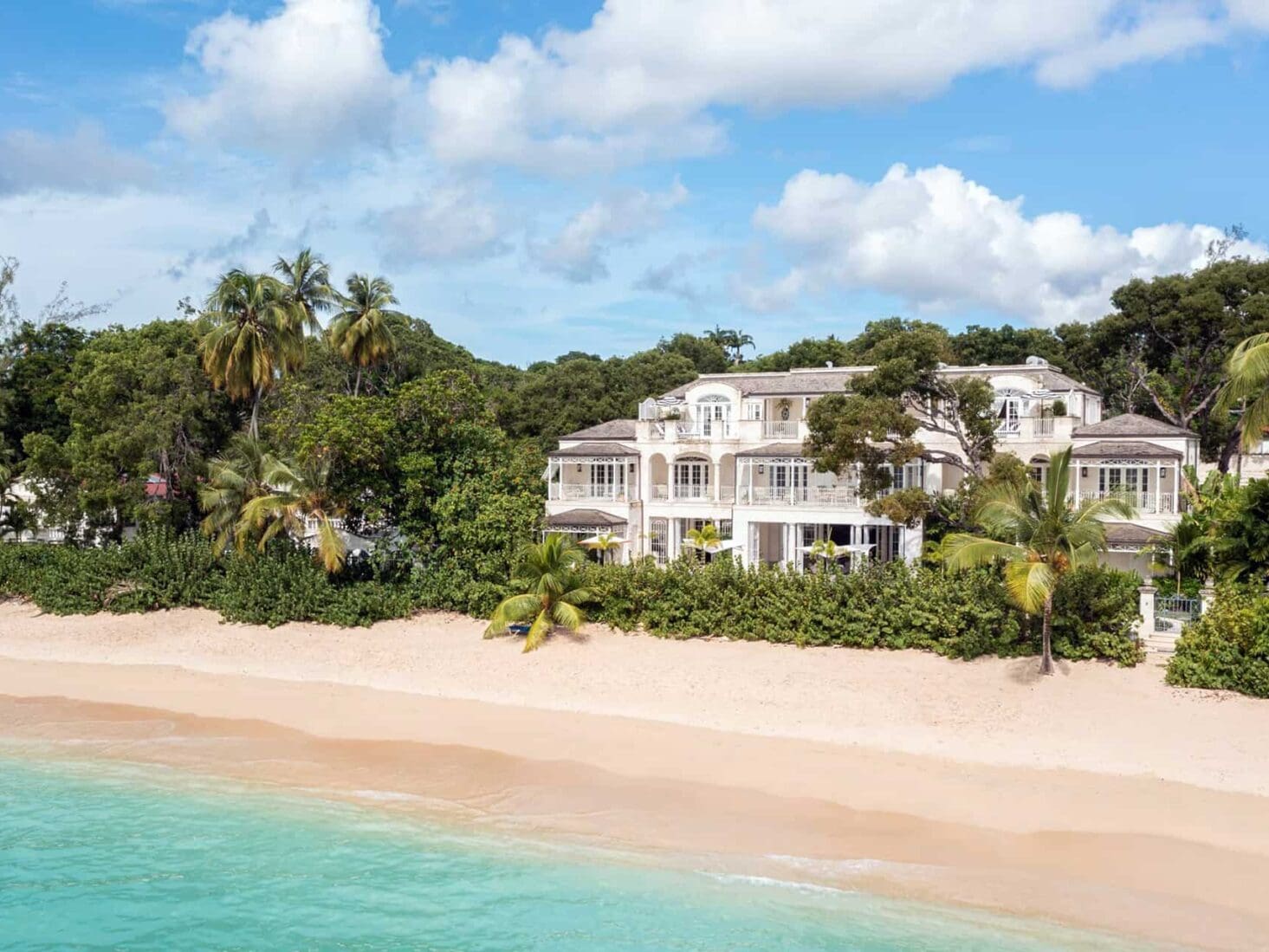 Winter sun: The ultimate Caribbean villas to escape to this season
From ultra-private island hideaways to palatial beachfront properties with their own cocktail bars and cinemas, these are our pick of the best villas in the Caribbean to book this winter
The clocks are going back, the nights are drawing in, and the prospect of warm sunshine on your skin feels a long way away in London. Meanwhile, a stay in a chic Caribbean villa has never been more appealing. With temperatures reliably in the late twenties and the sea averaging a deliciously inviting 27°C all year round, these tropical islands need no introduction as a magical winter holiday spot.
There are hundreds of islands to choose from, and rental properties ranging from rustic to resplendent. So, we've done the hard work and scouted out properties with serious wow-factor available to rent this winter. Book now – these will get snapped up fast.
Casa Dalla Valle, Mustique
Complete with a butler, chef, two housekeepers and two gardeners, this palatial six-bedroom property brings a whole new level of contemporary luxury to the already illustrious island of Mustique. A stylistically unique proposition, the architecture is tuned into contemporary Spanish styles, rather than the more traditional houses found on the island.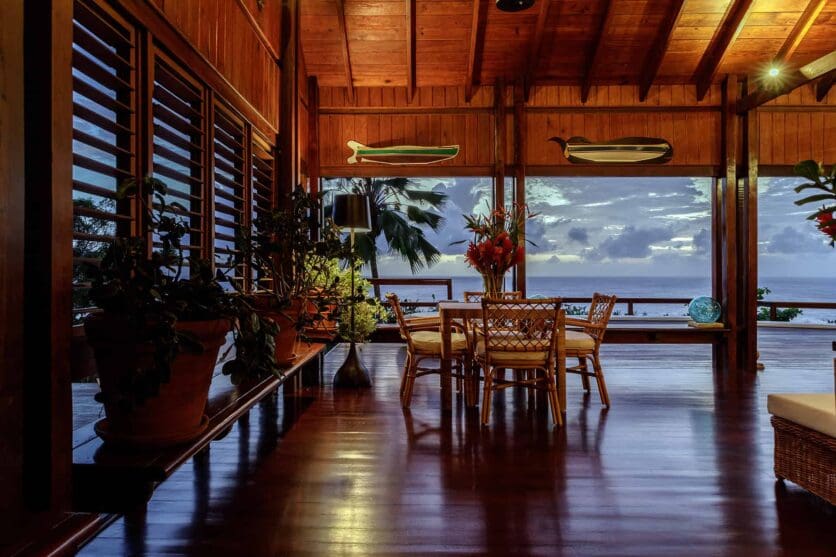 Perched high in the hills on the west coast, the pool, sun deck and dining room all look out onto Britannia Bay below. You'll also have two golf buggy 'mules' at your disposal, perfect for zooming across the island to the famous Macaroni Bay or round to Basil's Bar for a sundowner.
From £31,000 per week in peak season, sleeps 12, mustique-island.com
Seaclusion, Barbados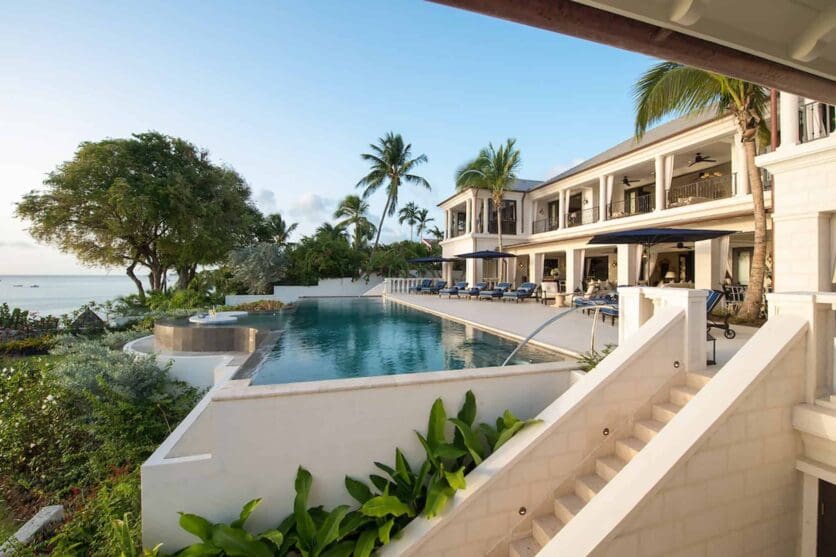 There are Caribbean villas, and then there is Seaclusion. On the prestigious west coast of Barbados, this 12-person property is just made for entertaining. It has its own cocktail bar, for starters, where you can have one of the on-site team rustle you up a rum punch. Kick back and enjoy your drink in the infinity pool, which has a built-in table and sunken seats to float peacefully while you watch the sunset.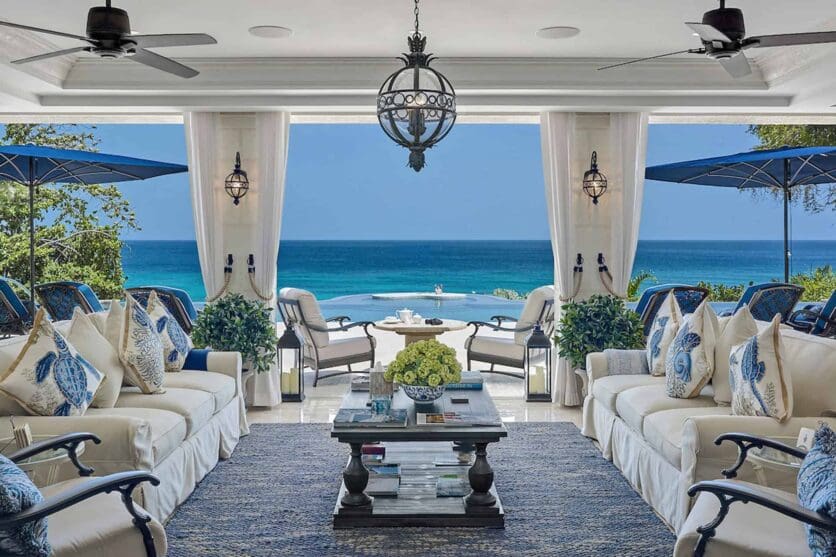 Later on, get dressed up for something a little more formal in the elegant dining room, where the villa's head chef can prepare both island delicacies and international fare. After that, there's a lounge space for long, convivial evenings spent drinking and playing games, with a grand piano and home cinema system. If you do venture outside, the villa is just moments from a private section of powdery white beach and turquoise water, set against an acre of lush tropical gardens.
From £53,444 per week, sleeps 12, onefinestay.com
Windward Landing, Antigua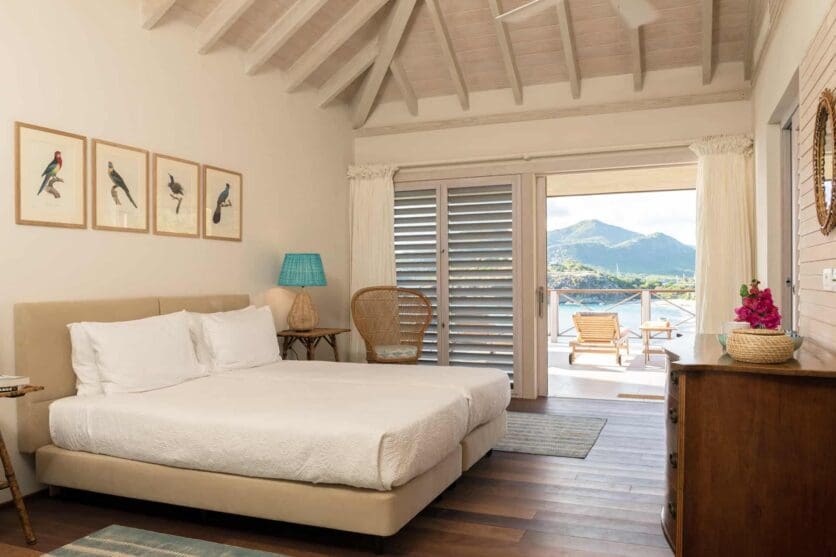 Completed in 2018, this spacious property is all about thoughtfully designed open-plan living areas, interspersed with palm trees and connected by wraparound decking with gorgeous ocean views. There are seven ensuite bedrooms in total, split across a main house and two cottages, making it the perfect rental for inter-generational families who each want their own private space.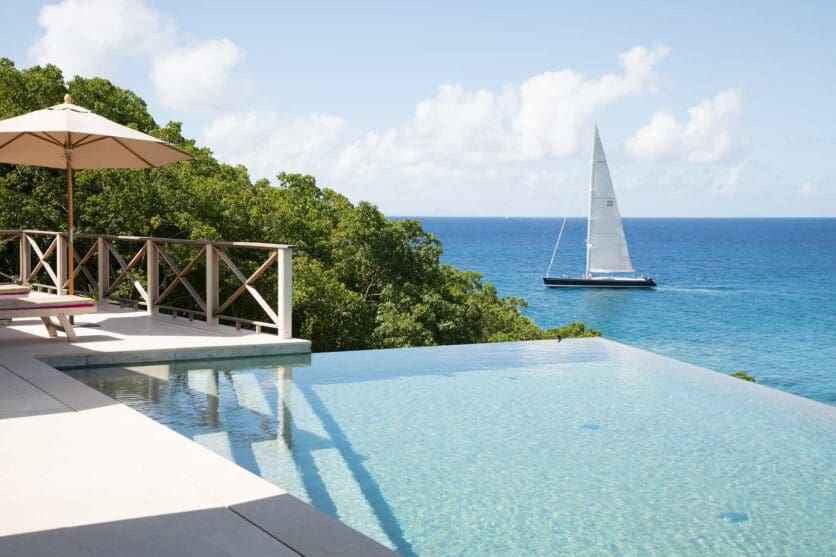 One of the best beaches on Antigua – Pigeon Beach – is just a short walk away, and you've also got direct access to the sea from the bottom of the garden. Back at the pad, you'll find an 18m infinity pool, BBQ area, table tennis and a tennis court available to use on the Windward Estate.
From £25,000 per week, sleeps 14, scottwilliams.co.uk
Villa Kiko, Barbados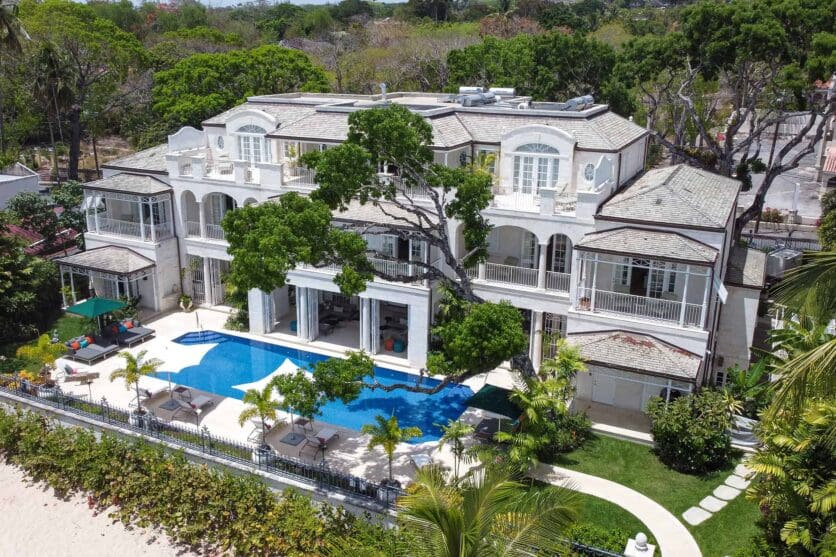 Another regal property on Barbados' illustrious west coast, this coral stone villa is as popular with extended family groups as it is with destination wedding parties. Overlooking Paynes Bay Beach, the property has nine spacious beach-front bedrooms, all with private balconies, and tasteful décor reflecting the calm Caribbean Sea.
The highly secluded setting is a top choice for once-in-a-lifetime celebrations, with a private chef and guest relations team blurring the boundaries between hotel and villa. In keeping with this level of luxury, impressive wellness facilities take this villa to the next level. There's a 25m saltwater pool, high-tech fitness centre and health spa where guests can enjoy a wide variety of indulgent treatments.
From £87,795 per week on a room-only basis, sleeps 16, elegantresorts.co.uk
Casa Kimball, Cabrera, Dominican Republic
The Caribbean isn't all about plantation-style villas on tiny islands: for a different scene, head to this contemporary ocean-front estate on the Dominican Republic's vibrant north coast. Surrounded by almond trees and coco palms, the Modernist building sleeps up to 18 in utmost luxury, with white Travertine walls and Brazilian hardwood ceilings bringing a change to the region's traditional architecture.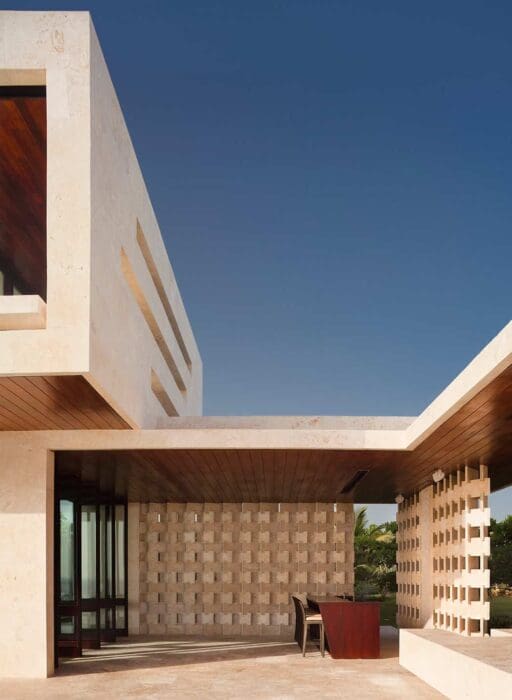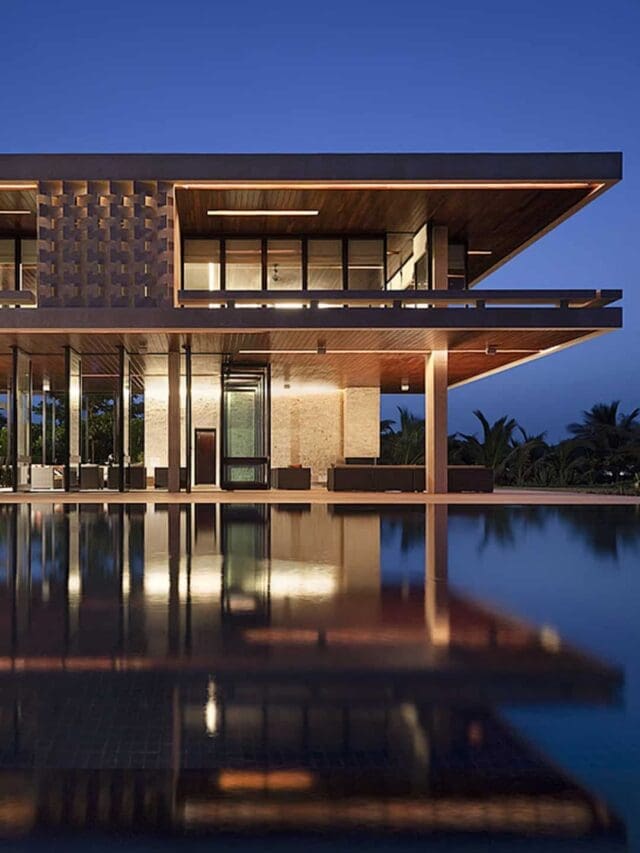 Days revolve around the infinity pool, with an adjacent cocktail bar keeping guests well-watered. If you do feel adventurous, you'll find natural spring-fed lagoons, waterfalls, cliff jumping and vast stretches of beach at your fingertips. Rates are for the entire villa with full staff and include daily housekeeping, breakfast in bed, laundry services, and a team of staff including a bartender, chef, sous chef, butler, security guard and villa manager.
From £31,300 per week, sleeps 16-18, welcomebeyond.com
Villa Aqua, St Barths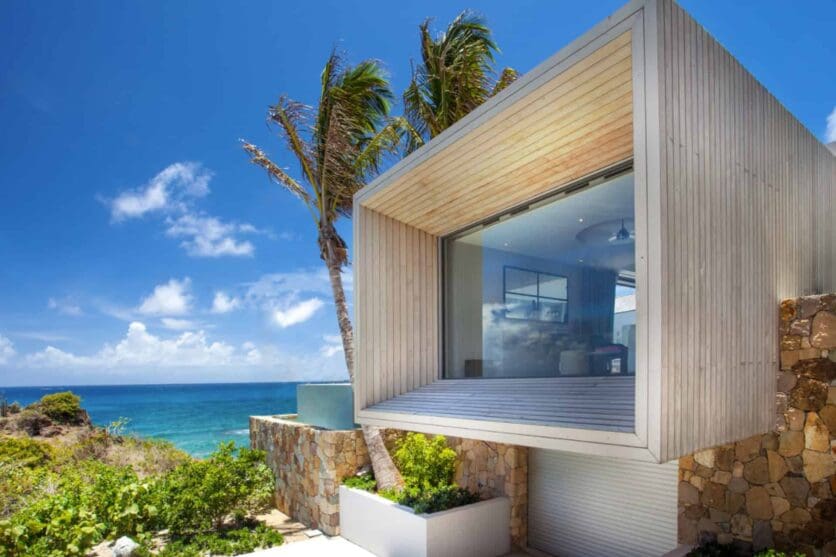 Bigger isn't always better when it comes to holiday houses. This compact three-bedroom villa is one of St Barths' most incredible properties, standing proudly amidst wild greenery with 180 degrees of uninterrupted sea views. The area around the small town of Toiny is an unspoiled sanctuary within glitzy St Barths, meaning that seclusion is guaranteed here.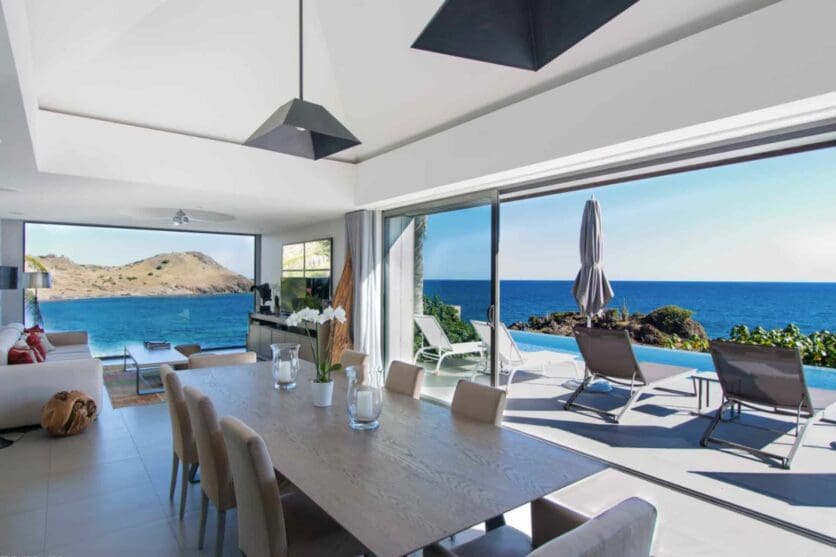 The architecturally fascinating home features a stunning cubed façade with floor-to-ceiling windows that allow the brilliant natural light to illuminate the meticulously designed interiors. Oh, and there's also a sapphire-blue infinity pool from which to watch the sun setting over the horizon.
From £8,000 per week, sleeps 6, stayone.com
The Glass House, Jost Van Dyke, BVIs
This aptly-named luxury villa has large floor-to-ceiling windows with sweeping ocean views. It's set on the volcanic cliffs of Jost Van Dyke – one of the British Virgin Islands – making for a location that wouldn't look out of place as a Bond villain's secret lair. For all its show-stopping design features, though, the real joy is falling asleep to the sound of the ocean, or laying back with a good book by the infinity pool.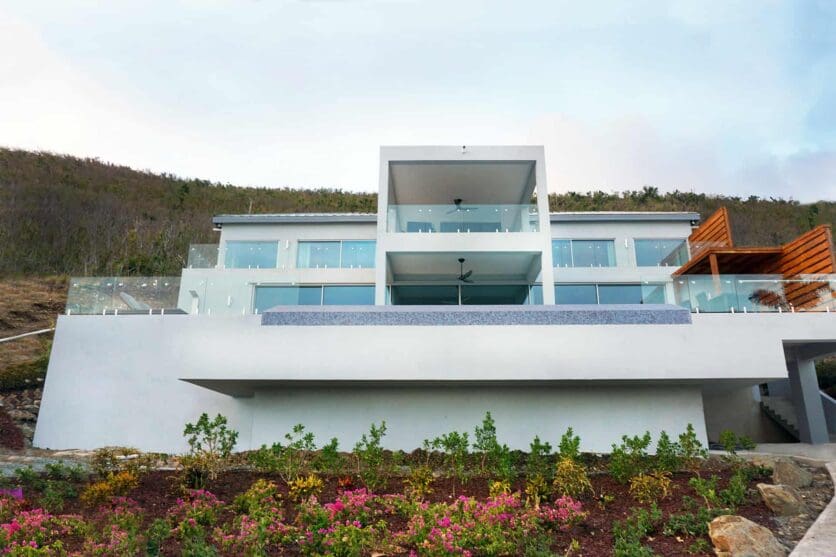 The Glass House can host up to 12 guests in four spacious bedrooms. The small, luscious island's most famous spot is the Soggy Dollar Bar, where the Painkiller cocktail was allegedly created. Closer to the house, soak up the Caribbean sunshine at The Sandbar: the property's own cabana just a few steps away on the beach – an ideal spot to sip on a cocktail from the comfort of your hammock. When night falls, gather around the fire pit roasting marshmallows and gazing at the stars. The villa's remote location means light pollution is practically non-existent.
From £13,000 per week, sleeps 12, glasshousebvi.com
Villa Anguilla 6, Anguilla
Metres from the chalky white sands of Meads Bay on the island of Anguilla, this ultra-modern property sleeps up to 16 guests – the perfect destination for a winter sun getaway en masse. The location is all about outdoor pursuits, with rowing, kayaking, paddleboarding, swimming and snorkelling on your doorstep.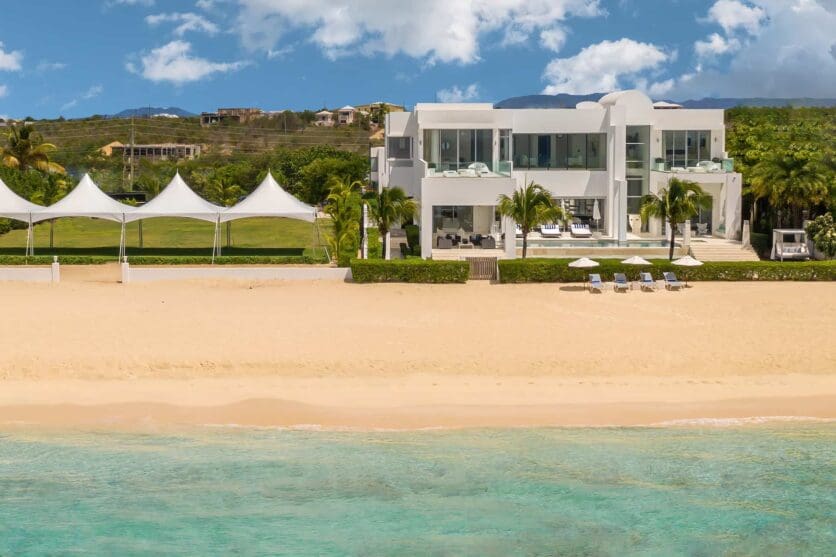 The villa is no less spectacular than its natural surroundings, though: think floor-to-ceiling windows, clean white lines and splashes of tropical colour. Dining can range from Michelin-level menus to delicious beach barbecues, followed by cocktails and dancing in the bar area. Other wow factors include an 18-seat cinema, private tennis court, infinity pool and games room. The perfect combination for a truly unforgettable winter break. 
 
From £74,500 per week, sleeps 16, escape-to-hiddenchic.com
Captain's Deck, Barbados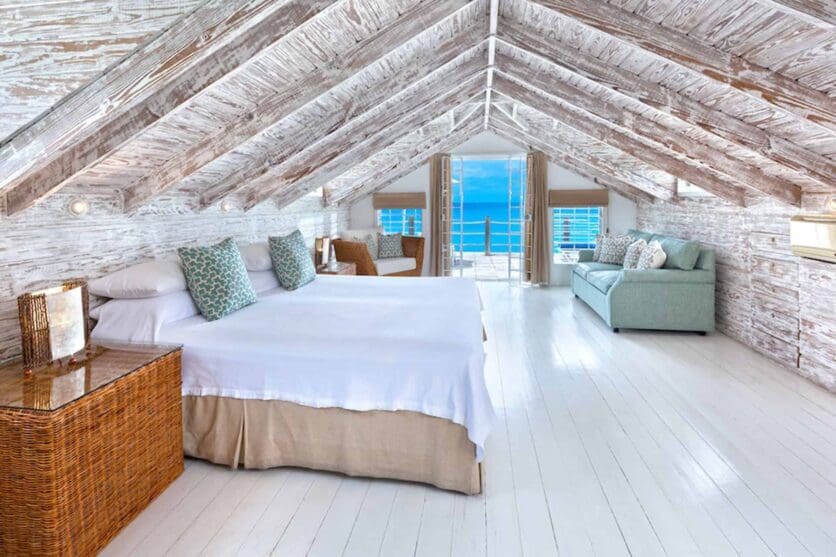 Sometimes, getting away from it all really does mean just that. At this no-frills, four-person Bajan beach house right down on the sand at popular Mullins Beach, there's no pool and no fancy mod-cons. It's all about switching off and enjoying the sea and the second-to-none location.
The interior is charming and pared-back, with local materials and whitewashed wooden fittings. With a housekeeper/cook on site, you don't need to think about meals, which will appear at the al fresco dining table, so close to the sea that you'll feel like you're floating.
POA, sleeps 4, plumguide.com