Once a handy companion for travellers looking for somewhere reliable to eat on the go, today the Michelin Guide – and its associated star rating system – has come to signify something altogether more sophisticated. The ultimate culinary accolade, becoming a Michelin-starred restaurant in London speaks of carefully-sourced produce, innovative cooking techniques, impeccable service and elegantly sumptuous surrounds. It is, in short, a byword for a really good time.
Now counted as one of the culinary capitals of the world, London is blessed with no fewer than 74 of these starry establishments, with six new restaurants added in 2023. Spanning the length and breadth of the capital's boroughs, and including cuisines from classic French fare to fine-dining Indian and cutting-edge Chinese, here's our complete guide to London's Michelin-starred restaurants…
Central
Alain Ducasse at The Dorchester, Hyde Park***
An icon of fine dining, Alain Ducasse has no fewer than 20 Michelin stars under his belt, three of which adorn his namesake restaurant at The Dorchester hotel on Park Lane. And while Ducasse's fingerprints are still very much in evidence on a menu featuring French classics, such as beef fillet with charred leek and mustard, and lobster medallion with chicken quenelles, truffle and pasta, it is executive chef Jean-Philippe Blondet that Ducasse has to thank for maintaining standards. Blondet's oft-changing tasting, vegetarian and a la carte menus highlight fine seasonal produce and the kitchen's technical prowess.
53 Park Lane, W1K 1QA, dorchestercollection.com
Hélène Darroze at The Connaught, Mayfair***
A lot was made of the refit of Hélène Darroze at The Connaught in 2019. Critics lauded the extensive overhaul, which saw the removal of formal white tablecloths and the introduction of a soft-pink colour palette, spongy velvet chairs, a huge glass-blown chandelier and artwork by Damian Hirst. The setting is indeed impressive, but it's the food that remains the talking point at this three-Michelin star hotel-restaurant. Inventive dishes focus on one main ingredient and are offered as a single £215 tasting menu.
16 Carlos Place, W1K 2AL, the-connaught.co.uk
Sketch Lecture Room & Library, Mayfair***
Having held three Michelin stars since 2019 (it gained its first in 2005 and added a second in 2012 before achieving the full complement), Sketch is about as far from a reverent temple to haute gastronomy as it's possible to get. A riot of colour, plush fabrics and irreverent details (we know we don't need to tell you about those toilets), its Lecture Room & Library is helmed by head chef Daniel Stucki, who serves up delectable plates of modern French fare across both a la carte and tasting menus at lunch and dinner. Yes, it will set you back accordingly – three a la carte courses rings in at £210 with wine pairings adding up to an additional £395 per person – but it's an experience you'll never forget.
9 Conduit Street, W1S 2XG, sketch.london
Alex Dilling at Hotel Café Royal, Soho**
Having cut his teeth at fellow Michelin-starred eateries The Greenhouse and Hélène Darroze at The Connaught, Alex Dilling set up shop with his name over the door at Regent Street's Hotel Café Royal in September 2022 – and six months later secured two Michelin stars. Serving contemporary French cuisine as a set lunch (which, at £65 for three courses, is something of a steal) or an eight-course tasting menu, the space is intimate, with room for just 34 covers. Accordingly, you'll need to be quick if you want to get a table but you'll be well rewarded with food that promises unparalleled attention to detail and immaculate presentation.
68 Regent Street, W1B 4DY, hotelcaferoyal.com
Kitchen Table, Mayfair**
Kitchen Table's sparse website doesn't give much away – which is fitting for a restaurant that serves a no-choice multi-course menu that even diners don't get to see until the end of their meal. Seating just 19 people around a horseshoe-shaped counter, here chef-owner James Knappett and his team are the entertainment, interacting with guests and showing off their skill as they whip up creative and unusual dishes. It's well worth investing in the wine pairings to get the full experience.
70 Charlotte Street, W1T 4QG, kitchentablelondon.co.uk
Le Gavroche, Mayfair**
Thanks to turns on Masterchef: The Professionals and Saturday Kitchen, Michel Roux Jr has cemented his place as a household name in the UK over the past decade – none of which means he's allowed standards at two Michelin-starred Le Gavroche to slip. A family affair opened by Albert and Michel Roux Snr in 1967, Roux Jr took over the running of the restaurant in 1993 when his father retired and has kept it among one of the capital's best ever since. A lesson in classic French dishes, it's no surprise that Le Gavroche has earned itself something of a reputation as a finishing school for the UK's best chefs.
43 Upper Brook Street, W1K 7QR, le-gavroche.co.uk
A. Wong, Pimlico**
Routinely talked about as London's best Chinese restaurant, A. Wong might just offer the best Chinese in the whole of the United Kingdom. The judges at Michelin apparently think so: in 2021 the Pimlico restaurant became the first Chinese in Britain to be awarded two Michelin stars. At ground level is a fairly modest dining space, suited for lunches, while a subterranean level makes for a more atmospheric evening. The menu promises a culinary tour of the whole of China via modern interpretations of time-honoured favourites. Don't leave without sampling the dim sum.
70 Wilton Road, SW1V 1DE, awong.co.uk
Ikoyi, The Strand**
Taking its second star in 2022, Ikoyi is named after a district in Lagos where co-founder Iré Hassan-Odukale grew up, and boasts a head chef, Jeremy Chan, who largely takes inspiration from west African flavours. A traditional Nigerian restaurant, however, Ikoyi is not. While there are nods to the region's cuisine on the menu, dishes such as plantain, jollof rice and suya appear in new forms, layered with umami and typically Asian and Western flavours, such as caviar, Bearnaise and miso. The restaurant serves a blind tasting menu to keep diners on their toes and to be adaptable to micro-seasons.
180 Strand, WC2R 1EA, ikoyilondon.com
Taku, Mayfair*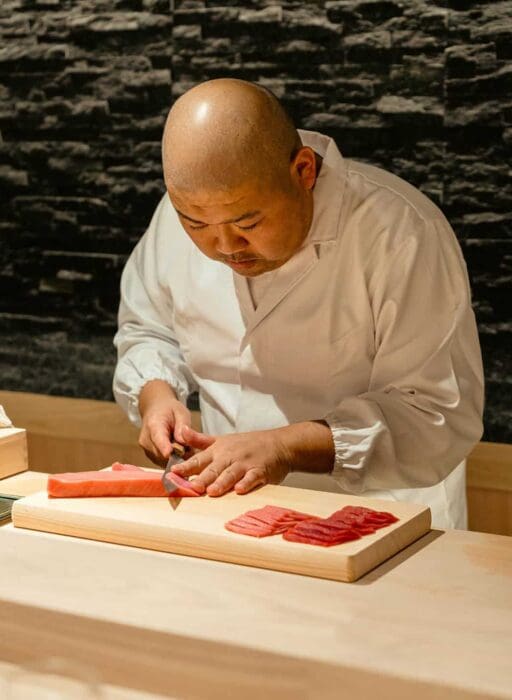 One of London's growing number of omasake restaurants (based on the Japanese tradition of leaving food decisions up to the chef, Takuya Watanabe opened his (almost) eponymous restaurant in Mayfair in November 2022. After his previous restaurant, Jin, became the first sushi omasake to win a star in Paris, in 2023 he repeated the success in London. With just 16 covers, grabbing a table is like winning the lottery but, should you be successful, set aside plenty of time: the three menus are offered in 17- or 20-course variations ranging from £130 to £380.
36 Albemarle Street, W1S 4JE, takumayfair.com
Evelyn's Table, Soho*
This tiny restaurant tucked beneath the Blue Posts in Soho has been something of a closely guarded secret by London's foodies – who may struggle to secure a spot at the 12-seater bar now its won its first Michelin star. Helmed by the three Selby brothers – Luke, Nat and Theo – who also collectively won 2022's Michelin Young Chef Award, the food here wanders the globe, making the most of seasonal British ingredients, classic French gastronomy and Japanese cooking techniques.
28 Rupert Street, W1D 6DJ, theblueposts.co.uk
Wild Honey, St. James's*
Housed in the Sofitel St James's hotel, the modern Wild Honey is a transplant of chef Anthony Demetre's original Mayfair eatery of the same name and offers a menu of quintessential contemporary European fare. Think fallow venison with celeriac, walnut and cocoa, Isle of Gigha halibut with shrimp, parsley and lemon Dieppoise and, of course, a traditional tarte tatin to share. Perfectly positioned for many of the West End's biggest shows, its stellar pre-theatre menu offers three courses for £40, so you don't need to be a millionaire to dine here either.
8 Pall Mall, SW1Y 4AN, wildhoneystjames.co.uk
Jamavar, Mayfair*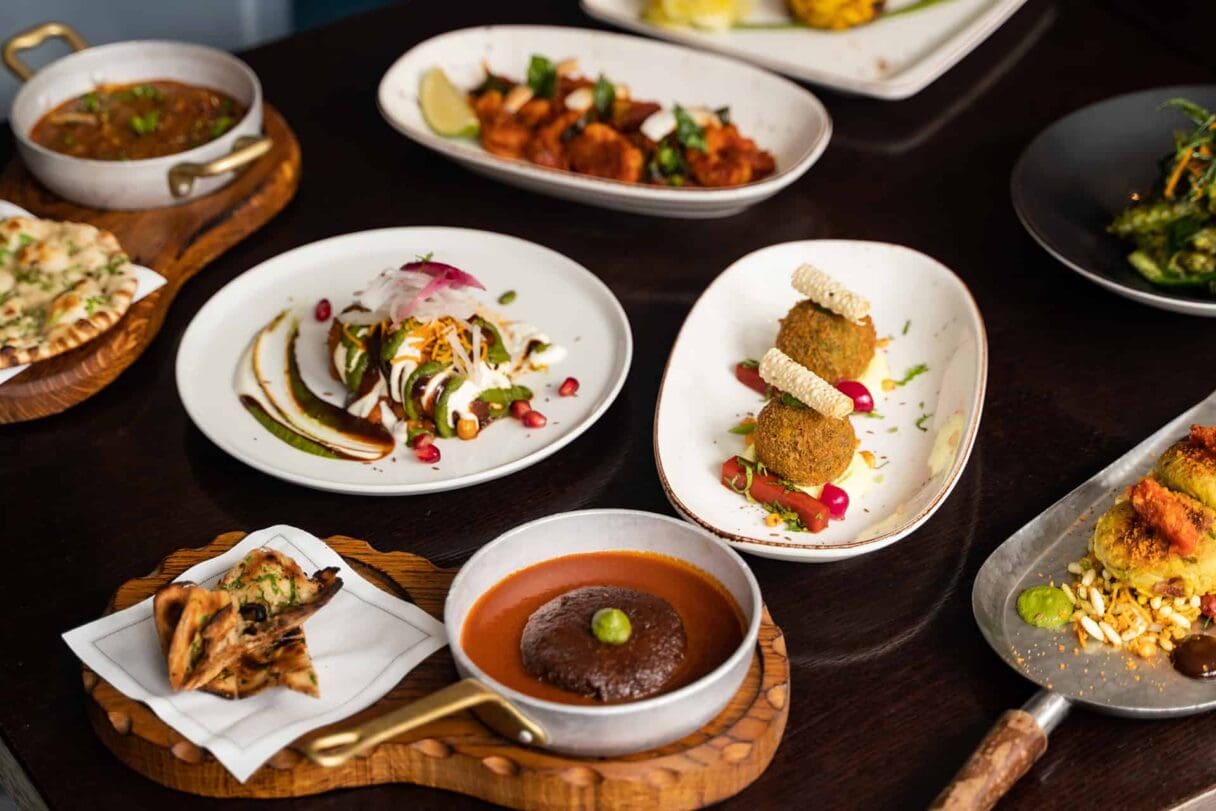 Opened by chef-owner Samyukta Nair on Mount Street in 2016, Jamavar has long been regarded as one of London's greatest fine dining Indian restaurants and, in 2022, the Michelin Guide made it official. Named for the intricate 16th-century shawls of Kashmir, day-to-day cooking is now overseen by executive chef Surender Mohan and elevates traditional pan-Indian flavours, dishes and techniques in the spirit of the country's great royal palaces. Must-tries include Leela's lobster neeruli and the kid goat shami kebab.
8 Mount Street, W1K 3NF, jamavarrestaurants.com
Frog by Adam Handling, Covent Garden*
Located in the heart of Theatreland, Frog – the first Michelin-starred restaurant from Scottish chef and Masterchef: The Professionals finalist Adam Handling – is every bit as entertaining as one would hope. Guests are offered the choice of two tasting menus (seasonal and vegetarian), each of which is cooked in front of guests in an open kitchen and delivered to tables by the chefs themselves. Menu descriptions don't give much away but each dish is inspired by a story or memory from the lives of Handling and his team.
34-35 Southampton Street, WC2E 7HG, frogbyyadamhandling.com
Kol, Marylebone*
Designed to replicate the atmosphere of a traditional Oaxacan home kitchen, Kol ranks as London's only Michelin-starred Mexican restaurant. Chef Santiago Lastra describes his mission as "championing wild food and seasonality to create dishes that reflect the bright, fresh flavours of Mexican cooking." The menu, accordingly, relies heavily on fine seasonal British produce – including Cornish crab, langoustine, pigeon and rhubarb – given a spritely, lively Mexican twist across a choice of nine- or eleven-course tasting menus, with vegetarian and vegan options also available.
9 Seymour Street, W1H 7BA, kolrestaurant.com
Barrafina, Soho*
There are four Barrafina restaurants to choose from in London, but it's the original Dean Street site that's scooped a star. Grab a seat at the marble-topped bar to watch the chefs in action in the open kitchen, where regional dishes from Spain are whipped up, such as chorizo with potato and watercress, prawn and piquillo pepper tortilla, and small plates of ham croquettes and pan con tomate. There's also a daily-changing specials board and a comprehensive drinks list of Spanish wine, Cava and cherries.
26-27 Dean Street, W1D 3LL, barrafina.co.uk
Hakkasan, Mayfair*
London is home to the very first Hakkasan, which opened in Mayfair in 2001 and marked the beginning of a now international brand. Both the Mayfair branch and its sister restaurant on Hanway Place have earned Michelin stars for their high-end Cantonese cuisine, made using traditional Chinese cooking techniques and the finest ingredients. Signature dishes include roasted silver cod with champagne and honey, black truffle roasted duck, and spicy prawn with lily bulb and almond.
17 Bruton Street, W1J 6QB; 8 Hanway Place, W1T 1HD, hakkasan.com
The Ninth, Fitzrovia*
Having racked up a CV that features some of London's best restaurants, from Le Gavroche to Restaurant Marco Pierre White, Jun Tanaka unveiled his solo venture, The Ninth, in 2015. A neighbourhood French restaurant focused on Mediterranean-style cooking, The Ninth is all about sharing dishes, allowing guests to sample as much of Tanaka's wizardry cooking as possible. Don't miss the homemade pasta dishes, such as ossobucca tortellini and orrecchiette with truffle and egg yolk.
22 Charlotte Street, W1T 2NB, theninthlondon.com
Pied à Terre, Fitzrovia*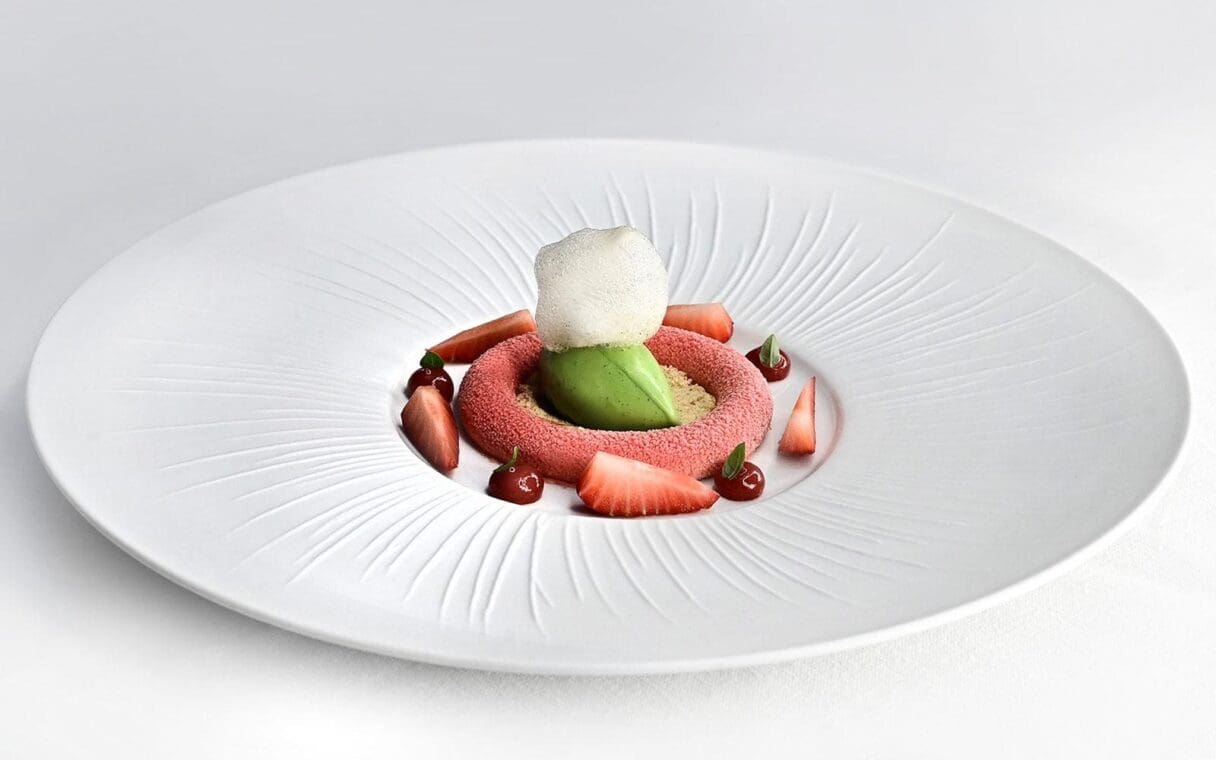 London's longest-standing independent Michelin-starred restaurant, Pied à Terre, has held onto its coveted star ever since it was awarded one (within 13 months of opening) in 1991. Still owned and managed by David Moore, the restaurant has evolved over the years and today is steered by chef Asimakis Chaniotis, who mixes Pied à Terre's classic French cuisine with references to his Greek heritage. Choose from a flexible lunch, à la carte or 10-course tasting menu, all of which are also available for vegetarian and vegan diets.
34 Charlotte Street, W1T 2NH, pied-a-terre.co.uk
Sabor, Mayfair*
Sabor on Heddon Street provides a culinary tour of Spain, with its three areas providing a different take on Spanish cuisine. Visit The Counter for fresh seafood and regional dishes from the Basque country and Catalonia. The walk-in bar is more relaxed, focused on Spanish vermouths, gins, wines and beers from the likes of Barcelona and Jerez, which are served alongside tapas. El Asador, meanwhile, is the more formal of the three, with banquet seating overlooking an open kitchen, where flavours from Galicia and Castile are cooked in a traditional wood-fired oven.
35-37 Heddon Street, W1B 4BR, saborrestaurants.co.uk
Veeraswamy, Regent Street*
The UK's oldest Indian restaurant, Veeraswamy was founded in 1926 by the great-grandson of an English general and an Indian Mughal princess. It has been located on Regent Street for more than 95 years and, in 2016, was awarded a Michelin star. The restaurant spotlights the more than 16 cuisines found in India, with different regional chefs preparing the dishes from their hometowns. Traditional dishes are served alongside more contemporary creations – think tandoori wild tiger prawns, roast duck vindaloo and caramelised banana kulfi.
99-101 Regent Street, W1B 4RS, veeraswamy.com
Hide, Piccadilly*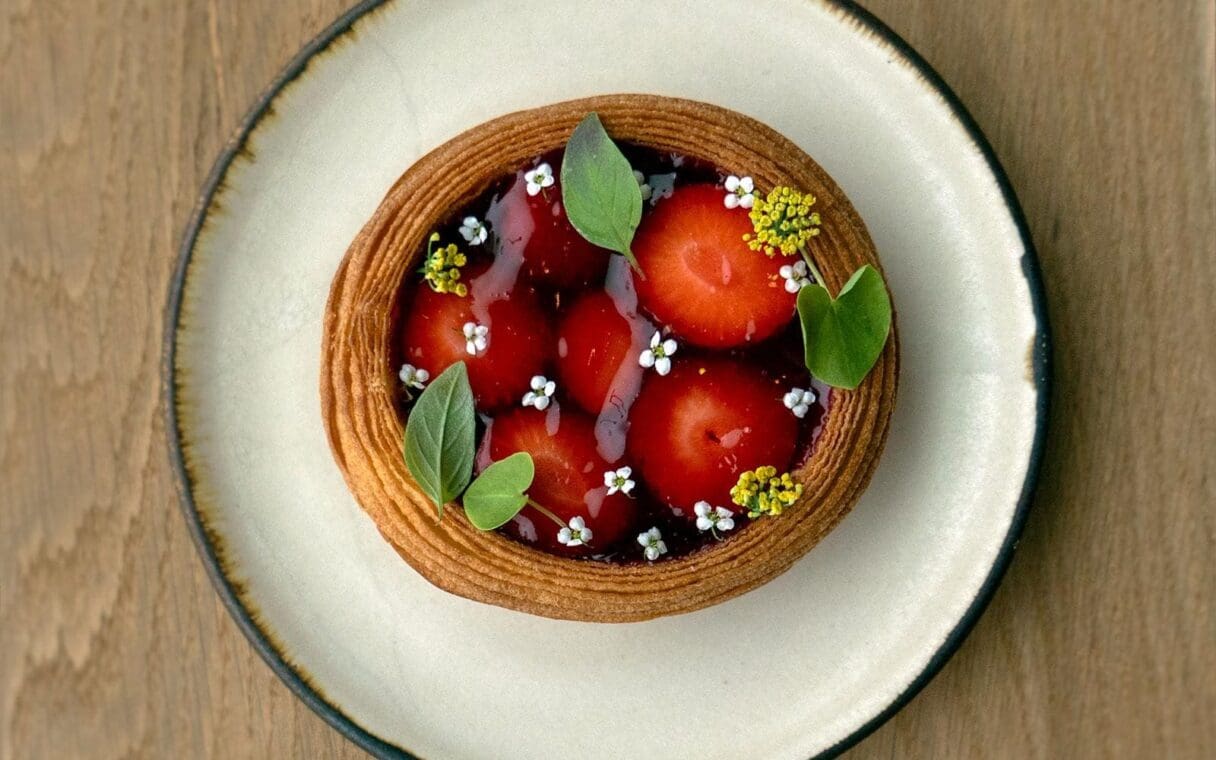 A joint venture between chef-founder Ollie Dabbous and Mayfair wine emporium Hedonism Wines, Hide opened in 2018 and won its Michelin star just six months later. There are three elements to the restaurant: Hide, Above at Hide and the Bar Below. Above is located, unsurprisingly, on the upper level, where à la carte and tasting menus are served with views overlooking Green Park. Hide is the largest of the three, serving breakfast, a set lunch and all-day dishes made using ingredients sourced from small farmers and suppliers in the UK, with everything, from the charcuterie to the juices, made in-house where possible. The Bar Below is the low-lit basement bar where cocktails are king and private dining rooms cater to intimate events.
85 Piccadilly, W1J 7NB, hide.co.uk
Benares, Mayfair*
Having reshuffled its kitchen in 2020, following the loss of its star the same year, Benares regained its coveted award in the 2021 Michelin Guide thanks to executive chef Sameer Taneja's exemplary cooking. Once through the doors, you'll be escorted up a flight of stairs, passed a lily-filled pond and buzzy bar area to a dark, sultry space and the smell of spices. Thanks to its location slap-bang in the middle of hedge fund central, the crowd is largely suited and corporate, but the food coming out of the kitchen is anything but sterile.
Named after India's holy city, Benares blends traditional Indian dishes with modern flair and flavours, with standouts including hand-dived Scottish scallop with coconut curry and Malabar paratha, and pan-roasted Gressingham duck fillet with puy lentil and leg masala. A chef's table offers full views of the kitchen and a large private dining area makes Benares a good option for entertaining.
12a Berkeley Square, W1J 6BS, benaresrestaurant.com
Portland, Mayfair*
Portland founders Will Lander and Daniel Morgenthau had humble plans for their Great Portland Street venture, which they envisioned as a small neighbourhood restaurant. The Michelin Guide thought otherwise and awarded Portland a star the same year it opened. Great attention is given to sourcing ingredients that are seasonal, so much so that it's not unheard of for the menu to be reprinted after lunch as stock changes. Equal scrutiny is given to the wine list, which includes unique and hard-to-find vino at sometimes lower-than-retail prices that you won't find anywhere else.
113 Great Portland Street, W1W 6QQ, portlandrestaurant.co.uk
Muse, Belgravia*
Opening shortly before the pandemic hit, and without the ability to offer al fresco dining, Muse by Tom Aikens had an undeniably bumpy start. That didn't stop the 25-cover, Belgravia-based restaurant winning rave reviews (mostly) from the critics that managed to secure a table there. The restaurant takes its name from the fact that it's set across two floors of a Georgian townhouse located in a mews. That and the fact that dishes are inspired by memories and reminiscences from Aiken's childhood, geddit? As a result, the menu is mostly British with ingredients sourced from home-grown farmers and suppliers.
38 Groom Place, SW1X 7BA, musebytomaikens.co.uk
Murano, Mayfair*
Murano opened as a joint venture between Angela Hartnett and Gordon Ramsay in 2008, before Harnett took the reigns in 2010. The restaurant was awarded a Michelin star within four months of opening, an accolade it has held onto ever since, and remains one of the only restaurants in the capital to receive 4 AA rosettes. Both the menu and the wine list concentrate on northern Italy in a nod to Harnett's heritage, with an informal à la carte menu allowing guests to order as many dishes, in no particular order, as they'd like.
20 Queen Street, W1J 5PP, muranolondon.com
The Dining Room at The Goring, Belgravia*
The Dining Room at The Goring is that rare example of a hotel restaurant that's as much a destination as the five-star abode in which it's housed. Helmed by executive chef Richard Galli, if it's crisp white table clothes, impeccable service and British classics created using the finest produce you're after, The Dining Room at The Goring won't disappoint. What's more, its hotel setting means the restaurant is open from morning to night, making it one of the few restaurants on this list to boast both an incredible lobster omelette and a beef carving trolley.
15 Beeston Place, SW1W 0JW, thegoring.com
Kai, Mayfair*
Kai is one of only a handful of Chinese restaurants to possess a Michelin star. According to the guide, the best tables are to be found at the back next to the tropical fish tank or, for something a little more romantic, in the cosy basement, where attentive staff will make sure your glass of surprisingly delicious Chinese fine wine is never empty. The menu is a blend of crowd-pleasing Szechuan favourites (look out for the slow-cooked pork belly) and traditional dishes from the Nanyang region, with vegetarians well catered for.
65 South Audley Street, W1K 2QU, kaimayfair.co.uk
Amaya, Belgravia*
Opened in 2004, Amaya was at the forefront of a pioneering wave of fine-dining Indian restaurants elevating the cuisine's reputation far beyond the high street curry houses that provided most people's only taste of South Asian cooking. Created by the team behind Chutney Mary and Veeraswamy, the menu at Amaya centres around the tandoor grill, offering a broad range of seafood, poultry, beef, game and vegetarian dishes. Highlights include duck tikka with spicy plum glaze and venison tandoori seekh – all ideally paired with the restaurant's salads, prepared à la minute.
19 Motcomb Street, SW1X 8JT, amaya.biz
SO|LA, Soho*
It's California dreamin' at Dean Street's SO|LA, which brings the sunshine of the Golden State to Soho. A New York native with a French-Spanish mother, Victor Garvey cooked in Los Angeles, Las Vegas, Tokyo, Copenhagen and Marbella before launching SO|LA in 2019. As you'd expect, the food offering is international in scope, with a focus paid to modern dishes from the Pacific West Coast. If the menu takes you around the world, the wine list is very much Californian in emphasis.
64 Dean Street, W1D 4QQ, solasoho.com
Marcus, Belgravia*
Marcus Wareing's eponymous flagship restaurant in The Berkeley hotel boasts the kind of atmosphere in which you feel nothing truly bad can happen. Smart, efficient and highly professional staff glide around the wood-panelled dining room servicing red leather banquettes and pleasingly spacious tables, delivering dishes that ransack the Great British larder. All the hits are here: Loch Duart salmon, Orkney scallop, Aynhoe Park venison and dry-aged Galloway beef. This is the kind of quietly excellent restaurant that is guaranteed to deliver.
Wilton Place, SW1X 7RL, marcusrestaurant.com
Trishna, Marylebone*
Opened in 2008 by brothers Karam and Jyotin Sethi, Trishna has long been at the forefront of London's fine dining Indian scene. Having held a Michelin star since 2012, it specialises in coastal Indian cuisine: think shahi salmon tikka, peanut garlic prawns and coconut and curry leaf scallops made using locally-sourced seasonal ingredients. There's also a glamorous private dining room with its own special menu and a whole host of options available for home delivery.
15-17 Blandford street, W1U 3DG, trishnalondon.com
Umu, Mayfair*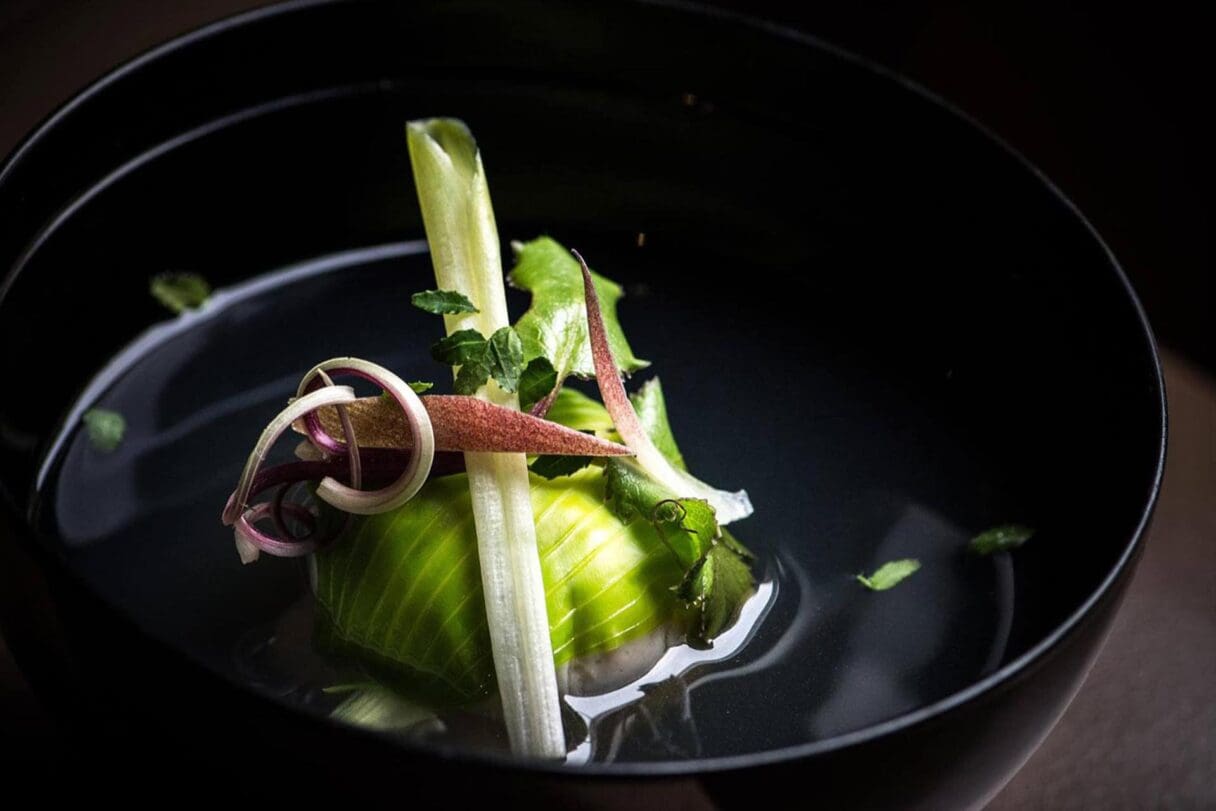 Based on the Japanese tradition of kaiseki – a multi-course dinner showcasing various haute cuisine techniques – Umu takes its inspiration from the culinary prowess of Kyoto. Its signature tasting menu brides East and West, pressing classic British ingredients in the service of contemporary Japanese dishes, such as Scottish langoustine with Tokyo turnip and yuzu, grilled roe deer with wasabi and Cornish squid with sea urchin, udo and kinome. An a la carte menu of sashimi, caviar, tempura and sushi is also available.
14-16 Bruton Place, W1J 6LX, umurestaurant.com
Ritz Restaurant, Piccadilly*
The Ritz is, perhaps, the most famous hotel in London – so it follows that its namesake restaurant should share in the accolades. The Ritz Restaurant has held a Michelin star since 2016 and, given its location in a grand dame hotel, is one of the few on this list that serves breakfast, lunch and dinner. In fact, in a nod to old-school hospitality, it even hosts a regular dinner and dance. Food by executive chef John Williams MBE focuses on the best seasonal British ingredients, with regularly changing set menus complemented by guéridon-style tableside service.
150 Piccadilly, W1J 9BR, theritzlondon.com
Quilon, Westminster*
Tucked away within the St. James Court hotel, Quilon has been offering contemporary coastal cuisine hailing from South-West India since 1999. In 2008 it won its first Michelin star under the leadership of chef Sriram Aylur thanks to menus that bring together the best culinary traditions from Goa and Kerala. Signature dishes include halibut fish curry and malabar lamb biryani while, in a nod to the great British curry house, there's also a beer tasting menu which pairs inventive Indian cuisine with beers from London, Kent and across Europe.
41 Buckingham Gate, SW1E 6AF, quilon.co.uk
Pollen Street Social, Mayfair*
The first of two restaurants from Jason Atherton to feature on this list, Pollen Street Social was awarded a Michelin star within six months of opening in 2011 and has held it ever since. Forget white glove service and hushed gastronomic reverence though, this restaurant is designed to be informal, buzzy and welcoming – with a whole host of modern British menus to match. Choose from an a la carte selection, a set lunch, a Chef's Counter experience or an extensive tasting menu, with almost everything available in vegetarian or vegan options.
8-10 Pollen Street, W1S 1NQ, pollenstreetsocial.com
Locanda Locatelli, Marylebone*
Opened in 2002 by North Italian chef Giorgio Locatelli, Locanda Locatelli takes all the conviviality and warmth of the classic trattoria and transforms it into an elegant homage to top-notch Italian cooking. Combining Locatelli's experience in kitchens at The Savoy, La Tour d'Argent and Laurent with an upbringing informed by a deep respect for quality produce and creative cooking, Locanda Locatelli was awarded a Michelin star in 2003, which it has retained ever since.
8 Seymour Street, W1H 7JZ, locandalocatelli.com
Gymkhana, Mayfair*
Inspired by the elite social clubs of India where high society would gather to eat, drink and be merry, Gymkhana opened in 2013 to immediate acclaim – securing a Michelin star the following year. Owned by JKS, the restaurant group behind lauded eateries including Bao, Brigadiers, Hoppers and Berenjak, it's practically impossible to order badly from the menu of curries, grills, kebabs, and snacks. Feeling adventurous? Opt for the tasting menu and let the restaurant serve up a parade of stunning dishes including the famous kid goat methi keema complete with curried goat brain.
42 Albemarle Street, W1S 4JH, gymkhanalondon.com
West London
Restaurant Gordon Ramsay, Chelsea***
The foul-mouthed chef's flagship restaurant has held the maximum three Michelin stars since 2001 and, along the way, has made stars of many Ramsay protégés, including Clare Smyth, who created food for the wedding of Prince Harry and Meghan Markle in 2018. Now helmed by Matt Abé, standards at this intimate 45-cover restaurant are higher than ever, with classic flavour combinations and a stellar wine list pressed into service to result in one of the best meals in the capital.
68 Royal Hospital Road, SW3 4HP, gordonramsayrestaurants.com
Core by Clare Smyth, Kensington***
Clare Smyth was the first female chef to hold and retain three Michelin stars in the UK while working at Restaurant Gordon Ramsay – an accolade that helped her scoop the award for The World's Best Female Chef in 2018. British-themed Core was Smyth's first solo project. Innovative takes on age-old classics, along with impeccable service, resulted in the guys at Michelin awarding Core three stars. The restaurant itself is as elegant and sophisticated as the food that's served there – a tastefully-thought-out, bright-and-airy space that wouldn't look out of place in a museum of modern art.
92 Kensington Park Road, W11 2PN, corebyclaresmyth.com
The Ledbury, Notting Hill**
Something of a comeback kid, The Ledbury held two Michelin stars between 2010 and 2020 but lost them after Covid restrictions forced the restaurant to close. In February 2022 it reopened with a revamped tasting menu-only concept designed by head chef Brett Graham, who has been in situ since the restaurant opened in 2005, regaining its accolades the following year. Expect a six-course tasting menu at lunch and an eight-course menu at dinner, with highlights including Jersey beef with white asparagus, XO morel and kosho sauce, Cornish turbot with onion and Iberian ham and Yorkshire rhubarb mille-feuille.
127 Ledbury Road, W11 2AQ, theledbury.com
Dinner by Heston Blumenthal, Knightsbridge**
Dinner by Heston Blumenthal caused quite the stir when it opened at the Mandarin Oriental Hyde Park in 2011. A decade later, having survived forced closures by both a devastating fire that swept through the hotel in 2018 and the coronavirus pandemic, it continues to enthrall diners with Blumenthal's Willy Wonka-ish approach to cooking. Dishes are inspired by the chef's travels through the history of British cookbooks and some, such as the infamous Meat Fruit, created using a recipe from the 1500s, have been mainstays on the menu since the restaurant opened. This is more an event than simply dinner.
66 Knightsbridge, SW1X 7LA, dinnerbyheston.co.uk
Claude Bosi at Bibendum, South Kensington**
It would be remiss of Michelin not to give the restaurant housed in its eponymous building a star or two. Lucky, then, that Claude Bosi has been ruling the roost at Michelin House since 2017, the same year it was awarded two of the tyre maker's coveted stars. The Bibendum space is also home to an oyster bar and cocktail bar but it is the signature restaurant, Claude Bosi, that is the star of the show. The cooking is of the big, bold and unashamedly French variety, with dishes that draw on Bosi's heritage served in one of the prettiest dining rooms in the capital.
81 Fulham Road, SW3 6RD, claudebosi.com
Pétrus by Gordon Ramsay, Knightsbridge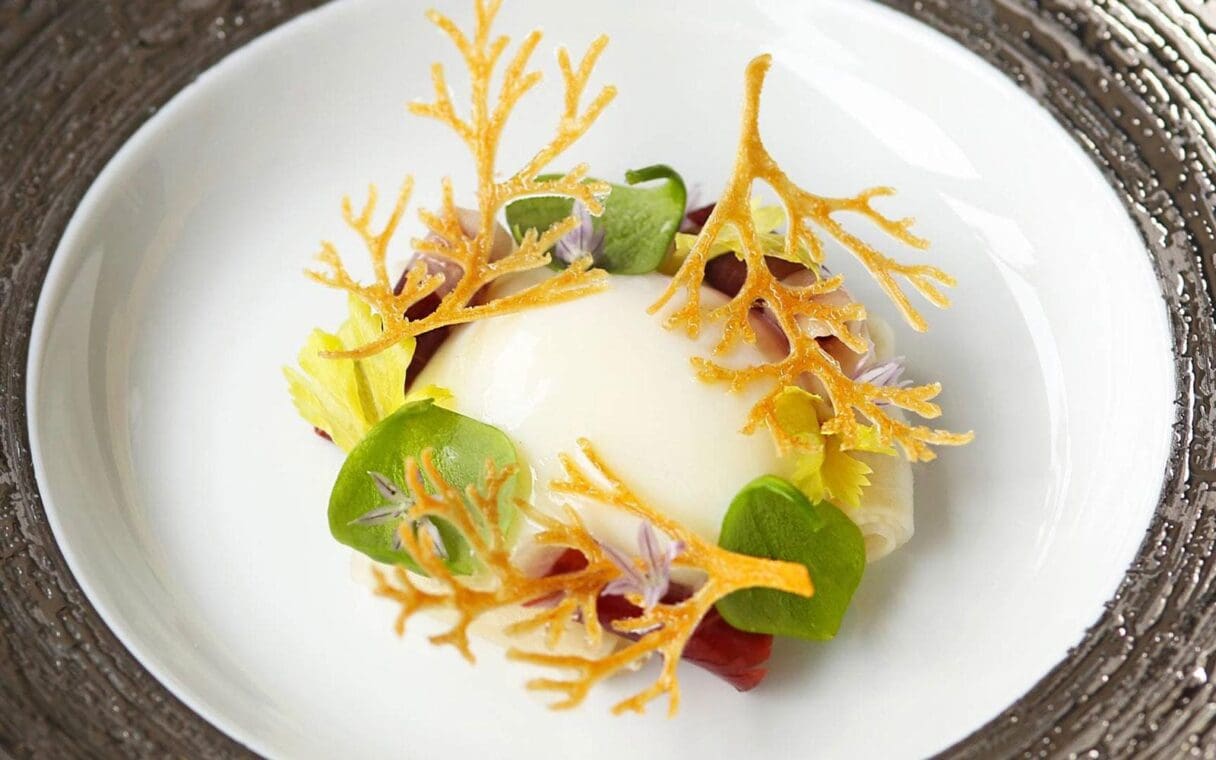 A West London institution that has been serving up exquisite fine dining fare since 1999, Pétrus may have had something of a bumpy ride – changing locations numerous times and becoming the source of a highly publicised spat between former colleagues Gordon Ramsay and Marcus Wareing – but that hasn't stopped it achieving huge success. In its current iteration, under head chef Orson Vergnaud, the menu leans heavily on British seafood and classic French techniques.
1 Kinnerton Street, SW1X 8EA, gordonramsayrestaurants.com
Five Fields, Chelsea*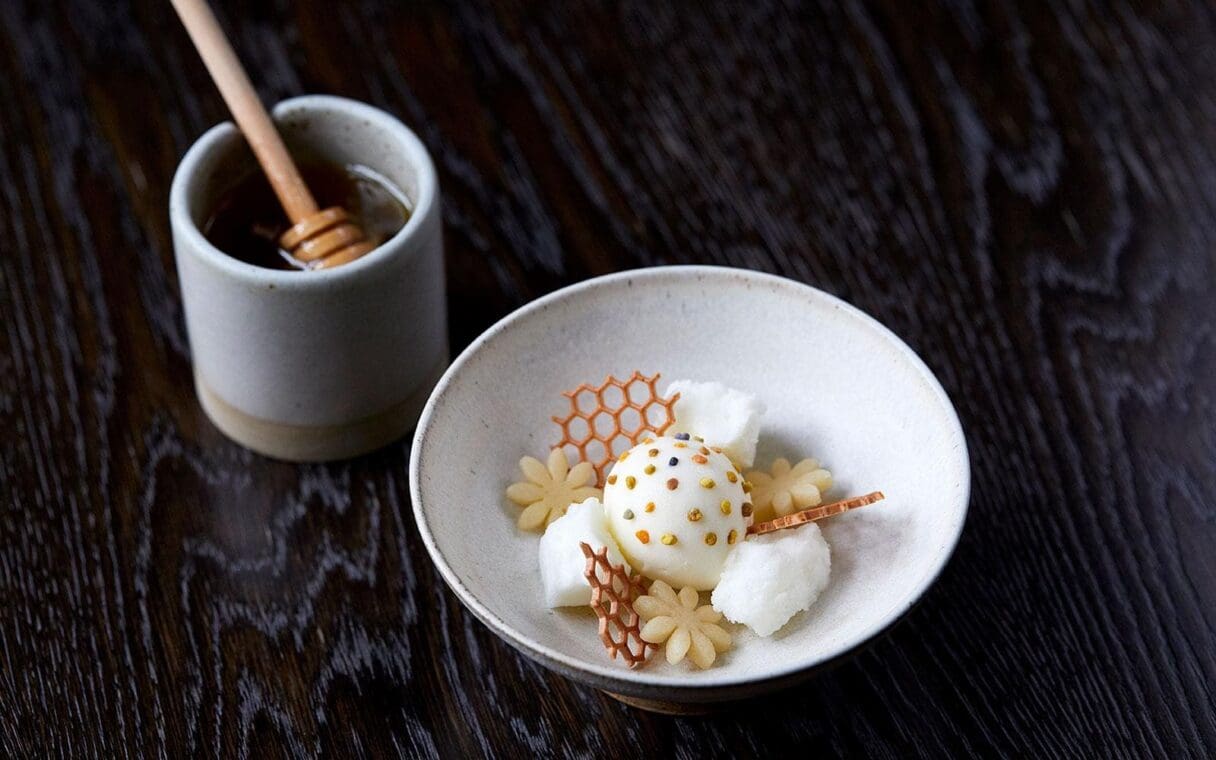 Think you can't get farm-to-fork dining in the heart of London? Think again. Since opening in 2013, Five Fields' chef patron Taylor Bonnyman has been impressing guests with his frequently changing menus which celebrate the abundance of produce grown in the restaurant's kitchen garden. Formal yet intimate in feel, you'll have to fend off Five Fields' many local fans to get a table, but it's well worth it for the restaurant's tasting menu-only fare, which features the likes of roast saddle of fallow deer with swede and meadowsweet, and Jerusalem artichoke with sunflower seeds and oxtail.
8-9 Blacklands Terrace, SW3 2SP, fivefieldsrestaurant.com
Elystan Street, Chelsea*
This light and airy restaurant is a collaboration between chef Phil Howard and restaurateur Rebecca Mascarenhas and the aim, according to Elystan Street's website, is to 'leave you with an even bigger smile than the one you arrived with'. This is Chelsea, however, so happiness comes in the form of understatedly chic navy-and-peach banquettes, double-baked soufflés made with cave-aged Cheddar, and a wine list featuring some truly fantastic bottles from across Europe and the New World.
43 Elystan Street, SW3 3NT, elystanstreet.com
Kitchen W8, Kensington*
Another project from Phil Howard and Rebecca Mascarenhas, Kitchen W8 bills itself as a friendly neighbourhood restaurant – not a moniker often associated with the pomp and circumstance of a typical Michelin-starred eatery. Here, however, it really does seem the case, with the kitchen turning out extremely well-priced plates of modern European fare in a bright, contemporary dining room. They even allow you to bring your own wine with no corkage charge on a Sunday evening.
11-13 Abingdon Road, W8 6AH, kitchenw8.com
Harwood Arms, Fulham*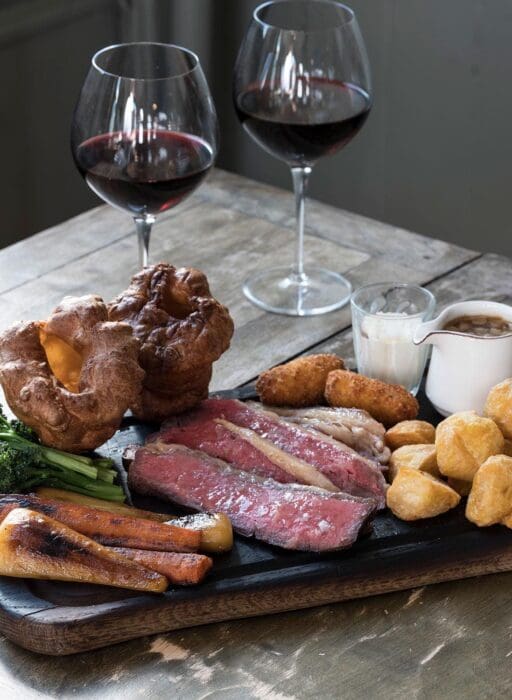 The Harwood Arms is that rare thing: a fine dining gastropub capable of turning out exquisite plates of seasonal British fare without forgetting that, at its heart, it's a traditional boozer. Guests are just as welcome to pull up a stool at the bar for a pint and a Scotch egg as they are to take a seat at one of the sturdy wooden tables for a long Sunday lunch. As the stag's head on the walls suggest, the Harwood Arms comes into its own during game season (the owner is an avid shooter and provides much of the produce) but the food is outstanding all year round.
Walham Grove, SW6 1QJ, harwoodarms.com
La Trompette, Chiswick*
Part of a fine-dining group which includes the similarly-lauded Chez Bruce and The Glasshouse, La Trompette celebrates a decade in business this year and shows no signs of slowing down. Helmed by chef Rob Weston, who trained under Marco Pierre White, Guy Savoy and Phil Howard, food is of the solid, modern European variety, with much attention paid to giving quality ingredients the care they deserve. There are few afternoons better spent, in our humble opinion, than with a few glasses of something full-bodied enjoyed over La Trompette's crisp suckling pig with polenta.
3-7 Devonshire Road, W4 2EU, latrompette.co.uk
Endo at the Rotunda, White City*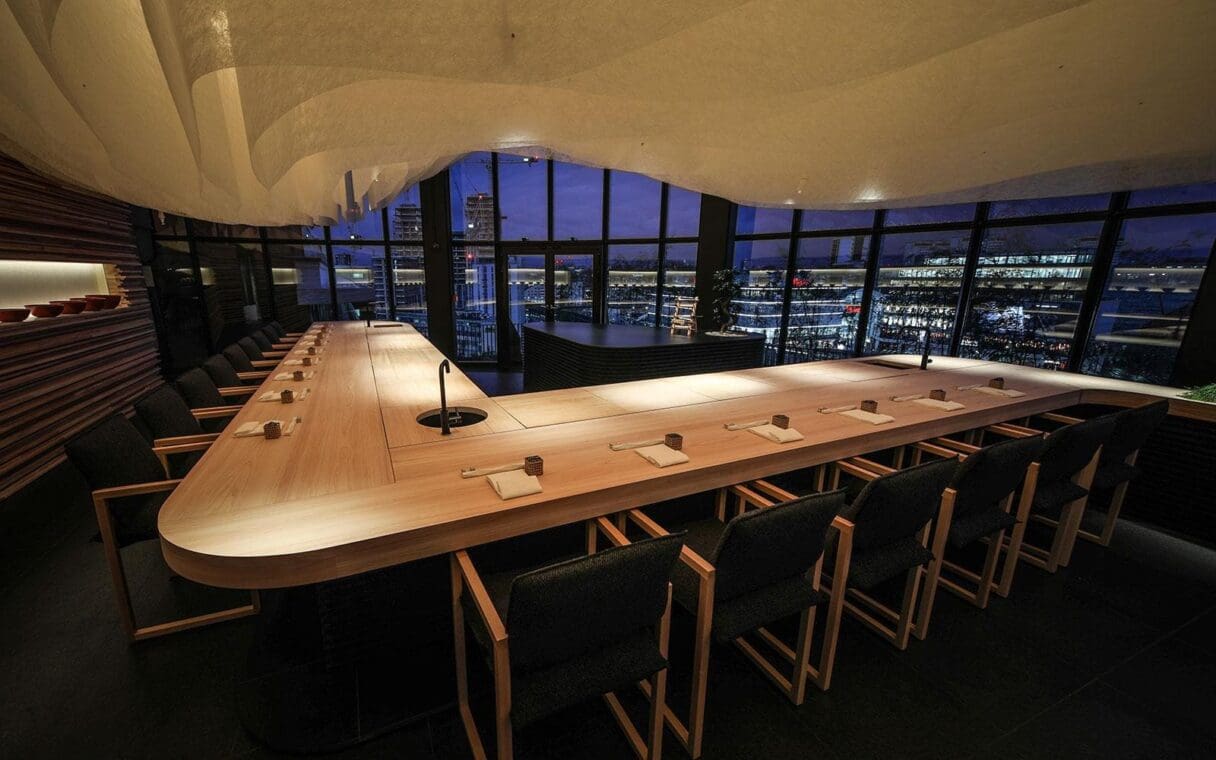 Housed in the former BBC Television Centre, where new residents, including Soho House, are helping turn this unloved part of West London into an entertainment destination, Endo at the Rotunda occupies a light, bright top-floor space, dominated by a stunning bar crafted from 200-year-old hinoki wood. It's a fitting surface on which to place chef Endo Kazutoshi's ever-changing but always pretty-as-a-picture omakase (i.e. no choice) dishes. Served across a staggering 20 courses, this is the place to sample the centuries-old art of Edomae sushi from a true master.
101 Wood Lane, W12 7FR, endoatrotunda.com
River Café, Hammersmith*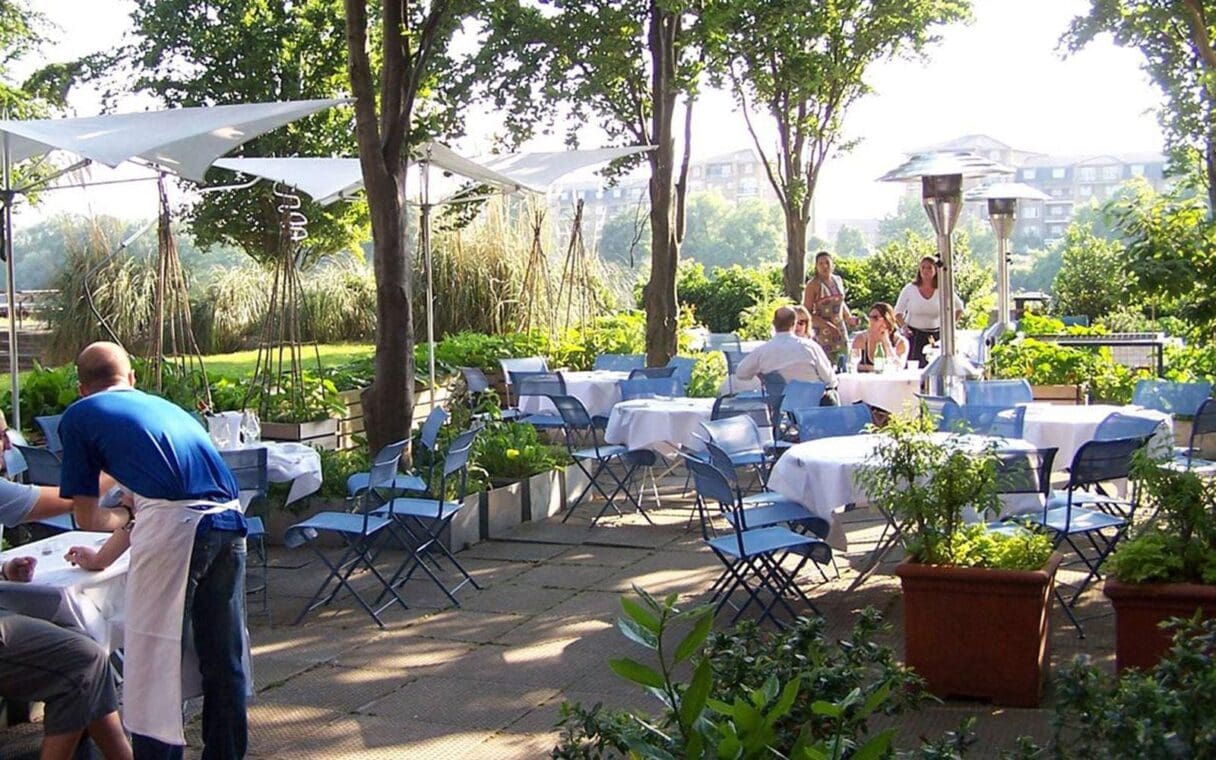 The River Café's pretty terrace is possibly London's worst-kept culinary secret, so securing an al fresco spot for lunch on a warm summer's day is like finding gold in a silver mine. Prevail though, and you'll find yourself privy to one of the capital's most revered dining experiences. The team has been turning out sublime, authentically Italian dishes for more than 30 years, with a daily changing menu making the most of whatever happens to look particularly good that day. The pasta is a must, as is the mischievously named Chocolate Nemesis – the rare dish that never comes off the menu.
Rainville Road, W6 9HA, rivercafe.co.uk
Dysart Petersham, Richmond*
A slice of bucolic rural hospitality at the end of the District Line, the Dysart in Petersham is all about offering guests a good time without the fuss. Housed in an early 19th-century building constructed as part of the Arts & Crafts movement, and named for the family that once live in Ham House, solid, high-quality cooking is accompanied by a superb wine list and regular piano recitals, in a warm and inviting dining room. The ideal spot for family dinners and impressive first dates.
135 Petersham Road, TW10 7AA, thedysartpetersham.co.uk
East London
La Dame de Pic, City of London**
The Four Seasons achieved a coup when it persuaded Anne-Sophie Pic, the world's most decorated female chef, to open a restaurant at Ten Trinity Square, its first hotel in the City of London. A stone's throw from the Tower of London and Tower Bridge, La Dame de Pic London is housed in the former headquarters of the Port of London Authority, an appropriately ornate setting for Pic's elaborate, classically-French-with-a-twist cuisine. The restaurant owes its two Michelin stars to reimagining core ingredients through curious cooking methods and extraordinary attention to flavours and presentation.
10 Trinity Square, EC3N 4AJ, ladamedepiclondon.co.uk
Da Terra, Bethnal Green**
Awarded a second Michelin star in 2021, Da Terra occupies a ground-floor space at the former Bethnal Green Town Hall. Head chef, Rafael Cagali, boasts quite the résumé, having worked at the two-star A Villa Feltrinelli in Italy, Heston Blumenthal's The Fat Duck, Fera at Claridge's, and Simon Rogan's Aulis. As has become almost de rigueur among the most decorated Michelin-star restaurants, the offering is a ten-course tasting menu only, priced at £215 per person. Expect flavours to flit between Europe and South America and the dining experience to last around three hours.
Patriot Square, E2 9NF, daterra.co.uk
The Clove Club, Shoreditch**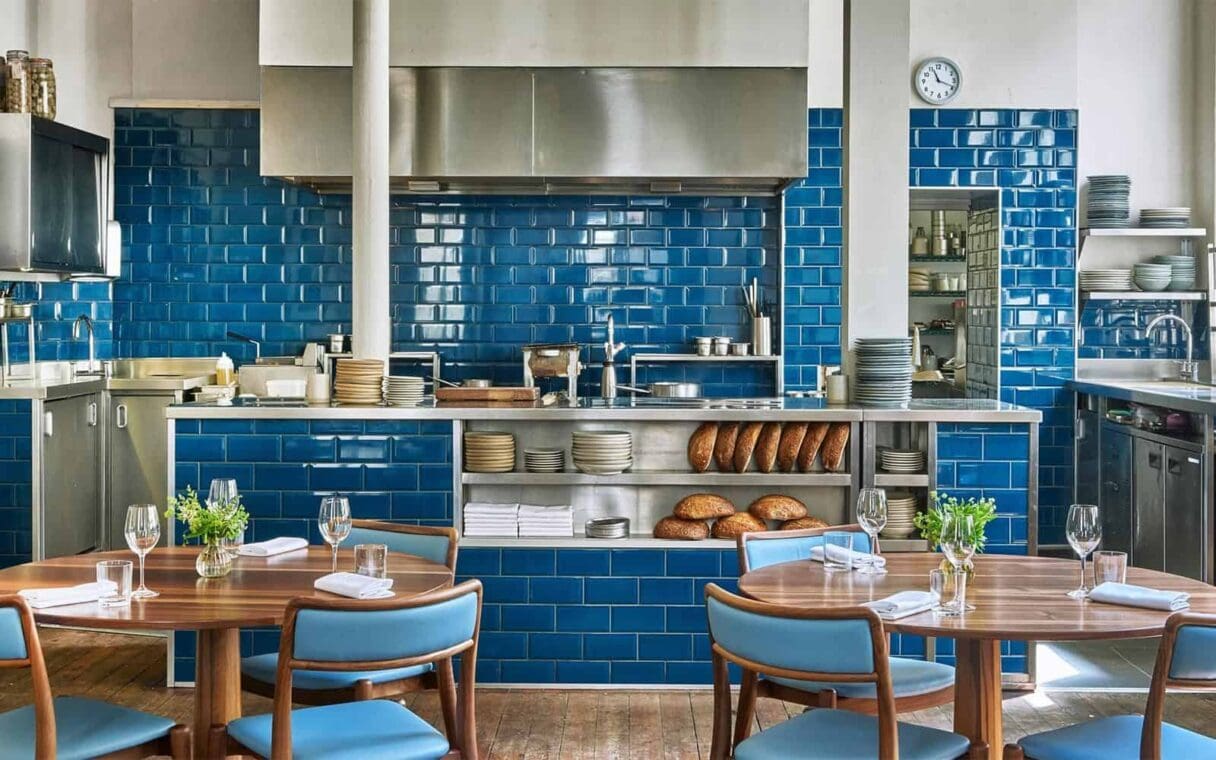 In 2010, friends Daniel Willis, Isaac McHale and Johnny Smith founded a supper club called The Clove Club, and just three years later opened a restaurant of the same name, scooping a Michelin star in the process. In 2022, they were finally awarded their second. Located in Shoreditch Town Hall, The Clove Club serves a tasting menu made using ingredients sourced only from Britain, but with flavours inspired by cuisines from across the globe. Don't miss the signature raw Orkney scallop with Périgord truffle, hazelnut and clementine.
380 Old Street, EC1V 9LT, thecloveclub.com
Cycene, Shoreditch*
The latest venture from Blue Mountain School founders James and Christie Brown – whose previous restaurant Mãos also held a star before it closed in 2022 – Cycene (meaning kitchen in Old English) aims for intimacy, experimentation and a true foodie experience. Theo Clench, formerly of Portland and Akoko is in the kitchen, which has been doubled in size from that of Mãos to allow for meat aging chambers and fermentation lockers (a drinking vinegar pairing is available – yes, really). Food comes as a ten-course tasting menu at dinner or a five-course menu at lunch and the dining room allows for just 16 covers, all the better to concentrate on dishes of scallop, macadamia and blood orange or Devon crab, genmaicha and kombu tartlet.
9 Chance Street, E2 7JB, bluemountain.school
Luca, Clerkenwell*
Long beloved of London locals for its gorgeous terrace (which also doubles as one of the capital's most unique private dining rooms, Luca opened in 2015 and was awarded its first Michelin Star in 2023 under head chef Robert Chambers. The food here is British ingredients viewed through an Italian lens. Start your night with negronis and Parmesan fries at the bar before moving into the seductive dining room for plates of agnolotti cacio e pepe, burrata with poached pear and vitello tonnanto.
88 St John Street, EC1M 4EH, luca.restaurant
Lyle's, Shoreditch*
The menu at Lyle's is micro-seasonal, meaning dishes are made using only what's fresh and available on the day. Food may appear simple, but each dish is delivered with technical precision and ingredients sourced with meticulous attention to detail – fish is couriered from Cornwall each day, and every summer the team take a day trip to the south coast to pick fruit. A set menu is served at dinner, while lunch gives guests greater freedom to cherry-pick their favourites from an à la carte menu.
56 Shoreditch High Street, E1 6GY, lyleslondon.com
Galvin La Chapelle, Spitalfields*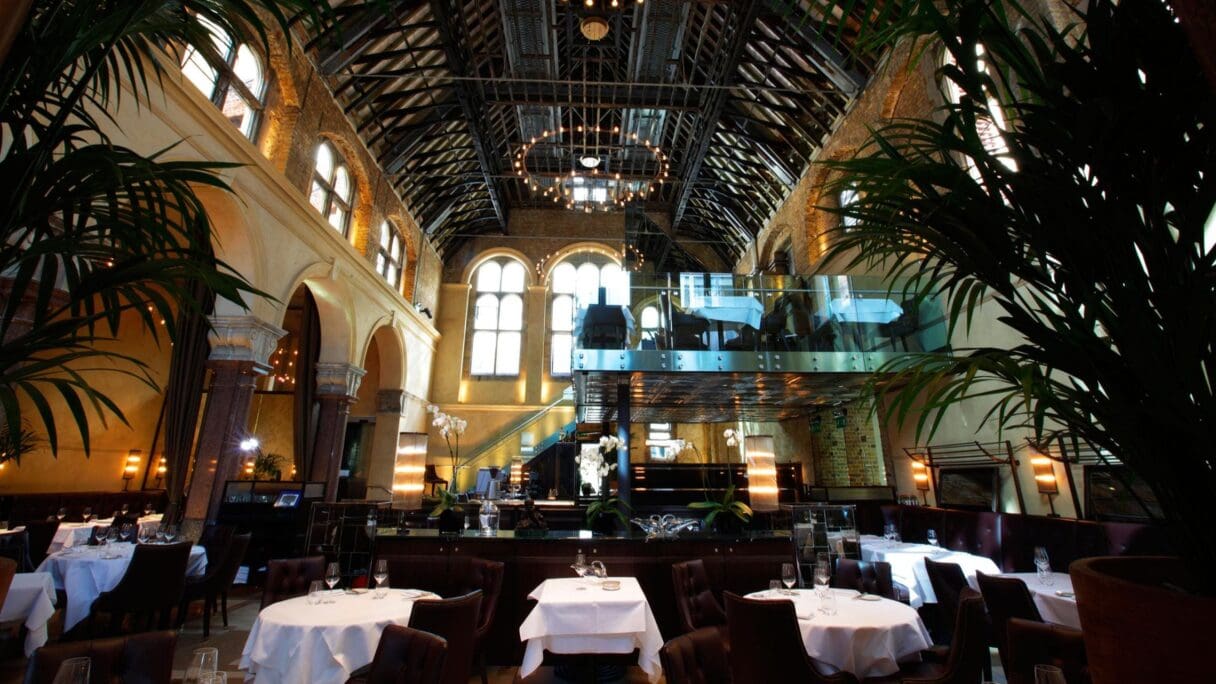 You'll be asking for seconds at Galvin La Chapelle, the one Michelin-starred restaurant located in a Grade II-listed former school near Liverpool Street, where a red-brick façade and large arched windows stand in contrast to the surrounding skyscrapers. It's a family affair, with Jeff Galvin in the kitchen and brother David stocking the fridge with seasonal ingredients bought the night before from Covent Garden Market. The menus are informed by traditional French cooking techniques delivered with modern flair, and include dishes such as tagine of Bresse pigeon, cannon of Cornish lamb and chilled Charentaise melon soup.
35 Spital Square, E1 6DY, galvinrestaurants.com
Behind, Hackney*
It may not have been the most of auspicious of times to launch your first restaurant, but just 20 days after Andy Beynon opened Behind, on the edge of London Fields, Hackney, in October 2020, the fish-focused eatery was awarded its first Michelin star. Cutting his teeth alongside culinary heavyweights Claude Bosi, Phil Howard and Michael Wignall, Beynon believes service should be as much a part of the meal as the food itself – which is why he, and his fellow chefs, serve plates personally.
20 Sidworth Street, E8 3SD, behindrestaurant.co.uk
Leroy, Shoreditch*
When the Michelin-starred team behind London Fields' Ellory realised they could get a better rent deal in Shoreditch, they closed up shop and relaunched as Leroy on Phipp Street in 2019, with the restaurant earning its first Michelin star within 18 months of opening. Head chef Sam Kamienko is behind the excellent menu, while an equally exceptional wine list is curated by sommeliers Ed Thaw and Jack Lewens. The two- and three-course lunch and a la carte dinner menus are seasonal and change throughout the week; example dishes include smoked venison tartare, and spring lamb chump with sheep's ricotta and spring veg.
18 Phipp Street, EC2A 4NU, leroyshoreditch.com
City Social, City of London*
Sky-high restaurants are nothing new nowadays but, whereas most rely on the views they offer to get bums on seats, you'd expect City Social to be a success even if it was located at ground level. A joint venture between restaurateur and chef Jason Atherton and Restaurant Associates, City Social serves contemporary European fare from the 24th floor of Tower 42, formerly known as the NatWest Tower. There's a buzzy bar, plenty of large circular booths for groups, and a table that's become known as the proposal table.
Tower 42, 25 Old Broad Street, EC2N 1HQ, citysociallondon.com
St. John, Farringdon*
If a menu consisting of offal, pigs ears, ox hearts, duck hearts, bone marrow and, occasionally, squirrel, doesn't have you dribbling in anticipation, then St. John may not be for you. One of the forerunners in 'nose-to-tail' eating, the Smithfield restaurant has earned a standing among chefs and critics for bringing back out-of-fashion ingredients and long-forgotten recipes. Gravy is blood-based and trotters are a speciality. Awarded a Michelin star in 2009, St. John is regularly named as one of the 50 Best Restaurants in the World.
26 St. John Street, EC1M 4AY, stjohnrestaurant.com
Brat, Shoreditch*
Named not after a badly-behaved child but the Old English word for turbot, Brat in Shoreditch takes inspiration from traditional cooking styles in the Basque country. Previously head chef at Mayfair's Kitty Fisher's, Tomos Parry opened Brat, his first standalone restaurant, in 2018 and earned a Michelin star within the first year, along with a fanbase that includes Brad Pitt and Nigella Lawson. Food cooked over an open flame is the theme here, with the smoky scent of grilled Dover sole, beef sirloin and beef rib filling the restaurant. Turbot, unsurprisingly, is the signature dish, grilled whole in a handmade basket over charcoal and served to share.
4 Redchurch Street, E1 6JL, bratrestaurant.com
Cornerstone, Hackney*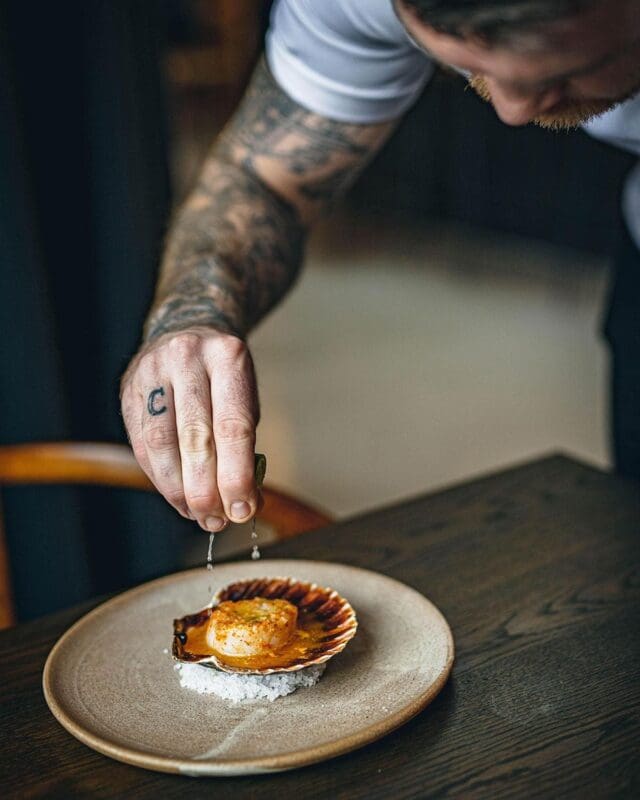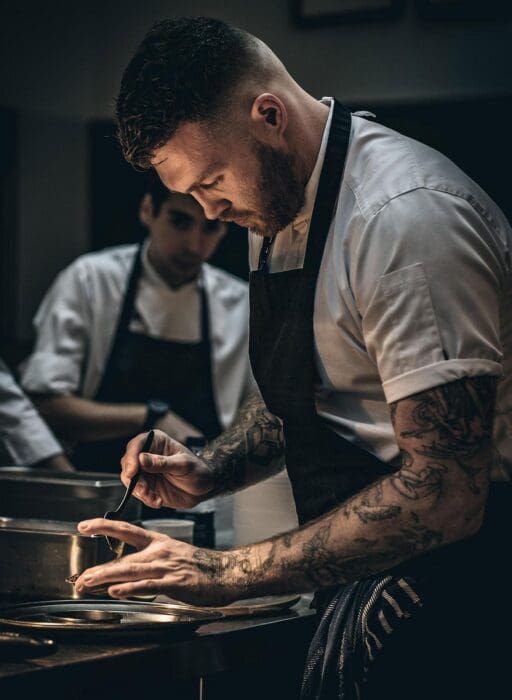 Yet another Hackney-based restaurant pulling London's culinary centre eastwards, Cornerstone is the latest project from Tom Brown, protégé of Nathan Outlaw. Having learned the ropes under the seafood kingpin, it's no surprise that fish and shellfish dominate the menu in this pared-back, polished-concrete-and-white-wall fine-food emporium. Seasonally-inclined dishes, both cooked and raw, impressed the Guide for their 'bold, clearly defined flavours' and for offering 'plenty of originality'.
3 Prince Edward Road, E9 5NP, cornerstonehackney.com
Angler, City of London*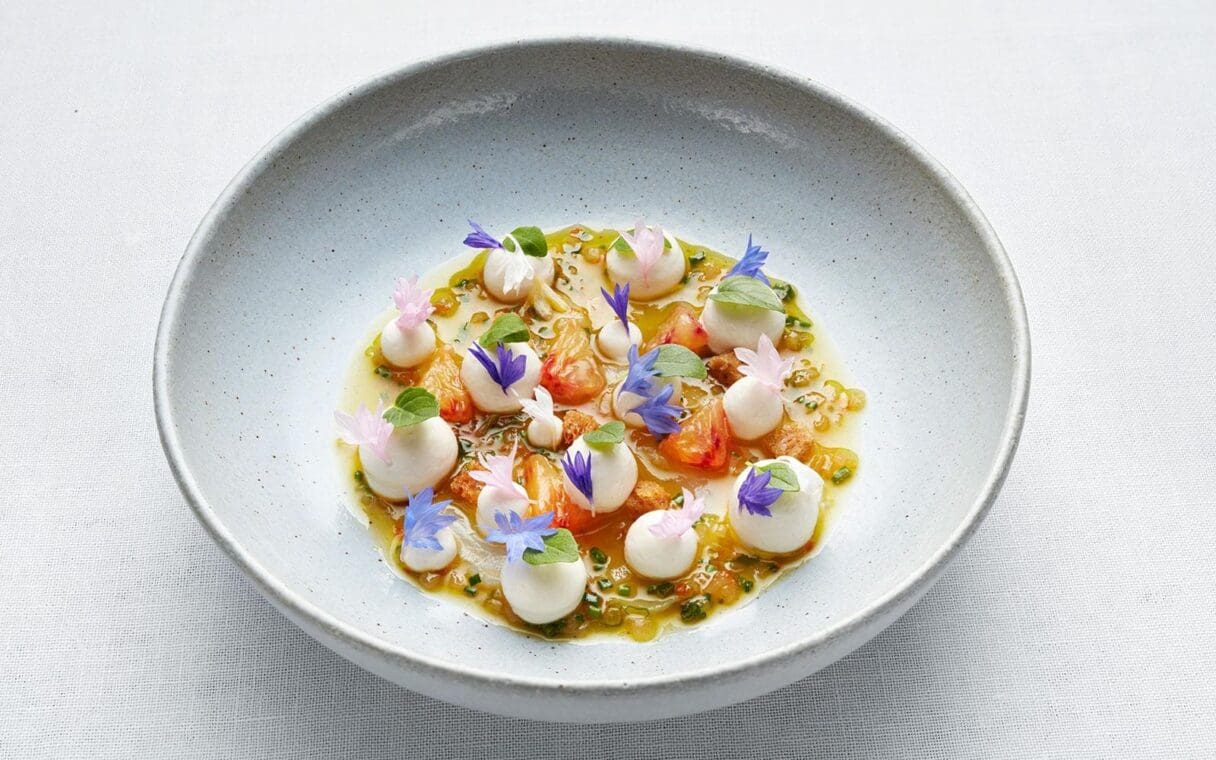 Occupying a seventh-storey spot at the top of Liverpool Street's hip-and-happening South Place Hotel, Angler is, by contrast, a hushed sea of calming whites and muted greys. The restaurant has built its reputation on the simple treatment of the freshest fish and seafood, but its steak and lamb dishes rival anything else in the Square Mile, too. There are some 250 wines to choose from, most are French but many come from lesser-celebrated wine producers from around the world. It may be located in the heart of the City, but Angler feels anything but corporate.
3 South Place, EC2M 2AF, anglerrestaurant.com
Club Gascon, Farringdon*
A temple to the food and drink of Gascony, Club Gascon features a wine cellar of more than 400 wines from the South of France alone, and a menu dedicated to the most indulgent of French cuisine. The restaurant opened in a former bank near Smithfield market, Farringdon, in 1998 and is credited for inspiring something of a fine-dining revolution in the area. The restaurant is tasting-menu only: six courses will set you back £120; eight courses £150. Each menu is also available as a vegetarian option. Club Gascon has held a Michelin star since 2002.
57 West Smithfield, EC1A 9DS, clubgascon.com
Casa Fofo, Hackney*
The second venture from Adolfo De Cecco, the culinary whizz behind Pidgin in Dalston, Casa Fofò is an intimate neighbourhood restaurant just down the road in Clapton. Dishes change daily and, like Pidgin, the eatery operates a tasting menu only. Luckily, Casa Fofò is reasonably priced, given the complexity of the food that's served there, charging £65 for seven courses (at the time of publication). Seasonal ingredients from local suppliers take centre stage, though flavours range from British to Pacific to Asian by way of the Mediterranean.
158 Sandringham Road, E8 2HS, casafofolondon.co.uk
South London
Restaurant Story, Southwark**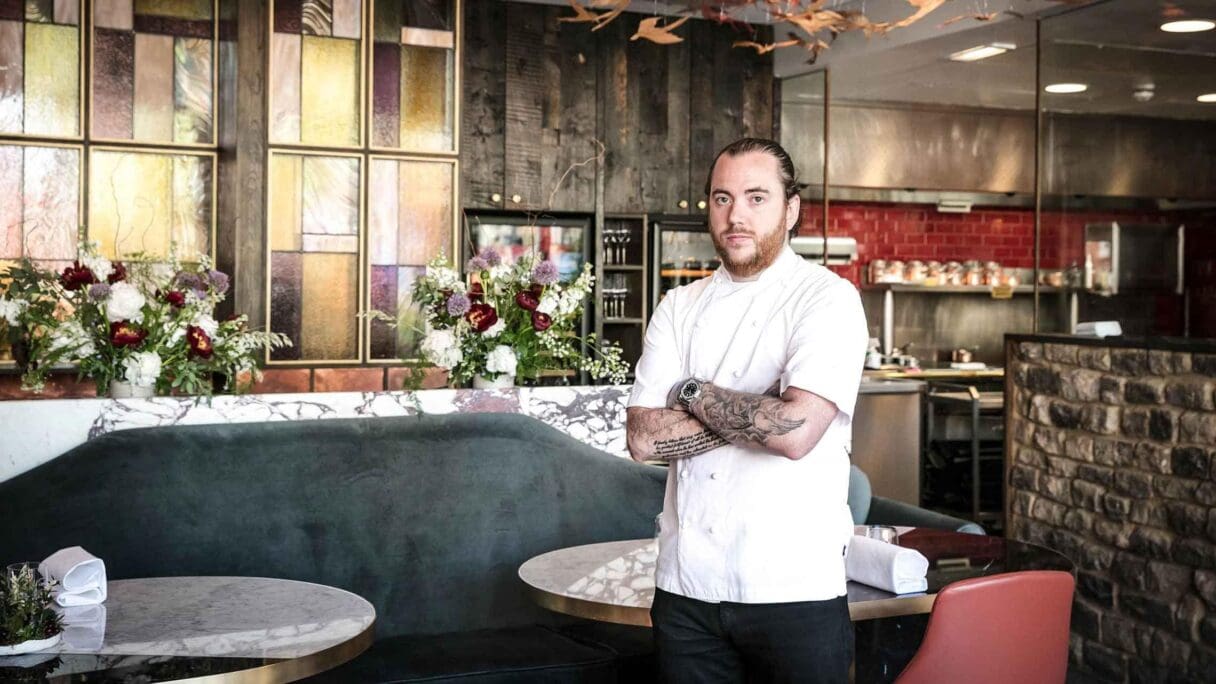 Restaurant Story received its first Michelin star within six months of opening back in 2013. The Tom Seller's venture achieved its second star in 2021. Upon arrival, guests are not presented with a menu, rather are built a meal around their preferences. Visits become a mixture of signature Story classics – the edible, beef-dripping candle being the most talked-about – and seasonally inspired inventions. Diners can look forward to 10 courses that will set you back £225.
199 Tooley Street, SE1 2JX (temporarily closed for refurbishment), restaurantstory.co.uk
Trinity, Clapham*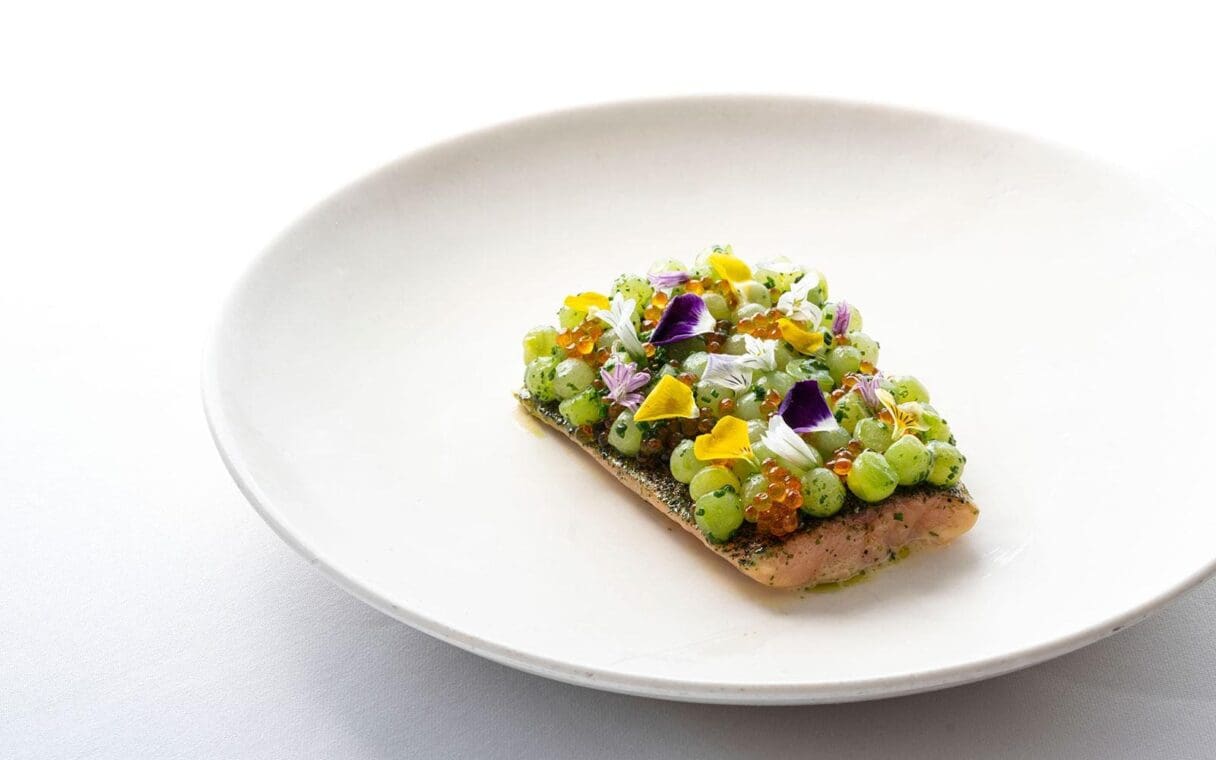 Founded in 2006 by chef-patron Adam Byatt, also of Thyme and Bistro Union and Chef Director of Food and Beverage at Brown's Hotel, Trinity's mission statement reads like a checklist of all the elements likely to land you in Michelin's good books: seasonal, inspirational, delicious. The restaurant offers just one menu at lunch and dinner: a frequently changing four-course menu with a contemporary offering featuring gnocchi Parisienne, roasted pigeon with anjou and rhubarb souffle.
4 The Polygon, SW4 0JG, trinityrestaurant.co.uk
Sollip, Southwark*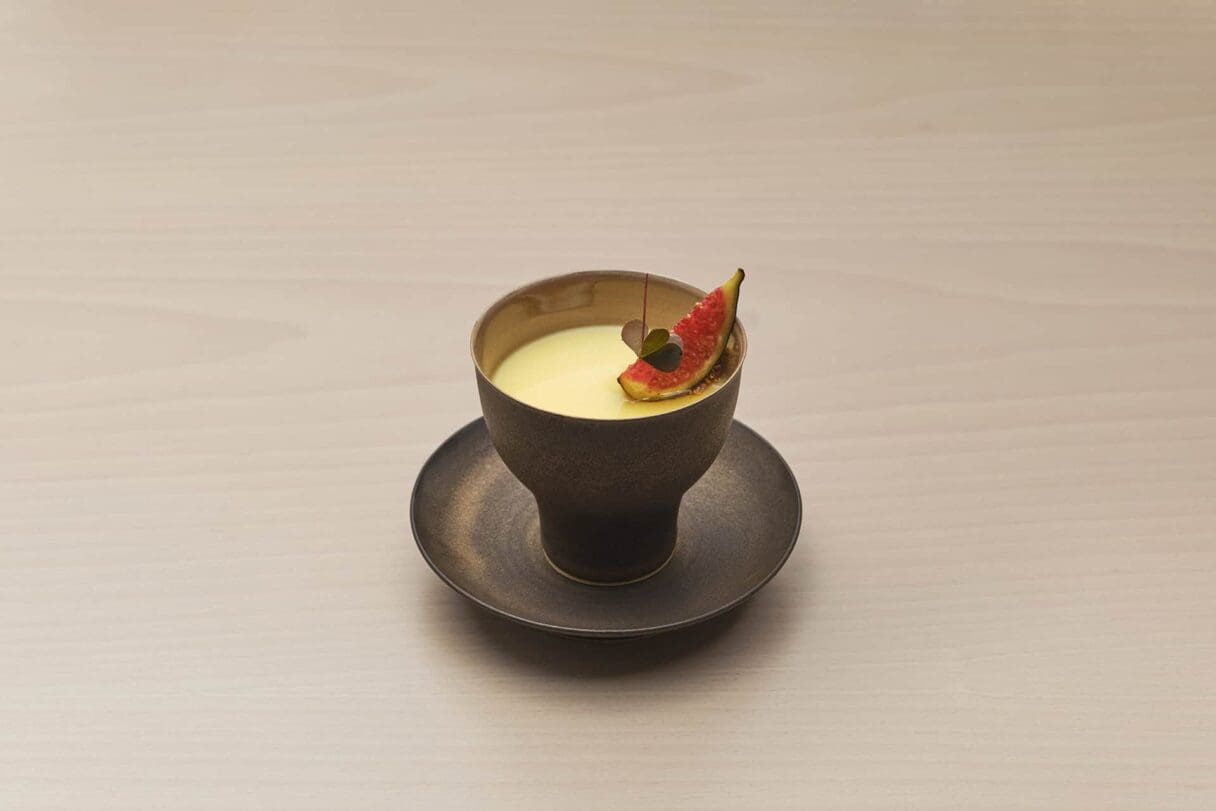 Hidden down a side street in the shadow of the Shard, Sollip is the hugely elegant passion project of a husband-and-wife team who effortlessly meld their Korean heritage with classical training in European kitchens. Named for the Korean word for pine needles, and referencing the skills needed to carefully control heat and smoke in the creation of intricate dishes, Sollip serves a regularly changing tasting menu of around nine courses, with sample highlights including daikon tarte tatin, Cornish turbot with squid ink, and hibiscus peach sorbet.
8 Melior Street, SE1 3QP, sollip.co.uk
Trivet, Bermondsey*
Awarded its first Michelin star in 2022, Trivet opened in 2019 and is the first solo restaurant from Fat Duck alumni Isa Bal and Jonny Lake. Promising a more informal, welcoming take on classic fine dining, the relationship between food and drink is integral to Trivet's ethos, with the 450-bottle cellar forming a key part of the experience and offering creative and unexpected pairings. Food, meanwhile, is adventurous, mining global food traditions for inspiration with resulting highlights including drunk lobster with noodles, Hokkaido potato mille-feuille and saké and white chocolate mousse.
36 Snowfields, SE1 3SU, trivetrestaurant.co.uk
Chez Bruce, Wandsworth*
Perched on the edge of Wandsworth Common, Chez Bruce has been providing elegant French and Mediterranean-inspired fare to the lucky people of South London since 1995. This isn't the place to go for molecular gastronomy or cutting-edge cooking techniques. The mission statement from chef Bruce Poole is all about offering hearty, high-quality food that he himself wants to eat: think homemade charcuterie, slow-cooked stews, beautiful salads and a pastry station that really knows its way around the classics. If all you really want is great food and equally elegant service, Chez Bruce is a solid recommendation.
2 Bellevue Road, SW17 7EG, chezbruce.co.uk