Woodfellas: In the studio with furniture maestro Jan Hendzel
Having earned his grassroots credentials on the capital's design circuit, fine wood craftsman Jan Hendzel has partnered with the Bethnal Green Town Hall Hotel to create two immersive spaces. Ahead of the London Design Festival this
Wood-whisperer Jan Hendzel is sneakers deep in installation as I arrive at the Bethnal Green Town Hall Hotel, just a week before the space is due to be unveiled as part of the 2022 London Design Festival. There is dust everywhere, and a team of workmen who could've been hired for their chiselled cheekbones alone are sanding, sawing, and scraping away to get the rooms ready in time. We step over pots of Pickleson Paint – just one of the small, sustainable local businesses that Hendzel has brought into the fold on the project – in a bespoke colour named East End Clay that's about to grace the walls.
Once finished, the two newly-designed apartments (which can be used as one interconnecting room) will showcase Jan Hendzel Studio's new furniture collection in an all-encompassing space, combining functional pieces, sculptural elements, and signature textural finishes, transforming the hotel rooms into a tactile, gallery-like cocoon.
The kitchen has already been fitted and, as if at some bizarre house party, we linger here chatting about how Hendzel came across the worktop, all the while subconsciously running our hands along its ridges. Made from a crinoid marble slab that one of his team spotted going unused in a quarry, its patterned, fossil-like surface has been hewn to a silky smooth finish. "Now it's a technique they have perfected and can add to their repertoire for future clients," beams Hendzel, who despite being fully 'in the zone' to meet his creeping deadline, couldn't be happier to chat.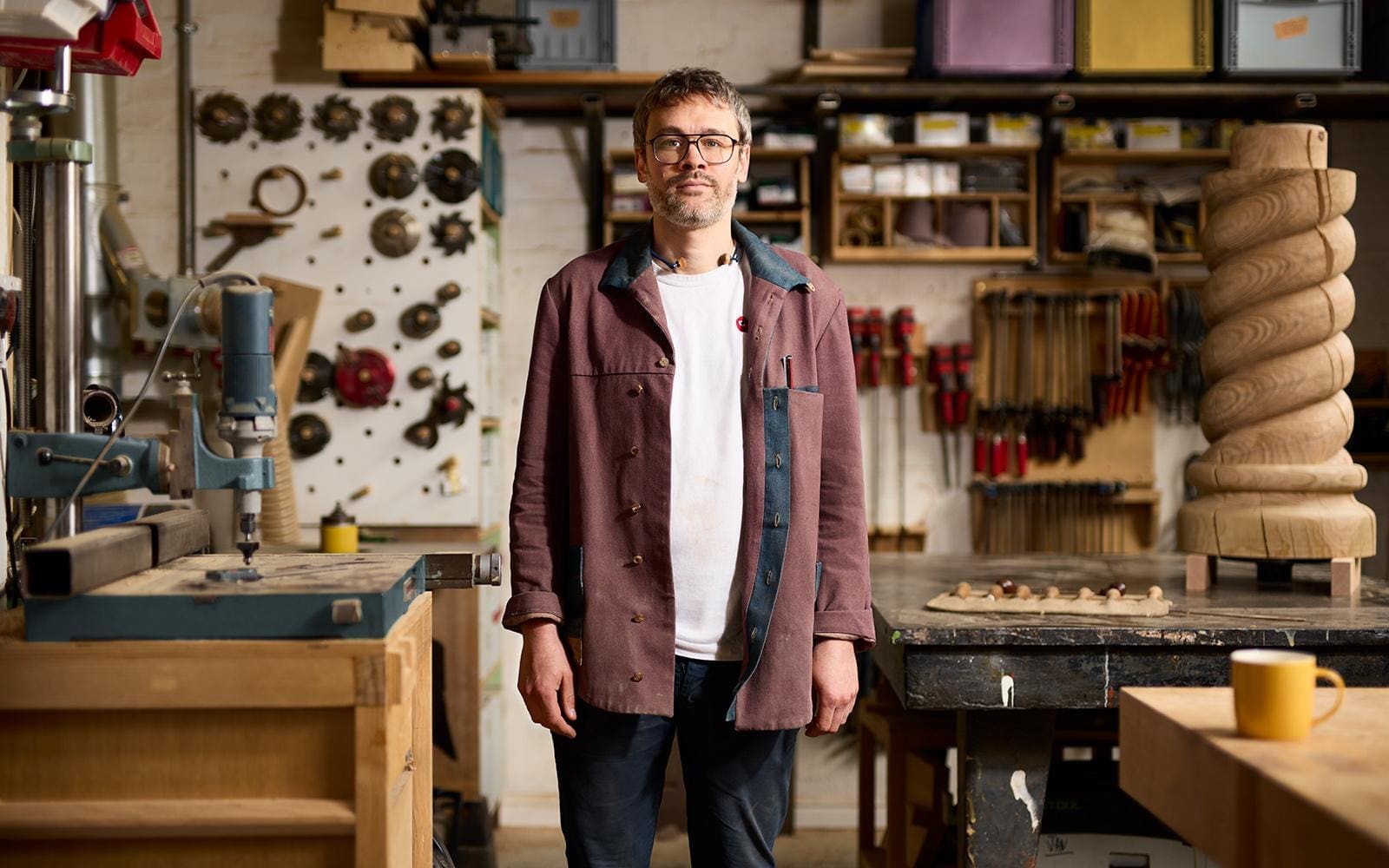 With plans to undergo a full renovation, the quirky, history-steeped Town Hall Hotel will soon become a design destination, just as the local surrounding areas continue to thrive, and drive the cultural and creative conversations in the capital. "The client, Loh Lik Peng, is absolutely awesome – he's a real furniture and design aficionado," says Hendzel, who had an instant connection with the hotel owner.
I ask if there was a brief he had to stick to, or was it just a 'you do you' situation, having already been sold on his creative vision. "The hotel believes in what we are doing with absolute trust and faith. They want to become a design destination hotel, to tap into the local market, and they wanted a project to kick start how that might look and feel. A project works best when there's chemistry and excitement, and this is the proof."
"What we are producing is a lived-in gallery space – because you can buy everything you see," adds Hendzel in his born-and-bred Bristol burr. "But we want to encourage the guests to explore and get comfortable with the pieces. Rub that table joint with your foot! It feels good. We want to draw your eye to certain points. It's the detail that sets it apart."
| | |
| --- | --- |
| Image: Fergus Coyle | Image: Fergus Coyle |
Hendzel specifically likes to show the joinery in his work; the small and subtle features which complete the final picture. "We have this loose-tongue detail that we have used on the tables in the room, which is usually so subtle, but we thought we'd amplify it. Once you notice it, then you'll appreciate the connection with the other pieces. Some are shouty, and some are quiet. They all work together. There's a harmony between the designs. And you're going to want to buy the table and rub your feet on it at home!"
Some of the furniture in the room will come from Hendzel's Bowater collection, his first full furniture collection where baked timbers and flowing edges take centre stage, while most will come from his newer, still-to-be-named range. Scroll through his Instagram and you'll feel the love and attention that goes into each creation.
Particularly beautiful is a handcrafted wooden mirror that will hang as a centrepiece, each walnut-sized groove having been painstakingly hand-moulded. A series of ripple-sided cabinets and tables cry out to be touched – quite the opposite to what most people would feel comfortable doing in a normal gallery. "There's a sculptural vibe, a free flow form, but the integrity and precision are always there, too. There's an understanding of the composure in how all the pieces fit together."
Many of the designs are fuelled by the things Hendzel sees and experiences in his daily life. "The river is a huge inspiration for me," he says. "Working in Woolwich and living in Peckham, I always see the river on my commute. It's a special place. If you hit the river up by Greenwich, it feels like you're not even in London. There's a real European feel to it – like you're in Barcelona or something. It really allows me to break the concentration of work. You then meander from the City into this big industrial zone, and there are big slabs of concrete, with sand and stone flying everywhere. It's madness."
While he loves the energy of Soho, living and working in south London has given Hendzel a specific appreciation for bridges. "Waterloo Bridge offers the best perspective for me. You can really appreciate the breadth of London from either side of the river. It's a beautiful vantage point."
There's a building opposite his workshop called The Cable Shop (where Siemens made the first trans-Atlantic telephone cables), which directly inspired one of Hendzel's chair designs. Part of the multi-award-winning Bowater collection, the Cable Shop Stool is one of his most popular and versatile products (and is also available as a complete make-at-home kit). Made of English ash or oak, this deceptively simple three-legged stool boasts a sturdy, pleasing geometry, but it is the six-sided leg profile specifically that was inspired by the chamfered piers on the facade of the 1937 warehouse.
Talk turns to the upcoming 20th anniversary of the London Design Festival, and Hendzel's involvement in setting up the Southwark South Design District. "I've stepped back a bit this year to focus on the Town Hall project but it's happening, and I'm very excited to see what's in store. There are about 90 people showing at this amazing place called The Bottle Factory. For me, London Design Festival is all about being in a grassroots design community and making sure that everyone has a platform to share their work."
Hendzel, along with several other south London artists and designers, has been integral to the growth of LDF in less affluent areas, having initiated the Peckham design trail just after lockdown. "Everyone was staying local, and nothing was happening in the south especially, so that's when we got the idea. It went down well. People were thirsty for an exhibition. That gave us the catalyst to start Southwark South.
"When you get the right people together, they realise they can start something. We wanted to give a voice and platform to underrepresented people, and to help make LDF more accessible to young designers. The districts up until this point have been very white and affluent, which misses out a whole demographic of people. We've brought in a lot more diversity and opened it up to people who may not realise that a career in design is an option for them."
| | |
| --- | --- |
| Image: Fergus Coyle | Image: Fergus Coyle |
Other local projects include a co-working space in the City and a terrifyingly realistic giant pig head in Shoreditch, made from reclaimed canal lock gate oak for nose-to-tail Italian restaurant Manteca. Flick through Hendzel's socials again and you'll discover the ingenious creation process behind the head: the mottled bust is stained blue-black from a chemical reaction with the old, embedded ironmongery and the natural tannins of the oak.
Electric drills resume in the background, and I feel I should release Hendzel back to his natural habitat so that he has some hope of getting the project done in time for the festival opening. His enthusiasm as an artist and for the project in hand is sure to radiate through the final space. "I just want to pay homage," he smiles, ducking his head to re-enter the sandstorm, the wood-Chippendales poised to perfection, electric drills and hard hats at the ready. Let the show go on…
Jan Hendzel's apartments at the Town Hall Hotel in Bethnal Green will be available to book from 26 September 2022 priced at £395 night, townhallhotel.com; janhendzel.com. London Design Festival takes place from 17–25 September 2022, londondesignfestival.com