Discovering the Loire Valley: châteaux hopping around France's famous wine region
Comprising Bourges and Chartres cathedrals, six cities of artistic and architectural importance, and some of the most magnificent châteaux in the whole of France – including the Château De Raguerniere and Château De La Chance – there's more
On the southern bank of the River Vienne in Chinon, a man fiddles with the spool of an outsized black kite, its bridle tense, its sail shaded by a brilliant cerulean sky. The aircraft is the same hue as the blackwashed fishermen's 'toues'- small boats with tiny cuddy cabins – and larger sail-driven barge-like 'gabares' that float on the Loire. The yellow fortifications of the 12th-century Forteresse Royale de Chinon sweep muscularly over the tranquil town, as they have for a millennium.
Yet it's a lone black statue on the north end of the bridge that holds my attention above all else. Covered in dusky Verdigris, the bronze statue carries a placard lionising Francois Rabelais, the humanist pioneer and Renaissance prose writer, born in Chinon in the late 15th century, who famously noted 'I drink no more than a sponge'. After a few days in the Loire Valley, it's a statement that cleaves close to the heart.
My journey through the region commences at Sancerre. I sit shotgun next to Franck Pasquier of Nantes Wine Tours. I'm a little wine-addled from the previous evening, spent whiling away over bottles of Bourgueil and beef bourguignon in Langeais' Chateau De Raguerniere. The magnificent 19th century edifice features pointed steeples and a blue-and-silver colour scheme straight out of a Disney film. We've hired it from Oliver's Travels, which boasts the largest selection of luxury chateaux and villas in France.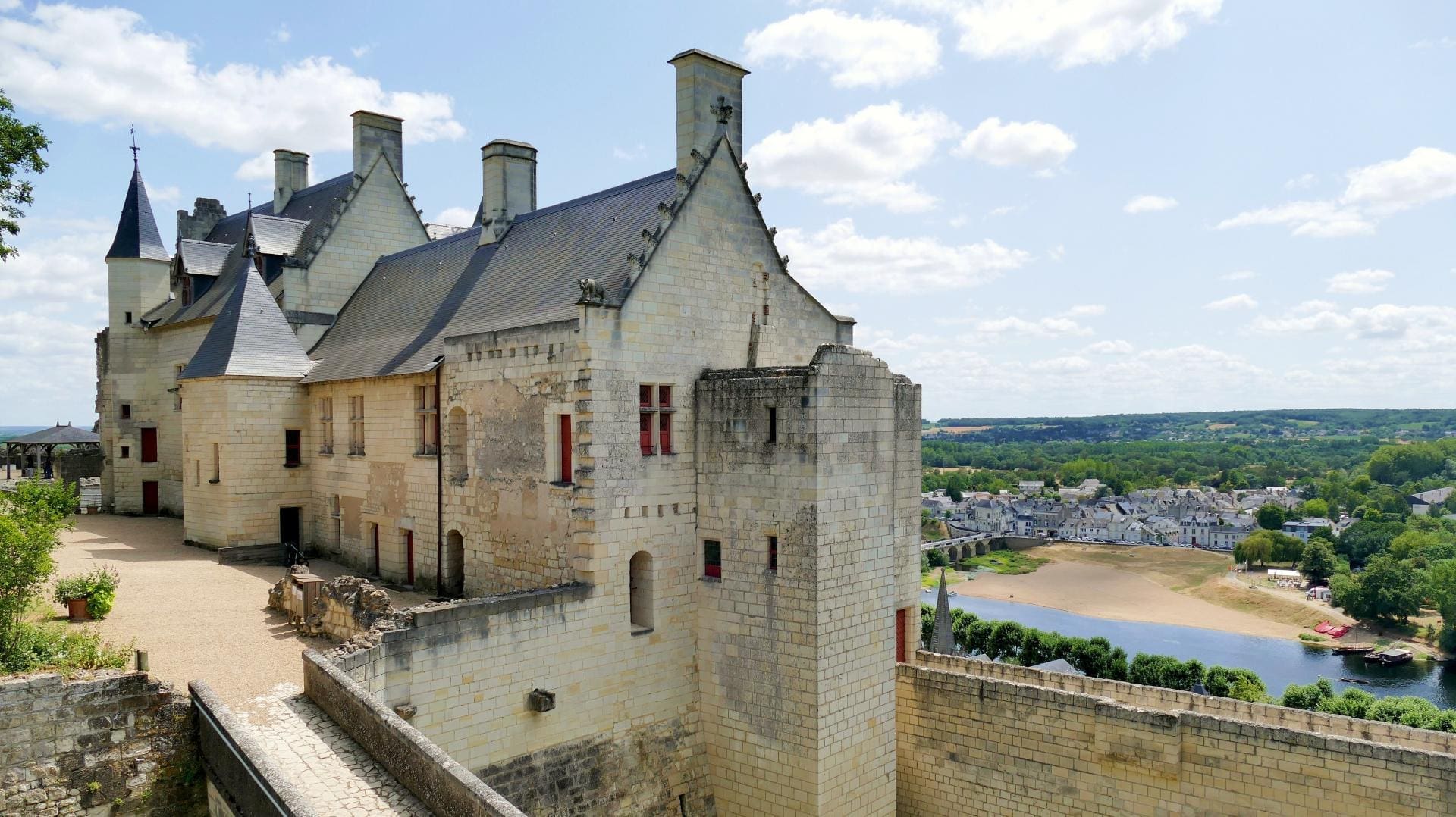 Following many years working internationally, Pasquier decided to pursue his true passion and run Nantes Wine Tours. With a black turtleneck, closely cropped hair and spectacles perched atop the high bridge of a roman nose, he has an avuncular air that immediately makes one feel comfortable, no matter how inane your questions.
The vehicle scythes through tawny golden fields of wheat, corn and sunflowers over which black crows circle. It's all very Vincent Van Gogh. Boxwood, lime trees and Holm oak are a lush shade of green, evidencing the valley's rude fertility. Foliage and crops give way to martially regimented rows of sauvignon blanc and pinot noir vines. The 'piton' of Sancerre looms into view – a steeply-sloping hill girdled with medieval stonework houses.
While we ogle the village, Franck banks southeast and we continue under an enormous railway viaduct to Thauvenay, a miniscule village on the eastern bank of the Loire. Here, we arrive at Les Celliers de la Pauline, the winery of Domaine Eric Louis, founded in 1860 by Franck's relative of that name, who was known to enlist the whole town when it came to harvesting grapes.
In between gleaning facts on the region, such as that there are 360 winemakers in the appellation alone, we sip sauvignon blanc and pinot noir grown in the immediate vicinity, which are the only grapes growers are allowed to use if they wish to display the Sancerre label. Unlike the rest of the AOC (appellation d'origine contrôlée), the terroir here is mostly flintstone and it flaunts it in an almost metallic mineralogy.
Unsurprisingly, it makes beautiful bedfellows with Le Crottin de Chavignol, the AOC-specific goat's cheese of the region, of which we enjoy a vertical tasting. Later, I enjoy the same product folded into an exceptional omelette at Auberge Joseph Mellot, owned by the titular winemaker. It couples nicely with his Clos de Pressoir 2016 pinot noir from nearby Menetou-Salon, one of the best I've had from the Loire, which makes sense given how close we are to Burgundy. We work off the excess by climbing an Maurits Cornelis Escher-esque series of stairs to emerge on the turret roof of the Maison de Sancerre, which offers a 360 degree of the Loire River, its rolling hills and gentle valley.
I am more excited for the next day than any other as we'll be predominantly tasting two of my favourite grapes – cabernet franc and chenin blanc. We drive beyond the hulking honey-hued fortifications of the castle in the centre of Langeais across the steely waters of the Loire and into thick forests of sessile oak. The woods north of Chinon are one of the oldest surviving forests in France and of paramount importance to the grapes of the region, sheltering them from the cold weather that blows from the northeast in a cosy microclimate.
When we emerge from shady lanes into broad fields and drive beyond bulbous elephant-shaped topiaries into Chateau de la Grille, however, we learn that the crops have recently been under siege by changes in the weather. In 2016 and 2017, frosts arrived late in the season and left the vines with leaves resembling dried tobacco. Extraordinary measures have to be taken to fend off the cold. Fires are built throughout the vineyards. Expensive candle and fan systems are installed.
Last year was a year of high quality but low quantity grapes, owing to a late frost and three months without rain. Still, the wine from these vineyards is exceptional. A Chateau de la Grille 2015 is poured from a wide-based and weighty traditional bottle. Its rich anisette nose is followed by a refined vegetal character on the palate – like a Michelin-level ratatouille, with silky yet pronounced tannins. It's a beautiful expression of cabernet franc.
With purple teeth and lips, we drive east along the Vienne River until we reach its confluence with the Loire. A long deck of yellow tuffeau, a particularly porous brand of limestone which lend character to many of the region's wines, unfurls to our south. It is riddled with holes and tunnels, some of which have been converted to handsome living spaces complete with balustrades and bay windows. Many of these troglodytic residences have been occupied for over 1,000 years, though in more rudimentary shape than they are today.
They are of historical importance throughout the Loire, for secreting treasure from the Nazi occupation as much as growing mushrooms. They also offer near perfect conditions for storing and aging wines, as we discover at Domaine de Rocheville in Saumur-Champigny, where a brushed-concrete modern winery sits atop an ancient tuffeau-stone cave system, and especially at Bouvet Ladubay.
Located just under the ruins of St Florent Abbey, Bouvet Ladubay's winery adjoins a gallery of more than 10 kilometres of tuffeau tunnels, which we explore on bicycle, dodging bats and stalactites. These were purchased by founder Etienne Bouvet when he founded the company in 1851 at the tender age of 23. Since then, it's become one of the most established manufacturers of Cremant de Loire in the region – a double-fermented methode traditionnelle sparkling wine made largely with chenin blanc.
The sky is darkening as we drive eastwards into the Maine-et-Loire department, also known as Anjou, until we arrive at our destination on the banks of the river Layon. Château de la Chance, also hired through Oliver's Travels, is a medieval castle constructed in the 11th century with hulking walls, deep fireplaces and cavernous banqueting halls, not to mention amenities including a salt-water swimming pool, two barbecues, a badminton court and archery range. My bedroom, with its intricately-carved gothic bed and furniture, could have featured in Game of Thrones. In fact, I'm informed by my host that one of the chairs was spotted in season three.
It's difficult to tear oneself away from such a property but a Michelin-starred meal at La Table de La Bergerie in Champ sur Layon provides enough of a draw. Nestled within the vineyards of Domaine de la Bergerie, run by Anne Guégniard and her parents, the restaurant features the cuisine of her husband David Guitton, who serves as head chef. Having trained under Gallic culinary legends Joël Robuchon and Alain Ducasse, his attention to detail is exceptional, as evidenced by his crispy gougeres, espelette pepper spherification and seductive celery emulsion foams with curry and mussels.
The next morning we arrive at Savennières. As we navigate a heavy rainfall under broad umbrellas through verdant orchards, Chateau de Vaults hovers into view with chief winemaker and owner of Domaine du Closel Evelyne de Pontbriand awaiting us upon its threshold. In woollen pants, a dun-coloured jumper and pink neckerchief she cuts an erudite figure.
Following a career lecturing on art and literature, Evelyne took over the property from her mother Michèle Bazin de Jessey in 2001, continuing a long line of female vigneronnes. She utilises organic and biodynamic techniques to coax out the beauty of the schist and sandstone terroir, laying cow horns packed with manure at the base of the vines and spraying them with stinging nettle tea, all in the pursuit of balancing the natural cycles of the ecosystem.
Her hard work is present in La Jalousie, an elegant fruit-forward wine and my favourite chenin blanc of the trip. Savennières is perhaps more threatened by climate variations than any other AOC we've visited in the Loire. A late frost in 2017 reportedly destroyed 90 per cent of the year's crop. When winemakers use nature-oriented methods such as de Pontbriand's, it's even more difficult to cope with variations in the climate.
On our last morning we arrive underneath the steeply pitched blue slate rooftops of the stunning Château de Goulaine, from which our mercurial host Christophe Goulaine emerges. The manor has been in his family for a millennium. He gives us a tour, cracking jokes as he walks us through beautiful hand-painted salons past a cabinet of curiosity into the working kitchen. Here he pours us glasses of estate-bottled Muscadet Sur Lie. It's just past 10am but I'm feeling relaxed.
Rabelais once wrote that 'there are more old drunkards than old physicians.' Let's hope he was right.
Chateau de Raguerniere (sleeps 18) costs from £8,170 per week or £65 per person per night, Chateau de la Chance (sleeps 10) costs from £4,595 per week or £65 per person per night, both can be booked through Oliver's Travels, oliverstravels.com
Atout France's website, atout-france.fr, is a trove of inspiration and practical tips for planning your trip. For more information and ideas, visit france.fr, or, if it's information about wine you're after, visit visitfrenchwine.com.