Cali Mykonos: A new vision for luxury Greek hospitality
The island's newest opening is a breath of fresh air among the beach clubs and party hotspots
It should be taken for granted that anyone heading to a Greek island for their summer holiday is after the kind of complete rest and relaxation that can only be found lying on a poolside sunbed with a stack of beach reads on one side and a mojito on the other. In Mykonos this should be a given: it has the beaches, the guaranteed sunshine, the endless ocean. However, as anyone familiar with the island's latest tourism phase will know, achieving this kind of zen is easier said than done.
A relatively young tourist destination, Mykonos first began welcoming artists and free spirits attracted by the history of nearby Delos and the untouched beauty of the 'mass of stones' in the 1960s. Of course, nowhere this gorgeous stays untouched for long, and, once Jackie Onassis made the island her favoured holiday destination in the 70s, the jet set began flooding in – with the island famously becoming renowned as a safe haven for LGBT holidaymakers.
Fast forward a few decades and anyone still harbouring notions of quaint Greek tavernas and slow island life is, frankly, going to be sorely disappointed. Modern Mykonos has entered the era of the beach club.
While nowhere near the scale of their counterparts over in Ibiza, you'll be hard pressed to find a spot of sandy shore on Mykonos that hasn't been colonised by rows of rattan day-beds charged at €500 per day, where all-day DJs are de rigueur and a bottle of Cristal can set you back €55,000. And, when dancing on the tables is practically mandatory from midday, you can see why it might be a little difficult to zone out.
Which is where Cali Mykonos comes in. Forgive the Gen Z speak but there is really no better way to describe the newest, and quite possibly most luxurious, hotel on the island than 'pure vibes'. From the gracefully curved infinity pool that blends into the hillside, to the upbeat lounge music pitched at just the right volume in the al fresco cocktail bar, to the soothing natural colour palette of whites, greys and blues that extends throughout the property, Cali Mykonos has the kind of serene, refined atmosphere that hospitality consultants the world over are paid thousands to get just right.
Except you won't find an army of 'experts' on the credits list here. Instead, the hotel is the product of an authentic appreciation for the island and no small amount of sheer determination and passion.
The story of Cali Mykonos began around six years ago when managing partner Kyriakos Mourkakos, a New Yorker of Greek descent, noticed many of his fellow Americans name-checking the island as a bucket list travel destination. Buoyed by his affinity with the area, where he spent summers as a child and learned to speak fluent Greek, he gathered a group of investors and proposed a business venture: they would build a high-end hotel and, before it was even finished, an international hospitality group would surely swoop in and take it off their hands.
Accordingly, a parcel of virgin land in a sheltered cove on the South West coast was found. Somewhat amazingly, given the island's clear popularity, this corner of Mykonos is still considered something of a hidden gem and, even today, the hotel's only neighbours remain some roaming goats and sheep.
Plans for a 40-suite hotel, almost all with private pools, along with a restaurant, spa, gym, centrepiece infinity pool and outdoor cocktail bar were laid down and construction started. Right on cue, around two years into the build, the group began receiving offers to buy the hotel – which is when the rumours started.
Word on the hospitality grapevine was that One&Only was buying a big property under development in the next bay along. Then it was announced that Four Seasons was setting up shop in the one next to that. "Suddenly it seemed like this area of Mykonos was about to be the place to be," says Mourkakos. "So we decided to hang on to the hotel."
When we visit in late July 2022 the hotel had been open for precisely one week – not that you'd know it from the sharp service and warm, easy reception. It helps that Mourkakos has recruited a crack team to get Cali off to a flying start. Matilda Botsi, the operations manager and head of concierge, has been on the island for 12 years and launched four new hotels in that time. A menu of refined Greek classics and Mediterannean-inspired dishes (including the best Greek salad this reviewer has ever eaten) comes from famed Michelin-starred chef Lefteris Lazarou, while Mourkakos set about poaching the hotel's mixologist from his home behind one of Athens' best bars within moments of trying his negroni.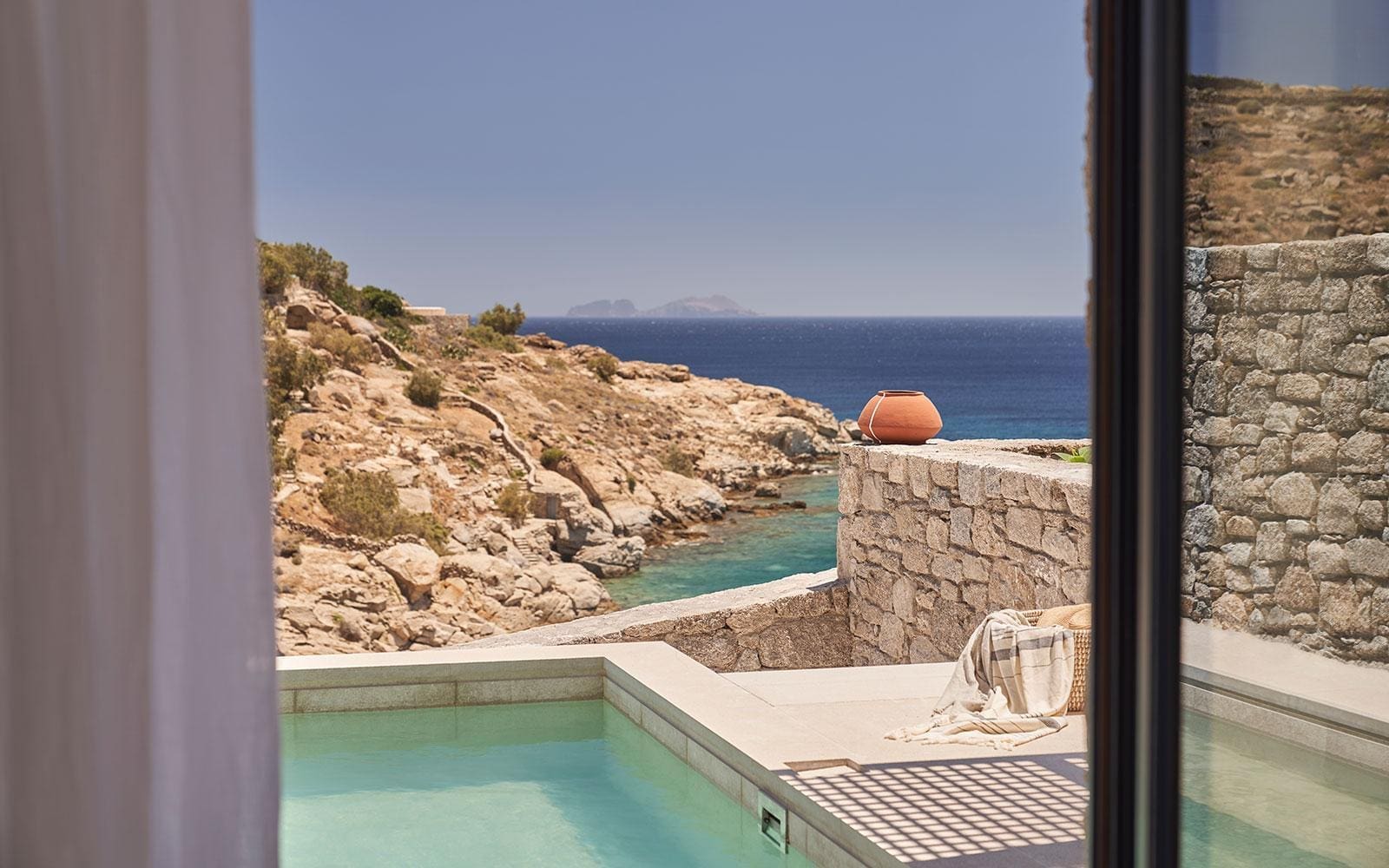 All of which is to say, that while Cali Mykonos is very much international in its outlook, everything here is done through a lens of love and respect for Greek culture and heritage. Architecture is by Athens-based STFN Labs with interiors by an up-and-coming Mykonian designer; works by local artists hang from the walls; the stone used to landscape Cali has been repurposed from the hotel's hillside location; and ingredients for the cocktails are grown on the flat roofs of each suite. Depending on who you ask, the hotel's name is inspired by Calliope, the ancient Greek muse of epic poetry, or an ode to Mourkakos's mother (personally, I'm equally charmed by both).
With this summer being largely treated as a soft opening, there is plenty more to come. A state-of-the-art gym is due to open in August, and will be joined by a full-service spa next year. Also debuting next summer is Villa Calliope, a mammoth three-bedroom, four-bathroom residence with two private pools and an outdoor kitchen. Those looking for more immediate R&R, however, can book in-suite treatments – and I probably don't need to tell you that there are few more blissful ways to spend an hour than being pampered in the shade of your private terrace while the sea gently laps in the background.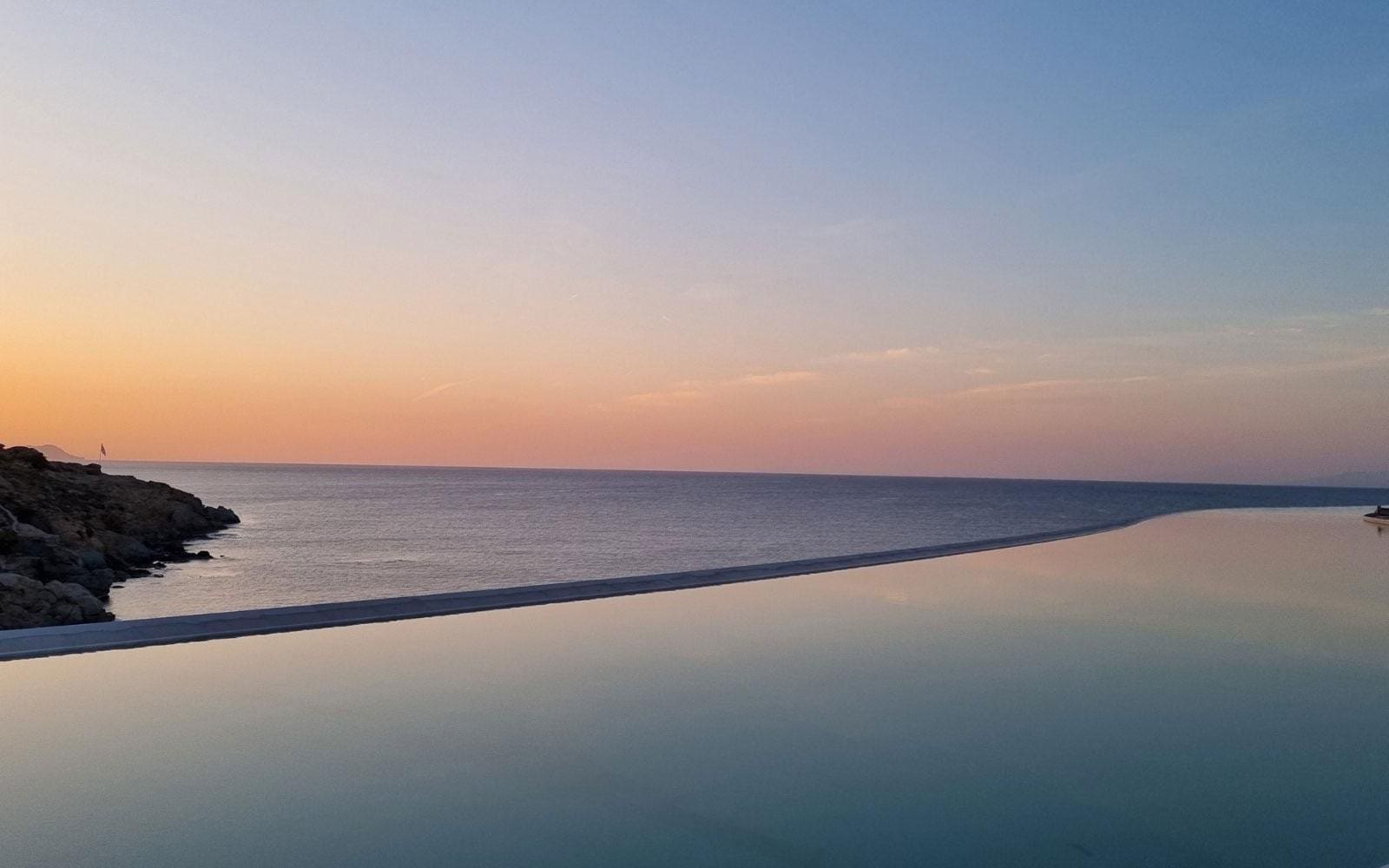 And, while Cali's restaurants and pool bars are open to outside guests providing more than enough buzz for two frazzled London dwellers, if you do have a hankering for some table dancing, the hotel's fleet of luxurious tenders are on hand to provide a VIP entrance to the beach clubs that fringe Mykonos' southern coastline. We instead opt for something of a sea safari, dipping into each bay as our host plies us with Whispering Angel and points out Namos, the club where Usain Bolt infamously ran up an €88,000 tab, and Soho House's Scorpios, where palm trees have been imported at a few thousand pounds a pop (with just nine inches of rain a year, trees of any kind are a rarity in Mykonos).
Frankly, even watching the revelry from a distance feels exhausting and, curiosity sated, it's a relief to once again be happily ensconced in Cali's serenity. They say you can have too much of a good thing but in this case, I'll beg to disagree.
Suites at Cali Mykonos start from €900 per night including breakfast, visit calimykonos.com