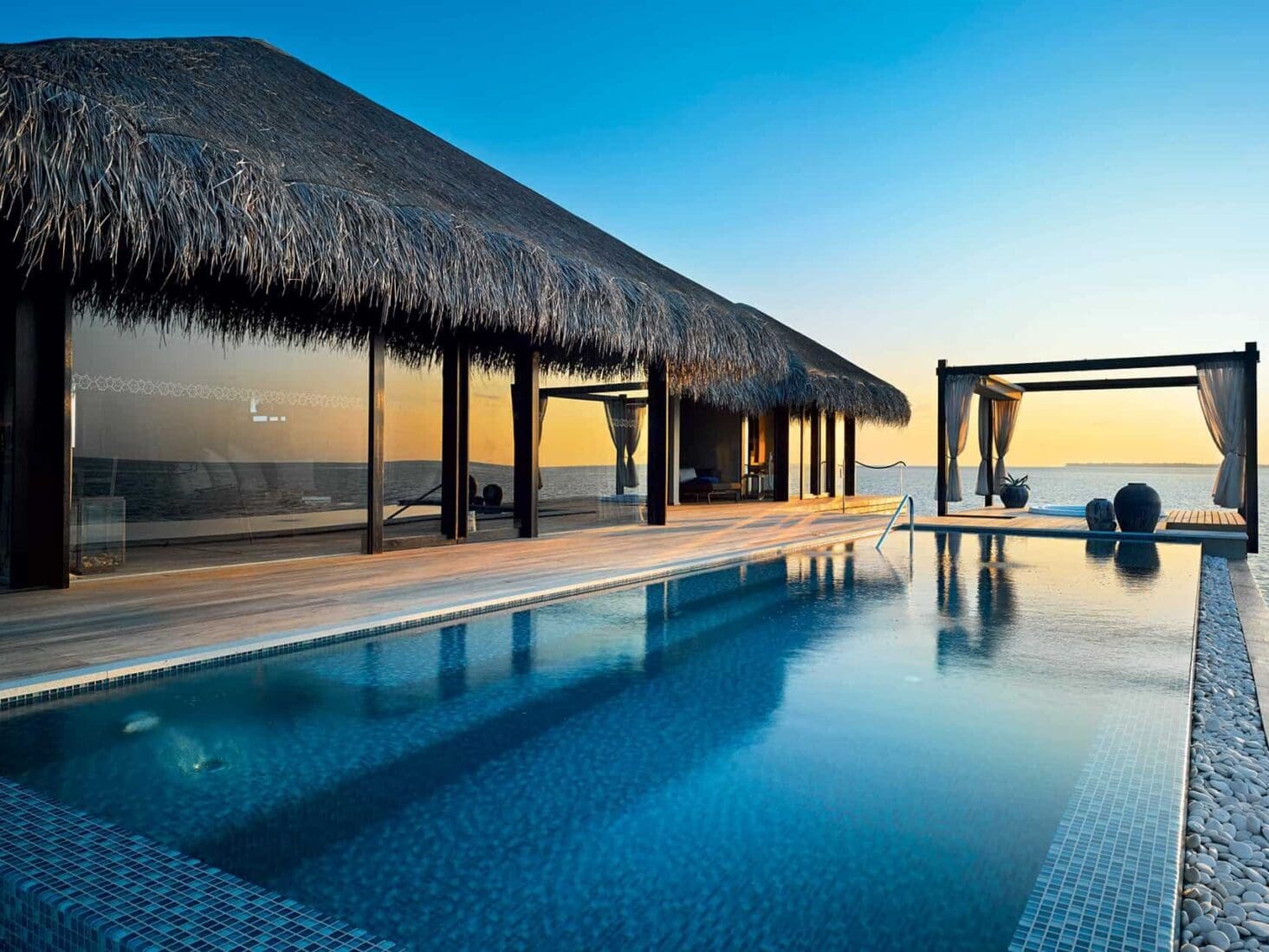 Velaa Private Island, Maldives: An otherworldly escape in a faraway paradise
If you want to discover the true meaning of 'going the extra mile', visit this island resort on the Noonu Atoll. At Velaa, every effort has been made to create magic
There are no mosquitos on Velaa Private Island. Or very few, anyway. The staff makes sure there's nowhere for the insects to nest. The odd bug bite might strike you as a minor inconvenience, given that you're in the Tropics. At Velaa, however, 'inconvenience' is a dirty word.
Case in point: the resort is on its own time zone – 'Velaa time' – one hour ahead of the rest of the Maldives, for the sole purpose of allowing guests to watch the sun set while having dinner. You can walk around the circumference of the island in 20 minutes, but a buggy is never more than five minutes away should the sun be particularly punishing, or if you've had one too many wines over lunch.
Velaa was founded by Czech businessman Jiří Šmejc, who wished to purchase a Maldivian island but was prevented by a law that states that for foreigners to do so, they must agree to develop the island into a resort. In 2011, Velaa was constructed on a former watermelon farm – it's Šmejc's holiday home as much as anything else.
So far, Velaa has been named the Indian Ocean's Leading Private Island Resort by the World Travel Awards on four consecutive occasions, from 2018-2021. Last year, it won World's Best Beach Hotel in the Boutique Hotel Awards. Its reputation has begun to precede it. So, of course, I jumped at the chance to see for myself.
Anyone who has ever been on a seaplane will tell you that it's not the most relaxing experience. Some of the aircraft that whizz around the Maldives are scaled-down commercial affairs, with padded seats and little bottles of water in the armrests. The one that takes us from the capital Malé, however, is a little more retro. The seats are plastic benches and the barefoot pilot yanks various pulleys and levers like a mad scientist. Perhaps thankfully, I'm so exhausted from my 14-hour journey to the middle of the Indian Ocean that I fall asleep as soon as we hit 1,500 feet.
Having last been properly conscious leaving the concrete jungle that is Malé, waking up in Velaa is like walking through the wardrobe into Narnia – if Narnia was a white-sand, crystal-sea paradise averaging between 27 and 29°C all year round. Blinking in the glare of the beach, I disembark and am promptly handed a cool towel (the first of about 30 during my three-night stay – they really, really like cool towels at Velaa) before being ushered into a buggy by our butler, a charming local named Addo.
And yes, I do feel a bit weird about having a butler, as though it's the 1920s and I'm an eccentric aristocrat. But Addo isn't the white-gloves and silver-plate kind of butler. He is simply on-hand, 24/7, to book tennis courts, order room service, arrange laundry, leave petit fours on the kitchen counter for you to snaffle when you come back from dinner… you name it.
As we're driven to our villa, I feel the exhaustion and discomfort of a long-haul flight almost physically fall away. Velaa is covered in dense vegetation crisscrossed by sand paths that muffle the sound of buggies and bikes – the quiet is pervasive, disturbed only by the leathery flapping of fruit bats overhead. The effect is that you feel like you're all alone in an enchanted tropical forest; indeed, we encounter so few people during our stay that I assume the resort must be relatively empty. I later discover that Velaa is at 60 per cent capacity. You would never know.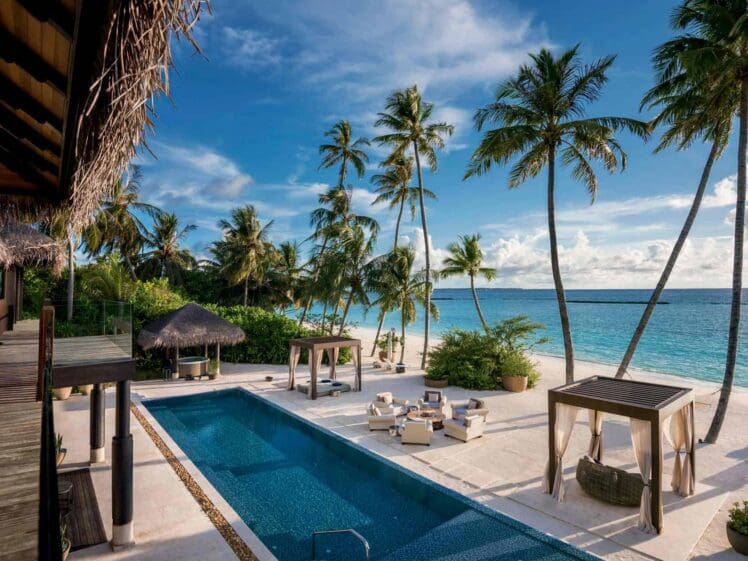 We're staying in one of 17 grass-roofed buildings suspended over the water, connected by a slatted wooden structure. Cornflower blue fixie bikes are propped up outside the villas for easy transit around the island. It sounds quaint – provincial – but stepping inside tells a different story. The space is massive, with vaulted ceilings, walnut wood accents and a big glass hole in the floor through which you can observe silver fish slinking by. The bathroom is about the size of my bedroom at home, with a hot tub taking pride of place, while floor-to-ceiling sliding doors span the rear of the house, opening to a terrace with double sun beds, an infinity pool and steps leading right into the cyan sea.
Maldivian beaches are insane, as you already know. White-to-blue ombrés fringed by swaying palms. At Velaa Private Island, they're even better. You're more likely to see a UFO than a washed-up Coke can here – the staff literally sweep the beach to remove imperfections. It takes hard work to look this good.
You'll never engage in a war of attrition over sunbeds, either. Even on the 'public' beaches, you're sharing with two, three other parties, tops. As I mist myself with Evian spray one slow afternoon, I can just about make out a child and his Velaa- provided nanny watching an undulating stingray in the shallows, and a long-suffering boyfriend crouching in the swell to snap the perfect angle of his influencer girlfriend.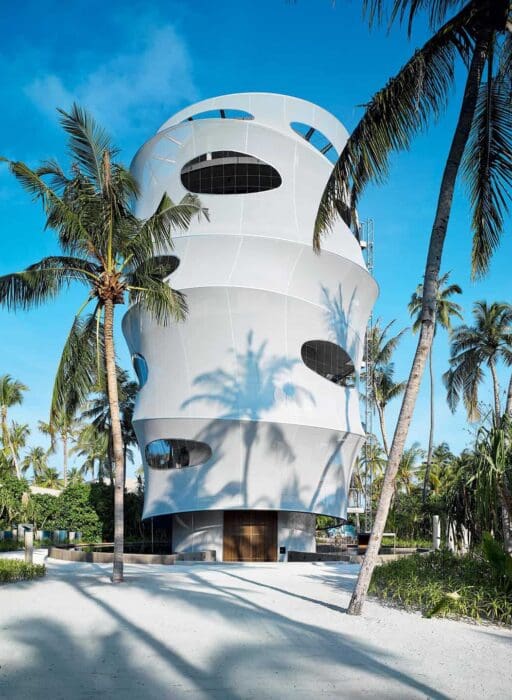 If you're the type to get itchy feet lying on a beach all day (I can't relate), there's a bunch of stuff to do at Velaa. You can luxuriate in the spa, or go big game fishing, or take an authentic Batheli boat cruise to a deserted island and spot dolphins at sunset. There's scuba diving on the Noonu atoll, which is home to sharks, eagle rays and the largest coral restoration programme in the Maldives. Plus, water sports; we opt for the 'sea bobs' – motorised devices that you cling to as they speed up to 20 km per hour through the water – but Velaa possesses an arsenal of high-tech equipment from electric foil surfboards to the latest tandem jetovator.
Foodies won't be disappointed, either. There are three restaurants on Velaa Private Island: Athiri is your all-day dining spot, while Tavaru, which means 'tower' in the local dialect, is the first of two specialty restaurants. Sure enough, this teppanyaki restaurant is housed at the top of a long, thin structure covered in an oddly-shaped canopy that makes it look like something a child might draw if asked what buildings will look like in the year 2100. You access Tavaru via an industrial-style lift, and the restaurant space is understated to the point of feeling like a caterer's kitchen, which, in many ways, it is: you sit at benches surrounding the chefs, who cook top-grade octopus and A5 Wagyu before your eyes on an iron griddle.
Elsewhere, Aragu is helmed by Executive Chef Gaushan de Silva, who used to be the Queen of Jordan's private chef. The fine dining restaurant is ocean-themed, with a shoal of fish sculptures swimming overhead and a tasting menu of sublime fish-focused dishes including an outrageously fragrant consommé in a conch.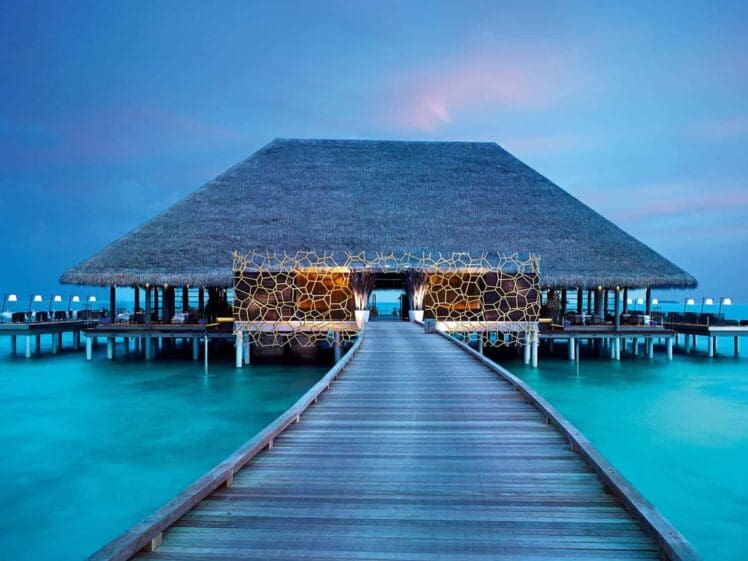 It's here that we meet Lisa Jakobsson, Head of PR, Marketing and Events at Velaa, for dinner. She's a petite Swede in a glamorous pencil skirt, who only ever meant to move to the Maldives for a season or two. But, as she found out, it's not the sort of place that people leave. She fell in love with island life (and a Maldivian man) and hasn't looked back for eight years. Doesn't she get bored, living on a speck in the middle of the ocean? Nope, she says, and neither did the droves of UHNWs who stayed at the resort for months on end during lockdowns. That's the thing about Velaa, it might be a sub-twenty-hectare landmass, but it casts a spell on you.
When I get back to Malé, the luggage-ferrying crowds, speedboats spluttering in the harbour and planes roaring overhead pose a stark contrast to the Velaa's silent undergrowth and lapping waves. I feel like I've stumbled back through the wardrobe after years in Narnia, only for minutes to have passed. Enter 'Velaa time' and the real world falls away.
Villas from $2,900 per night (around £2,360), visit velaaprivateisland.com
Read more: Discover a slice of authentic Caribbean island life at Bequia Beach Hotel