Casa Maca: Ibiza's coolest rustic restaurant with rooms
Becoming one of the places for sunset dinner and drinks in Ibiza isn't easy, and staying at the top of that list is even harder. Casa Maca shows us how it's done
As the sun sinks down behind the hills, it casts a peachy-pink glow over Casa Maca's open-air, luxe-rustic dining space and Ibiza's Dalt Vila, the UNESCO World Heritage site on the horizon, encircled by Mediterranean blue a few kilometres away. It's the kind of view that makes you take a deep, grateful, chilled breath – in this instance, scented by the aroma of truffle and the fired-up open grill.
I have wandered down for supper from my suite (more on this later) through the grounds of the 300-year-old farmhouse – Casa Maca, beautiful House indeed – passing bright pink bougainvillea, towering cacti and the leafy greenery of the on-site organic farm. I'm seated at my table as other guests start to arrive, in great spirits – tall women with short dresses and huge sunglasses, cool couples with beautiful barefoot children, an older couple arm-in-arm and efficient, black-clad waiters wearing serious expressions and earpieces to facilitate the very important job of running the show here. I'd forgotten how much fun people-watching is. It's one of the best things about eating out solo, and especially fun in Ibiza, when said table is at one of the most sought-after spots on the island.
| | |
| --- | --- |
| | |
"Make sure you order the manchego with sobrasada. And the roasted leek!" instructed a friend who got married in Ibiza at the start of the season – now April all the way through to November, a cab driver tells me – and resolutely ignores all other European suntraps in favour of this hypnotising island. Another message flashes up, from my cousin, another White Isle devotee who happens to be here at the same time as me: "You're at Casa Maca? One of my favourite restaurants – I'm coming tomorrow."
Even at 8pm, there are lots of kids around, energised by siestas earlier no doubt, and they are mostly occupied by their food and, later, their parents' phones, leaving the adults to get on with the important business of drinking and dining. All the menus at Casa Maca are accessed by QR code – sustainably minded and easy to update, plus I can't imagine a single diner here is phone-less so it's convenient for everyone. Menu-wise, expect prices that reflect Casa Maca's status as a very popular place on an already expensive island. Nearby tables have made the wise decision to start with decadent dishes from Classics to Share side of the menu: plates heave with octopus, wagyu tartare with caviar, prawns and manchego. I make a reasonable dent in a huge – definitely for sharing – portion of warm, oozing melted cheese, satisfyingly sticky with honey and suitably salty thanks to the sobrasada (Spanish sausage).
| | |
| --- | --- |
| | |
Next on the menu: from the farm, various steaks and a boneless chicken thigh, or fish of the day, cooked on an open grill which means the restaurant smells as appealing as it looks. None of these main dishes are vegetarian but all eight sides and five of the sharing dishes are. My sea bass is absolutely delicious and I ask for it with – of course – the highly recommended leek dish. This single leek may require one to cough up the sum of €27 but it is a beautifully presented leek, dressed with sauce and dotted with balls of balsamic which are definitely the magic ingredient.
By now the setting is kind of surreal; it's 9.45pm and the almost-full moon is butter-yellow against a dusky blue canvas but, in the distance, planes are still flying in to land and the ambience is that of a relaxed lunchtime. By the time it's fully dark, it's magical; lanterns everywhere, a DJ playing, drinks flowing from the aluminium Airstream bar and everyone audibly having a brilliant night. I leave them to it and slink off to my suite, past impressively gnarly and atmospherically spotlit olive trees.
I go to sleep to the gentle, distant thrum of music and wake in my cool Ibiza bolthole to birdsong. The eight junior suites and two larger suites, named after the island's winds, have pristine white walls, neutral furnishings, polished concrete floors and very calm vibes – essential if you're planning to go out out. Casa Maca is an ideal base for an indulgent, relaxed eat-dance-sleep-repeat kind of trip. My bathroom is stocked with paraben-free, organic botanical products by Grown Alchemist and the mini bar is filled with booze – demonstrating the dichotomy of Ibiza that appeals to so many. They come in their thousands for the best clubs and cocktails, the best DJs and dancing, nights out to remember and hangovers to forget, but this little Balearic island is also beautiful and wholesome, with a focus on wellbeing that precedes its modern ubiquity. I came to the island a decade ago to review both party hotel Ushuaia, as it opened, and Aguas de Ibiza, focused on five-star wellness. Here, the Casa Maca front desk is home to two little bottles of Ibiza Essence 'aura mists' named Radical Self Love and Manifest. Naturally.
| | |
| --- | --- |
| | |
There's not a single scrap of paper in my suite – no notebooks, hotel guides, menus – which is unusual, and environmentally sound. Simply WhatsApp the front desk (they take your number when you arrive and message you) for the mini bar price list, and anything else you need – easy and effective. Staff are mostly on hand at all times but, at 5pm, I find myself by the pool when no one is around and when I message asking for a drink, I get a quick, friendly reply. 'A waitress is on her way! You caught us between shifts!'
If Ibiza nights are for sunsets, music, dancing, friends and the pure joy these bring, then its days are for committing to rest and relaxation. After breakfast on the Casa Maca terrace, I'm often the only one by the pool, soaking up the sun and the idyllic surroundings, and if I want I can do yoga in my room or book an in-suite massage. Casa Maca is indeed a little haven on this buzzy island and, even though it has an independent spirit, it's part of a collection of restaurants, hotels and bars including Hostal La Torre, Cala Gracioneta, La Cava and Villa Mercedes, owned by the Anadon family. Their Ibizencan empire grew from famous sunset spot Café Mambo, founded in 1994. As I head over to Mambo for a drink with my friends, my taxi driver cheerfully reminds me that all the drivers on the island take card payments. "People prefer it because of, you know…" Covid? "Crypto!" When in Ibiza…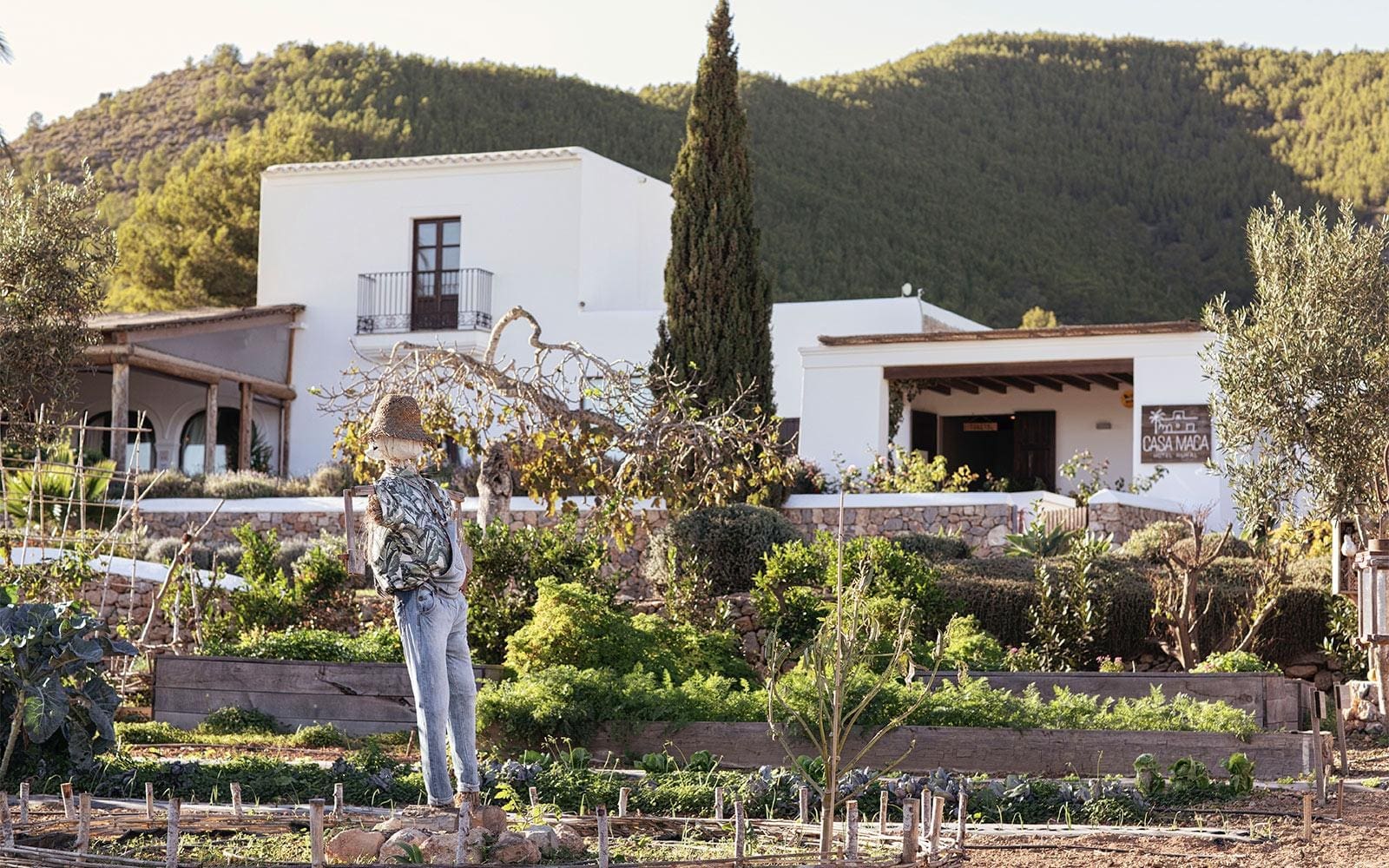 My driver – born and raised in Ibiza – insists that the top three clubs nowadays are Pacha (going strong with its iconic cherry logo since 1973), Hi (the new-ish Space) and Amnesia (just three years younger than Pacha) but I'm heading from Mambo to Hostal La Torre for a sunset supper on Cap Negret with views across to Conejera Island. It's beautiful, with great food, great drinks and an enviable view, but I am also very happy to head back to Casa Maca for my last night. As I listen to the DJ, drink in hand and the night only beginning, I get talking to another Ibiza veteran. "There are SO many really good restaurants in Ibiza now that the bar is really high. It's super competitive." I get a distinct impression that Casa Maca is ready to go the distance.
Suites priced from €360 per night at the start of the season (from May) and from €700 in peak season (August), casamaca.com