The Beaumont, Mayfair: An Art Deco haven with evocative design at its core
As the five-star Mayfair hotel nears completion on its three-year refurbishment, we take a look inside…
You'd be forgiven for thinking The Beaumont hotel has been around for decades. Oozing old-age glamour and period features, and famous for its Grade-II listed status, it may come as quite the shock to learn the five-star establishment actually only opened in 2014. Originally built in 1926, the striking building's purpose wasn't to welcome travellers looking for a slice of the high life, but something else entirely: a multi-storey car park.
Designed by Fortnum and Mason architect Wimperis and Simpson, the elaborate garage, named Macy's, did a good job of standing out in 20th-century Mayfair – Historic England noted its design as "remarkably ambitious for a car park" – and predominantly served the Bond Street workforce. The space was marked by several business closures and openings, however its neoclassical, stark-white design remained, protected from 2009 when it was granted Grade-II listed status.
Today, there's not an alloy or revving engine in sight. The car park's transformation into a five-star hotel was first overseen by hospitality duo Corbin & King (the brains behind The Ivy and Le Caprice), then the Barclay brothers (former owners of The Ritz) and is now owned by the Saïd family. It would be fair to assume that some of its sister hotel's iconic 1920s glamour would have worn off on The Beaumont, but I'm afraid you'd be wrong (again). It's actually former hotelier, Jeremy King, who is responsible for The Beaumont's Roaring Twenties aesthetic: the hotel belonged to a fictional James Beaumont – Jimmy, to his friends – an American hotelier who escaped prohibition-shackled Manhattan to establish an eponymous guesthouse in pre-war Mayfair. Well… good job, Jimmy.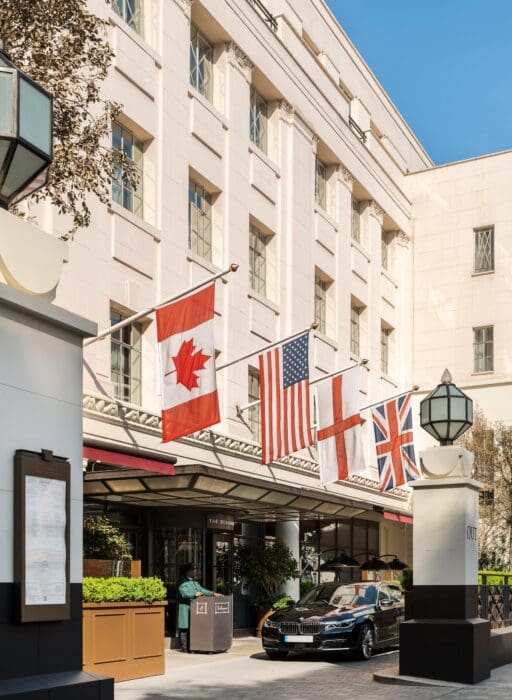 Prior to my stay at The Beaumont, I wondered why there was always so much noise about the building at 8 Balderton Street. On my approach, it seemed concealed by Brown Hart Gardens, which sits at the centre of the square before the behemoth building sweeps into view. It's striking, unmissable and a piece of art in its own right.
Adorned with British, Canadian and American flags – an ode to our friend, Jimmy – the entrance to the hotel is enhanced by the Antony Gormley sculpture, Room. The cuboid figure, resembling a man crouching, is available to guests if they wish to be immersed in a cave-like space for £1,400 per night. Just from the exterior, it's easy to see how this hotel has made a splash in Mayfair, the home of more prim and proper establishments like Brown's and The Dorchester. The Beaumont, on the other hand, is an Art Deco paradise with thoughtful, modern and evocative design at its epicentre.
After being instantaneously greeted by porters in bowler hats, I make my way into the lobby, which is designed with dark cherry-wood panelling, chequerboard tiles underfoot and centred by black marble columns which make way for The Colony Room, Gatsby's Room and Le Magritte Bar and Terrace (more on that later). The hotel has endured a three-year refurbishment in collaboration with ReardonSmith Architects, which originally opened the hotel in 2014, and the late French-American designer Thierry Despont – which is set to complete later this year after an overhaul of the five-bedroom presidential suite and the addition of two private dining rooms and 29 new bedrooms and suites added to the original 72.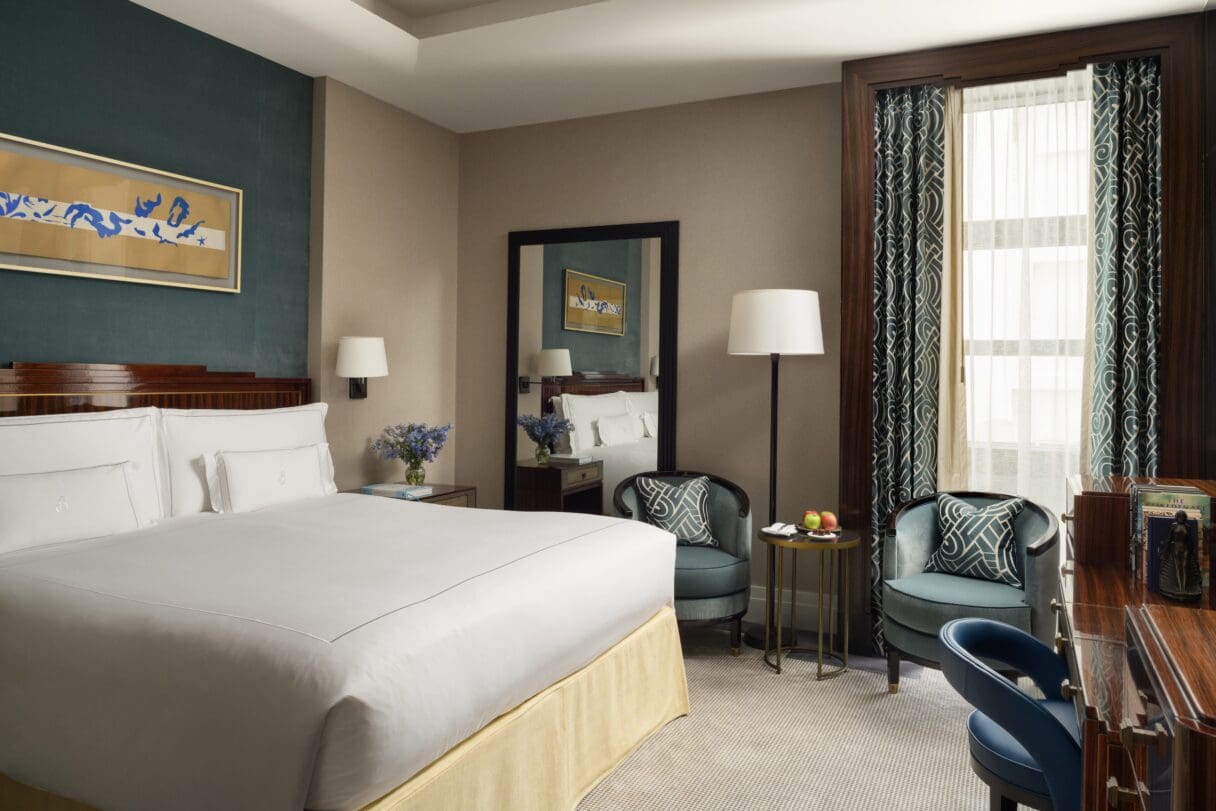 Having been completed in May this year, original bedrooms have not so much been changed as elevated, retaining their signature warm, Art Deco style with brighter and lighter textures, as well as the addition of significant pieces of original American, British and French art. My blue and ochre-hued Classic Room, boasting leafy views across Brown Hart Gardens, features a large hallway and sleek bathroom while the bedroom is furnished with a king size bed, flatscreen TV and a concealed mini bar in the large oak dresser. The bathroom showcases classic monochrome tiles which pave the way for a marble dresser and waterfall shower, with sustainable beauty products by DR Harris lining the shelves. Smaller touches have been thoughtfully added too, such as Beaumont-branded playing cards on the desk, a Jo Loves fragrance on the dresser and macaroons and fruit bowls on the coffee table.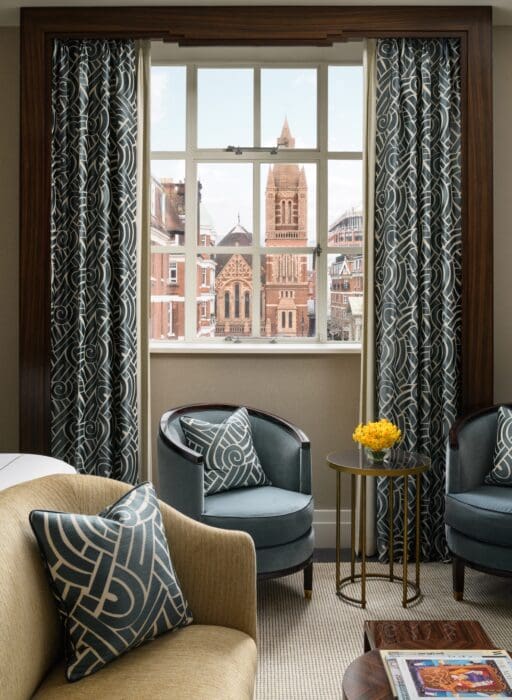 Elsewhere, The Beaumont basement houses a small but mighty spa comprising a plunge pool, hammam and treatment rooms available to deliver Oskia facials, manicures and a range of massages, as well as an adjacent 24-hour gym. The culinary offering, however, is really the jewel in the hotel's crown. Those after an aperitif (or digestif) will feel right at home in Le Magritte bar – as would Hemingway, Fitzgerald and Sinatra given the bar is inspired by the era they're inherent to, and showcases their portraits on the walls. The cocktail bar also leads to the hotel's streetside terrace, where you can sip on special serves of bourbons, American whiskies and classic cocktails alongside a carefully-curated selection of Cuban cigars.
Gatsby's Room is at the heart of the hotel: a welcoming, relaxing place to gather day or night, welcoming patrons for the transatlantic tradition of afternoon tea. It makes way for The Colony Room, one of the most acclaimed steak restaurants in London – and I can see why. Leather banquettes, white tablecloths and red lamps replicate a sophisticated New York dining room, replacing any element of stereotypical Mayfair stuffiness in favour of a relaxed, social atmosphere.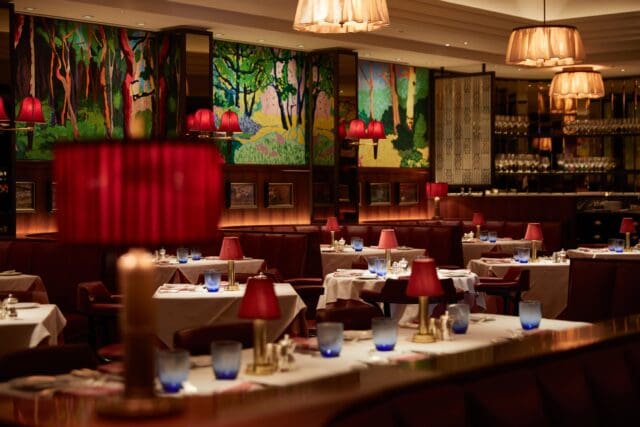 The average steak here will set you back £56, having been hand-selected and matured in The Beaumont's salt maturing chamber for at least 42 days, cooked over charcoal and English oak, and served with bone marrow ragoût. Pick from delectable sides of triple-cooked chips, creamed spinach with nutmeg, and classic American tater tots for a meal which will appease any carnivore, or opt for other à la carte dishes such as smoked potato gnocchi and monkfish wellington. When it comes to desserts, the bespoke sundae concept will delight your inner child; simply fill out the form to pick your ice cream flavours, scoops, toppings and sauces.
Embodying the spirit of the famed bygone era, The Beaumont authentically pays homage to the Roaring Twenties in every essence of its design, from its cotton-white exterior to its thoughtfully-decorated bedrooms. The hotel is wittingly old-fashioned, while effortlessly emulating that luxurious allure expected in Mayfair. However, unlike the Grand Dames that dominate this affluent corner of London, The Beaumont is not even a decade into its tenure. But, given what it has achieved so far, we look forward to seeing where it will take us in the next 10…
Rooms from £585 per night, including breakfast. Visit thebeaumont.com
Read more: The Ned: Inside the historic bank turned ultimate leisure destination