Sirloin, ribeye, rump, fillet, tomahawk, picanha… whichever cut of beef you prefer, you've been exceedingly well catered for since London went steak crazy around a decade-and-a-half ago. First came Hawksmoor, which opened in Spitalfields in 2006, followed by Goodman in Mayfair in 2008 – heralding the start of a who-does-it-better rivalry that continues to this day (honestly, Luxury London couldn't choose).
The more-affordable Flat Iron opened its (first) doors in Shoreditch in 2012, followed, in 2014, by City-favourite M Restaurant (from the former managing director of Gaucho), surf-and-turf specialist Beast (from the same team as Goodman), and party restaurant STK (of Manhattan fame).
It had been a few years since the capital welcomed a flashy new steak restaurant – the venture capital started drying up as large-scale meat-eating temples began falling out of vogue (some time after Blacklock and Smith & Wollensky opened in 2015). Now, however, it looks like dry-aged meat – and British meat at that – is back on the menu.
At the end of 2021, Hawksmoor launched a sprawling, two-storey meat hangar in Canary Wharf, where, in 2022, M Restaurants opened another site at the base of Newfoundland Place. Indeed, it seems Canary Wharf has become ground zero for London's steak explosion, as Blacklock prepares to open its largest restaurant yet in the district's North Dock later this spring.
Time, then, to point you in the direction of the best grilled cow in town…
Beast
Where: 3 Chapel Place, Marylebone, London, W1G 0BG
Why: The best steak restaurant in the capital, in Luxury London's humble opinion. European breeds, from Galicia in Spain and Arouquesa in Portugal, as well as from the Lake District, are dry-aged on-site for between 30-60 days. International cuts include premium Wagyu and Kobe from Japan, USDA beef from Nebraska and MSA-graded steaks from Australia. All are slow-cooked over a mix of oak, birch, chestnut, hazel and alder charcoal, and served in a candlelit, industrial-chic basement restaurant hidden behind Oxford Street. Superb.
What you can expect to spend: Japanese Wagyu Sirloin (A5 Grade, minimum 400g), £50/100g; Japanese Kobe (A5 Grade, minimum 400g), £90/100g; USDA Nebraska, bone-in ribeye, £12/100g, sirloin, £14/100g
Blacklock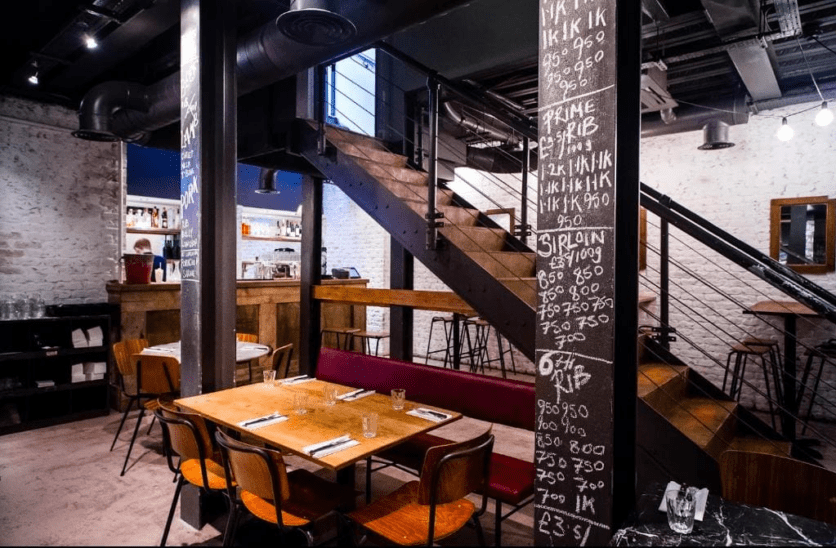 Where: The City, Covent Garden, Shoreditch, Soho – with Canary Wharf coming soon
Why: Inspired by traditional chophouses of the 17th century and established to democratise premium steak, Blacklock prides itself on serving prime cuts for considerably less than London's other beef-centric restaurants. It champions native and rare breed meat, working with Cornwall's oldest butchers, the Warren Family. Had a heavy Saturday? Blacklock's Sunday roasts have almost eclipsed the reputation of its steaks. Unpretentious, fair-priced fun.
What you can expect to spend: Rump fillet, £14; rump cap, £16; porterhouse, £8/100g; bone-in sirloin, £7/100g
Cut at 45 Park Lane
Where: 45 Park Lane, Mayfair, London, W1K 1PN
Why: Not only was CUT at 45 Park Lane the first European restaurant from renowned Austrian chef Wolfgang Puck, it also became, in 2014, the first restaurant in London to serve the previously unattainable Japanese Wagyu beef. Puck has since been replaced as head chef by Jamie Shears, who cut his teeth under Jason Atherton, Chris Galvin and Gordon Ramsey. While this upmarket Park Lane restaurant is known for its high-grade steaks, Shears also focuses on introducing fresh fish from his hometown of Torquay.
What you can expect to spend: Prices change but expect to pay a premium for the location, which offers views of Park Lane and Hyde Park.
Visit dorchestercollection.com
Flat Iron
Where: Borough, Covent Garden, King's Cross, London Bridge, Marylebone, Shoreditch, Soho, Spitalfields, Tottenham Court Road
Why: Charlie Carroll founded Flat Iron in Shoreditch in 2012 with this simple mission statement: to make remarkable steak accessible to all. He worked his way through a list of 38 different beef suppliers before choosing to work with third-generation, native-herd farmer Charles Ashbridge from Yorkshire. During his research, Carroll discovered that little-known secondary cuts from the very best beef were still exceptionally tasty and, just as importantly, reasonably affordable. Hence the flagship Flat Iron steak for just £12.
What you can expect to spend: Flat Iron steak, £12; 250g filet, £20; 500g sharing filet, £38
Goodman
Where: Canary Wharf, The City, Mayfair
Why: It may not have been the most auspicious of timings, launching a big-ticket steak restaurant just as Lehman Brothers went down, but since Goodman opened in Mayfair in 2008 it has carved out a reputation as one of London's top steak restaurants – especially among finance types, having opened sister premises in Canary Wharf and the Square Mile. Cosy and congenial, each outpost apes the steakhouses of Manhattan. Yet while Goodman's most premium cuts may come from the states, the restaurant also does a lip-smacking line of steaks from cows reared in Scotland, Yorkshire and the Lake District. The ultimate business lunch (and even better if you can stick it on the company card).
What you can expect to spend: 250g Scottish fillet, £33; 400g Scottish fillet, £50; 250g USDA fillet, £47; USDA 400g ribeye, £47
Hawksmoor
Where: Bank, Canary Wharf, Covent Garden, Knightsbridge, London Bridge, Spitalfields, Piccadilly Circus
Why: Possibly the most favourably-reviewed steak restaurant in London. "The best steak I have ever eaten in this country," crowed Jay Rayner. "It was perfectly done," said Giles Coren. Even the late AA Gill called it "decent". High praise indeed. Whereas some steak restaurants believe that the best beef comes from Japan or Argentina or Australia or the United States, the team at Hawksmoor says that the best steaks come from cattle carefully reared in Britain. And so they source their meat from small farms around the country and from cattle that led a stress-free life and were fed on a natural diet of grass and hay. We have Hawksmoor to thank for putting British beef back on the map.
What you can expect to spend: 300g fillet, £38; 400g rib-eye, £36; 400g sirloin, £34; 300g rump, £24
Lurra
Where: 9 Seymour Place, Marylebone, London, W1H 5BA
Why: Not, specifically speaking, a steak restaurant, Lurra is a small but beautiful Basque grill in Marylebone. It was, however, one of the first restaurants in the capital to make Galician beef its calling card. The restaurant sources its steaks from a breed of Galician Blonds reared in northern Spain, which are fed on grass and left to enjoy a life of between 12 and 16 years (compared to most UK cattle, which are slaughtered before the age of two). Lurra is also pioneering a new type of beef in the UK by taking ex-dairy cows and letting them retire for a couple of years on grass. This helps struggling dairy farmers and also extends the life of cows destined for mincemeat once they no longer produce enough milk.
What you can expect to spend: More than at Blacklock and Flat Iron; a little less than Hawksmoor and Goodman.
M Restaurant
Where: Canary Wharf, Threadneedle Street, Victoria
Why: Martin Williams, formerly managing director of Gaucho, opened the first M Restaurant in the City's Threadneedle Street in 2014. An expansive, contemporary space that featured a glitzy bar, fancy private dining rooms and retro foosball tables, it quickly garnered a loyal legion of patrons within the Square Mile. An M Restaurant subsequently opened in Victoria, catering to a (slightly) less corporate crowd, before another outpost opened in Canary Wharf. M takes its steaks seriously, importing the world's most premium cuts from the US, Japan and Australia. It takes cooking them just as seriously, with the kitchen boasting chefs that previously worked with Gordon Ramsay, Shannon Bennett and Michel Roux Jr.
What you can expect to spend: 250g Argentinean rump, £18.50; 250g Somerset fillet, £31.50; 300g USDA Prime fillet, £70; 300g Somerset sirloin, £29.50; 400g Argentinean ribeye, £36.50
Manhattan Street Grill
Where: 22 Hertsmere Road, Canary Wharf, London, E14 4ED
Why: Unless you live or work in the vicinity of Canary Wharf, chances are you won't have heard of Manhattan Street Grill. Even if you do live or work in the vicinity of Canary Wharf, there's a strong chance you won't have heard of Manhattan Street Grill. The restaurant is based at the bottom of the steel-and-glass Marriott hotel in West India Quay. It doesn't appear on other round-ups of London's best steak restaurants, simply because, presumably, so few people have ever actually been there. Possibly the best steak this writer has ever had came courtesy of Manhattan Street Grill, which sources its meat from Scotland and Kansas. Consider it London's best-kept steak secret.
What you can expect to spend: 6oz Scottish filet, £32; 10oz Scottish ribeye, £30; 10oz Scottish New York strip, £32
Nusr-Et
Where: The Park Tower Knightsbridge Hotel, 101 Knightsbridge, London, SW1X 7EZ
Why: Most of the headlines generated by Nusr-Et concentrate on the exorbitant prices charged by the viral, Knightsbridge-based restaurant. Plus, the fact that many of the cuts come covered in gold leaf. To concentrate on the steak, rather than price, for a second, it's worth noting that Nusr-Et serves only halal beef, mainly USDA prime cuts and, as you'd expect, plenty of Japanese Wagyu. OK, so even the slenderest of steaks will set you back three digits, but, as most reviewers begrudgingly admit, the meat at Nusr-Et is some of the best in the capital.
What you can expect to pay: 2kg Golden giant tomahawk steak, £1,450; beef burger, £100; fries, £30
Omnino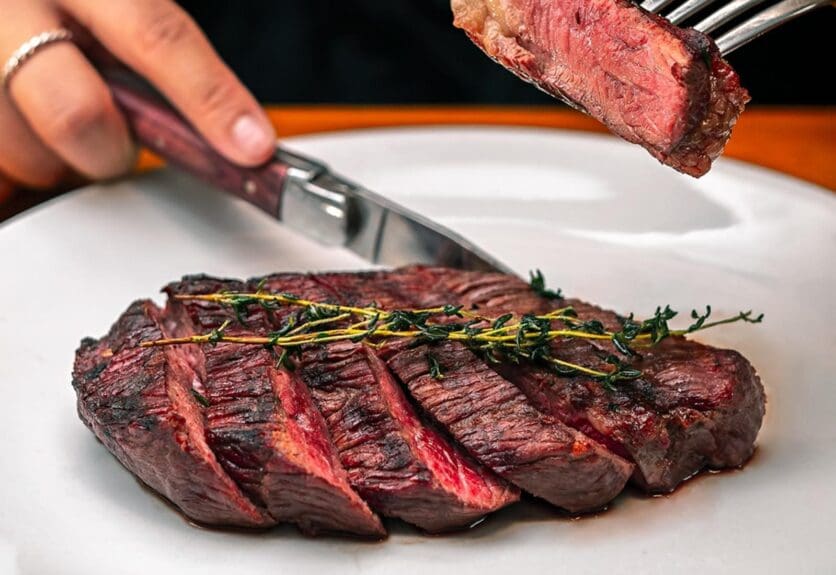 Where: 78/79 Leadenhall Street, City of London, EC3A 3DH
Why: Omnino might be the best steak restaurant you've never heard of. It was opened by a husband-and-wife team from São Paulo, both previously of Gaucho, near Leadenhall Market in 2014. Omnino uses the same supplier as Hawksmoor and Goodman – which tells you something about the seriousness with which the restaurant takes its steak. Meat comes from grass-fed Argentine Black Angus cows. The décor might be a dark, masculine clash of heavy-chestnut floors, bronze chandeliers, deep-red banquettes, charcoal-grey walls and black metro wall tiles, but the place is lit up by the sunny disposition of the (mainly) South American staff.
What you can expect to spend: 300g Argentine ribeye, £29.50; 350g Argentine rump, £26; 400g Argentine sirloin, £35.50; 350g Argentine fillet, £44.95
Smith & Wollensky
Where: The Adelphi Building, 1-11 John Adam Street, Westminster, London, WC2N 6HT
Why: Fun fact: the name of celebrated New York steakhouse Smith & Wollensky was created by randomly selecting two surnames from a telephone directory. It crossed the pond in 2015 and is the only place in London where you can eat USDA prime steak that has been butchered and dry-aged on-site. The restaurant also champions British and Irish cuts within a stunningly decorated two-floor restaurant near the Savoy Hotel. Steaks, and other dishes in general, are some of the largest in the capital. As are the prices.
What you can expect to pay: 500g Kansas T-bone, £70; 225g Irish fillet, £49; 250g, Aberdeen Angus sirloin, £28; 280g American USDA fillet, £68; 320g American USDA sirloin, £49
Visit hsmithandwollensky.co.uk
STK London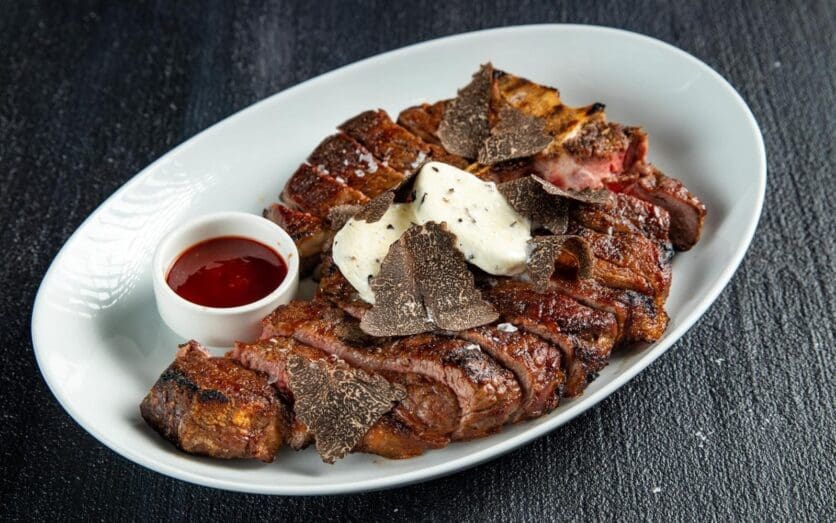 Where: 336-337 Strand, Westminster, London, WC2R 1HA
Why: A glitzy American import that brought plenty of prime USDA beef with it. Situated at the base of the design-led ME Hotel (from Foster + Partners) on The Strand, STK is the first non-US outpost of New York's most social steakhouse group. The cocktail menu has been curated by celebrated drinks mavericks, the ONE Group. A DJ and dramatic lighting make STK London a good choice for those looking to party alongside their picanha.
What you can expect to pay: 200g fillet, £43; 350g sirloin, £46; 300g fillet, £61; 350g rib-eye, £50
Zelman Meats
Where: Harvey Nichols, 5th Floor, 109-125 Knightsbridge, London, SW1X 7RJ
Why: Bought to you from the Russian group behind Goodman, Burger & Lobster and Beast, Zelman Meats first opened in Soho in 2016 and has subsequently relocated to the fifth floor of Harvey Nics. Originally positioned as the gateway restaurant to the more expensive Goodman and Beast, prices have gradually crept up, so don't expect steak at Blacklock and Flat Iron rates. The best option is probably the Zelman Plate, which offers a cut of every steak the restaurant serves for £35 (350g).
What you can expect to pay: 250g Polish Holstein fillet, £37; 350g Canadian striploin, £35; 350g Canadian ribeye, £35