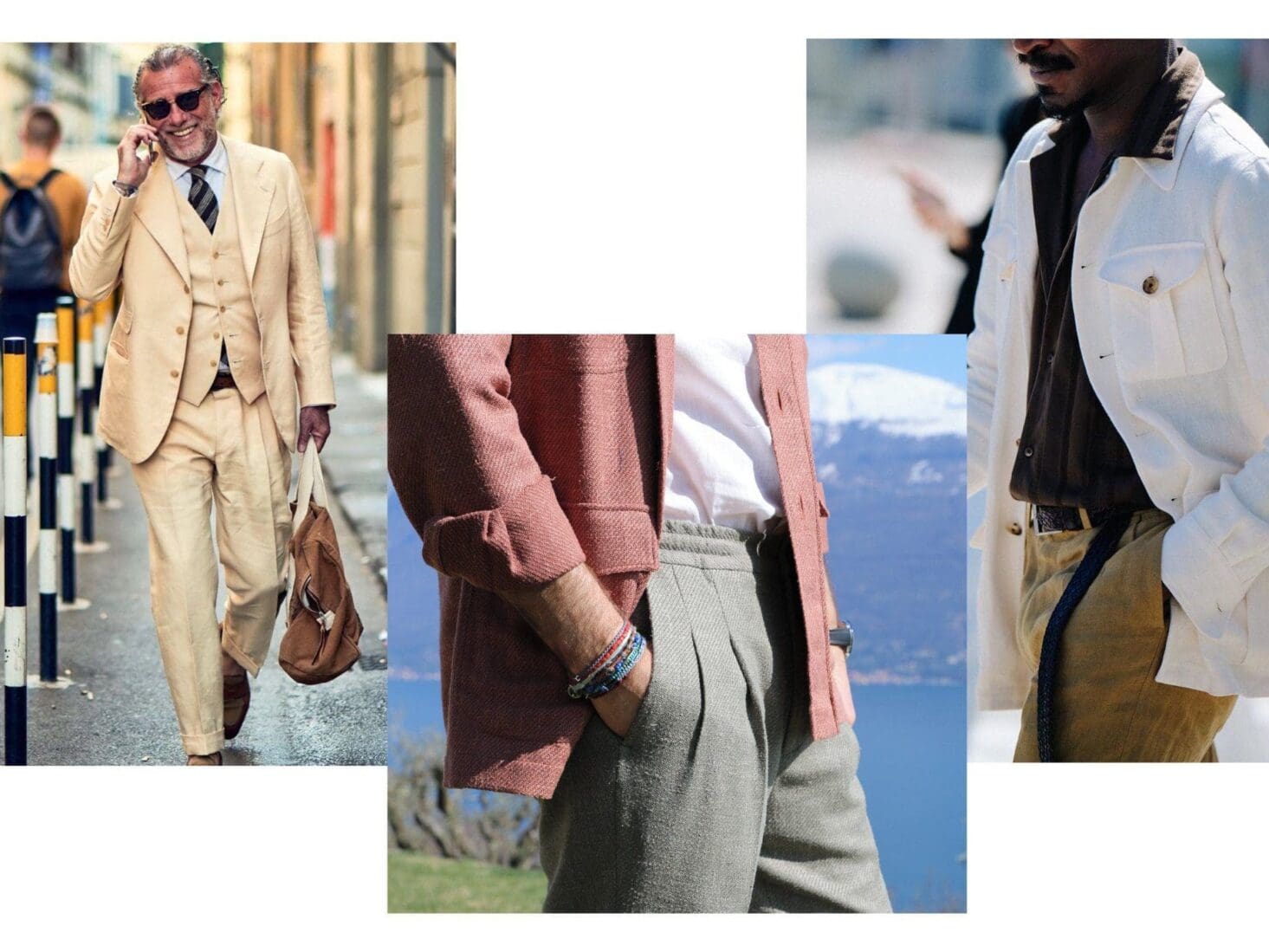 The art of sprezzatura: how to dress like a (stylish) Italian
Sprezzatura (sprettsaˈtuːra) an Italian word that first appeared in Baldassare Castiglione's 1528 The Book of the Courtier to describe the art of nonchalance
All products are chosen independently by our editors. Luxury London may earn commission on items purchased.
Invest in a deconstructed suit
It's difficult to pin down what makes an Italian suit look so, well, Italian. Though not entirely gospel – not to mention the variations in cuts between tailors in the north and south of the country – key giveaways include a deconstructed jacket, less structured shoulder padding, more pronounced lapels (often a peak lapel, rather than a notch) and a silhouette that hugs the body. In short, it's usually more flamboyant than its British counterpart. Savile Row may have birthed legendary sartorial brands like Henry Poole (which invented the dinner jacket) and Anderson & Sheppard (Prince Charles' go-to), but some of the best-dressed men in the world swore by Italian tailors.
Gianni Agnelli, the late FIAT kingpin considered by many as one of the world's most stylish men, had his suits made by A.Caraceni in Milan. There's an Italian proverb, 'l'abito non fa il monaco' meaning 'the robes do not make a monk.' There's a grain of truth in the saying, but try wearing a well-tailored Italian suit and not walk with a swagger down the street – the Italian habit of fare una passegiata (a leisurely stroll post/pre-mealtime) was practically invented for showing off.
In London, Brunello Cucinelli boasts a flagship boutique on Bond Street, which offers a made-to-measure suit service, while venerable Italian tailor, Rubinacci, is positioned on Mount Street. Luca Rubinacci inherited the tailoring dynasty from his grandfather and it reflects his dandified yet timeless style, while honouring classical construction methods.
Wear white trousers. Period.
If you want inspiration on how to wear white trousers look no further than Signor Alessandro Squarzi, a regular at Pitti Uomo, and something of an Instagram icon. Wrongly seen as the preserve of summer dressing, white trousers in winter (provided it's not raining) should be as welcome as a frothy cappuccino in the morning.
Worn with a pair of chunky boots and an oversized checked coat or teamed with a classic navy knit and chocolate loafers, your first foray into the world of white trousers should be an off-white, ivory number. For a selection of quality trousers from Italian brands, you can try Slowear, located on King's Road. And whatever you do, make sure they aren't too tight or too loose (off to Bikram yoga, are we?)
Don't forget about what's below the belt
Because Italians believe in the importance of looking after the body, mind, and sole(s). Italy has birthed some of the world's finest shoemakers, including Alessandro Berluti and Salvatore Ferragamo, and has a rich artisanal heritage. Highlighting the technical know-how of local artisans, the majority of luxury brands choose to have their shoes manufactured in Italian workshops. Italian leather has been prized for its quality and durability since the Middle Ages, when Florence became the capital of Europe's artisan leather workshops and the Oltrarno neighborhood was thick with craftsmen making everything from shoes and accessories to decorated saddles.
Once you've chosen your perfect pair of Italian shoes – with regards to socks, don't be afraid to flash a tanned ankle during the warmer months. If this puts you out of your comfort zone, then ensure the colour your sock complements, even matches, your brogue or loafer.
Accessorise your life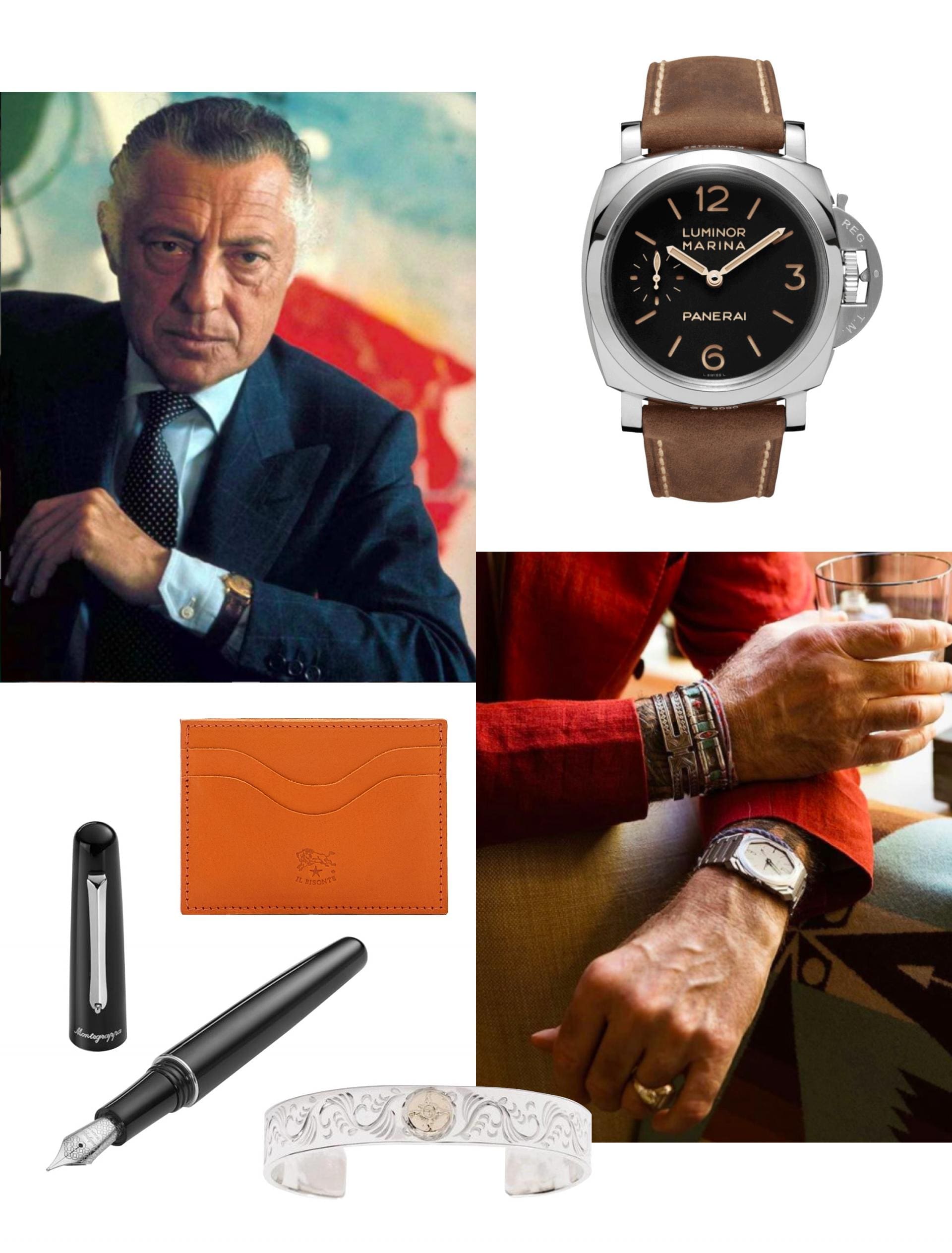 To master the art of Sprezzatura, never underestimate the power of accessories: a pocket square, a pen, tie or statement timepiece. Look to Italian brands including Valextra, Montegrappa and Prada, as well as timepieces by Panerai and Bulgari.
Cover those eyes
Italy has always excelled in the production of eyewear – prior to the merger with France's Essilor, Luxxotica was the world's largest manufacturer. Brands that carry the 'made in Italy' cachet include Persol, Moscot and Ray-Ban. For street cred when discussing the specifics of eyewear, mention the name Mazzucchelli 1849 (located near Milan) and you'll be taken seriously. Italians wear shades all year round, à la Marcello Mastroianni in La Dolce Vita.
Read more: the best sunglasses for summer 2020