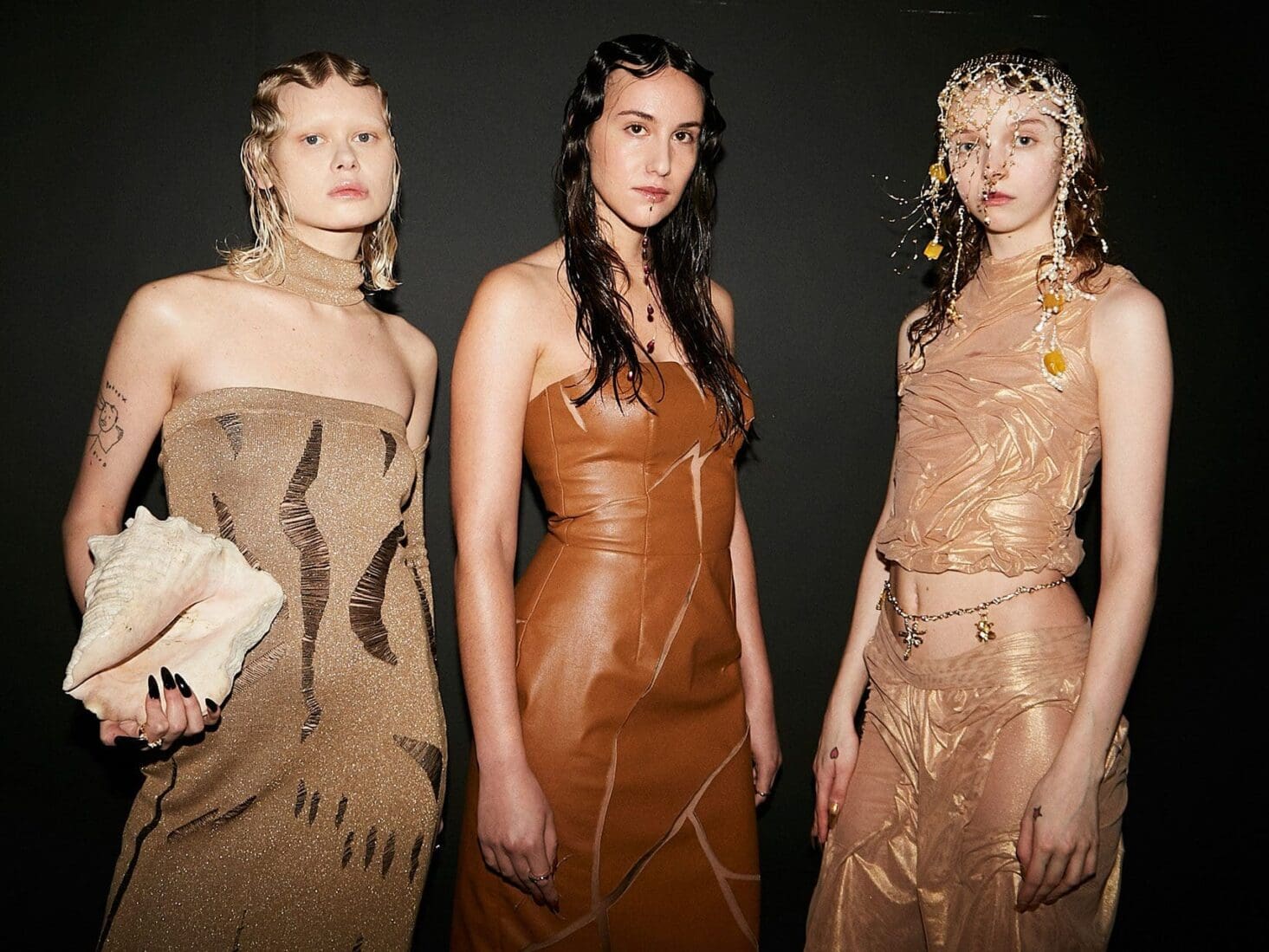 The new and emerging designers to know at London Fashion Week SS24
Start planning your outfits – London Fashion Week is back and there's a host of new talent to discover
London Fashion Week returns this week (15 September) with a blend of physical and virtual events that will allow fashion professionals to get up-close-and-personal with the latest new-season collections.
And, while the schedule features a lot of household names, including Molly Goddard, Erdem, JW Anderson and Simone Rocha, over the years London Fashion Week has built a reputation as an incubator for the brightest, most exciting new fashion talent. This is in part thanks to the quality of British fashion education institutions, like Central Saint Martins, but also thanks to funding programmes such as Newgen, the BFC Vogue Fashion Designer Fund and Fashion East, which all aim to support emerging designers with the prohibitively expensive cost of an on-schedule runway show.
This season promises to be no different, with a host of new and emerging designers primed to showcase their innovative ideas, envelope-pushing silhouettes and fresh approach to fabrics. Here's our guide to the names to be dropping on the FROW this season.
Di Petsa
Di Petsa comes to London Fashion Week with a fine-tuned design vocabulary. Established in 2019 by Greek designer Dimitra Petsa, the label's collections have since straddled the line between classic Greek aesthetics and modern sensuality. Like many of the designers on this list, Petsa studied at London's prestigious Central Saint Martins, graduating with a BA in performance design and MA in womenswear design. Di Petsa's 'Wetlook' dresses are a signature you'll likely have seen plastered across social media feeds or on the likes of superstar muses including Bella Hadid, Nicki Minaj, FKA Twigs, and Doja Cat.
The elegant drapes of the garments combine with skillful dressmaking techniques, sustainable tactile development and intriguing visuals. A charming intersection of self-expression and bold sensuality, Di Petsa is definitely one to watch.
Masha Popova
Known for her wearable designs, Masha Popova exemplifies contemporary Y2K nostalgia. Popova boasts an impressive CV that includes stints at Maison Margiela and Celine, in addition to a BA and MA at Central Saint Martins, with the Ukrainian-born London-based designer drawing from her childhood to craft innovative pieces.
Popova focuses on traditional garment-making techniques infused with zero-waste textiles and hand-dyed fabrics to make butterfly tops, embroidered trousers, and cut-out dresses in a bright colour palette. Seen on fashion trendsetters like Dua Lipa, Kylie Jenner and Billie Eilish, Popova's fresh take on retro silhouettes breathes new life into the trend.
Kazna Asker
A brilliant example of fashion steeped in community values, Kazna Asker's design vocabulary draws on her Yemeni heritage and British upbringing. Freshly graduated from Central Saint Martins, Asker became the first designer to showcase a hijabi collection at CSM's MA fashion show during London Fashion Week SS23. Combining elements of sportswear with traditional fabrics, the result is unique collections that feature tracksuits and athletic silhouettes alongside traditional Islamic garments such as the jilbab, abaya and thobe. With unique silhouettes and community-driven designs, Asker is a star on the rise grounded in consciousness.
Harri
Remember the distinctly viral inflatable balloon trousers Sam Smith wore at the BRIT awards earlier this year? That was one of the fun creations Kerala-born designer Harikrishnan Pillai is known for. Graduating from an MA in Menswear at London College of Fashion in 2020, Pillai made waves right from the off with his brand Harri and its scroll-stopping designs. The aforementioned trousers, crafted from individual latex panels, are a reflection of the designer's sculptural design language, featuring in collections alongside beaded tops, latex tank tops, and cropped blazers. Designed to make a statement, the exaggerated silhouettes at Harri speak volumes.
Aaron Esh
Another fresh Central Saint Martins graduate, Aaron Esh launched his eponymous brand last year. London-born Esh imbues his clothes with the irreverent and curated chaos of his hometown, creating subtly subversive menswear that borrows elements from traditional womenswear techniques resulting in curved hemlines, cropped jackets, and skirted trousers. This dichotomy has led to his elegant menswear standing out from the crowd and Esh has been awarded numerous accolades, including the British Fashion Council Newgen award and being selected as a LVMH prize finalist. As Esh debuts his first womenswear collection this September, it's worth keeping an eye out for how his masculine and feminine juxtapositions manifest in his SS24 collection.
Aaron Esh is stocked at ssense.com
Derrick
London-based menswear designer Luke Derrick's new collection will debut as part of the British Fashion Council's Newgen scheme this season. Derrick graduated from Central Saint Martins in 2021 and went on to hone his menswear expertise at Brioni, Alexander McQueen, Dunhill, Rapha and Savile Row. While his staple silhouettes draw heavily from classic menswear, it's the details that pop – think cinched waists on heavy coats, turtlenecks with earloops, jersey tops emblazoned with ironic phrases. Working from his East London studio, Derrick's designs are meant for minimal capsule wardrobes.
Paolo Carzana
Following on from his London Fashion Week debut in September 2022, Welsh designer Paolo Carzana's eponymous brand is one on every fashion insider's radar. Current recipient of the British Fashion Council Newgen award and artist in residence at Alexander McQueen's Sarabande Foundation, Carzana also received the British Fashion Council and Kering Scholarship for Sustainability during his MA at Central Saint Martins.
Carzana's designs are sculpted to the body with cutouts and drapes signifying strength more than sexualisation. Frayed, tucked, and twisted patterns are handcrafted from plant-based, recycled, organic and repurposed materials using natural dyes. Imbued with the ethereal whimsy of folklore and grounded in delicately technical construction, Carzana's work stands out.
Read more: The complete guide to fashion month