The Evian Resort: the stately French spa escape where the grass really is greener
If Coco Chanel had designed a hotel, you'd imagine it would've looked something like the revamped Hôtel Royal
The Evian Resort is your smartphone camera with HDR mode turned on. So grren are the manicured lawns, so blue the Alpine sky, so red the ranks of rosebushes and rows of rhododendrons, that whenever you whip out your phone to capture the prismatic panorama – which stretches from the lower peaks of the Haute-Savoie mountains to the silvery-grey waters of Lake Geneva – your exposure settings are sent into a state of paralysis. LG should shoot a promotional video for its OLED TVs here. John Lewis could play them on loop in its home-tech departments. #Nofilter. No way. It's true!
There are two ways of getting to Évian-les-Bains, the famous French belle époque spa town that's been inviting high-society pilgrims to take the waters since the middle of the 19th century.
The first is on-board Evian One, a state-of-the-art catamaran that looks like something the prop department of Interstellar dreamt up. Thanks to some cutting-edge aerodynamics, the water-bound space-cat is capable of whizzing up to 10 people from a gangway near Geneva airport to the shores of Évian in just 45 minutes. Guests staying at the Evian Resort, which ranges across 245 acres of Kermit-green mountainside some 500 metres above, are invited to make use of the boat throughout the duration of their visit.
The second, more conventional, method of arrival is by car; a journey that takes only half-an-hour longer from the same starting point. The route snakes the perimeter of the lake through a series of medieval villages, and the Swiss-French border, before arriving at the source of what is, supposedly, the world's most evenly-balanced mineral water.
Both methods of arrival terminate at the end of a stately driveway, which winds through towering cedar trees and grass that would make the groundsmen at Augusta jealous, before delivering you to a human-sized Evian water logo illuminated by spotlights and encircled by international flags.
Even before you enter its high-domed, cathedral-like lobby, Hôtel Royal, the resort's flagship hotel (there are two) feels like somewhere that would host the heads of state during an international convention. Funnily enough, in 2003 the resort helped accommodate the lead delegates of the G8 summit.
Nine years later, the hotel having recently celebrated its centenary, interior design guru Francois Champsaur and historical architect Francois Chatillon were charged with overseeing a head-to-toe refurbishment. I've no idea what the place looked like previously, but if Coco Chanel had designed a hotel (she may well have), you'd imagine it would've looked something like the revamped Royal – all white-marble floors and statement chandeliers.
Rooms – there are 150 in total, along with 32 suites – are a little more relaxed; turn-of-the-century furniture fraternising with canary-yellow armchairs; a navy-on-white-on-light-wood colour palette creating a nautical quality. Indeed, with the flickering lake a constant companion, the hotel's long, linear layout almost makes it feel as though you've run aground on the kingliest of cruise ships.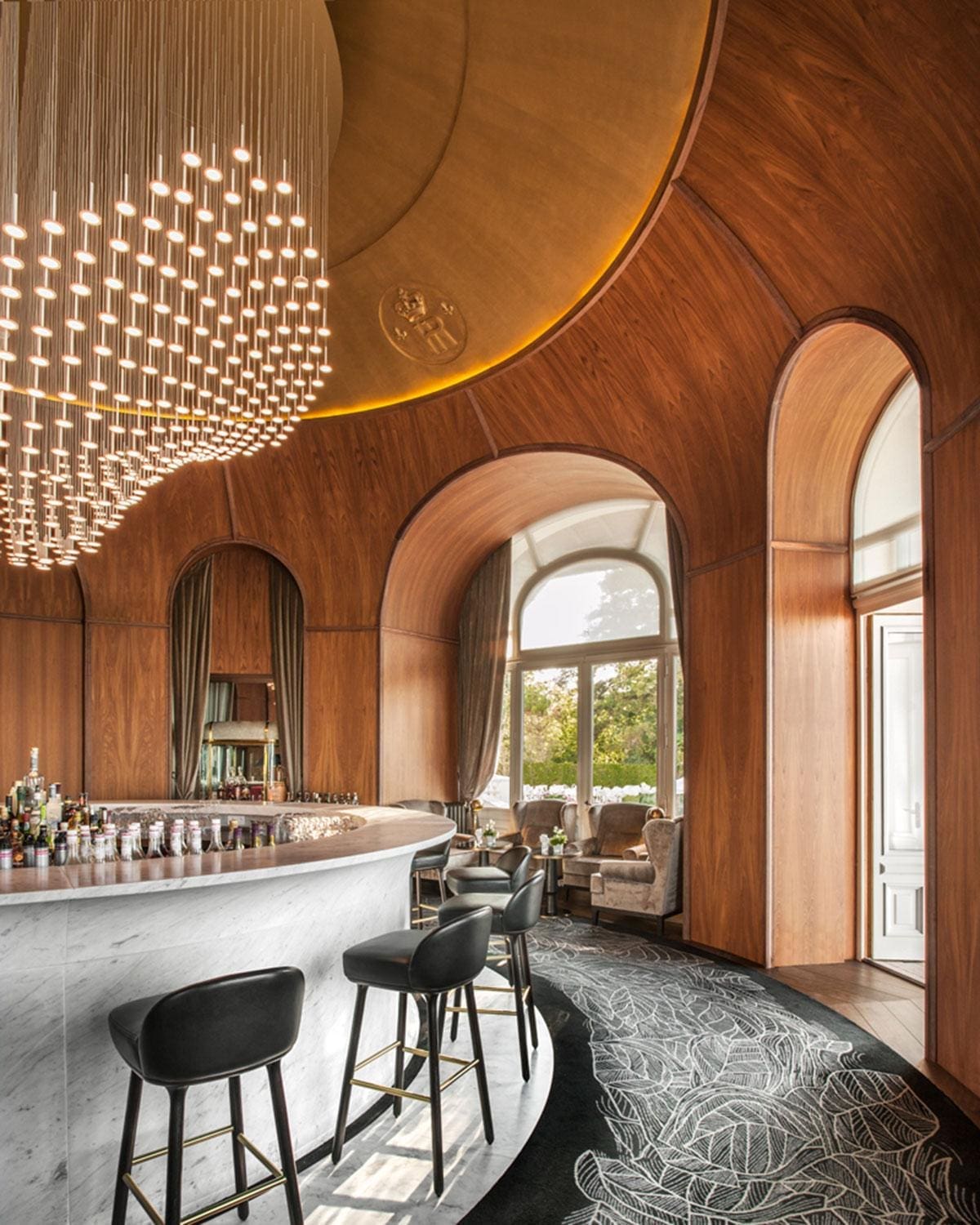 All rooms, apart from those on the fifth floor, have balconies large enough to accommodate a table and chairs. You can drink in views of the lake for free, or sip Aperol Spritzs for around £20 a time. While we're on the subject, you might expect bottles of Evian to be provided gratis, given that you're sat on the mountain that spits out the stuff for free. Non, non, non. While 33cl bedside bottles are replenished each night, for each additional 750cl bottle that will €8s'il vous plaît.
It's easy to stay cocooned in the Hôtel Royal. It has an indoor and outdoor swimming pool, and an industry-leading spa – complete with hot tubs, hammams and an open-air hydro-circuit. But the Evian Resort is far more than its flagship hotel. The four-star Hôtel Ermitage, located a few hundred metres uphill, has an outdoor pool and spa of its own. There's a concert hall, a kid's club, streams of garden trails and, just a short drive away, a championship golf course – the only course to host a Major in Continental Europe. Down in Evian town, the resort even has its own casino. A vintage wooden funicular will take you there for free.
The resort's pièce de résistance is the fabled Les Fresques restaurant. Artist Gustave Louis Jaulmes hailed from across the water in Lausanne. In 1909, fresh from working on Paris' Palais de Chaillot, he traversed the lake to apply his handiwork at the Royal. His monumental, hand-painted frescos were painstakingly restored during the hotel's overhaul and now cap what surely must be one of the world's most elegant dining rooms.
The menu is the work of veteran head chef Patrice Vander, who's been with hotel for more than 20 years. Fish comes from the lake below; beef and cheese from the mountains above; tomatoes and herbs from the hotel's square-kilometre vegetable garden. It's top-tier food served in a fairytale setting. You can't help but feel that Michelin was a little bit stingy when it chose to award Les Fresques only the one star following its most recent visit.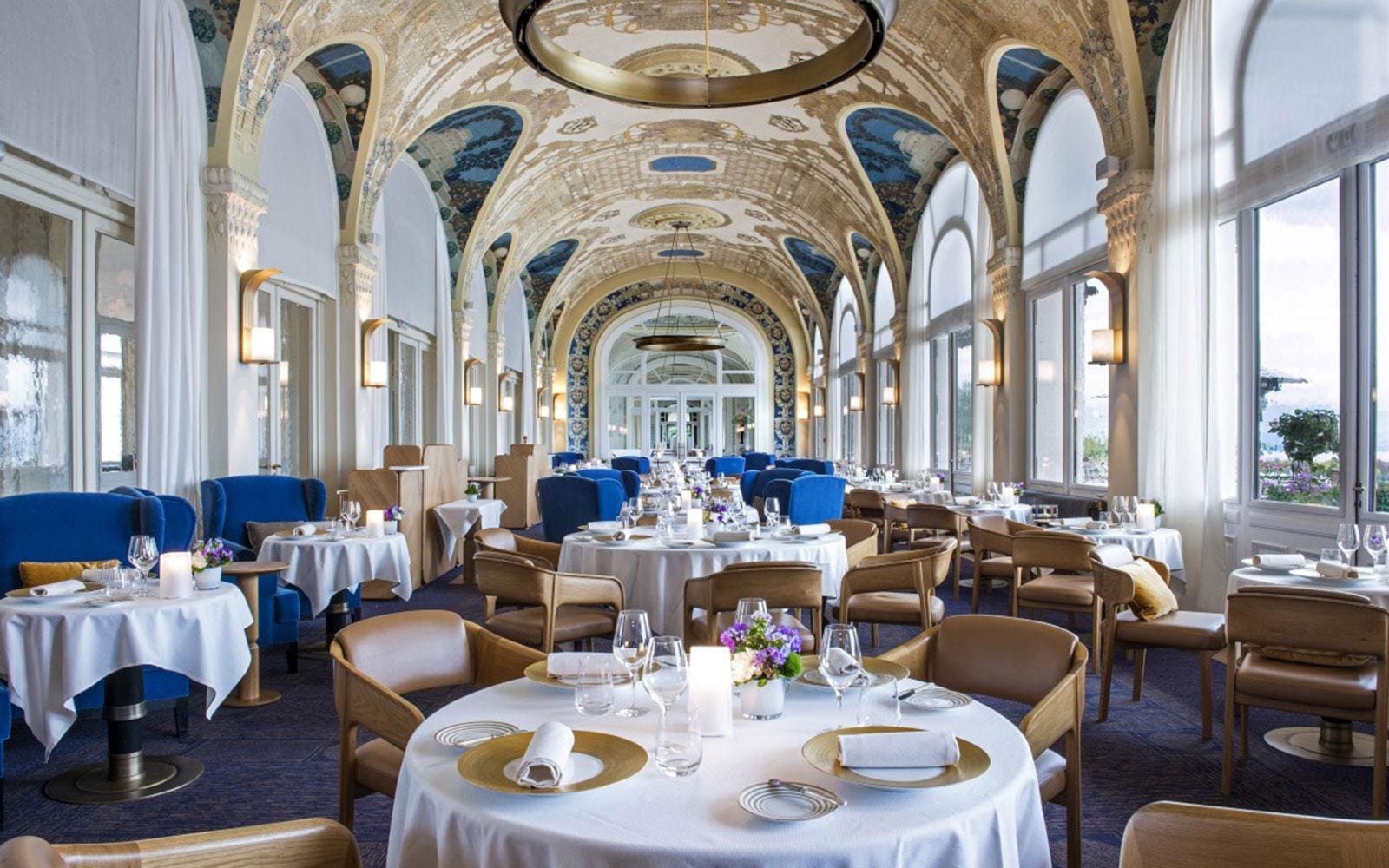 In 2010, the French Minister of Tourism decided that five stars simply wouldn't do when it came to his country's top guesthouses, and so dreamt up a new classification of hotel. 'Palace' status was awarded to hotels that 'embodied French standards of excellence and contributed to enhancing the image of France throughout the world'.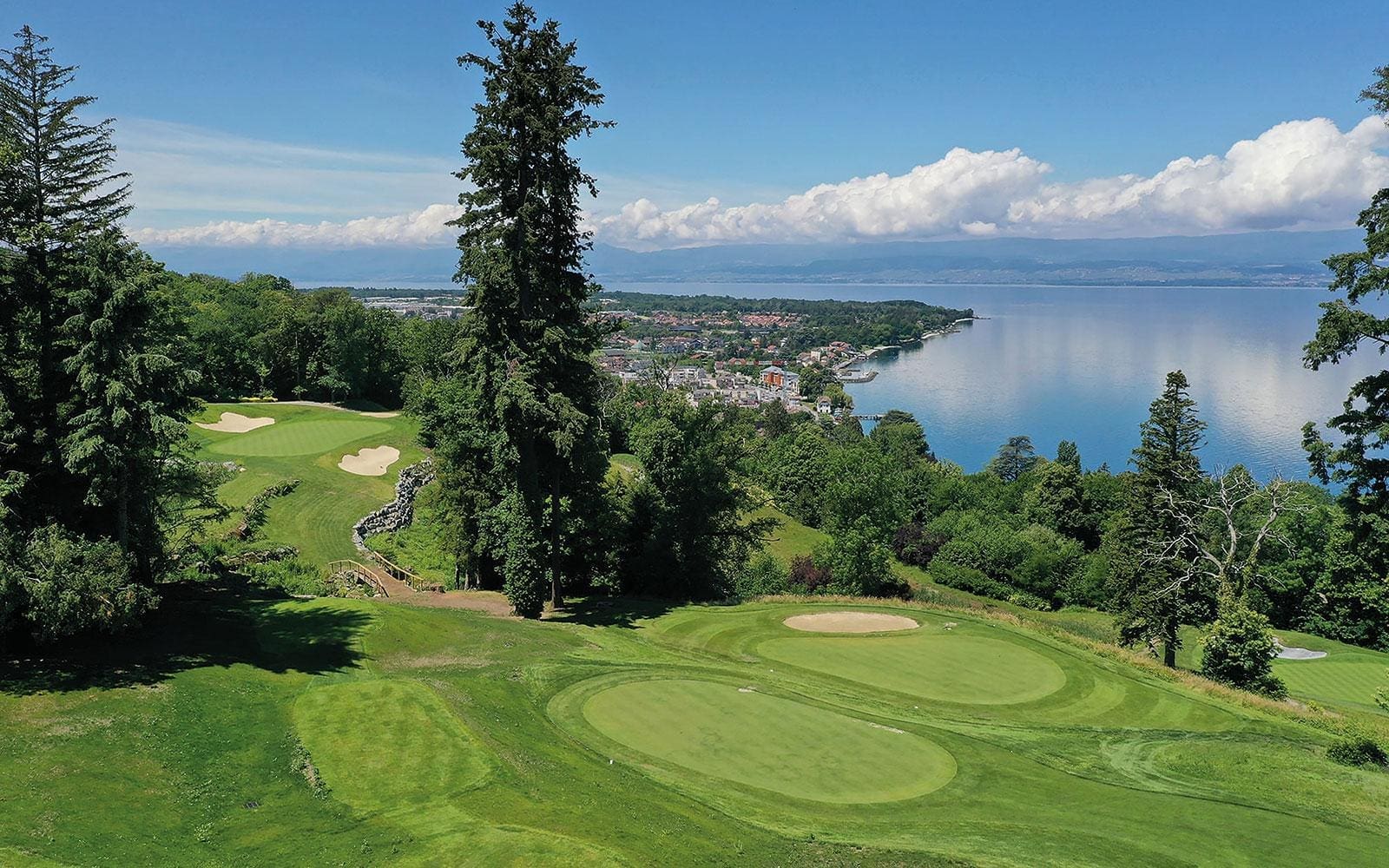 Even the most sanctified of the 25 hotels currently on the list – Paris' the Crillon, the George V and Le Bristol; Le Byblos in Saint-Tropez; and the neighbouring Saint-Jean-Cap-Ferrat and Le Cap-Eden-Rock, among them – require an element of compromise. A city-centre location comes at the cost of a decent-sized room; a subterranean spa negates a large swimming pool; a reputation as a party palace attracts a certain type of pleasuremonger. It's difficult to pinpoint the opportunity cost of staying at the Evian Resort.
'Grand', 'opulent' and 'chic' are lazy, stock images of words, but they do a pretty on-the-money job of précising this fanciest of French resorts.
Read more: Villa La Massa offers uncompromising Florentine luxury