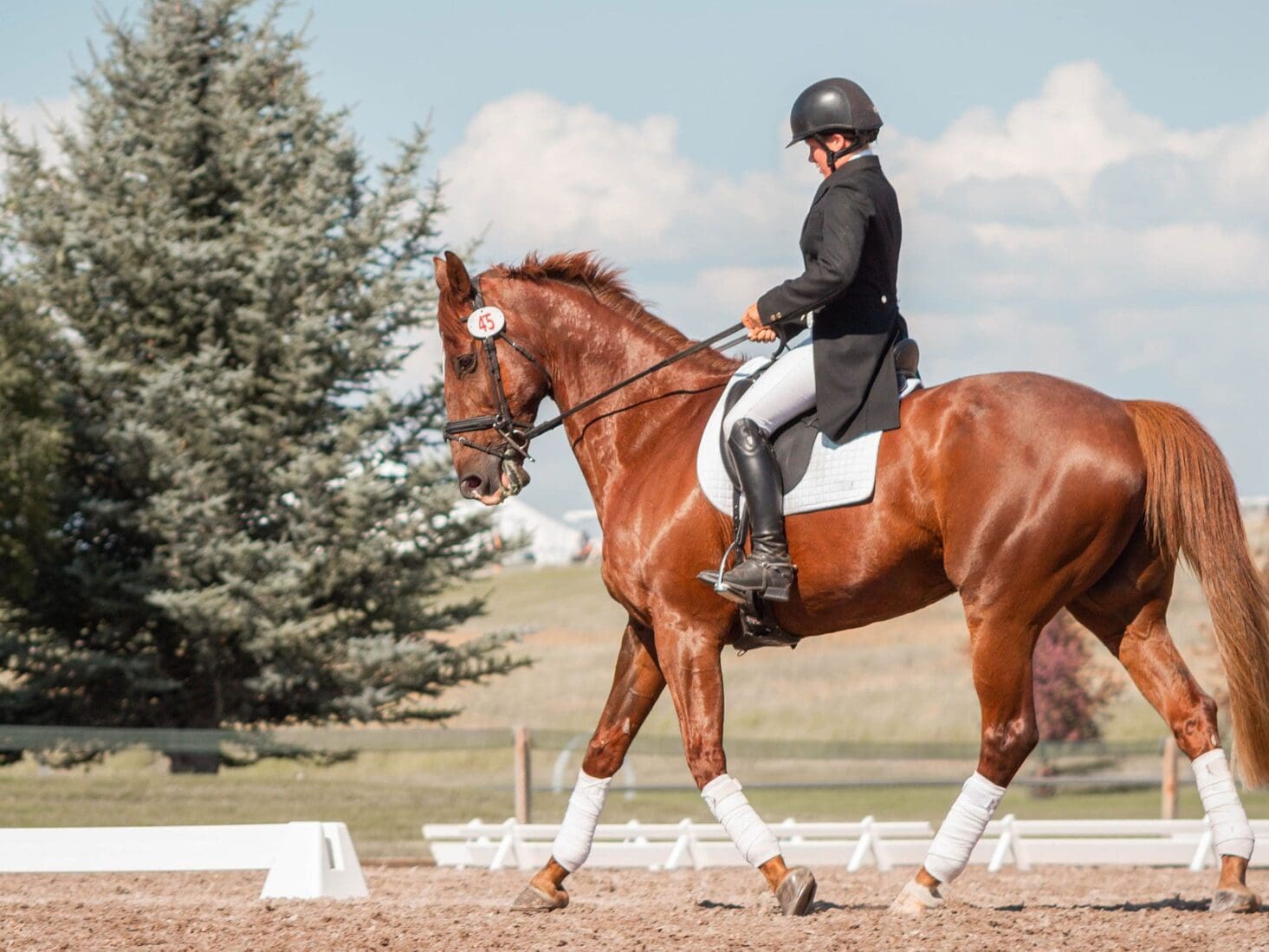 Saddle up: The best places to go horse riding in London
Whether you're a seasoned jockey or first-time equestrian, here's where to take the reins in the city
If you're looking for a unique, fun thing to do in London, horse riding is a great option. If you've seen Bridgerton you'll know that the capital actually holds a long-standing horse riding heritage with deep cultural significance, which, happily, means there are still lots of options for aspiring jockeys out there. From a casual canter to a one-on-one lesson, here's our guide to the top equestrian schools and stables around London.
Stag Lodge Stables, Richmond Park
With more than seven arenas and 70 horses, ranging from cute Shetland ponies to 16-hand hunters, all the horses at Richmond's Stag Lodge are selected for their good temperaments, ideal for anyone interested in equestrian care regardless of age and ability. Situated on the leafy border of Richmond Park and Wimbledon Common, the stable dates back to the 17th century and offers a truly regal setting for a scenic trot about the park. From pub rides, parties, pony clubs and private lessons to livery services and lunge lessons, Stag Lodge is one of the top places to horse ride in London.
197 Robin Hood Way, SW20 0AA, visit staglodgestables.com
Ross Nye Stables, Paddington
One of the longest-established riding schools in the capital, Ross Nye moved to London from Australia more than 50 years ago and inspired riders with his unique upbringing, spent riding all day over rough outback terrain as well as breeding and breaking in horses. It was his genuine belief that everyone could benefit from learning to ride on a physical, mental, and psychological level. Although he passed away in 2020, his vision lives on. From children's pony clubs to adult's riding holidays, the stables offer a range of hacks, lessons, and stable management options, as well as birthday parties and social events. As Winston Churchill once said, and Ross Nye often quoted, "the outside of a horse is good for the inside of a man".
8 Bathurst Mews, W2 2SB, visit rossnyestables.co.uk
Dulwich Riding School, Dulwich
Founded by a former fruit stall holder, Dulwich Riding School dates back to the 1960s. One of the top riding schools in the capital, waiting lists for new riders are around seven months, and only those over the age of six can sign up. Group, private and semi-private lessons are all available here, as well as birthday parties and school bookings, age dependent. You can also 'own a pony for a day' if you're thinking of buying your own but want a test-run first. Head to the website first for some fun horsey facts and a gallery of gorgeous equine photos. It's time to take the reins.
Dulwich Common, SE21 7EX, visit dulwichridingschool.co.uk
Wimbledon Village Stables, Wimbledon
Wimbledon Village Stables is a multi-award-winning members' riding club offering adult-only patrons the opportunity to escape the city and enjoy the stunning countryside and wildlife of Wimbledon Common. Combining well-schooled horses, an expert team of fully qualified and professional instructors and miles of idyllic horse riding, this exclusive club is also home to EQUICISE, a fully interactive horse simulator and powerful training aid for riders of all standards, enabling them to improve their fitness, gain confidence or focus on a specific aspect of riding technique. Saddle up!
Wimbledon Village Stables, SW19 5DX, visit wvstables.com
London Equestrian Centre, Finchley
With a reputation for providing competent, approachable teaching staff and a wide range of horses and ponies to suit all standards, the London Equestrian Centre is particularly good for younger riders. Offering a range of options for those aged three and over — including pony days and young rider training days, as well as 15-minute tiny tot slots — full, part and working livery are all also available for owners looking to house their horses. There is also a lovely café to satisfy post-ride peckishness.
Lullington Garth, Woodside Park, N12 7BP, visit londonridingschool.com
Ealing Riding School, Ealing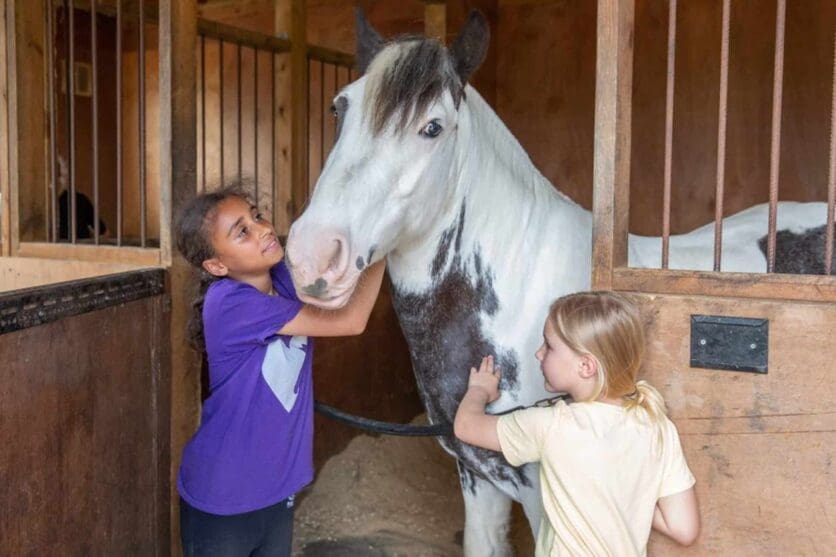 Welcoming novice, expert and rusty riders of all ages and backgrounds, this low-key and family-friendly horse riding stable caters for anyone wishing to horse around. Riding is available for children aged four and above, plus adults of all backgrounds. After-school stable clubs, birthday parties and Christmas pony days are all available here, as well as everything from private lessons to stable management tutorials. Take a sneak peek at the photo gallery and get to know your horse's breed and personality before you book a ride. We'll be swiping right for Dotty…
19 Gunnersbury Avenue, W5 3XD, visit ealingridingschool.biz
Hyde Park Stables, Hyde Park
Offering horse riding in London's iconic Hyde Park for over 300 years, Hyde Park Stables is one of the last standing mews with horses in central London. Whether it's a fun canter, an arena ride or a course of lessons, the stables cater to adults and children from four years of age and older and welcomes riders of all experience levels, including those that have never been around horses before. Book an arena lesson to learn from the best or opt for a semi-private ride along Rotten Row — one of the most famous equestrian venues in the country — with a shared mounted escort.
63 Bathurst Mews, W2 2SB , visit hydeparkstables.com
Docklands Equestrian Centre, Beckton
Docklands Equestrian Centre is owned and operated by UK registered charity Newham Riding School & Association Ltd and offers top-quality indoor and outdoor, all-weather flood-lit facilities. The centre prides itself on offering riding and horse-care lessons to local disabled and able-bodied children (aged five and over), as well as adults, and holds regular events for all ages. It also offers a points-based volunteer program to riders aged 12 and over who want to gain experience in stable management in return for free lessons. Don't look a gift horse…
2 Claps Gate Lane, E6 6JF, visit docklandsequestriancentre.com
Trent Park Equestrian Centre, Cockfosters
A vibrant, professional riding school, Trent Park was established more than 40 years ago, and is a British Horse Society-approved training centre (up to BHS intermediate level with examination status to BHS II). But it is also open to riders of all backgrounds and abilities, offering private, semi-private and group lessons to adults and children aged four and above. Pony club sessions, blazing saddle sessions and BHS training are all also available here and will be sure to see you hitting your stride in no time.
East Pole Farmhouse, Bramley Road, N14 4UW, visit trentpark.com
Aldersbrook Riding School, Newham
Situated near to scenic Wanstead Park, Aldersbrook is a friendly, community-focused riding school yard with more than 40 years standing. Gallop around the nearby forest land or take lead rein rides and short hacks around Wanstead Flats, or venture beyond into Epping Forest for beautiful off-road hacking. Plus, the large indoor school ensures all-weather riding facilities along with the outdoor arena for adults and children from complete beginner to experienced rider. There are also a range of activities for children including group and party bookings, and Aldersbrook is well geared up for supporting and teaching children and adults with special educational needs including ASD, ADHD and mobility issues.
Empress Avenue, E12 5HW, visit aldersbrookridingschool.co.uk