When it comes to glitzy ingredients, often incorporated into dishes to add a touch of opulence, truffle shares the top spot with caviar. Sourced from European countries including France, Italy, and Spain, as well as certain regions of the United States, truffles lack the luxurious beginnings one would assume, instead growing underground near the roots of trees such as oak, beech, birch, and pine. This edible fungi varies in colour, size and type, but it's white Alba truffles that are the prized cherry on the often cheesy, pasta-shaped cake. 
Famous for their delicate, musky flavour and relatively short season, which runs from September to December, it's perhaps no surprise to Londoners that the city's Italian trattorias, Michelin-starred restaurants and innovative eateries have compiled menus to satiate the appetite of any mushroom-mad client. Read on for our pick of the best truffle menus and events in London. 
The Goring x Villa La Massa, Belgravia
From 16-18 November 2023, The Goring will partner with leaders of luxury Italian properties, Villa La Massa and sister property Villa d'Este, to host three nights of indulgent truffle dinners. Bringing the best of Tuscan truffle season to London, The Dining Room at The Goring will serve an exclusive menu brought to life by head chefs Stefano Ballarino from Villa La Massa and Graham Squire of The Goring. Expect classic Goring dishes with a twist, such as Clarence Court egg en cocotte with Alba truffle, and Westcombe ricotta tart, black fig, wild honey and truffle. Also on the menu will be Italian mugello potato ravioli with robiola maremma cheese and crispy dry-aged beef fillet with peposo pumpkin, both served with winter truffle. Delicious. 
15 Beeston Place, SW1W 0JW, visit thegoring.com
The NoMad, Covent Garden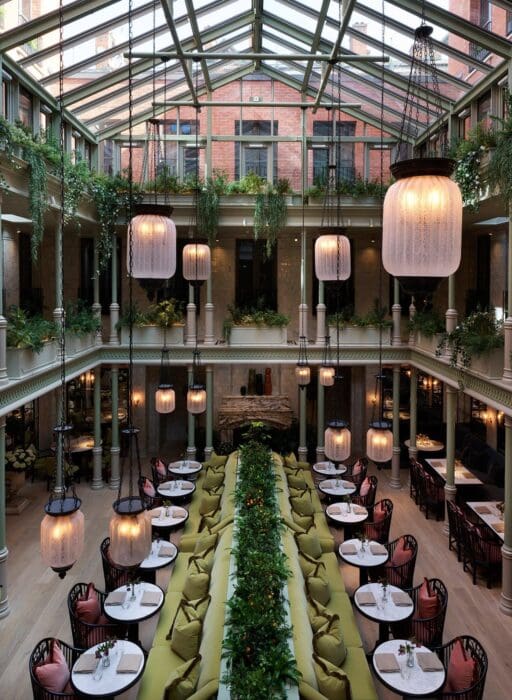 While NoMad New York first pioneered this truffle offering, its award-winning Covent Garden sister hotel has now followed suit. The hotel's White Truffle menu invites diners to quite literally make their meal 'reasonable' or 'ridiculous'. Order buttery and cheesy tagliatelle or risotto before choosing from the 'reasonable' four-grams worth of white truffle shavings, starting at £18, or the 'ridiculous' eight grams of truffle for double the price. 
28 Bow Street, WC2E 7AW, visit thenomadhotel.com
Bocca di Lupo, Soho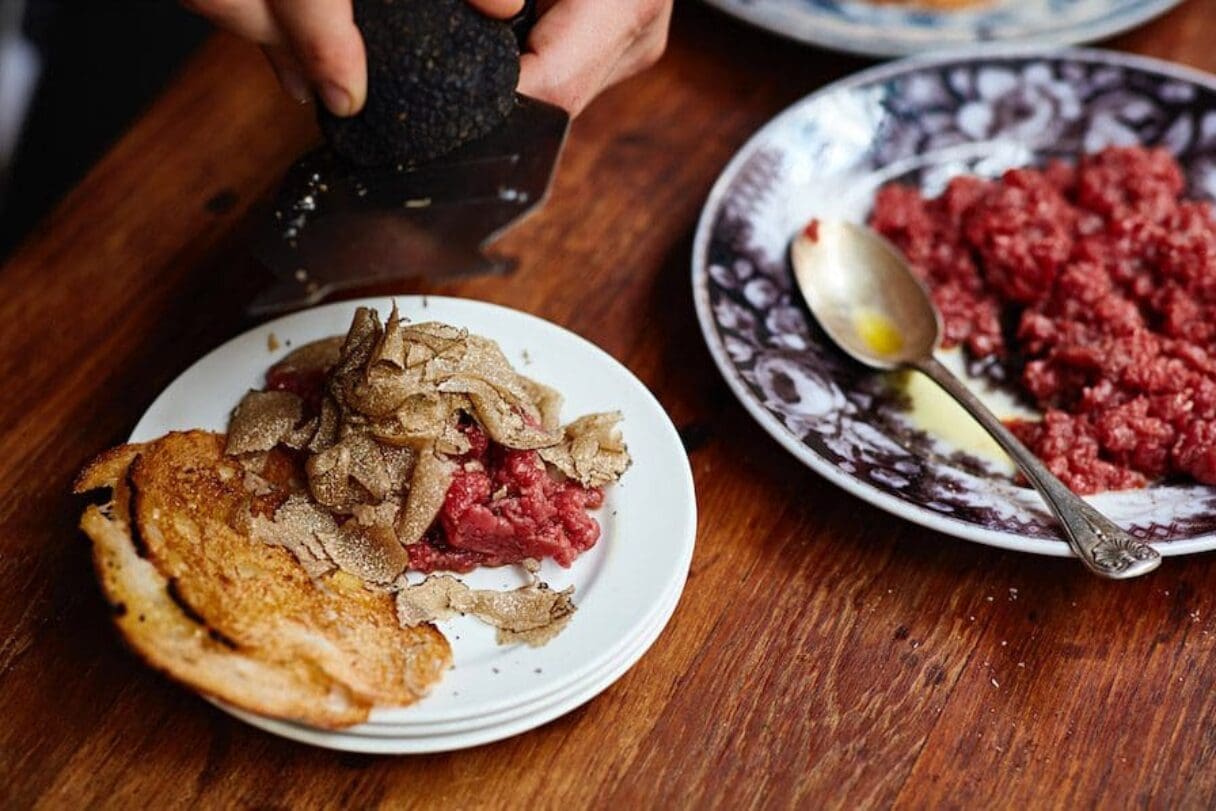 As autumn sets in, Soho trattoria Bocca di Lupo is looking to Italy for this season's inspiration: white Alba truffles. From October onwards, chef and founder Jacob Kenedy is inviting guests to BYOT — bring your own truffle — to shave over dishes at the restaurant. Each day, the team marks the dishes on his menu which are best suited to a dusting of pale gold slices, including bagna caoda, a warm fondue of anchovy and garlic served with seasonal crudités; veal battuto, a tartare dressed simply with nutmeg and new season olive oil, served with crostini; or golden, yolk-rich tajarin – a Piedmontese variant of tagliolini – topped with raw duck egg yolk and parmesan. 
Guests can purchase whole fragrant white truffles from sister gelataria Gelupo – which sources the mushroom directly from Piedmont, northern Italy – and bring them across the street to Bocca di Lupo to be gently cleaned, then shaved over their choice of dishes by the chefs.
12 Archer Street, W1D 7BB, visit boccadilupo.com
Kitchen W8, Kensington
Following on the heels of Kitchen W8's special game menu, chef Mark Kempson is ramping it up with a decadent four-course truffle tasting menu available until 26 November 2023. The Michelin-star kitchen, famous for its imaginative menus since it opened in 2009, will be feature four types of truffle: the autumn black (Tuber Uncinatum), the périgord (Tuber Melanosporum), the sought-after white Alba (Tuber Magnatum Pico) and the honey (Fungi Mattirolomyces Terfezioides). Expect all four forms to appear in dishes of truffle churros with pickled walnut; lightly-smoked carnaroli risotto, Jerusalem artichoke and white Alba truffle; blackened quail with Périgord truffle roast delica pumpkin and chestnuts; French toast with brown butter roasted pear, toasted walnuts and honey truffle diplomat cream.
11-13 Abingdon Road, W8 6AH, visit kitchenw8.com
Big Mamma Group, across London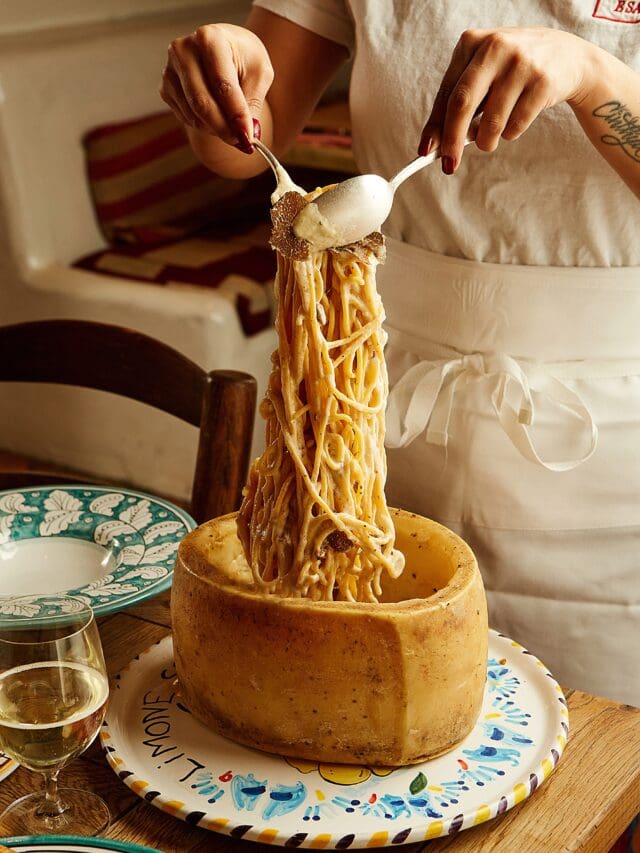 Known for its iconic truffle pastas and pizzas, the Big Mamma restaurant group – comprising the Insta-famous Circolo Popolare in Fitzrovia, Shoreditch's Gloria, Jacuzzi in Kensington and, the newest addition to the portfolio, Carlotta in Marylebone – has plenty to tempt any truffle lover with many exciting dishes on its new autumn menus. From truffle croquettes to the TrufflePuff pizzas, and Circolo Popolare's mafaldine al tartufo – a creamy mascarpone pasta with black Molise truffle – to Jacuzzi's spaghetti al tartufo, with parmigiano reggiano foam and fresh black truffle served in a pecorino wheel, book your table now to sample a number of delectable delights before truffle season comes to an end. 
Visit bigmammagroup.com
Luci, Covent Garden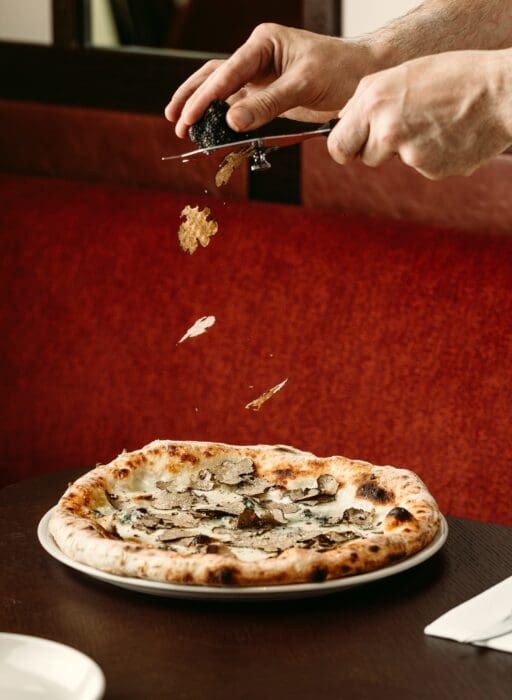 Luci, the new Italian dining bakery in Covent Garden, which opened earlier this year, unveiled its truffle season menu this month. Featuring gnocchi with black truffle and lashings of butter, pizza Napoli gorgonzola with black truffle and the wild mushroom and black truffle risotto, the new menu pays homage to executive chef Andrea Pesenti's hometown of Verona, using cep mushrooms and Imbriago cheese from the region.
To complement Luci's truffle dishes, guests can toast with the signature truffle-infused Pink Truffle Sour cocktail, designed by resident mixologist, Nicaras Verones. Inspired by the classic sour, the cocktail uses grappa tosolini infused with truffle, poggiotondo chianti classico, lemon and egg white finished with a shaving of truffle.
136 Long Acre, WC2E 9AA, visit lucirestaurant.co.uk
Daphne's, Chelsea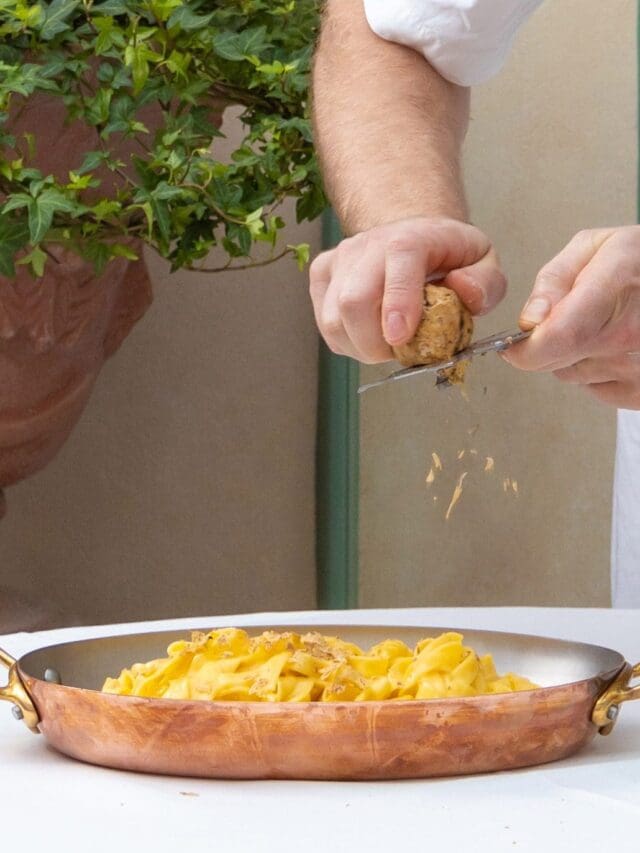 Daphne's has welcomed the autumn season with new and invigorating specials centred around truffles. New additions to the menu, aiming to captivate both gastronomes and truffle aficionados, include seared rare tuna with citrus dressing and white truffle; porcini and buffalo ricotta cappelletti with white truffle; plus Italian classics like tagliatelle and risotto with white truffle. Plus, those with a sweet tooth can indulge in the limited-edition burrata ice cream with salted caramel sauce and white truffle – the cherry on the cake for any truffle lover. 
112 Draycott Avenue, SW3 3AE, visit daphnes-restaurant.co.uk
45 Jermyn St, St James
An esteemed brasserie, which rubs shoulders with the gentlemen's tailors that line Jermyn Street, has launched a limited-edition menu based on the reimagining of classical dishes with truffles, sourced by family-run enterprise Wiltshire Truffles. Created by executive chef Sam White, the annual menu includes the likes of a truffled cheese toastie and tagliatelle with 24-month aged parmesan and champagne risotto – both covered with white truffles. There is also an abundance of other truffle-dressed dishes, such as parmesan custard with mushroom soldiers. 
45 Jermyn Street, SW1Y 6DN, visit 45jermynst.com
Read more: Pop it like it's hot: The best champagne bars in London