Where to celebrate the Chelsea Flower Show 2023 in London
The RHS Chelsea Flower Show returns to the Royal Hospital from 23-27 May. Mark the occasion with afternoon tea, workshops and resplendent installations
There is much to celebrate at this year's Chelsea Flower Show. The annual display of the best flora, fauna and gardening expertise from around the world will once again showcase spectacular garden designs alongside innovative new ideas. This year will also see the Chelsea Flower Show celebrate a number of firsts, including a children's picnic for 100 pupils from across London, the first fungi growers to exhibit in the Great Pavilion, and the first time that all show gardens will be required to have plans for a life in a new location after the show has closed.
The show is sponsored by The Newt, the exalted Somerset hotel owned by South African businessman Koos Bekker and his wife, Karen Roos. The green-fingered property is known for its immaculate gardens, originally designed by former resident Penelope Hobhouse and updated by French architect Patrice Taravella. Champagne Pommery is the tipple of choice this year, noted for its sustainable wine-growing practices.
If you haven't secured tickets to the main event, you can still enjoy an array of flower-themed satellite events across London. Tickle your tastebuds with specialty menus and botanical cocktails, or marvel at extraordinary floral installations across Mayfair and Belgravia.
Chelsea in Bloom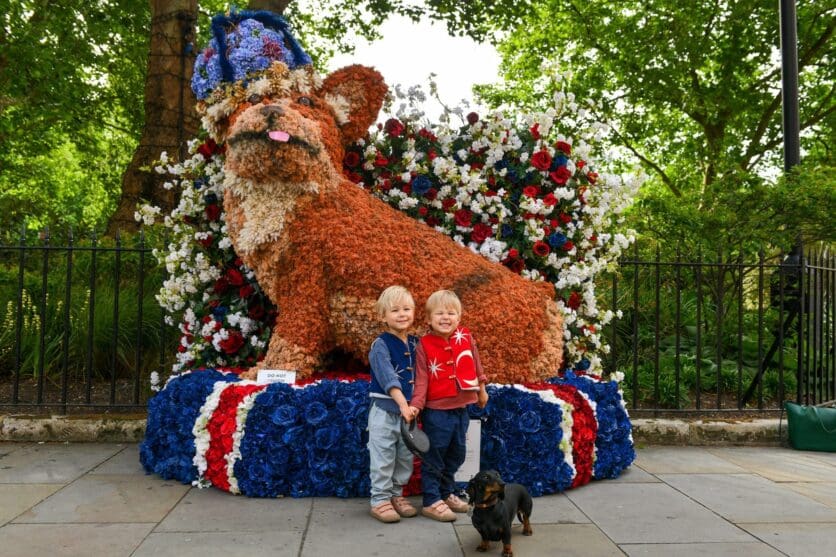 In celebration of the Chelsea Flower Show, the neighbourhood's retailers dress up their storefronts each year with whimsical and imaginative installations, which are every bit as impressive as the main event. This year's theme is 'Flowers on Film', so expect the neighbourhood to abound with floral tributes to screens big and small. Undoubtedly one of the most uplifting events in London, immerse yourself in floral displays galore, which stretch from Sloane Street down the Kings Road, as well as Pavilion Road and Duke of York Square.
22-28 May, chelseainbloom.co.uk
Rabbit
Kings Road fine dining restaurant Rabbit is pulling out all the stops in honour of the Chelsea Flower Show with a new five-course menu inspired by the Chelsea in Bloom theme, and in particular Ridley Scott's A Good Year. Accompanied by a bespoke floral installation by Amanda Austin, the menu starts with a special Pink Floyd cocktail (so-named for the rose petals muddled within), followed by special seasonal dishes including tempura courgette flower with goat's cheese mousse, seabream tartare, pork tenderloin, and smoked mackerel cornetto.
22 – 28 May, rabbit-restaurant.com
Chelsea Barracks Spring Fair
Floral celebrations extend past Chelsea to Belgravia, as shops, restaurants and residences spruce up for spring. The Chelsea Barracks development is joining the flower-fuelled festivities by decorating its gardens and entranceways with blossoming installations. The ultra-luxe, exclusive enclave was named Europe's most sustainable development, due to its abundance of green space and recycled materials. Visitors are encouraged to explore the gardens and learn about the plants and herbs on display before taking part in one of the many workshops, masterclasses and talks on the fair's schedule. Chelsea Barracks will also host The Artisans' Market, brimming with green-fingered gifts from some of the capital's finest independent makers. Find ceramics, planters, artwork and bouquets, and linger with coffee or a glass of wine in the afternoon.
24-27 May, chelseabarracks.com
The Dorchester afternoon tea at The Drawing Room
The Dorchester will be setting up shop inside the confines of the Chelsea Flower Show to serve a special afternoon tea at the show's Drawing Room restaurant. Designed by the hotel's executive party chef Michael Kwan, and served alongside beautiful bouquets by The Dorchester's in-house florist Philip Hammond, expect delicate finger sandwiches, exquisite floral-themed pastries, and fine tea and champagne for the most celebratory of occasions.
23-27 May, afternoon tea from £98.50 per person, rhs.org.uk
Belgravia in Bloom
Another neighbourhood which takes its cues from the flower show to don itself in an array for floral finery, Belgravia in Bloom will see some of the area's most prestigious locations – including The Lanesborough, Halkin Arcade and Eccleston Yards create large-scale installations to the theme of 'Into The Wild'. Florists taking part include some of the capital's most renowned creators, including Neill Strain Floral Couture, Moyses Stevens and Judith Blacklock Flower School, while there will also be a programme of workshops, events and special offers to get involved in.
22-29 May, belgravialdn.com
Sketch, Mayfair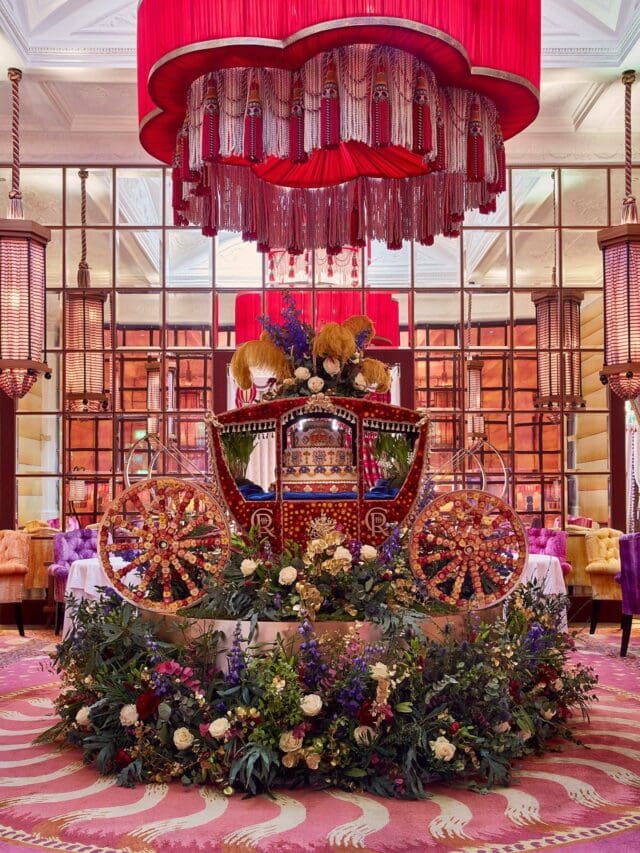 Mayfair hosts its own mini flower show every year in tandem with the main event in Chelsea – which this year arrived a little early for a joint celebration of the Coronation of King Charles III. Sketch goes all in for this, transforming its already impressive dining spaces with verdant installations. This year's offering features immersive royal-themed displays throughout the hallway, restaurants and the renowned bathroom pods, designed by JamJar Flowers, Ricky Paul Flowers and Rebel Rebel Flowers. Highlights will include a an enormous crown and carriage, a modern interpretation of an ancient 'holloway' and an installation inspired by the rugs at Highgrove.
Until 29 May, sketch.london
Daphne's
Richard Caring lays claim to the most decorative restaurants in London, including Scott's, Daphne's and The Ivy Chelsea Garden. The restaurant group goes all out during the Chelsea Flower Show, with floral displays, special menus and colourful, limited-edition cocktails. This year South Kensington hotspot Daphne's will come alive with Lost Garden-inspired decor, alongside an array of Chelsea Flower Show-themed dishes, including pea soup with wild garlic and tuna tartare with avocado, as well as a limited-edition cocktail menu created in collaboration with Italicus.
From 15 May, daphnes-restaurant.co.uk
Spring Garden
Skye Gyngell's storied Somerset House restaurant Spring will also be found within the confines of the Chelsea Flower Show this year with a special Spring Garden pop-up restaurant. Created inc collaboration with caterer Alison Price & Company, the upscale eatery will offer a limited-edition menu of fresh, locally-sourced and responsibly-grown dishes embued with a farm-to-table ethos. Available to book as part of a hospitality package, the restaurant will be offering everything from light breakfasts and set-lunch menus to champagne, cocktails and foraging experiences.
23-27 May, from £440 per person, rhs.org.uk