On Saturday 6 May 2023, Charles III will officially be crowned King of the United Kingdom of Great Britain and Northern Ireland, and Head of the Commonwealth, after serving as the longest-acting heir apparent in our country's history. The ceremony, expected to be attended by around 2,200 guests, will take place in Westminster Abbey, the 40th coronation to have been held there since the coronation of William the Conqueror on 25 December 1066.
For a complete guide to the events that will mark coronation weekend, including what to expect during the ceremony itself, please click here. We've also rounded-up the top spots in London from which to celebrate the coronation; compiled a guide to the best coronation gifts and memorabilia; and listed the five-star hotels celebrating the weekend with coronation-themed afternoon teas.
Here, we look back at the life of King Charles III and some of the most significant moments that have shaped it.
A future king is born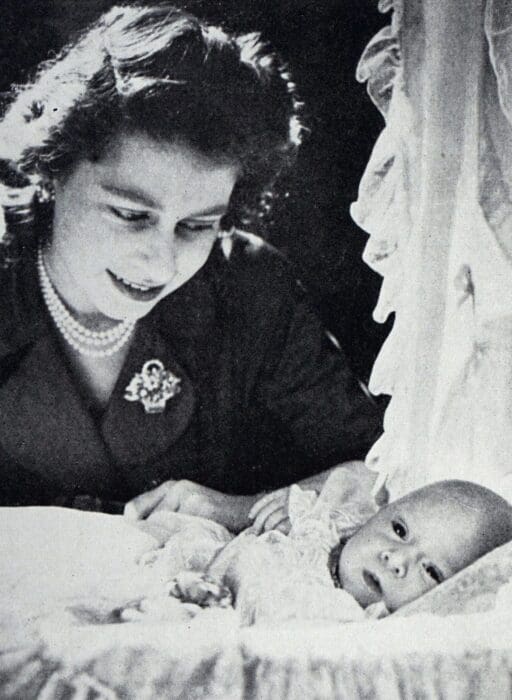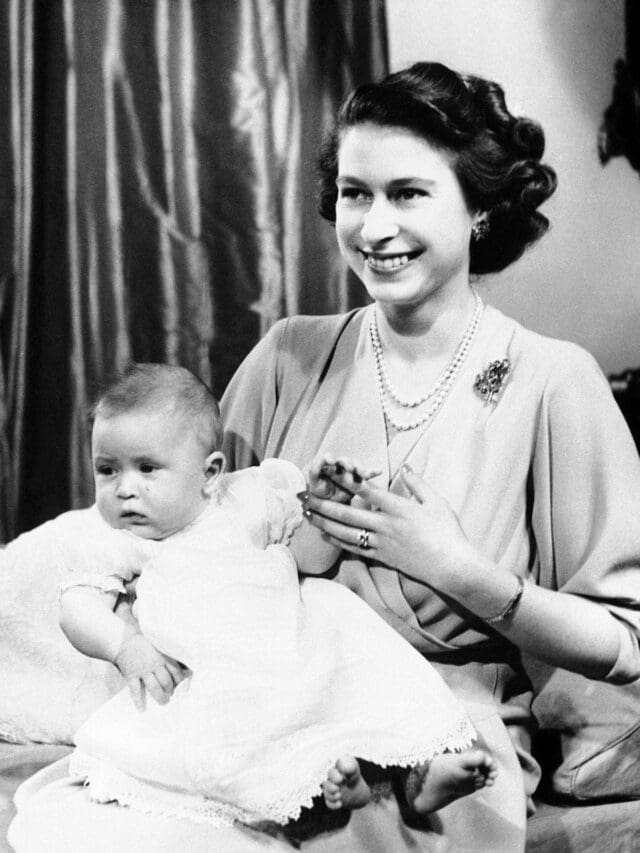 Prince Charles was born in Buckingham Palace on 14 November 1948 when his mother, Queen Elizabeth II, was 22 years old. He became heir apparent aged three, upon the death of his maternal grandfather, King George VI.
Prince Charles becomes Prince of Wales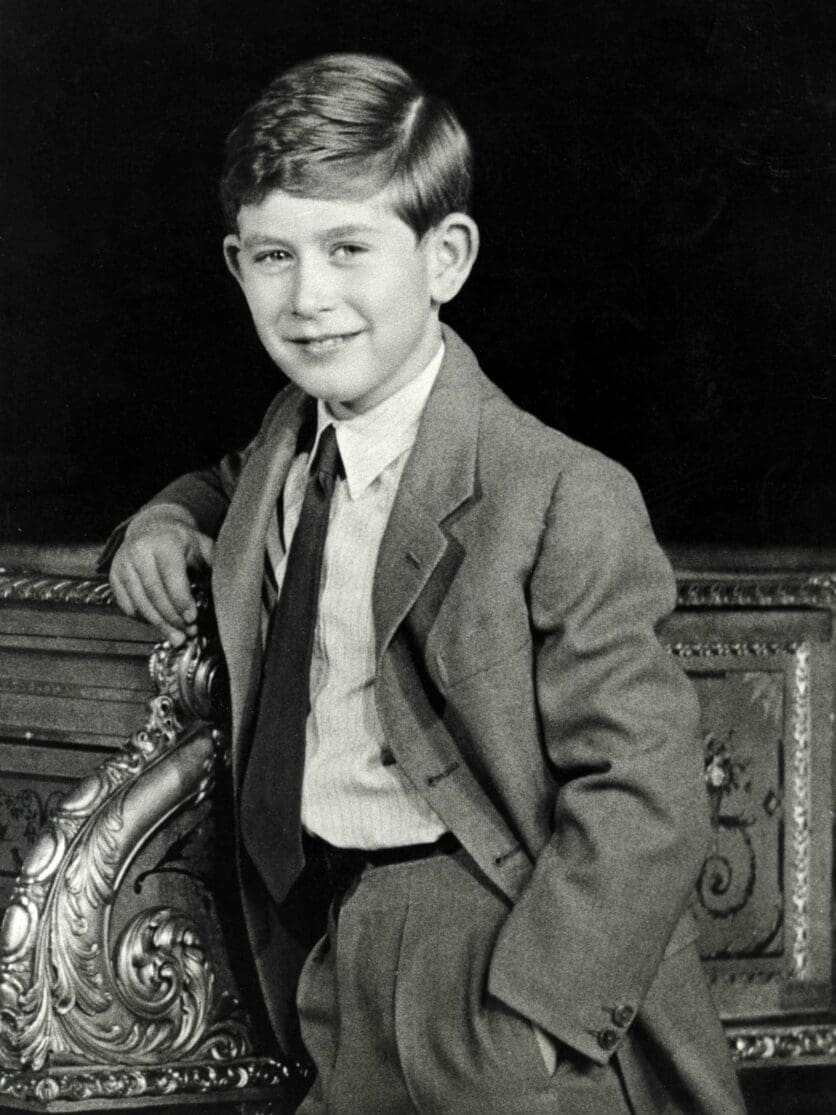 During a tape-recorded message broadcast at the closing ceremony of the 1958 Empire Games in Cardiff (which would later become the Commonwealth Games), Queen Elizabeth II announced that Prince Charles would become Prince of Wales:  
"The Games have been an undoubted success from every point of view and I would like to congratulate all the many people who have worked so hard to perfect the arrangements… I have, therefore, decided to mark it further by an act which will, I hope, give as much pleasure to all Welshmen as it does to me. I intend to create my son Charles, Prince of Wales, today."
Charles arrives for his investiture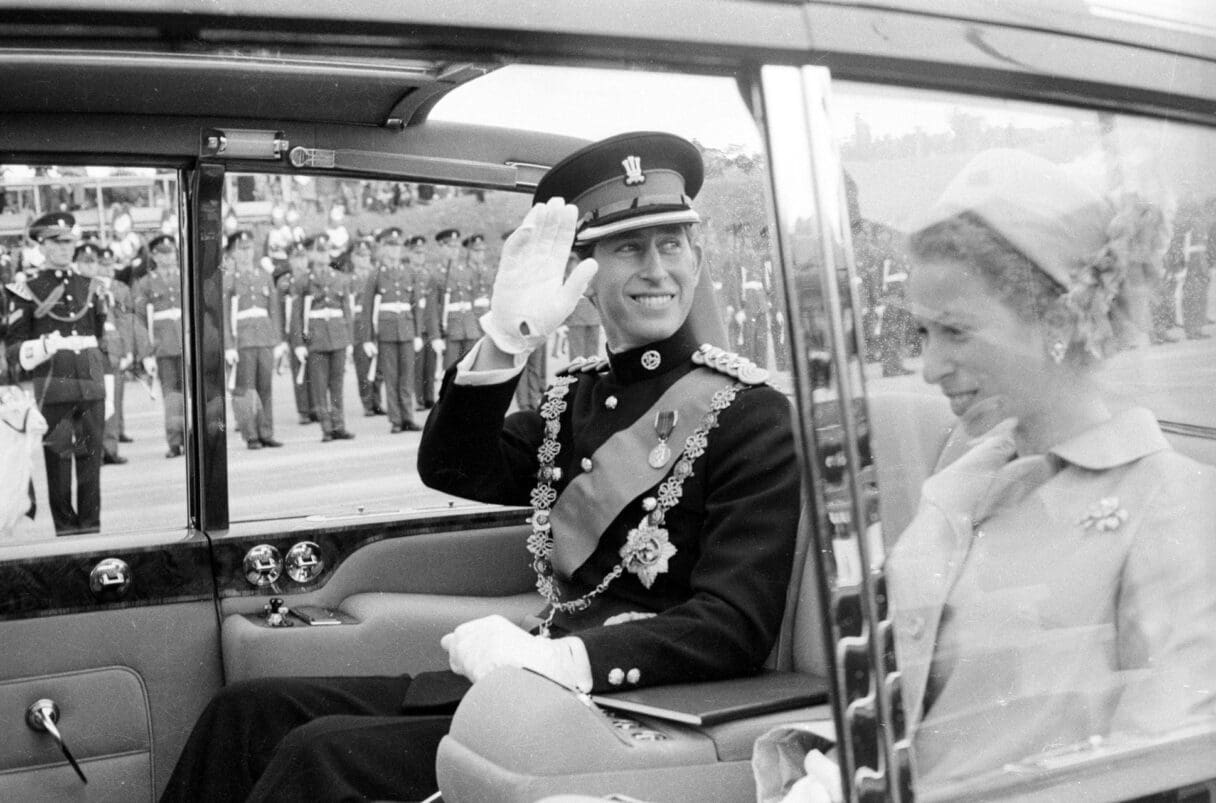 While he was named Prince of Wales in 1958, Charles' investiture didn't take place until 1969, when he was 20 years old. He arrived at the ceremony in Caernarfon Castle, north Wales, with his sister, Princess Anne, where he was crowned by his mother in a televised ceremony. Charles then delivered his speech in both English and Welsh.
Summers at Balmoral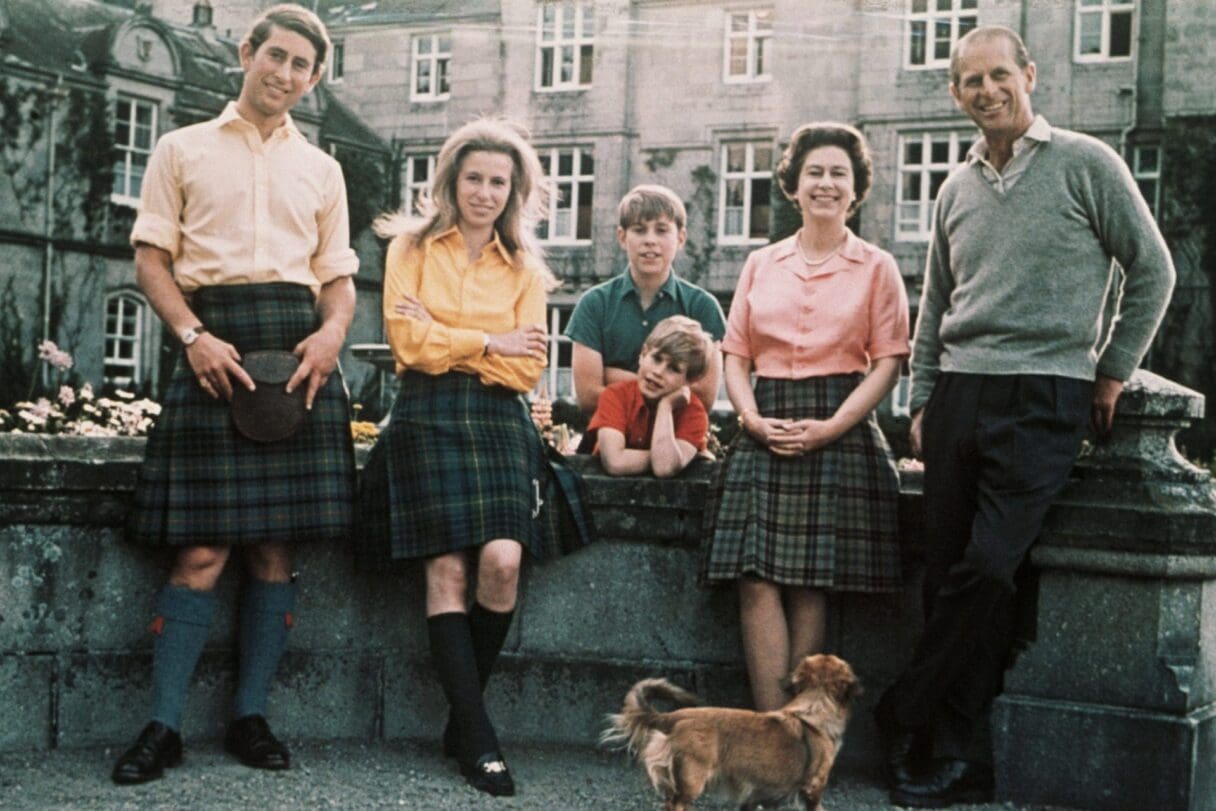 Each summer, the Royal Family would travel to Scotland for their annual holiday at Balmoral Castle, Aberdeenshire. This photo, of King Charles III with his siblings, Princess Anne, Prince Edward, and Prince Andrew, and their parents, the late Prince Philip and Queen Elizabeth II, was taken by the Queen's cousin, Patrick Lichfield, a professional photographer, in 1972.
Prince Charles marries Diana Spencer
Prince Charles married Lady Diana Spencer on 29 July 1981, a Wednesday, with the day being declared a national holiday. Around 750 million people are thought to have watched the wedding around the globe, which took place in St Paul's Cathedral. The couple would eventually separate in 1992 and divorce in 1996, after fifteen years of marriage.
Charles and Diana welcome their first son, William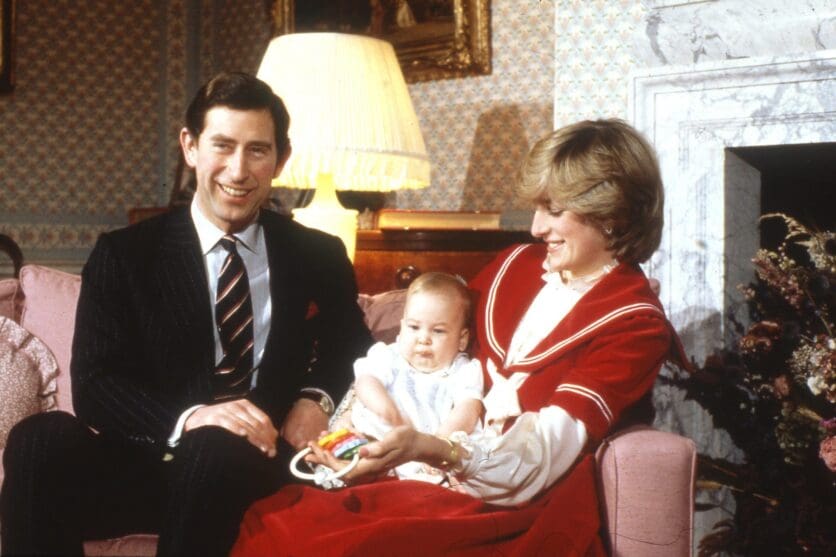 William, now Prince of Wales, was born 21 June 1982 in St Mary's Hospital, Paddington. He is seen here celebrating his first Christmas at Kensington Palace. Charles and Diana would welcome their second son, Prince Harry, two years later.
The funeral of Diana, Princess of Wales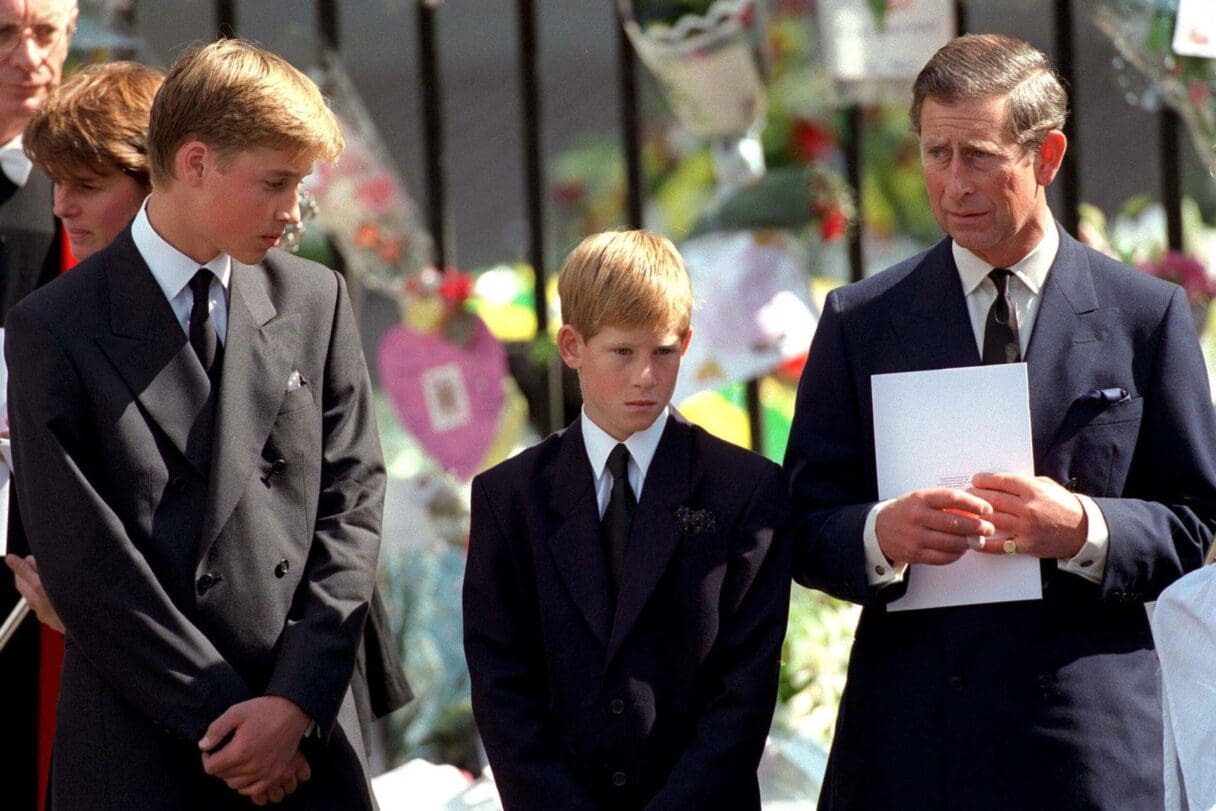 The funeral of Diana, Princess of Wales, at Westminster Abbey, was attended by more than 2,000 people, with 32 million people watching in the UK and a further two billion watching worldwide. The event is one of the biggest televised events in history. The cortège saw a 15-year-old William and 12-year-old Harry walk behind their mother's coffin.
The Prince of Wales marries Camilla Parker Bowles
Prince Charles proposed to Camilla Parker Bowles with a platinum engagement ring from the 1920s which had belonged to Queen Elizabeth, The Queen Mother. The couple married in a civil ceremony at Windsor Guildhall on 9 April 2005. Queen Elizabeth II and Prince Philip did not attend the civil wedding ceremony, but held a reception for the couple in Windsor Castle afterwards.
Prince Charles visits troops in Afghanistan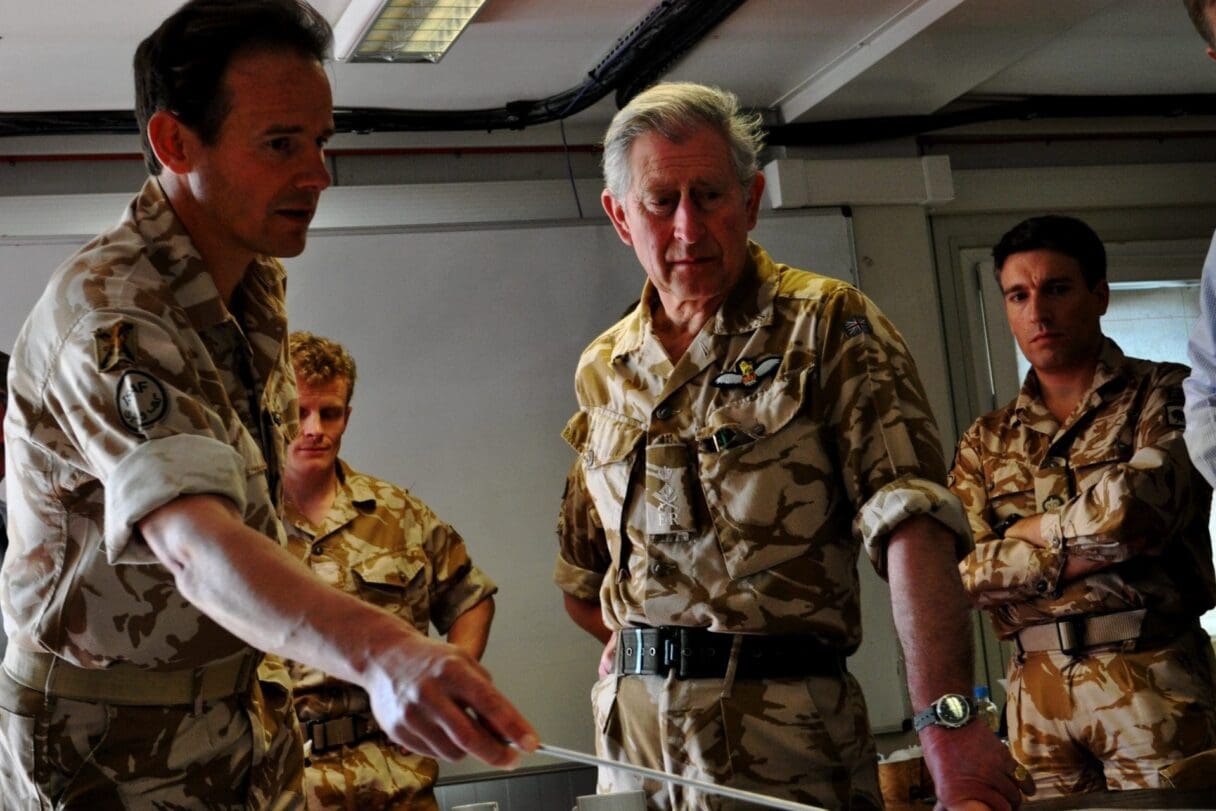 The Prince of Wales made a surprise visit to British troops in Afghanistan in 2012. In doing so, he became the most senior member of the royal family to visit Afghanistan and the only one to visit Kabul. After spending the night at Camp Bastion, the Prince then travelled to Task Force Helmand Headquarters. According to the army, Queen Elizabeth II felt strongly that Prince William and Prince Harry should serve their country in active combat but decided the risk for William as heir was too great for him to be sent to Afghanistan. Prince Harry undertook two operational tours of Afghanistan, as a Forward Air Controller in 2007/08 and as an Apache Pilot between September 2012 and January 2013.
Prince Charles presents the BBC weather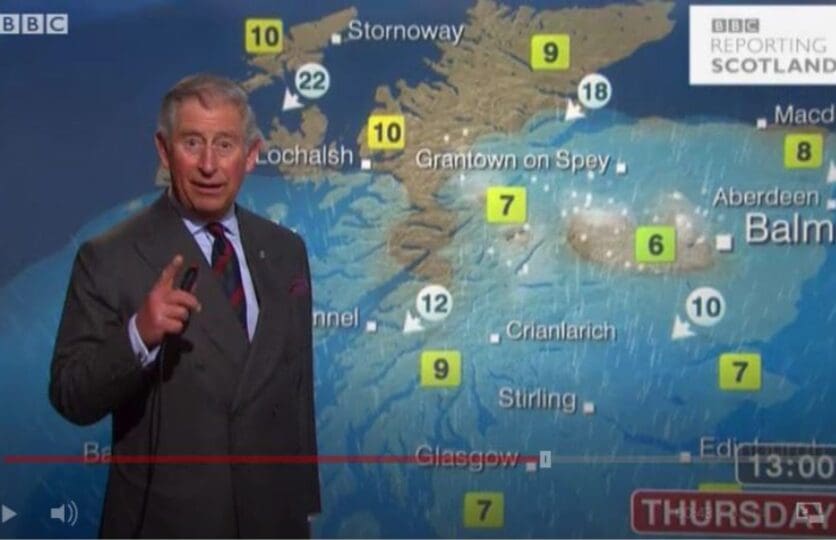 During a visit to BBC Scotland, Prince Charles was invited to deliver a lunchtime weather report. "This afternoon it will be cold, wet and windy across most of Scotland… The rain of course will be heaviest over the borders and around Edinburgh where it could lead to difficult conditions on the roads. In the west, rain will be lighter and patchier. There may be a few drier interludes over Dumfries House in Ayrshire."
The mention of Dumfries House made the Prince's eyes light up, with him remarking: "A-ha!" resulting in members of the crew breaking into laughter. Dumfries House is owned by Prince Charles and his charity The Prince's Foundation.
Prince Charles steps in for the failing Queen Elizabeth II
With the health of 96-year-old Queen Elizabeth II failing, Prince Charles opened parliament for the first time in 2022, reading the Queen's Speech on his mother's behalf. It was the first time the Queen had missed the event in almost 60 years. She would pass away four months later.
Charles addresses the nation as King for the first time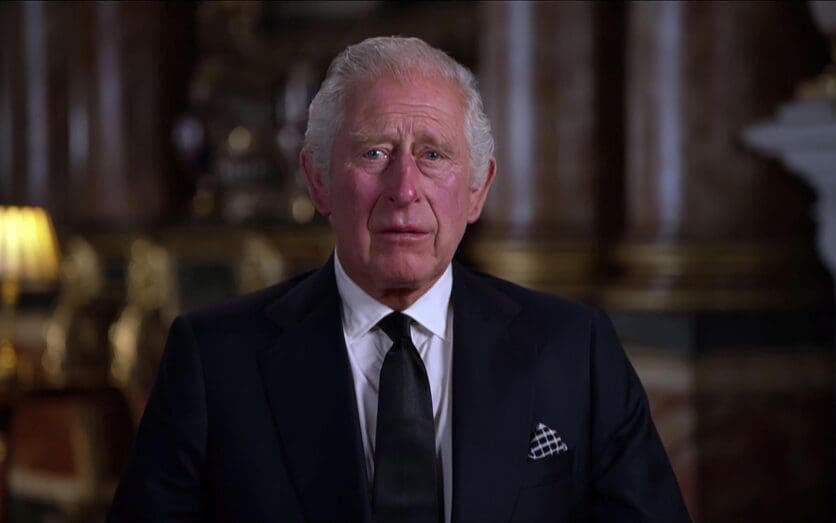 Following the death of his mother, Queen Elizabeth II, a visibly emotional King makes a televised address to the nation, in which he promises to serve "with loyalty, respect and love." He ends by saying, "May flights of angels sing thee to thy rest", a line from Shakespeare's Hamlet. It is spoken by Horatio, who is paying tribute to his dying friend, Hamlet, Prince of Denmark.
The state funeral of Queen Elizabeth II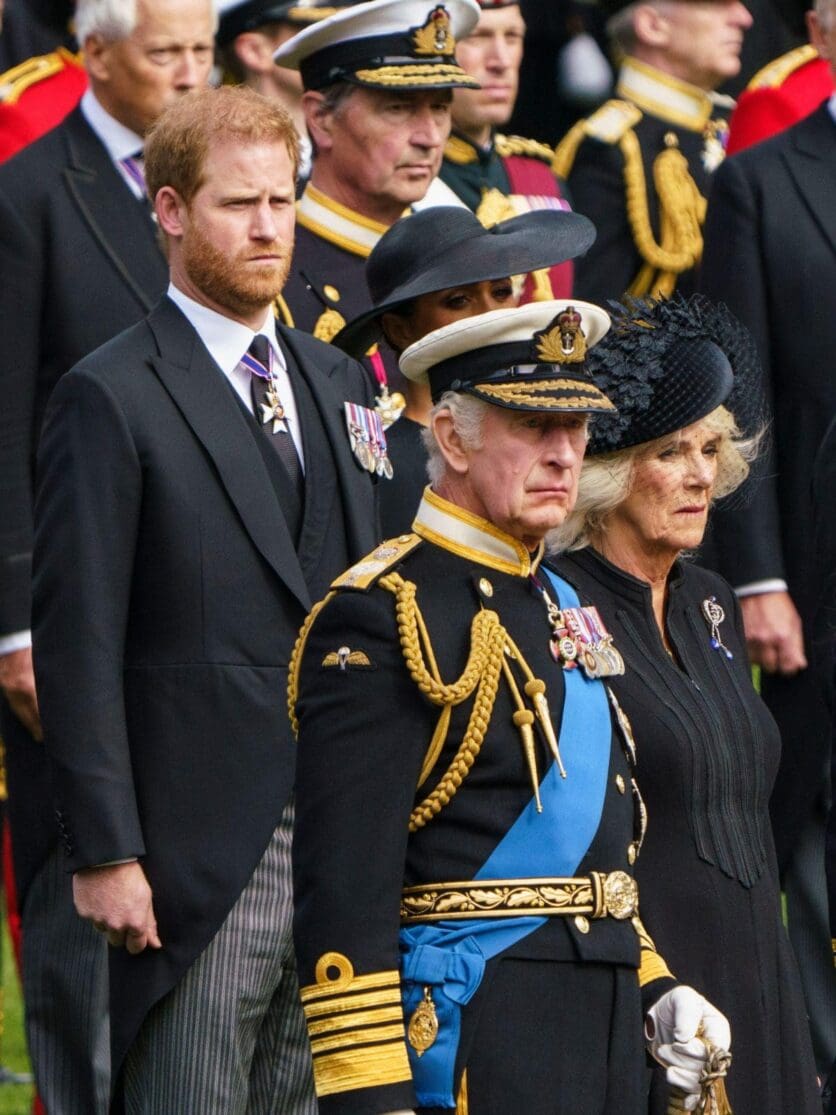 King Charles III and Camilla, Queen Consort, at the funeral of Queen Elizabeth II, with Prince Harry, Duke of Sussex, and Meghan, Duchess of Sussex, pictured behind them.
King Charles III meets President Volodymyr Zelenskyy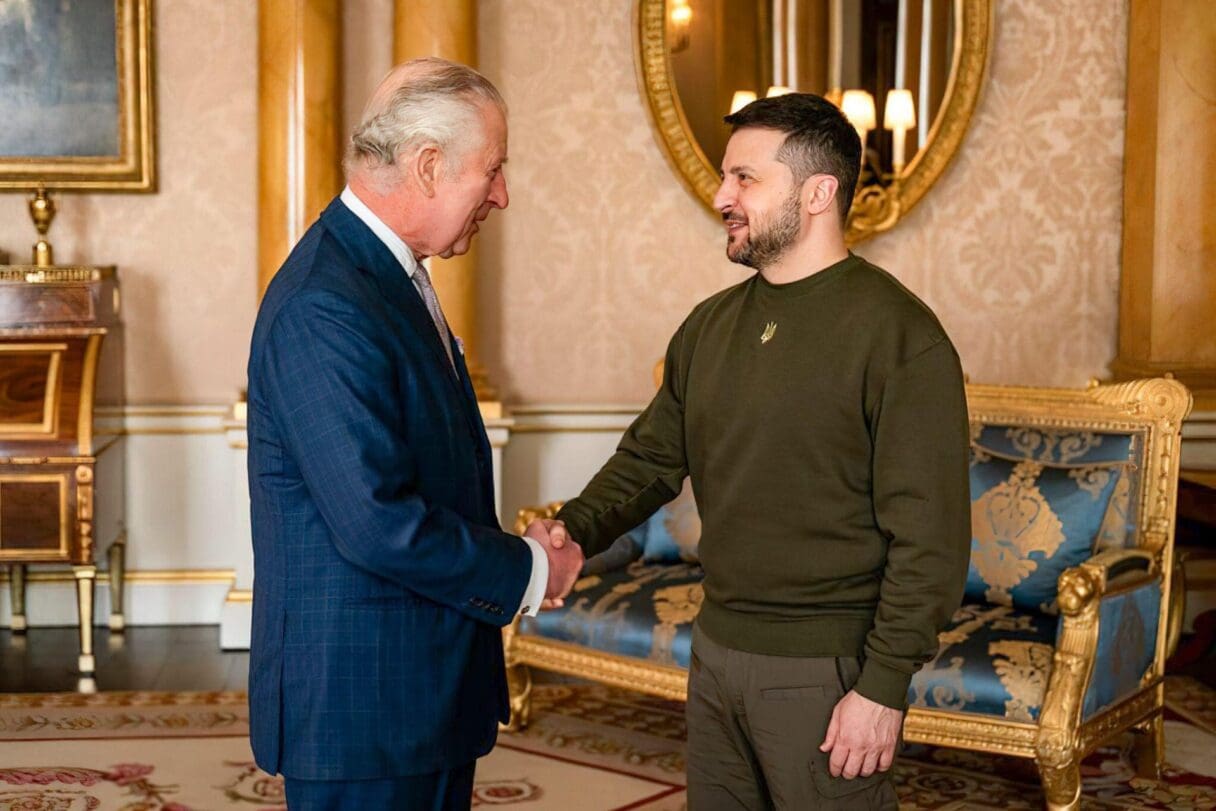 Charles received the President of Ukraine, Volodymyr Zelenskyy, in 2023 amidst the outbreak of Russia's invasion of the country – the first time a British monarch had met with a Ukrainian Head of State. Mr Zelenskyy is said to have wished peace and prosperity to the British people and expressed gratitude to His Majesty's Government.