Brilliant things to do in London in April 2023
Bank holidays are back — so get out there and enjoy them
Want to know something worth celebrating? The first bank holidays of the year. With the Easter weekend right around the corner offering four blissful days of freedom from the office – which begs the question: what to do with all this free time? The good news is the capital will also play host to a whole range of events spanning art, food and much more this month. Here's our pick of the best things to do in London in April 2023.
The restaurants: Story Cellar, Cavo and Riviera
It's only right to kick off the restaurants section with a hotly-anticipated opening from a two-Michelin star chef. On April 1, Tom Sellers will launch Story Cellar at Neal's Yard — and be quick, tables are already getting booked up. Inspired by Paris' rotisserie restaurants with counter dining, where rotisserie chicken is the primary focus, expect dishes such as classic terrine of the season, which at launch will be rabbit, carrot, prune and foie gras, preserved Meyer lemon and green olive pappardelle, and a reimagined signature dish from Seller's other acclaimed London eatery, Restaurant Story: snail bolognese on toast with parsley butter.
Story Cellar also boasts a sophisticated wine programme, offering guests the opportunity to try rare wines by the glass, which would usually only be available in full bottle format. An expansive walk-in cellar will also allow guests to store their own personal collections at the restaurant, cared for by the world-class sommelier team and presented on a bespoke monogrammed wine list when dining at Story Cellar. We can't wait to try…
Who knew you could get a taste of the Med at Tottenham Court Road? Having just opened its doors on the fourth floor of The Outernet, Cavo decided the capital was going to be its next culinary destination following successful launches in Greece and Spain. Head chef Alberto Gargiulo — who grew up in Naples and has worked at Soho House's Cecconi and Pasta Evangelists — has curated a menu of sumptuous seafood and vegetable platters for you to sink your teeth into. Start with the Mediterranean Odyssey menu of small plates, including signature seared scallops in champagne, zuppa di cozze (mussels, octopus, red prawns, freselia), and tagliolini al tartufo Piemonte, made with 36-month-aged parmesan.
Other highlights include chiperones (baby fried squid with aioli) and al-badhenjan al-mahmas (slow roasted aubergine, feta mousse, harissa, pomegranate), best washed down with an Aegean negroni: Cavo's twist on the classic with raki and oregano oil from Greece. Also, keep your eyes peeled for Cavo's terrace opening later this month, offering unrivalled views across London's busy theatre district and an all-day brunch.
From one Mediterranean destination to another, Riviera — Mayfair's newest high-end restaurant inspired by the South of France — will open its doors on 21 April. Comprising three areas — the main dining room, vast outdoor terrace, and ground floor bar and lounge — Riviera aims to transport the glamour and decadence of the famed Côte d'Azur straight to the heart of London. The menu will be based on sharing-style dishes which include grapefruit king crab salad, veal chop marinated in Dijon mustard, and lobster with yuzu butter — all taking inspiration from French hotspots Saint-Tropez, Cannes, Nice, and Antibes. Naturally, the wine list showcases an array of high-end wines and champagnes from France, as well as international wines that pair perfectly with food from the Cote d'Azur.
Story Cellar opens on 1 April 2023, 17 Neal's Yard, Seven Dials, WC2H 9DP, storycellar.co.uk; Cavo is open now, The Now Building, Denmark Street, WC2H 0LA, cavorestaurant.com; Riviera opens on 21 April 2023, 23 St James's Street, SW1A 1HA, riviera-london.co.uk
The bars: Mozart Terrace at Harvey Nichols, The Rooftop at The Standard London and Albufera
To kick off the spring season, Mozart chocolate liqueur has taken over the fifth-floor terrace at Harvey Nichols until 30 April, transforming it into an egg-stravagant escape in the heart of Knightsbridge. Complete with opulent décor and a menu of indulgent 'choctails', the terrace is the perfect place to toast those lighter, brighter spring evenings in an Easter-inspired setting with egg decorations in lavish gold and purple hues, tumbling greenery and a showstopping wreath. Pick from the decadent espresso choctini, a cocoa-infused take on the espresso martini, or for a spicier serve, opt for the intense chocolate old fashioned which is a mix of Mozart dark chocolate liqueur, bourbon, and bitters.
On 7 April, The Rooftop at The Standard London will open for its summer season with a lineup of London's best DJs, cocktails on tap, and a new food concept, Buns. Sitting eleven stories up in the heart of King's Cross, The Rooftop offers the ideal perch to sip summer sundowners, including the hibiscus spritz, made with rosé vermouth, elderflower and hibiscus, or the spicy Tommy margarita. The new East Asian-inspired menu features a variety of moreish snacks including shrimp crackers and yakatori chicken meatballs, and a variety of bao buns.
Elsewhere, Spanish restaurant Arros QD is launching Albufera on 28 April — a sensory drinking experience focused on outstanding cocktails and memorable experiences. The brains behind the creative concoctions is award-winning mixologist Abel Abreah who has created menus at venues such as Sketch and Bincho. Aimed at those who want more than just a drink after work, and adding a much-needed vibrant injection to Fitzrovia's nightlife scene, the music at Albufera will focus on up-and-coming talent, with DJs celebrating both Spanish and British culture.
Mozart Terrace at Harvey Nichols is open now, 109-125 Knightsbridge, SW1X 7RJ, harveynichols.com; The Rooftop at The Standard London opens on 7 April 2023, 10 Argyle Street, WC1H 8NP, standardhotels.com; Albufera opens on 28 April, 64 Eastcastle Street, W1W 8NQ, arrosqd.com
The events: Vinterior x Selfridges, PupsYoga and Murder Mystery at Mr Fogg's Residence
Vinterior, the UK's leading pre-owned furniture marketplace, has partnered with London department store Selfridges to launch its first vintage homeware pop-up on 17 April. Open for three months, each piece has been hand-selected by Vinterior's top sellers, from mid-century modern to art deco and antique, featuring iconic brands like Ercol, G-Plan, Ligne Roset, and more. Prices start from £25 for home accessories with art, lighting, and furniture starting from £150. Time to get your hands on a bargain…
Combining fitness and fun with furry friends, Four Seasons Hotel London at Park Lane is launching a PupsYoga package at its rooftop spa on 18 April, allowing visitors to take a paws from the everyday hustle and bustle of the city. The three-hour-long package kicks off with a 40-minute guided PupsYoga class, in which you'll master a series of poses led by an experienced yoga teacher with plenty of time to pause and pet the surrounding puppies. Afterward, relax with a 30-minute heat treatment in the rooftop spa, which includes a eucalyptus steam room and salt wall sauna, before taking a refreshing dip in the vitality pool. Then enjoy a 60-minute personalised massage or facial, tailored to target specific concerns, before getting some well-deserved shut-eye inside a tranquil sleep pod.
For more inquisitive minds, head to Mr Fogg's Residence in Mayfair to solve a mind-boggling murder mystery every Saturday throughout April. Mr Fogg's friend John Sullivan has been found dead and guests are invited to help Inspector Fix solve the crime and help Mr Fogg return to England. Super sleuthing guests are treated to two cocktails each, made with Belvedere and Moët & Chandon, as they interrogate Phileas' card-playing friends from the Reform Club. One of the five suspects knows what really happened to John Sullivan. Did he find out who carried out the robbery and was subsequently murdered to keep him quiet?
Vinterior x Selfridges opens on 17 April 2023, 400 Oxford Street, W1A 1AB, selfridges.com; PupsYoga from 18 April 2023, Hamilton Place, W1J 7DR, visit fourseasons.com; Murder Mystery at Mr Fogg's Residence from 8-29 April 2023, 15 Bruton Lane, W1J 6JD, mr-foggs.com
The festivals: Spring Festival at Battersea Power Station and Salon Privé London
With spring and Easter just around the corner, Battersea Power Station will be hosting a colourful festival from 1-16 April. The two-week programme is packed with family-friendly activities including a giant flower trail, mobile farm, face painting, a Wriggle and Scribble playground and even a special visit from Colin The Caterpillar, as well as a variety of workshops and outdoor games for all ages to enjoy.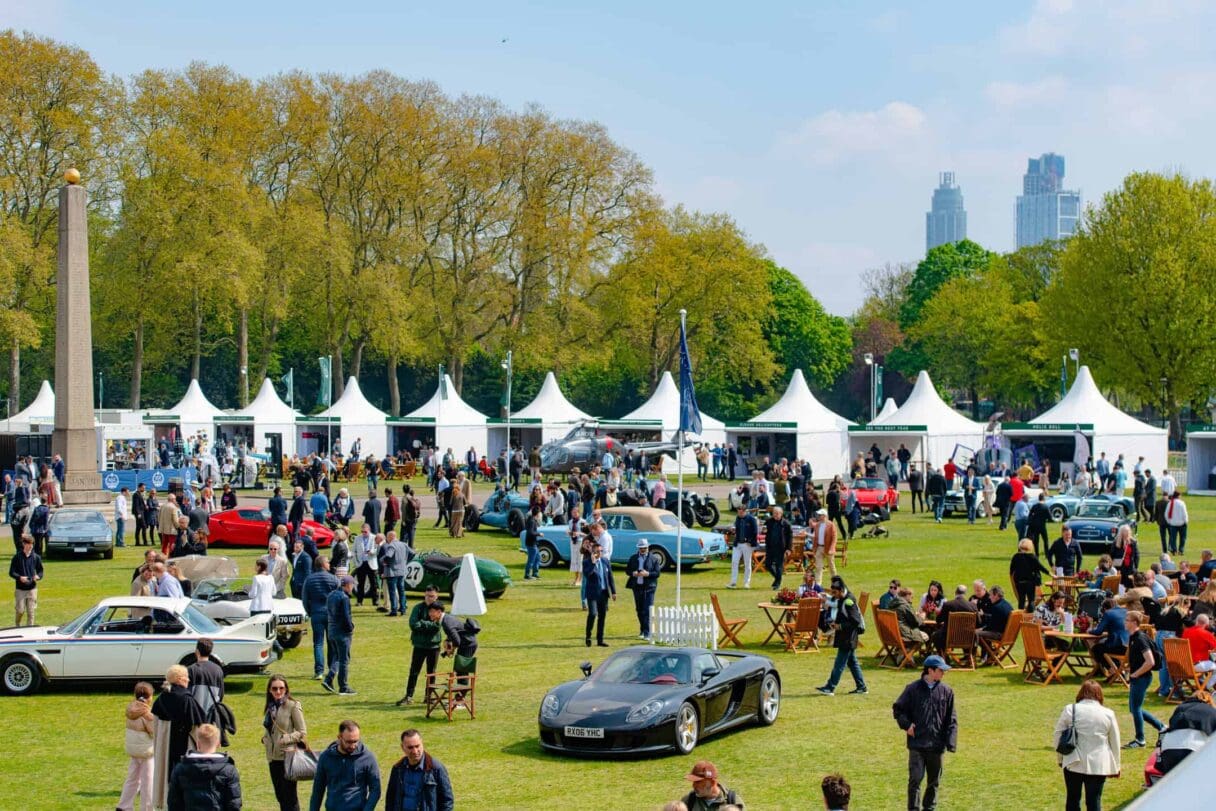 Car lovers should head to Salon Privé London at Royal Hospital Chelsea from 20-22 April to experience life in the fast lane. Leading marques — think Ferrari, Rolls-Royce, Lamborghini, Bentley, Aston Martin, Alpine, Porsche, McLaren and Wiesmann — will be showcasing their latest designs. Pure electric premium brands Genesis and Polestar will also join the lineup, demonstrating their latest zero-emissions models, and new for this year will be an exclusive display of motorbikes from the likes of Indian Motorcycles, Thornton Hundred Motorcycles and Norton Motorcycles. Salon Privé London is not just for car lovers, though. Head to the luxury shopping village for brands such as British jewellery designer Boodles, Montblanc and fine art originals from Cloud Gallery. Something to appease all parties, it seems…
Spring Festival at Battersea Power Station, from 1-16 April at Battersea Power Station, SW11 8BJ, batterseapowerstation.co.uk; Salon Privé London, from 20-22 April, Royal Hospital Road, SW3 4SR, salonprivelondon.com
The Art: Sony World Photography Awards and Partners in Time at Maddox Gallery
The internationally acclaimed Sony World Photography Awards return to Somerset House from 14 April, presenting some of the world's best photography from the past year. This major exhibition — which has become a staple of the spring cultural season in London — celebrates photography in all its diversity; from landscape to portraiture and wildlife to fine art by leading talents from around the globe. Highlights include a 20-piece collection from acclaimed Japanese photographer Rinko Kawauchi, who won Sony's outstanding contribution to photography award for her intimate images capturing everyday life.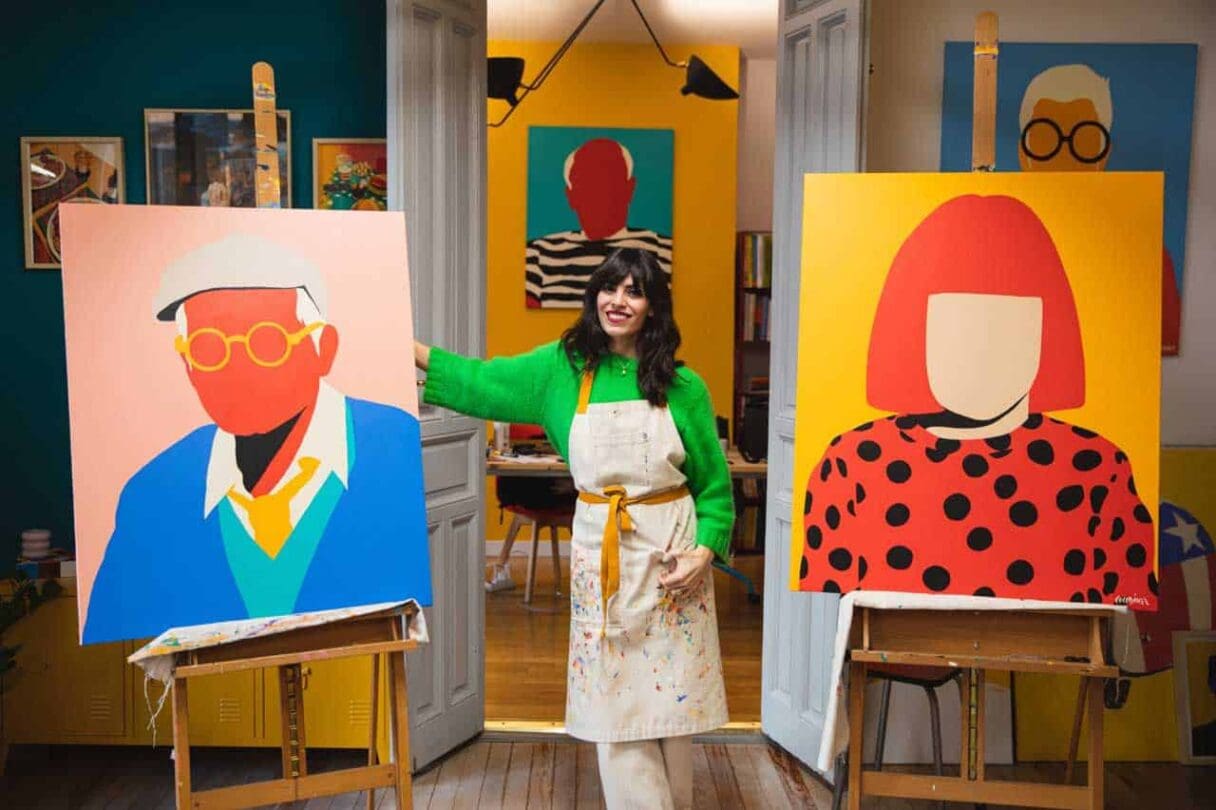 Over in Notting Hill, the Maddox Gallery is hosting Partners in Time until 23 April — a compelling exhibition of portraits by the Spanish painter Coco Dávez. Comprising pairs of iconic real-life or fictional couples, the exhibition cleverly brings famous figures to life in the artist's graphic, Pop Art style while never revealing their facial features. It marks the first time Dávez has depicted duos, rather than individuals, in her signature faceless style. Expect Freddie Mercury twinned with David Bowie; Andy Warhol with fellow artist Jean-Michel Basquiat; US President John F. Kennedy with his wife Jackie; and Vivienne Westwood with Malcolm McLaren, as well as cinema's most-loved couple, Sandy and Danny from Grease.
Sony World Photography Awards, from 16 April until 1 May, Somerset House, Strand, WC2R 1LA, sony.co.uk; Partners in Time, until 23 April, 9 Maddox Street, W1S 2QE, maddoxgallery.com
Read more: London's best independent bookshops