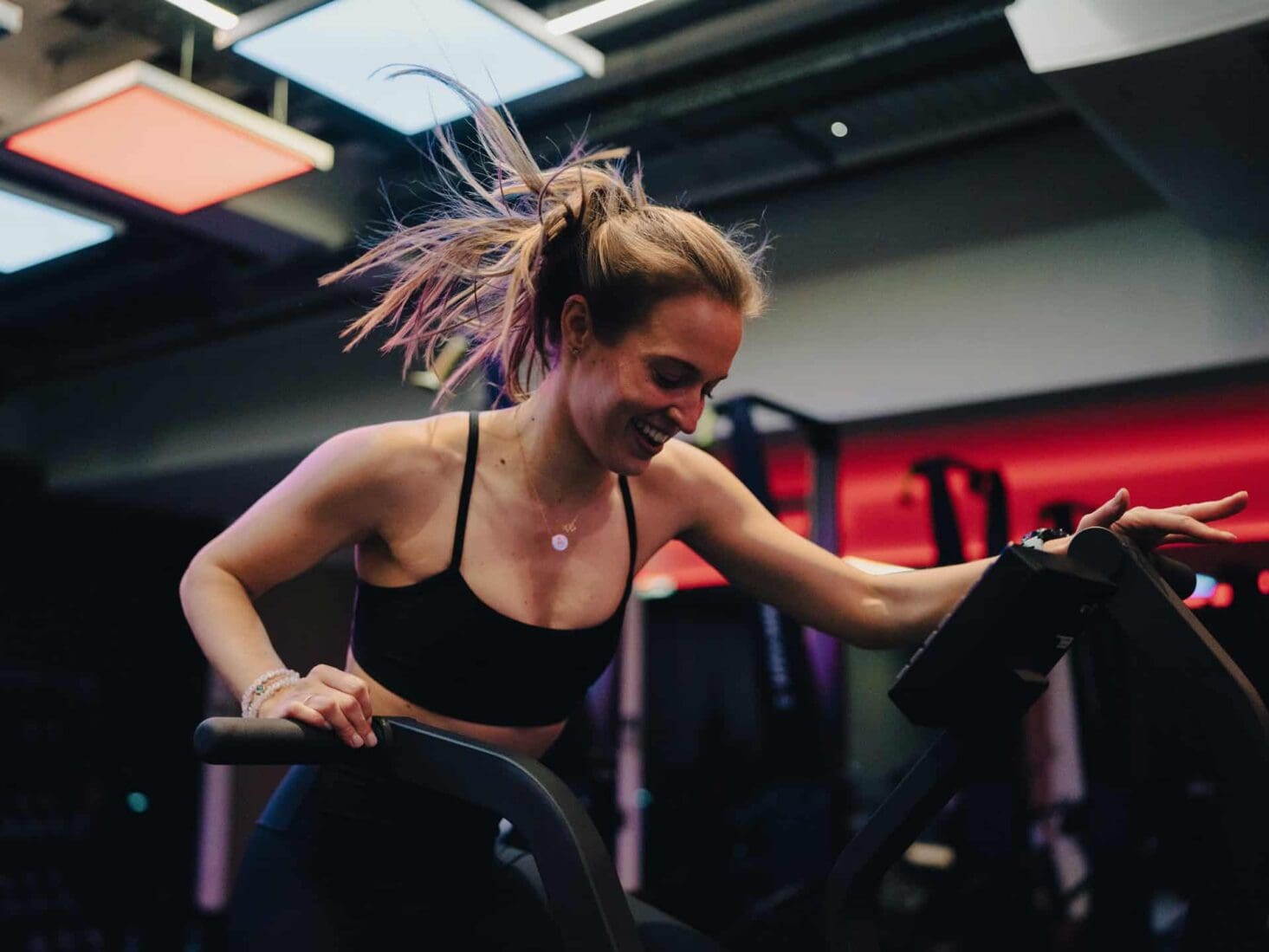 The best circuit training classes in London
Discover the best full-body workouts in the capital – just don't blame us when you're aching the next day…
Combining high-intensity cardio and heavy-resistance workouts, circuit training classes are the most effective full-body workout. From targeting the upper body with bench dips and the core with crunches, to squat jumps for your legs and burpees for that all-important full-body finisher, these classes aren't for the faint-hearted. Expect to sweat (copious amounts) while pushing your body both physically and mentally. And, while pushing yourself until DOMs are practically guaranteed may sound mad, it's a combination of those three elements that keeps fitness fanatics constantly going back for more.
Circuit training pits you against yourself, so even the most competitive among us will never tire of their opponent. Each class is filled with calls for one more rep and one more push so, when the only thing you need to beat is your own mental ability, wouldn't you work to win every time? Especially when the result is a boom in your cardiovascular fitness that will leave you feeling fitter and leaner in no time.
Ready to try circuit training in the capital? Here are the best classes to book now.
SweatCon by BXR
BXR made a name for itself in London by attracting A-list clients such as boxing champion Anthony Joshua, Eddie Hearn and DJ Mark Ronson to its membership committee. Having opened in 2017 with a flagship site in Marylebone, the Instagram-worthy gym now boasts venues in Canary Wharf and The City, as well as a rumoured opening in Battersea soon. Despite the name, the studio does go beyond the boxing ring to also offer Sweat by BXR – a class-based training concept combining strength and conditioning, cardiovascular exercise and skills development – and SweatCon, only available at the gym's City outpost.
With expansive views of London from the 25th floor of 22 Bishopsgate (making it the highest public gym in the capital), SweatCon is a strength and metabolic conditioning class guaranteed to push you to the limit. Programmed across six days each week, alternating between Push, Pull and Legs focused sessions, expect a workout combining circuit training's holy trinity: SkiErgs, assault bikes and free weights – all designed by BXR master trainer, Faisal Abdallah.
From £30 per class, visit bxrlondon.com
Circuit Society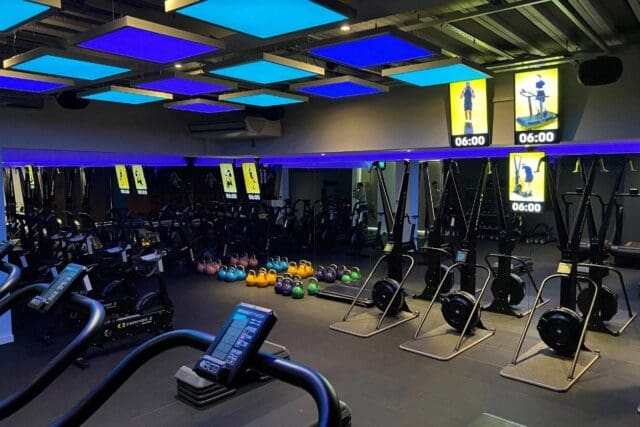 Founder Shane Collins, formerly of Barry's and Kobox, spotted a gap in the fitness market when he launched Circuit Society in 2022. Despite London's wellness scene thriving with unique classes and concepts, there was quite a clear chasm in the circuit training offering. Which is why he created a series of purpose-built circuit gyms, starting off in Camden before expanding to Bayswater and St Albans as well as Old Spitalfields Market and Battersea (set to open later this year).
Inside each gym, you'll discover a space divided into six sections: three cardio and three weights-based. Pick from assault bikes, SkiErgs and treadmills, as well as squat stations, bicep benches and core classics where you'll spend six minutes on each. It may sound simple but don't expect the class to be a breeze. What we can guarantee is that you'll be guided through each class with helpful and friendly instructors, and you'll be feeling all the better for it post-class. Don't forget to pick up a protein shake too – we love the BBC: blueberry, banana, peanut butter and NUA protein. Delicious.
From £22 per class, visit circuitsociety.fit
Rig at 1Rebel
1Rebel is renowned for its calorie-torching classes, especially its Reshape which splits 45-minute sessions between the treadmill and dumbbell-focused Rebel box. Low lights, pumping R'n'B playlists and a friendly community are key to the 1Rebel experience, which has spawned outposts in Angel, Liverpool Street, St John's Wood, Victoria and Hammersmith (to name a few).
Exclusively available at the Hammersmith gym, however, is 1Rebel's Rig class which is perfect for circuit fans. Custom programmes will have you moving through four zones – bike, row, bench and rig – where you can test your endurance on the assault bike and rowing machine, interspersed with rounds on the Rebel bench and pull-up bar moves on the rig. There are five Rig sessions to choose from: Intensity focuses on short, sharp bursts, Engine is cardio-based, Teams will make the class work together, Strength is weights-based and Benchmark takes place once a month so you can retest your time on each station to track your progress.
From £25 per class, visit 1rebel.com
F45
Following its unbridled success in Australia, F45 arrived in the capital in 2017 and has taken London's fitness scene by storm, now with 35 franchises and counting. Ranging from Stratford to Soho, F45 follows a high-intensity, circuit-based group training concept, which offers 2,700 uniquely themed classes combining cardio and resistance-based training to ensure your workout is never the same. As the name suggests (the F stands for functional), sessions are 45 minutes and promise to help you burn up to 800 calories – now that's what we call a productive morning…
Inside each studio, overhead screens illustrate each exercise, as well as a countdown to your rest period as you move along the circuit. Choose from a variety of themed classes too, including Romans Resistance, which combines resistance and functional movement training to tone muscles, and the Hollywood workout, which features 27 demanding stations of HIIT exercises to upbeat tunes from a live DJ. Next up on the brand's calendar is its Pride Event on 2 September at the Vauxhall outpost to raise funds for Stonewall Housing. Featuring two hours of mini F45 workouts from 2-4pm, participants will have the opportunity to get their sweat on before celebrating all things Pride at an after-party featuring DJs and drag queens from 4-9pm. If you don't fancy the workout, you're able to just attend the party, and vice versa.
From £25 per class, visit f45training.co.uk
BlokFit at Blok
If pay-as-you-go classes are your ideal type of gym membership, allow us to introduce Blok: east London's coolest gym. Founded in 2016 with outposts in Shoreditch and Clapton, the mighty gyms offer a whopping 25 different fitness classes each, ranging from dynamic vinyasa yoga and reformer Pilates to breathwork at BlockBreath and intense HIIT at Cardio Killer.
It is, therefore, fairly unsurprising the team incorporated a circuit training class into Blok's packed schedule. Named BlokFit, this session will help you improve your overall fitness with a full-body circuit. Working in timed intervals with little or no rest between stations, you'll target each muscle group through bodyweight exercises, resistance equipment and free weights to improve your speed, strength and flexibility.
From £15 per class, visit bloklondon.com
Read more: The best beauty salons in London