Live like a local: 24 hours at Embassy Gardens
Step inside the jewel in the crown of Nine Elms' reinvigoration
When I moved to London nearly a decade ago I found myself living in Vauxhall. It wasn't so much a choice as the unintended consequence of a chance meeting with an old friend with a room to let and far too many viewings of rooms in Elephant & Castle that only an estate agent could love.
You see, despite being in Zone One, at the time Vauxhall was something of a forgotten neighbourhood. Best known as the home of MI5, entertainment options were limited to a chain gym, the optimistically named Pleasure Gardens, a drag pub and the (admittedly very good) bars and bakeries of Little Portugal. Aside from the lovely but very much out of my first-London-job price range Brunswick House, there was little to recommend Vauxhall as a destination.
But even then change was afoot. In 2008 the US announced it would be building a sparkling new American Embassy in Nine Elms. Prompting people both sides of the pond to ask: where?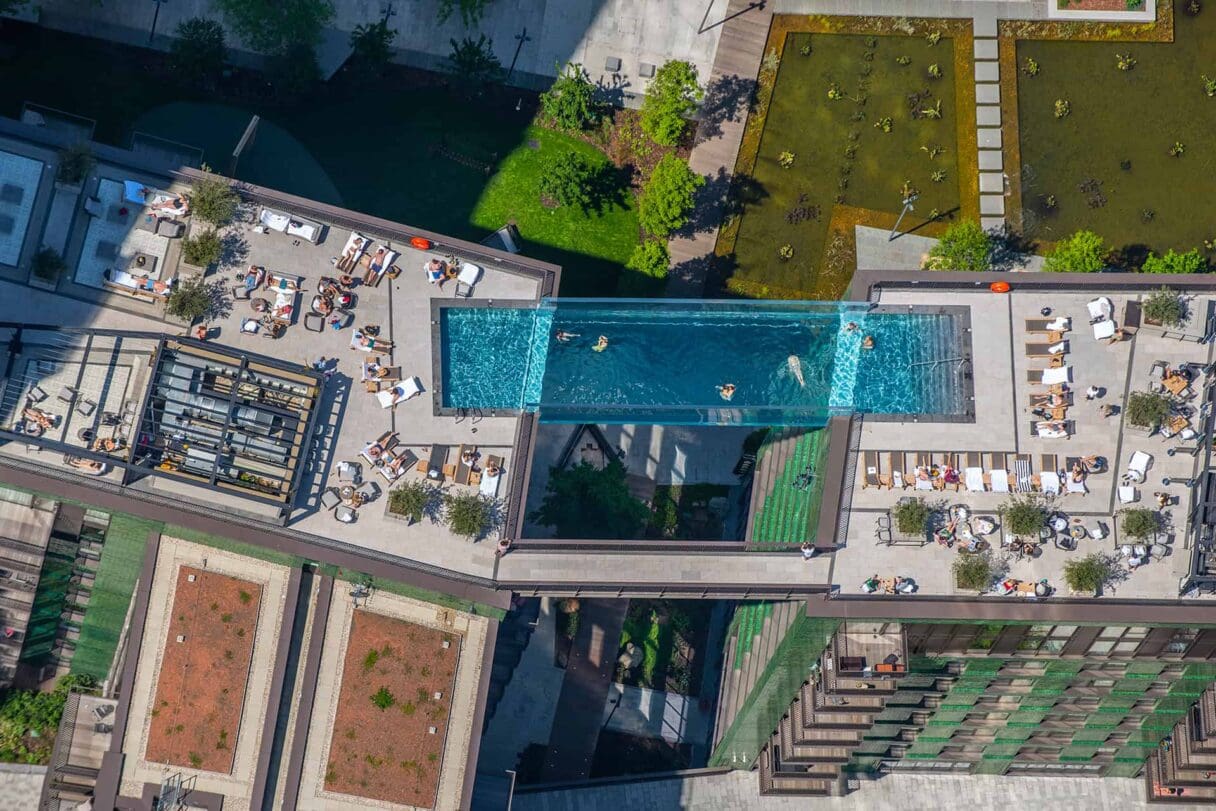 A somewhat miraculously undeveloped strip of land overlooking the Thames between Vauxhall and Battersea, at the time Nine Elms' crowning achievement was being home to a big Waitrose – but now it was ripe with opportunity. Accordingly, every day as I commuted between Waterloo and Wimbledon I watched towering buildings sprout roots and soar skywards. From the vantage point of my window seat I saw empty steel and glass husks come to life as luxury apartments – the most elegant of them all being Embassy Gardens.
---
Which brings us to today. Arriving in Nine Elms on a chilly evening just before Christmas, I pass the hulking cuboid that is the American Embassy, and wander around landscaped grounds dotted with water features before finding the entrance to Embassy Gardens' Legacy Building. As I wait for my husband – who despite also once living in the area has managed to get turned around during the three-minute walk from the station – I marvel at the parade of cars being brought round by the valet. A brand new Range Rover. A couple of Teslas. A baby pink Ferrari. Toto, we are definitely not in Kansas anymore.
We collect our keys from a gorgeous lobby outfitted in acres of marble before heading to the 18th floor to discover our home for the evening. Designed by acclaimed architect Luis Bustamante with interior design by Benningen Lloyd, the two-bedroom apartment is, without hyperbole, the Hollywood idyll of urban living. Think Carrie Bradshaw's walk-in wardrobe blended with Amanda Wood's California kitchen in The Holiday and the quirky, cool-girl design touches of Holly Golightly's home in Breakfast At Tiffany's.
Pastel pink and turquoise accents flow throughout the apartment while the 800 square feet of living space packs in an open-plan living space (with some very clever storage solutions), a vast master suite with an enormous bath, an elegant family bathroom and a balcony big enough to show off its impressive river views to all your friends.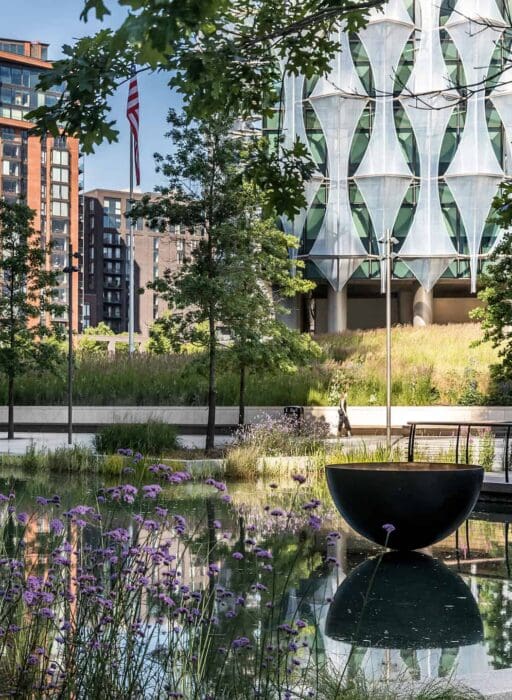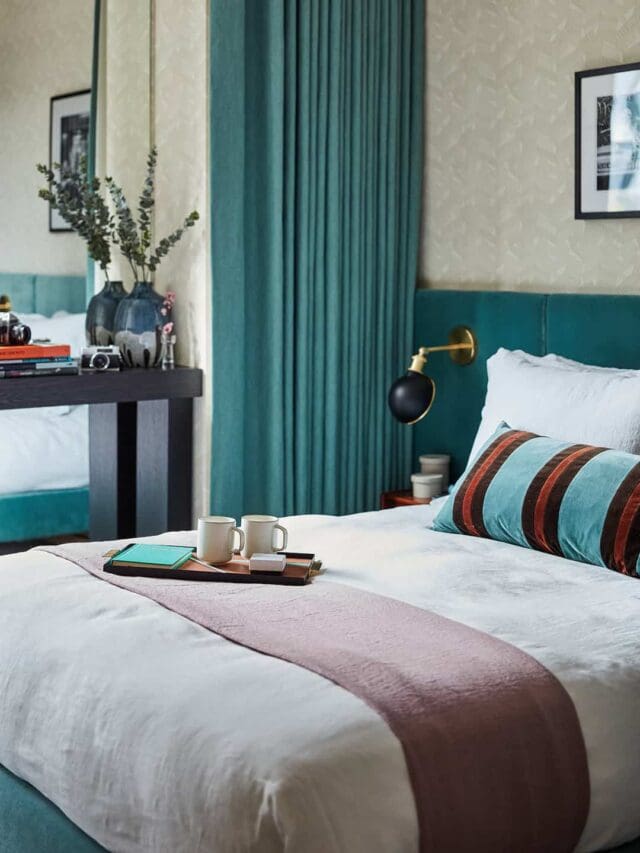 Before we can settle in, however, there's some exploring to do. Life at Embassy Gardens, it turns out, is more akin to owning a piece of a five-star hotel than living in a standard block of flats. There are co-working spaces, an in-house cafe and bar, a private cinema available for hire (very popular during the recent World Cup I'm told) and the Eg:le Club – a state-of-the-art wellness space complete with two gyms, an indoor pool, spa and thermal facilities.
Then, of course, there's the Sky Pool. You'll know the Sky Pool. It's that show-stopping transparent swimming pool that appears to float ten floors up between the Legacy Building's two towers. It made quite the stir when it first opened and rightly so. Even on a damp, breezy night in mid-December, taking a dip is quite the experience. Sessions at the pool are bookable (so no Soho House rooftop overcrowding here) and it boasts Shard-worthy views over the Thames. You genuinely will not find anything quite like it anywhere else in London.
---
While we could have stayed there all night playing spot the London landmark, it was time to venture out to see just how much our old neighbourhood had changed. We drop into Homeboy, a stylish Irish-inspired cocktail bar for drinks and small plates before taste-testing the delectable confections at fine chocolatier Cartografie (the perfect spot, it turned out, for some last-minute Christmas shopping). Finally, we peer through the windows of cosy bars and restaurants contemplating a nightcap before succumbing to the allure of our apartment's inviting master suite.
The next morning, extremely well rested and having finally dragged myself out of that glorious bath, we're pleased to find the big Waitrose still in situ for breakfast. We happen upon an upscale barber and, while my husband considers an impromptu haircut, I make a beeline for Remedi.
A new addition to the neighbourhood, having only opened in early November 2022, Remedi was founded by aesthetic doctor Nima Mahmoodi to offer a 360-degree approach to physical, spiritual and emotional health. Alongside clinical facials and high-tech biohacking treatments, such as cryotherapy (not as terrifying as it sounds) and Emerald Lasers (a revolutionary fat loss treatment), Mahmoodi also encourages local residents to drop by for yoga classes, meditation and sound healing. I leave green with envy that it isn't on my doorstep.
We return to Embassy Gardens to hand our keys back to the concierge and, as we leave, we pass a couple arriving to view an apartment. They are clearly not here by accident and, after the past 24 hours, that no longer comes as a surprise to me.
Homes at Embassy Gardens start from £650,000, visit embassygardens.com