The weekend break: Bucolic escapes less than three hours from London
London, it's not you - it's us. As much as we love you, sometimes we just need a break from city living. Ideally one with five-star grounds, an outdoor pool, amazing food and spa facilities...
Even if you're a diehard urbanite, enthralled by London's bright lights, busy streets, never-ending stream of new galleries/restaurants/shops to visit and even the crowded tube, sometimes change is good. Enter the weekend break.
Countryside air is good. Coastal air is even better. Fields, hills, beaches and birdsong can invigorate even the most listless among us. It's also the best feeling to, quite literally, leave your quotidian life behind, casting off responsibility and to-do lists in favour of cocktails, fine dining, little luxuries and spa treatment menus.
If, like us, are in need of a getaway this spring, but don't want to cast the net too far from your urban nest, here are seven of our favourite hotels for first-class weekend breaks, all within a three-hour drive or train journey of London.
Port Hotel, Eastbourne, East Sussex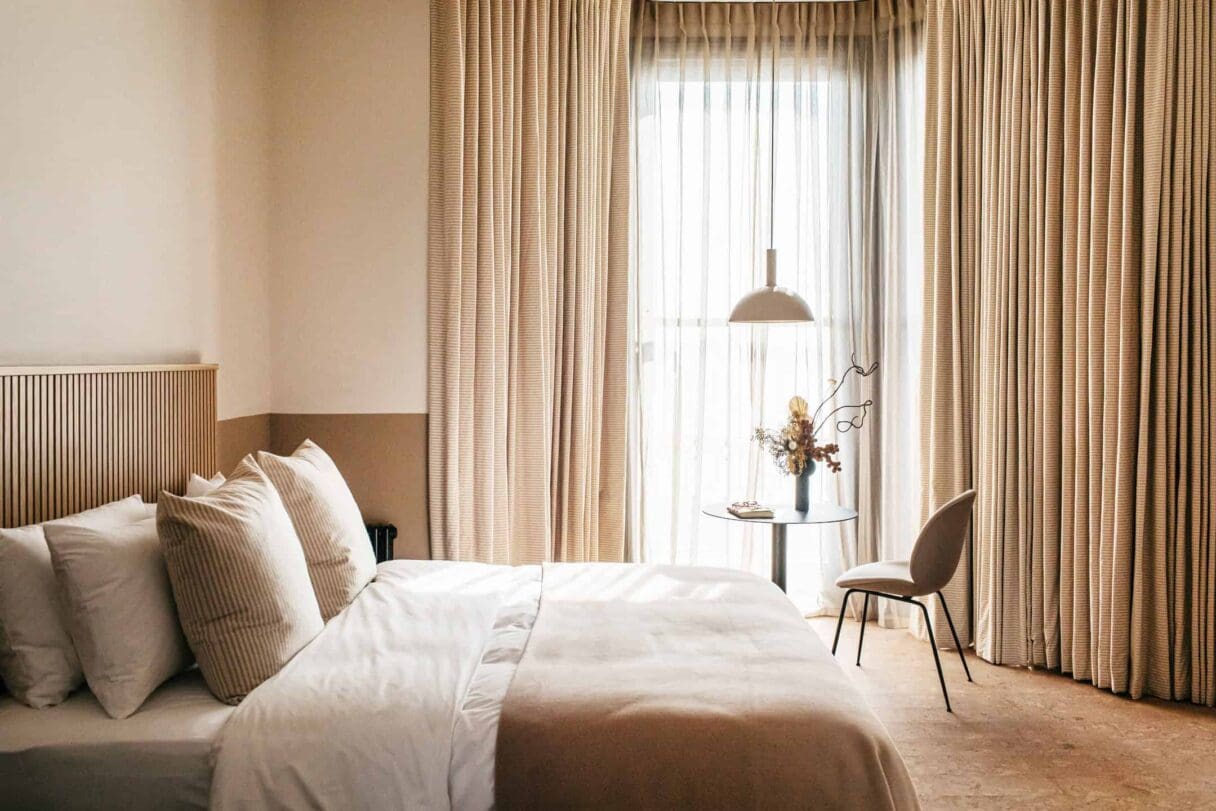 How to get there: Drive from central London in about 2 hours 40 minutes or take the train from London Victoria (approx. 1 hour 25 minutes)

As far as arty seaside towns go, Eastbourne is bigger than many but doesn't attract chaotic troupes of hens or stags (they're much more likely to have flocked to Brighton or Bournemouth). Its typically south coast shingle and pebble beach stretches more than three miles, and it's the sunniest place in the UK. No wonder boutique hotel Port decided to open up here, just minutes from Eastbourne's postcard-pretty pier with its peeling white paint, swooping starlings and charming, faded 'World's Best in Europe' signage.
Thanks to Port's distinctive black façade, which gives the impression of a building standing to attention amid a phalanx of cream and pastel comrades, you won't get lost on your promenade walks; it can be spotted from miles away. The tone is set by a text that declares Happy Hour well and truly open, at 4pm; and so three hours of great music and cocktails made by an amiable bartender commence.
A focus on sustainability chimes throughout: cork floors, Faith in Nature products and restaurant ingredients sourced from within 30 miles. Of its 19 rooms (all of which come with WhatsApp room service), all are designed with minimalism and sustainability in mind – a clothing rail instead of a wardrobe, for example – and five look seaward, including a suite with sea views from the bath. End your visit with another sea view while you enjoy a traditional English breakfast, equally good here whether you fancy full, veggie or vegan.
Rooms from £105 per night, visit porthotel.co.uk
The Gallivant, Rye, Sussex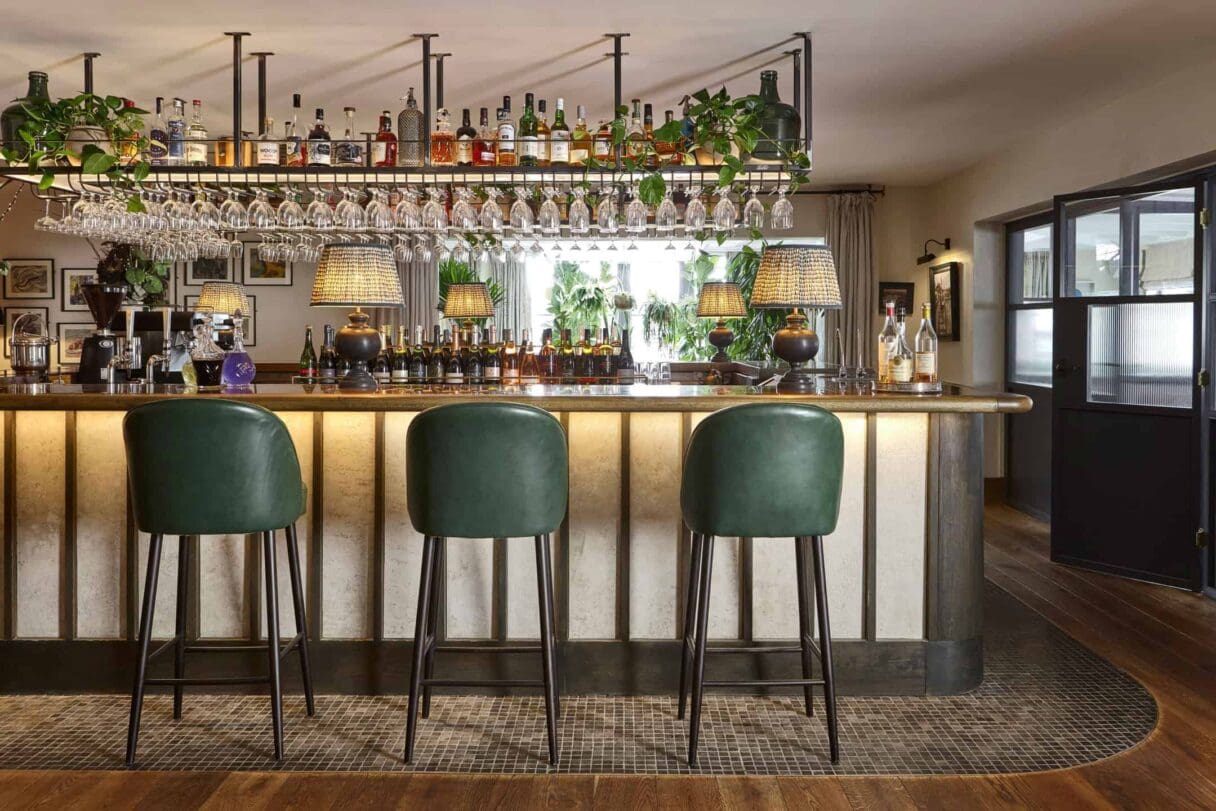 How to get there: Drive from central London in about 2 hours 30 minutes or take the train from St. Pancras (approx. 1 hour 10 minutes)

The Gallivant had us at 'Bamford Spa Escape'. We're already enamoured with Carole Bamford's beautiful spa at The Berkeley and her Daylesford outpost in the Cotswolds, although the "Cali-cool beach hotel" endorsement from Conde Nast Traveller also helped. Sign us up immediately for the overnight stay which includes – wait for it – two Bamford treatments, a private yoga class, a guided meditation walk, Bamford gift box (worth £200) and a three-course dinner, breakfast, 'Drinks in the Dunes' (the hotel's signature experience), daily yoga and wellness classes, 'English Wine at Five' and turndown tea.
Then there's The Gallivant's ideal location: an hour or so from central London, 10 minutes from the picturesque town of Rye, a mere stroll from the rolling dunes of Camber Sands and on the doorstep of the UK's wine country (hence the English Wine at Five offering). Keep an eye on the events page for its 2023 Cosmic Wellness Series comprising wholesome activities such as yoga lunches, workshops and ReWild events, curated by The Gallivant's very own Spiritual Wellness Guide. Naturally.
Rooms from £253 per night, visit thegallivant.co.uk
Four Seasons, Winchfield, Hampshire
How to get there: Drive from central London in about 1 hour 30 minutes or take the train from London Waterloo (approx. 1 hour)

We need to talk about the pool first. You'll find it in the Four Seasons Hampshire's original 18th-century stable block, as the 20-metre centrepiece of its luxurious spa. Its conservatory-style roof means you can swim with the elements as an artistic backdrop to your workout (backstroke will be best for sky-gazing).
If that wasn't enough, there's an outdoor jet-filled vitality pool and, if you plan to bring small guests, they will be delighted – and thoroughly exhausted – by Sharkie's Reef, the family pool. There's also the not-so-small matter of 500 acres to explore – choose from croquet, tennis, clay pigeon shooting, horse riding, fly fishing, falconry and bird watching – or, perhaps, just relax with a glass of champagne…
If you do really, really love London and find it hard to leave, try the Town & Country experience. The package includes two nights at the Four Seasons Hotel London at Park Lane, including a personal shopping experience for some urban luxury, before you're transferred to Four Seasons Hotel Hampshire for two more nights at this blissful countryside retreat, with a spa treatment and a Mind Massage for two plus a private tour of Jane Austen's home. It's couples-friendly, family-friendly (yes, these can peacefully coexist) and pet-friendly, for those who will not contemplate leaving Fenton behind.
Rooms from £550 per night, visit fourseasons.com
The Grove, Chandler's Cross, Hertfordshire
How to get there: Drive from central London in about 1 hour 30 minutes or take the train from London Euston (approx. 20 minutes)

Winning the award for closest to London on our list is The Grove: just 20 minutes from Euston on the train (plus a 10-minute cab journey), this lush, landscaped hotel is celebrating its 20th birthday this year. Where to start? With a Segway exploration of 300 acres of beautiful grounds? A round on the immaculate championship golf course? Family archery? Or, really, will only an epic and relaxing day in the newly refurbished Sequoia Spa, with its black mosaic-tiled pool, do?
If you want to be thoroughly spoilt at mealtimes, and at any point in between, The Grove can deliver everything from afternoon tea or sushi in the Lounges, 'theatrical feasts' in The Glasshouse to gastro-pub fare in The Stables, which champions regenerative agriculture, and Indian fine dining at Madhu's.
Perhaps best, and certainly most uniquely of all, is the hotel's Feast on Cloud 9 experience. Available from 9 June to 3 September 2023, between four and six of you will be seated in your own vintage-style wicker dining basket, hot air balloon floating above, in the Formal Garden, either for afternoon tea, Sunday lunch or a nine-course gourmet tasting menu. Yes please.
Rooms from £420 per night, visit thegrove.co.uk
Lime Wood, New Forest, Hampshire
How to get there: Drive from central London in about 2 hours 15 minutes or take the train from London Waterloo (approx. 1 hour 30 minutes)
So we'll be honest: it was the name Angela Harnett that got our attention. We love the talented, down-to-earth gastronomy star (we imagine she'd hate the word celebrity) and at Lime Wood, the 13th-century forest lodge turned five-star hotel in the heart of the New Forest National Park, she has teamed up with the equally acclaimed Luke Holder to present Hartnett Holder & Co. It promises 'character and fun', as far as can be from stuffy, pretentious dining, orchestrated around locally sourced Italian dishes with a 'respectful nod to the seasons'. Alternatively, for those who want the winning combo of delicious-but-also-uber-healthy (we, personally, are fully on board with however much butter, cream or salt HH&Co want to use), Raw & Cured is the spa's restaurant run by Ria Rhodes and Luke Holder.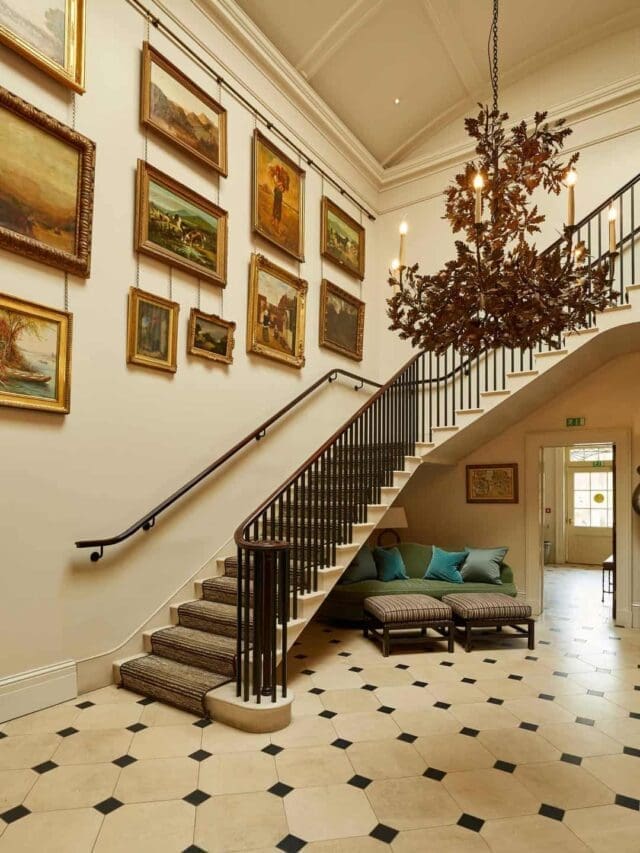 Once you've booked your table, relax, and explore. There are just 33 bedrooms – 16 in the main house and 17 throughout the grounds – which we feel is the perfect number for a country house hotel. Herb House is Lime Wood's award-winning, three-floor, forest-neighbouring spa, complete with everything you'd expect (indoor lap pool, hydrotherapy pool, yoga, treatments by the likes of Bamford, Voya, Sarah Chapman and Ground Wellbeing) and more (outdoor pool, forest sauna, sound healing, rooftop herb garden). Make sure you emerge from the spa for long enough to pull on some wellies, courtesy of the hotel, and take a refreshing walk in the grounds before your next drink, meal, swim, nap or treatment. Decisions, decisions…
From £675 per night, visit limewoodhotel.co.uk
No. 131, Cheltenham, Gloucestershire
How to get there: Drive from central London in about 2 hours 30 minutes or take the train from London Paddington (approx. 2 hours)
For those who are happy to leave London behind but would really prefer to be in the centre of an energetic, charming town rather than gazing over green fields or the moody British sea, No. 131 is The One. Its three elegant, listed Georgian townhouses can be found in the heart of Cheltenham, the spa town in the Cotswolds that's known and loved, in particular, for its horse racing and literature festivals.
If either or both appeals to you, you'll need to book well in advance to snap up one of 131's Cosy, Very Good or Excellent rooms during March or October. Across the 36 rooms, a lively fusion of cool contemporary art and British design elements – wooden panelling, tweed headboards and luxe woolen bedspreads – no doubt reflects the style of owners Julian Dunkerton (of Superdry) and fashion designer and entrepreneur Jade Holland-Cooper.
You'll also soon discover that 131 is a local hotspot for dinner and drinks, with an enviable, and convenient, central location right by the town's Imperial Gardens. Enjoy a 'Japanese sushi and Asian dining experience' in Yoku (noting the dress code: smart chic, dress to impress) and cocktails to match in Bar Tokyo, or find a new favourite tipple at the winner of the 2022 Best Hotel Gin Bar in the UK award. Gin & Juice stocks a remarkable collection of more than 400 gins, while Rum & Fizz champions the darker spirit. Sip to the sound of live DJs from Thursday to Saturday and don't give a second's thought to your visit coming to an end – there's plenty to enjoy before then.
Rooms from £152 per night, visit no131.com
Danesfield House Hotel & Spa, Marlow, Buckinghamshire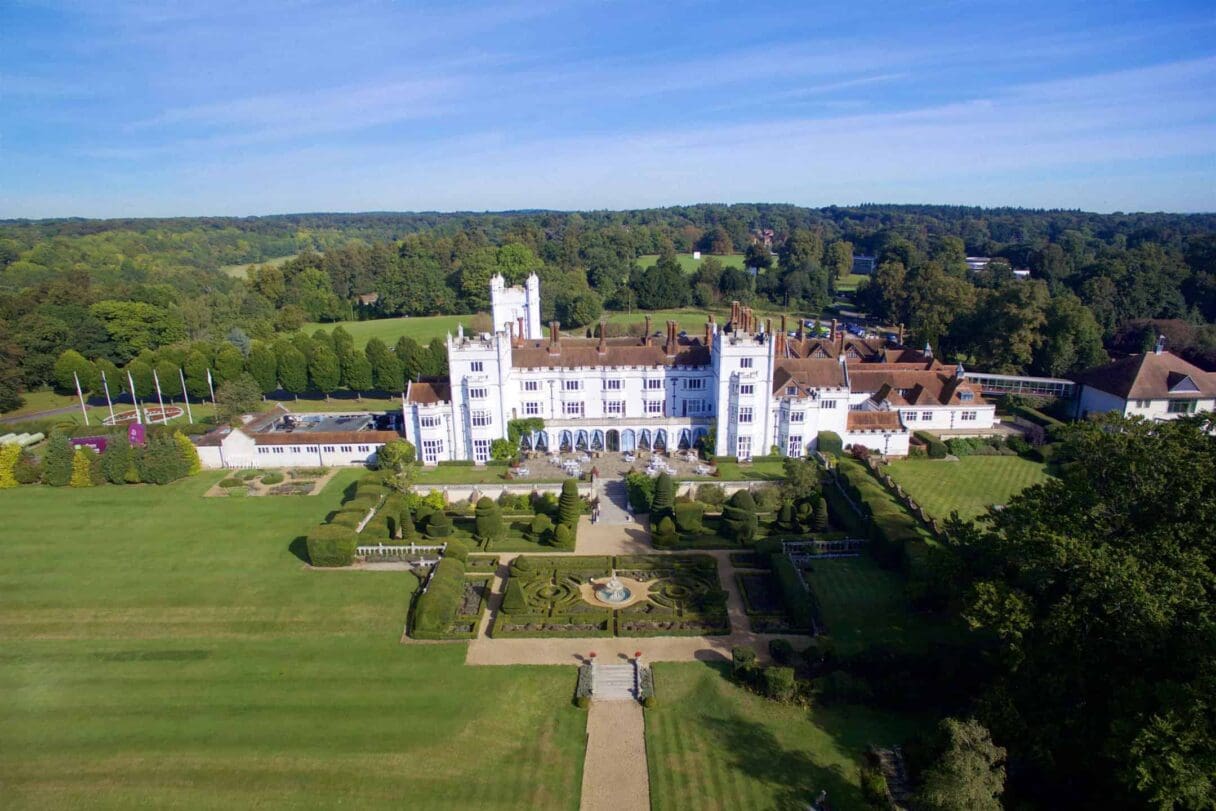 How to get there: Drive from central London in about 1 hour 20 minutes or take the train from London Paddington (approx. 45 minutes – 1 hour)

Robert William Hudson was one lucky man. The Danesfield House you see today, as you drive down the immaculate tree-lined avenue and under its elegant white arch, was his family home more than 100 years ago. He also enjoyed 65 acres of formal gardens with views over the River Thames and the Chiltern Hills beyond, and so too can you. It's a lovely size; 55 bedrooms, with a focus on the best of British design, service and facilities, and unsurprisingly this makes it a popular wedding venue. Just imagine the photos.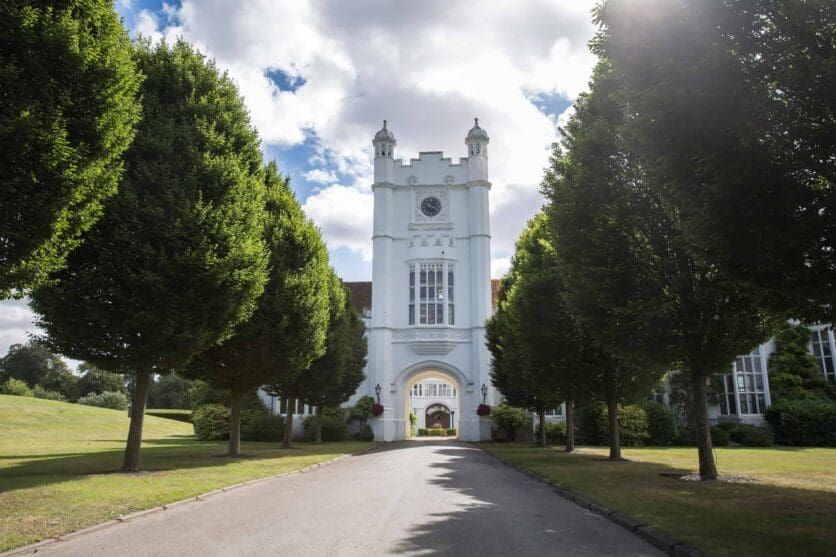 Although you'll need to allow plenty of time for walks on the estate, afternoon tea, fine dining and wine, just as Mr Hudson surely did, perhaps with the addition of a massage and swim, Danesfield is also brilliantly located for a number of half or whole days out. The spectacular Stonor Park, skippered river trips, scenic horse riding, Henley Regatta, Bicester Village and… Legoland. If you have kids, they may well already have spotted the signs on the way into Danesfield, and resistance is futile. At least you know you'll be returning to the calming luxury of Danesfield with not a coloured brick in sight.
Rooms from £197 per night, visit danesfieldhouse.co.uk