A Field-to-Fork Boutique Hotel & Estate in the Cotswolds
In a corner of the English countryside is a village within a village with the aptly evergreen name of Thyme; showcasing the bounty of the local land is at the heart of this hotel's existence
There are a few things in life that are always guaranteed to get my attention. Sprightly dogs with a jaunty gait; the smell of freshly-baked bread on a Sunday morning; the opening chords of a somehow-forgotten favourite song; sunsets that smear fiery colours across the sky like a canvas – and enormous trees.
The Lodge at Thyme, and its Cedar of Lebanon
I'm astounded by their majesty, their might and, most of all, their age. They've escaped a fate as furniture or firewood, playing witness instead to centuries of history unfolding around them, and all the people who were part of it. The tree being admired today is colossal – too big to take in its scope without tipping my head back, and too tall to fit in one shot, unless I trot a hundred paces back into a field. I stand in its shadow with my oldest friend Philli, a fellow fan of nature's marvels, until the lure of our next meal kicks in. We later discover this giant is more than 500 years old – a Cedar of Lebanon, after which one of the rooms in Thyme's Lodge is named.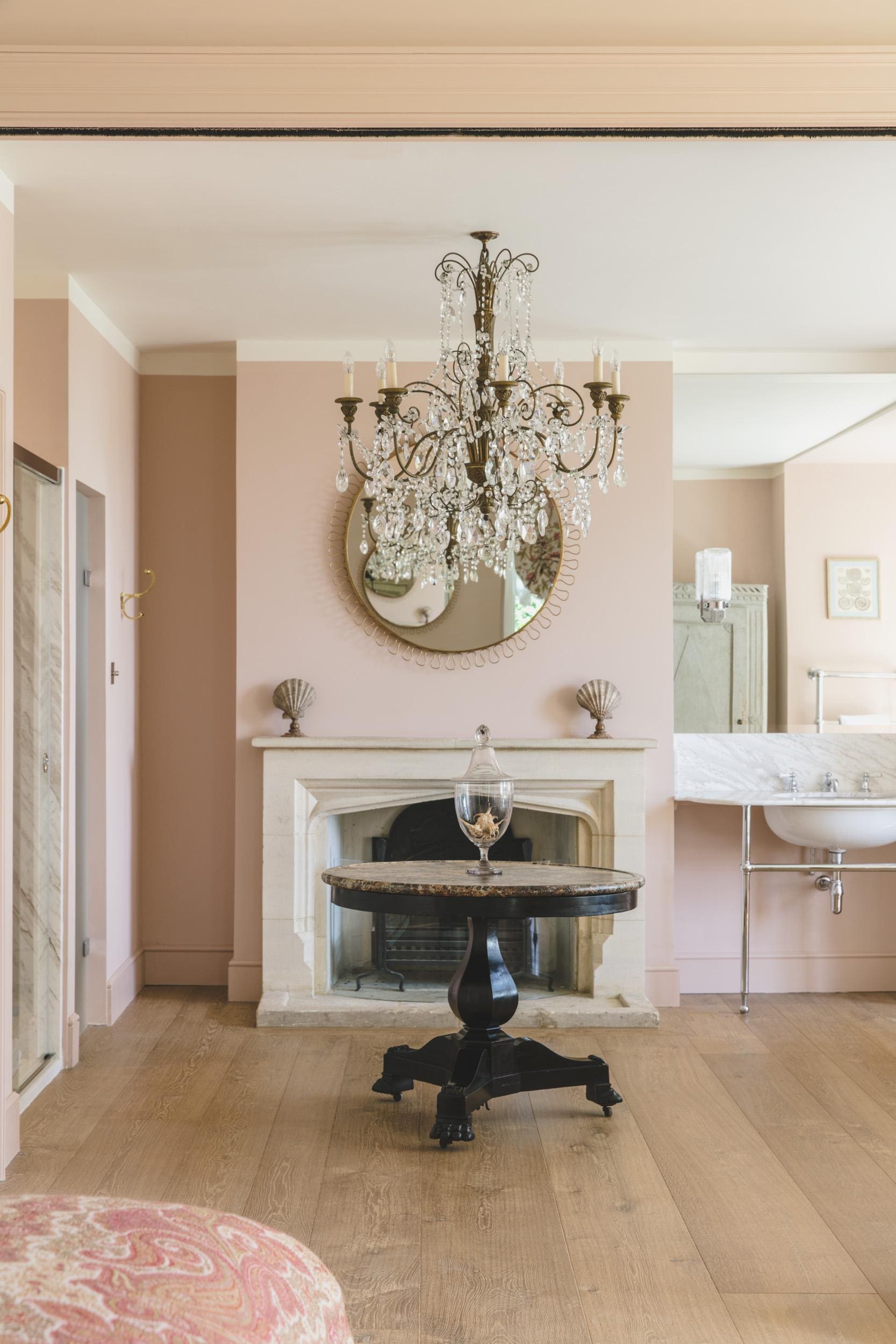 A bedroom at Thyme
We arrived earlier that afternoon, after an easy drive from London, and have wasted no time – excuse me – exploring Thyme. The estate in Southrop, an enclosed assortment of restored historic buildings, has expanded over the years to encompass hotel rooms and cottages, a spa, a cookery school, its own farm and kitchen garden, pub and restaurant, the Ox Barn, opened in December last year. We're pretty sure, ten minutes into our stay, that we won't need, or want, to venture further than Thyme's boundaries to have a restoratively relaxing weekend, and we don't.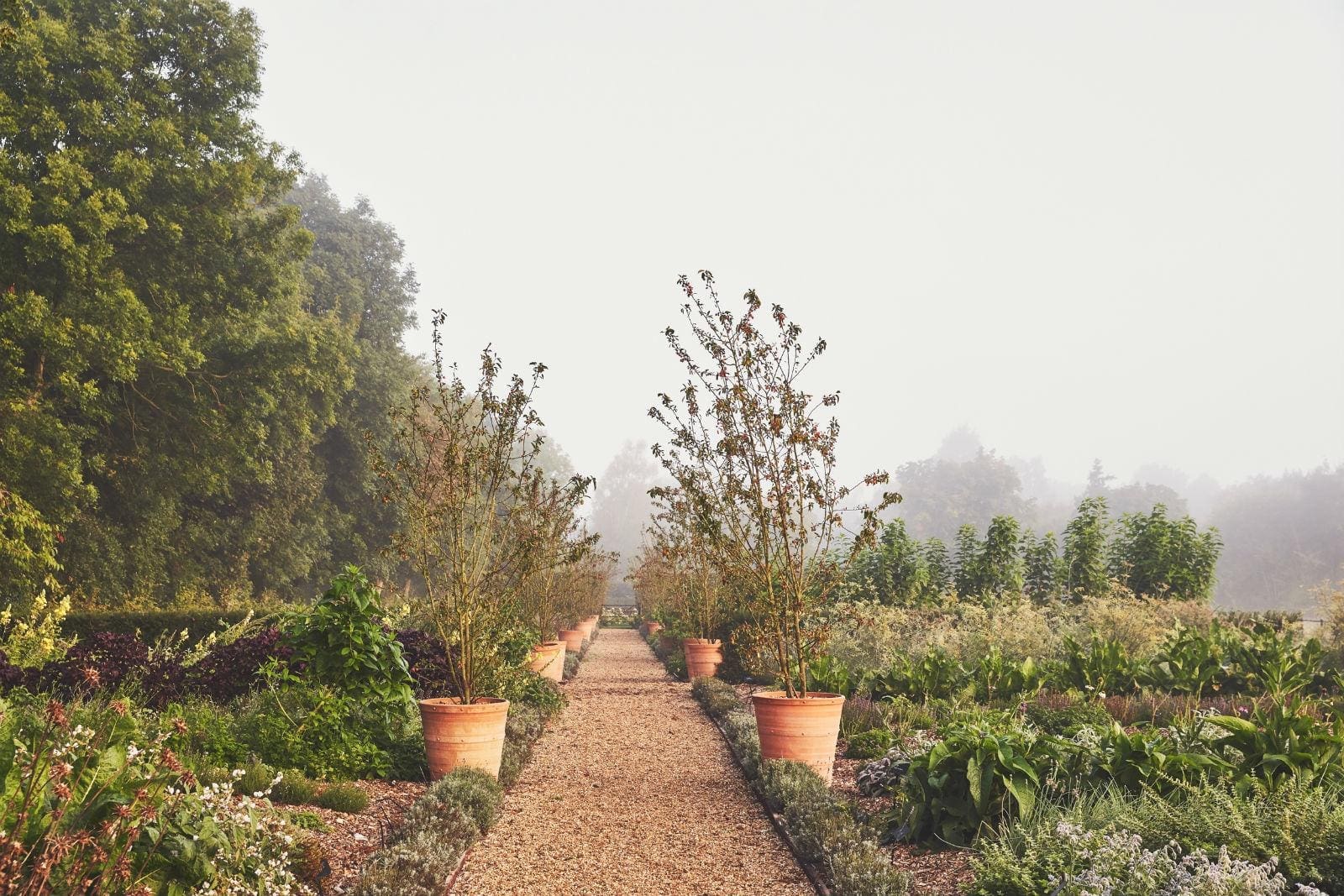 The vegetable gardens at Thyme
Charming hand-drawn maps encourage us to visit the kitchen gardens (between 9am and 4pm – wellies provided) where a huge variety of vegetables, fruit, herbs and flowers are grown. "Our cooks, gardeners and florists gather fresh ingredients which inspire everything we do. Please do ask questions!" We head to the Baa first (see what they did there?!) for fortifying, refreshing Flocktails; the bar team uses ingredients from Thyme's gardens wherever possible, and these are of the very highest quality, hence the £9 charge for a non-alcoholic drink. The mocktails we try are delicious; picked camomile, fermented ginger and candied orange all make an appearance in the snappily-named Macaroni Dandy.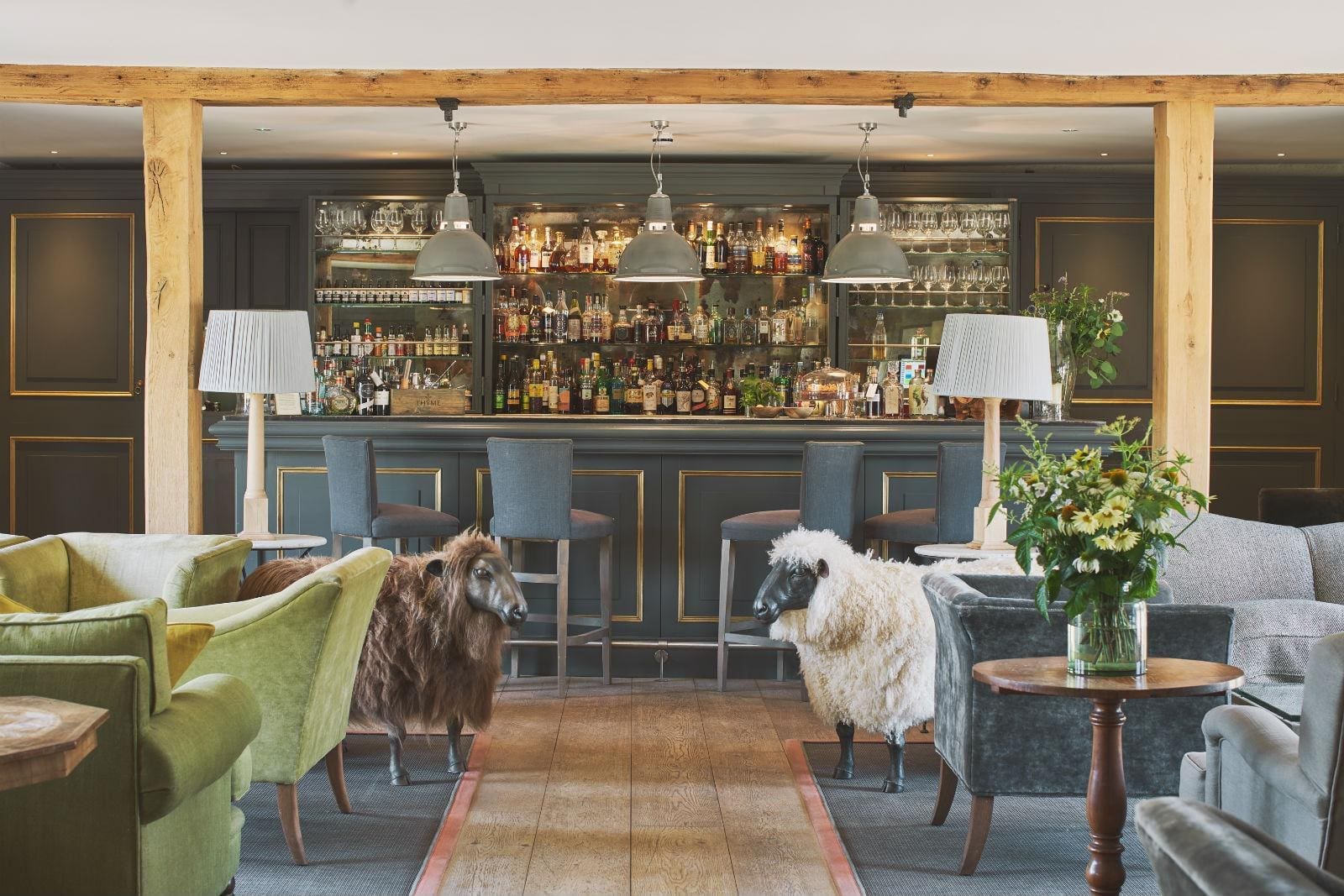 The Baa
On our way to the gardens we're brought to a standstill by not one but an entire herd of black ruminants. Thyme has two flocks and these are the Welsh Black Mountain sheep. It's an arresting sight to see a whole field of these shaggy, scruffy grazers – and odder, perhaps, that I later choose lamb for my supper. But then, we're at a funny place when it comes to our food. We're starting to understand that we need to eat more local, seasonal produce; we're far too used to eating whatever we want, whenever we want it – raspberries from Portugal, bananas from Peru, avocados from Mexico. But are we prepared to ditch a favourite recipe because most of the ingredients have been flown half way around the world?
Only the freshest local, seasonal produce is served at Thyme
Thyme makes dining decisions easy – head chef Charlie Hibbert has concocted clever menus that feature what's in season, and available close by. That's it. And the meals I eat inspire me to make a lot more out of what's produced in the UK. Rhubarb, for example. It takes centre stage on the cover of the monthly bar menu, with notes explaining it's actually a vegetable. The first crop of the year can be harvested in early February, hence its appearance in breakfast jam, the Rude Bob cocktail and a dessert with meringue and cream.
The Ox Barn restaurant at Thyme
Hence, also, my choice of lamb at supper – I've seen for myself that that Thyme's animals are exceptionally well cared for, and that my meal has been created within a mile or two of my plate. Thyme's Ox Barn restaurant is cavernous, without being overwhelmingly so – it's smartly designed to cluster diners in one half, resulting in a cheery atmosphere on the night we visit. Philli is delighted by her generous starter of roast beetroot, onion and goat's curd, while my choice – poached chicken, tarragon and mayo, served cold in a clear jelly – is quite unusual, but creative. The afore-mentioned lamb is butter-soft and comes with creamy celeriac and potato gratin. Celeriac doesn't get enough airtime; it should. Portions are big enough that we should probably share a dessert, but how can we choose between hazelnut and lemon polenta cake, and quince and almond tart? Both old-fashioned British puddings that will undoubtedly send us into a deep sleep.
One of Thyme's floral-inspired bedrooms
First, though, to navigate back to our cottage – Hollyhock. It's silent and bible-black dark at night-thyme (excuse me again) so lanterns are provided. Ours is a bit lacklustre so I use my phone and we feel like kids sneaking around on a school trip, muffling laughter as we go. My request for firmer pillows has been attended to; I don't know why but the luxury hotel industry has decided the fluffier and more cloud-like the pillow, the better – not for this writer. And so to bed.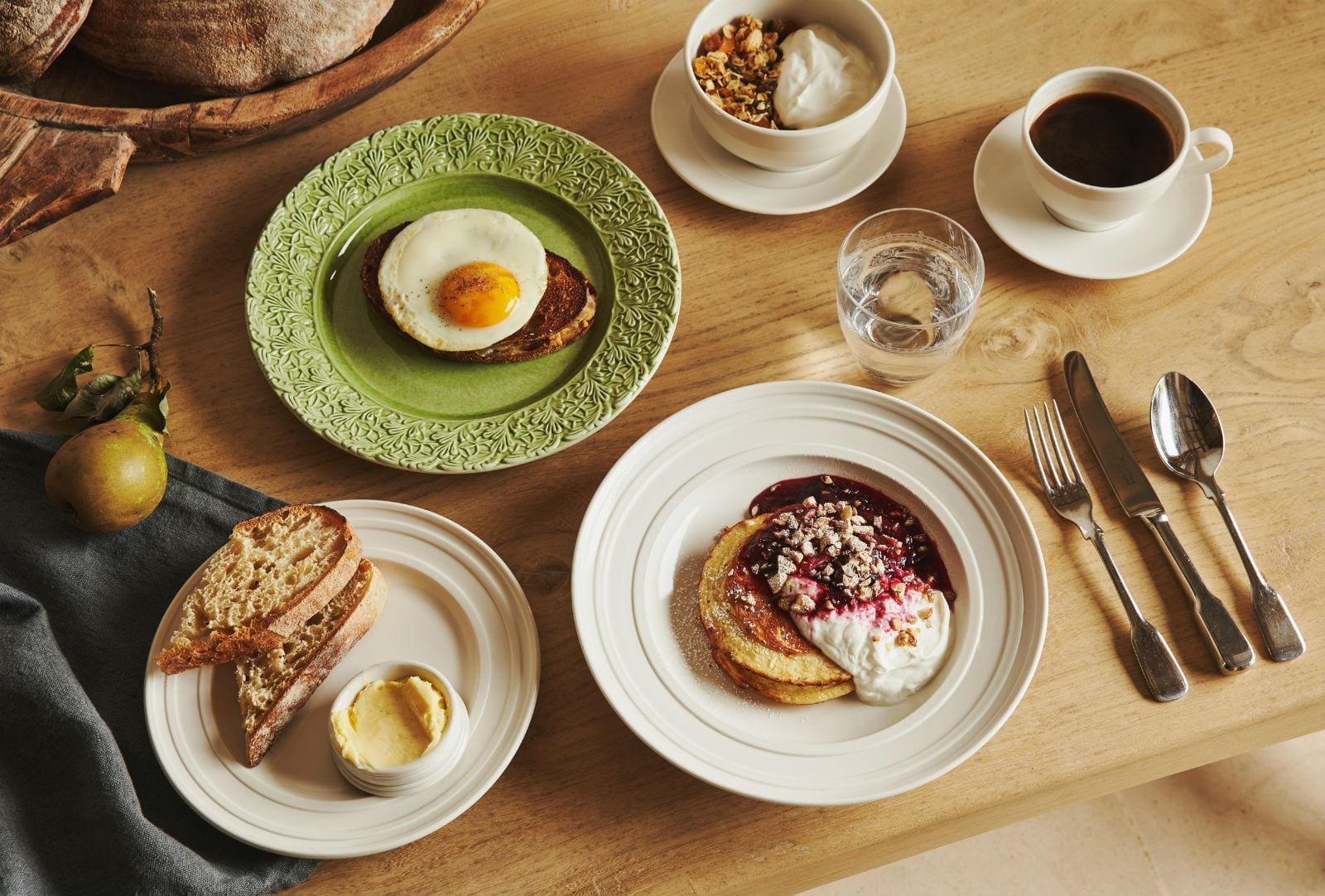 Breakfast at Thyme
In the morning: silence, and a slow, lazy awakening from slumber. Of course our quaint English cottage has a kettle, so tea and the papers in bed for me, and a solo session in the new yoga studio for Philli – is there anything better? Actually yes, and it requires going back to the Ox Barn (after a heavenly shower; all but three rooms at Thyme have baths so ask for one when you book if it's an essential). There's a spread of breads, preserves, yogurts, juices, poached orchard fruits, granola and muesli on offer, and four hot options too: Philli is very satisfied with buck rarebit (cheese and egg on toast, basically) and I devour airy buttermilk pancakes with yogurt, hazelnut and – its tartness welcome – rhubarb. Pleasingly, the breakfast table's load is almost decimated by the time service is over –a nice change from wondering what will happen to the mounds of leftovers.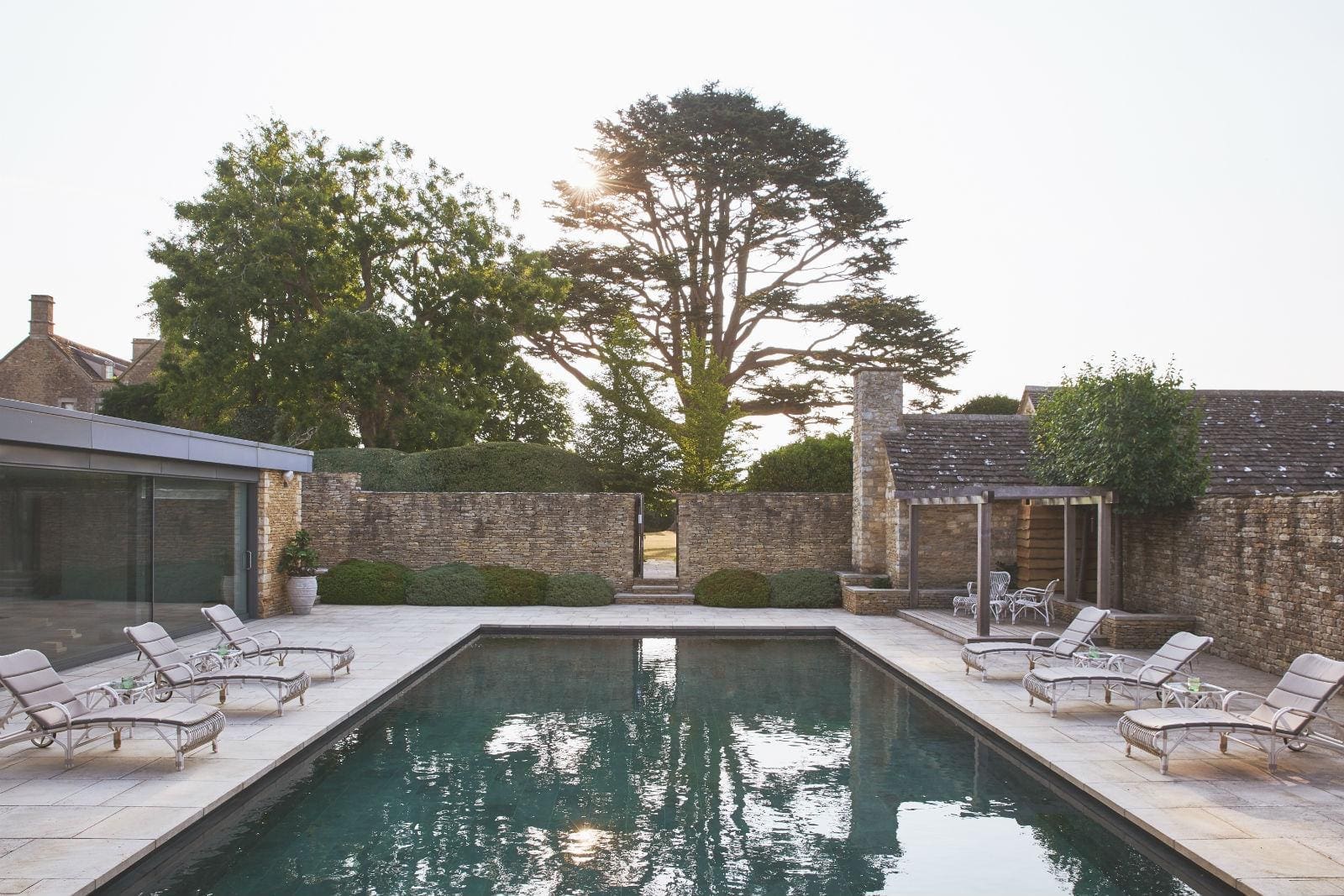 Thyme's heated outdoor pool, overlooked by the yoga studio
Well, as there's a Cookery School here too, I doubt anything goes to waste. It offers half a dozen or so classes a month, in areas as diverse Seasonal Dinner Parties, Bread Making and Flavours of the World: Middle East. Philli and I finish every last morsel of our breakfast and agree that maybe we need to come back to learn to cook, and eat, the Thyme way (which translates as: any excuse for another visit!)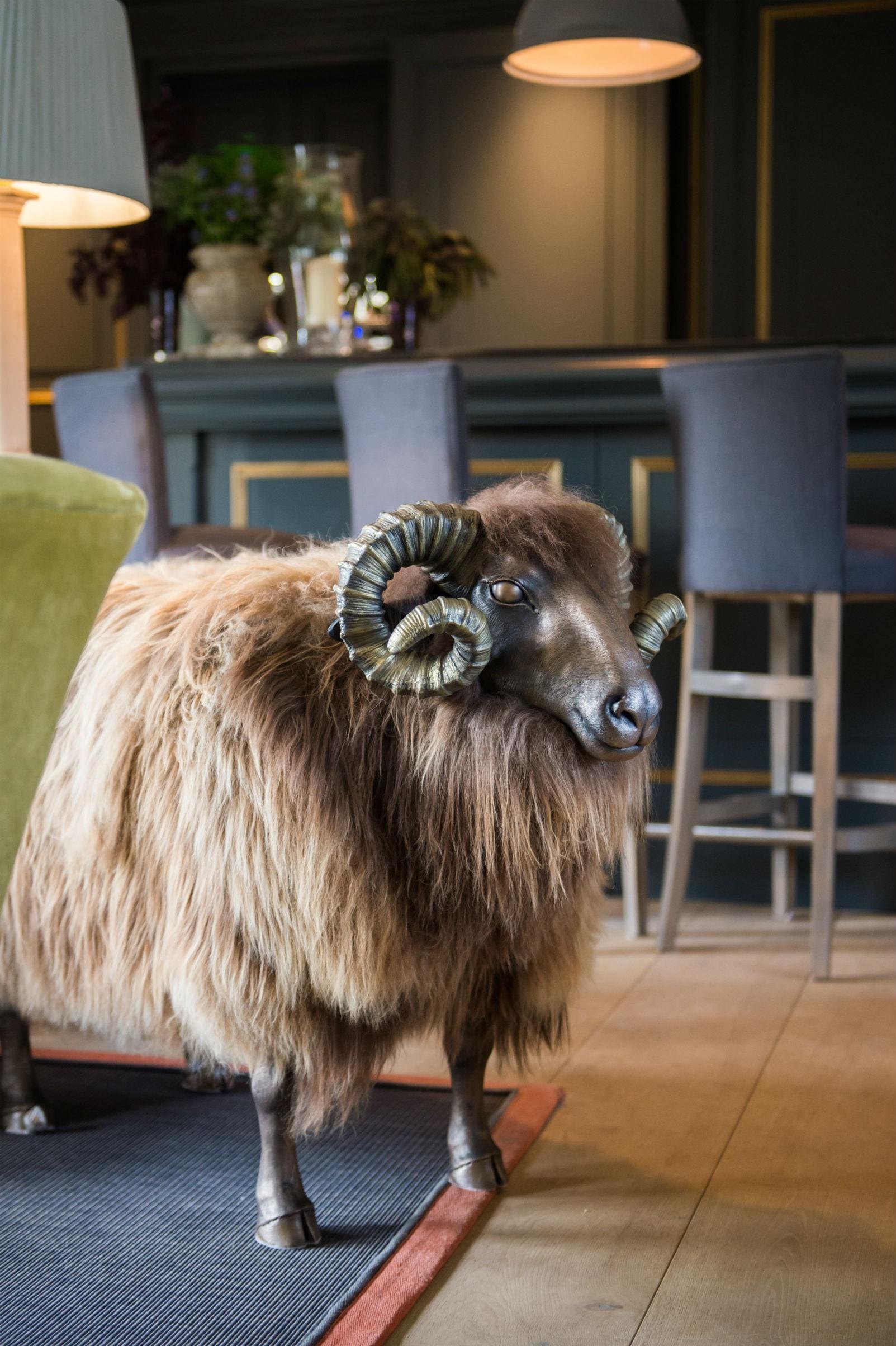 Sheep in The Baa