Set sail: Are superyachts the future for five-star hotels?
There's a new trend afloat in the luxury travel sphere. Combining the best parts of five-star hotels, high-end cruises and superyacht charters, discover a new era of onboard luxe…
Let's rewind a moment to peak pandemic, when travel ground to a halt and the entire hotel industry paused to think about how its future would look. Many luxury hotel groups – Belmond, Four Seasons, Ritz-Carlton and Aman, to name a few – seemed to come to the same conclusion: it was time for hotel superyachts.
Combining all the facilities we've come to associate with these international powerhouses, these hotel-yacht hybrids mark a new era in high-end travel. "More and more luxury hotel clients are keen to explore further into the destination they have chosen for their holiday, rather than the traditional fly and flop hotel holiday," explains Jimmy Carroll, co-founder of experiential travel and yachting company Pelorus. "It's the perfect way to explore the coastline, reach untouched coves and beaches, dive and snorkel off the beaten track, whilst enjoying the same level of comfort as they receive at the hotel."
In light of travel disruption over the last few years, the appeal remains strong: your own bedroom, your own space, and minimal flights, airports and border crossings to contend with. Now, this blue-sky thinking is coming to fruition in all sorts of exciting new vessels.
Leading the way, interestingly enough, is the Ritz Carlton, whose 190-metre yacht Evrima was the first of its kind when it launched in the Caribbean last autumn. Pitched by Douglas Prothero, CEO for the Ritz-Carlton Yacht Collection, as "revolutionising the luxury cruising industry," Evrima is the first of three custom-built superyacht-cum-cruises to hit the water.
"We're creating an entirely unique category designed for those in search of unmatched getaways, highly curated itineraries, and a level of personalisation previously unseen in the space," Prothero continues. "Every element of the luxury yachting experience was considered, and we are excited to deliver unforgettable journeys for both long-time cruisers and those who are new to the industry."
With 149 suites on board – all of which feature a private terrace and floor-to-ceiling windows – the main difference between this and a standard cruise is the distinctive Ritz-Carlton service. The intimate size (compared to other cruise ships, trust us, it is) of Evrima allows yacht-style access to sought-after destinations, such as Mykonos, Saint-Tropez, and St. Barths, where a regular cruise wouldn't normally get a look in.
At the other end of the scale, this May will see the launch of the newest addition to the Les Bateaux Belmond fleet – promising to take tailored luxury to new levels. Cruising the rivers of France, rather than the high seas, Coquelicot will be available solely for private charters around the Champagne region. Couples, families or groups of friends can charter the three-cabin boat exclusively, for upwards of £73,000 per week. Again, where Les Bateaux Belmond differs from a classic yacht charter is in the signature Belmond touches: a partnership with Maison Ruinart, the world's oldest champagne house, for example, or the fact there's an open kitchen framed by potted herbs and wildflowers on the top deck.
"We wanted to embody the idea of journeys where time was not a constraint, such as on board the Venice Simplon-Orient-Express, whereby the beauty of the experience lay in the journey itself," says Emil Humbert, of French design firm Humbert and Poyet, which created Coquelicot's interiors. As such, guests can expect an earthy colour palette with a strong focus on local French craftsmanship.
In recent months, both the Four Seasons and Aman hotel groups have also announced their own additions to the luxury hotel-meets-superyacht-meets-cruise phenomenon. Both mark the hotel brands' first foray into nautical experiences, and both are confident that their vessels will be market leaders in the ultra-luxe sphere once they hit the water.
Take the Four Seasons Yacht, which is currently under construction at Italian shipbuilder Fincantieri and due to launch in 2025. It was commissioned in an order said to have cost around £1 billion, which interestingly also saw the hotel group include an option for two additional vessels. Clearly, it expects big things from the high seas.
Mark one will feature 95 suites and 14 decks with no expense spared to bring the company's signature 'white glove experience' to the oceans: each suite is estimated to cost around £3.4 million to build, offering ultimate privacy, flexibility and spaciousness. To give a sense of scale, the suites start at around 54 square metres (about the same as the average one-bedroom London flat). The largest, the Funnel Suite, will be more than 892 square metres, with a combination of indoor/outdoor living space, a private plunge pool and dedicated spa area, all spread across four levels. With itineraries expected to focus on the Mediterranean and Caribbean, it's quite the way to see the world.
"When we launch in 2025, there will be nothing else like it on the open seas," says Larry Pimentel, the veteran travel industry expert responsible for leading the new enterprise. "We are creating a new category of luxury lifestyle travel that appeals to discerning guests, bringing together the very best across industries to create the pinnacle yachting offering through world-class design, curated experiences, and truly exceptional service."
Finally, there's Aman's Project Sama, a wellness-focused yacht with two helipads and a Japanese garden, which is set to launch in 2026. Backed by Saudi Arabia's public investment fund, Cruise Saudi, the team behind Project Sama also promises a "first of its kind luxury motor yacht."
While it's only one of the latest in a growing trend towards hotelier-designed yachts, where Project Sama will most likely differentiate itself is from a health and wellbeing aspect, an area that has long been a focus for the group's on-land offering. Aman's Chairman and CEO Vlad Doronin is focused on the yacht's potential to "create sanctuaries in unfrequented locations" and, while details are still scant, the 183 metre yacht will have just 50 spacious suites, each with its own balcony.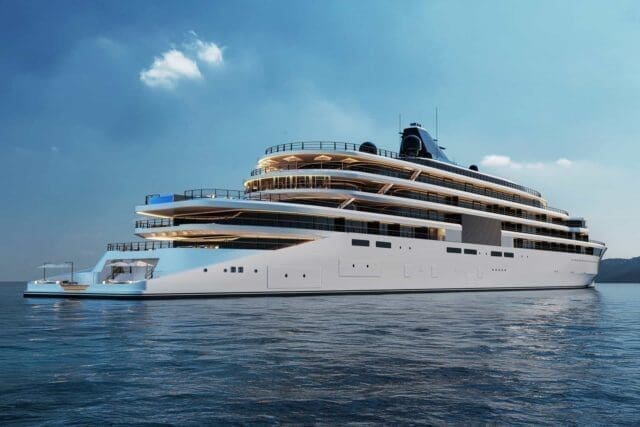 Project Sama – which draws on the Sanskrit word for 'tranquility' and will be renamed before its launch – is all about creating harmony and balance between indoor and outdoor spaces. Though no routes have been announced, it will most likely cruise along the Red Sea and the Arabian Gulf, creating another point of difference from the more traditional Med and Caribbean tours.
If you've never considered yourself a cruise person these may just be the vessels that change your mind. Without doubt the hotel-branded yacht will become a more established part of the luxury travel space over next five years. So, can they deliver on their promise to bring together all the most luxurious aspects of cruises, superyacht charters and hotels? Time will tell – but we wouldn't bet against these travel titans.