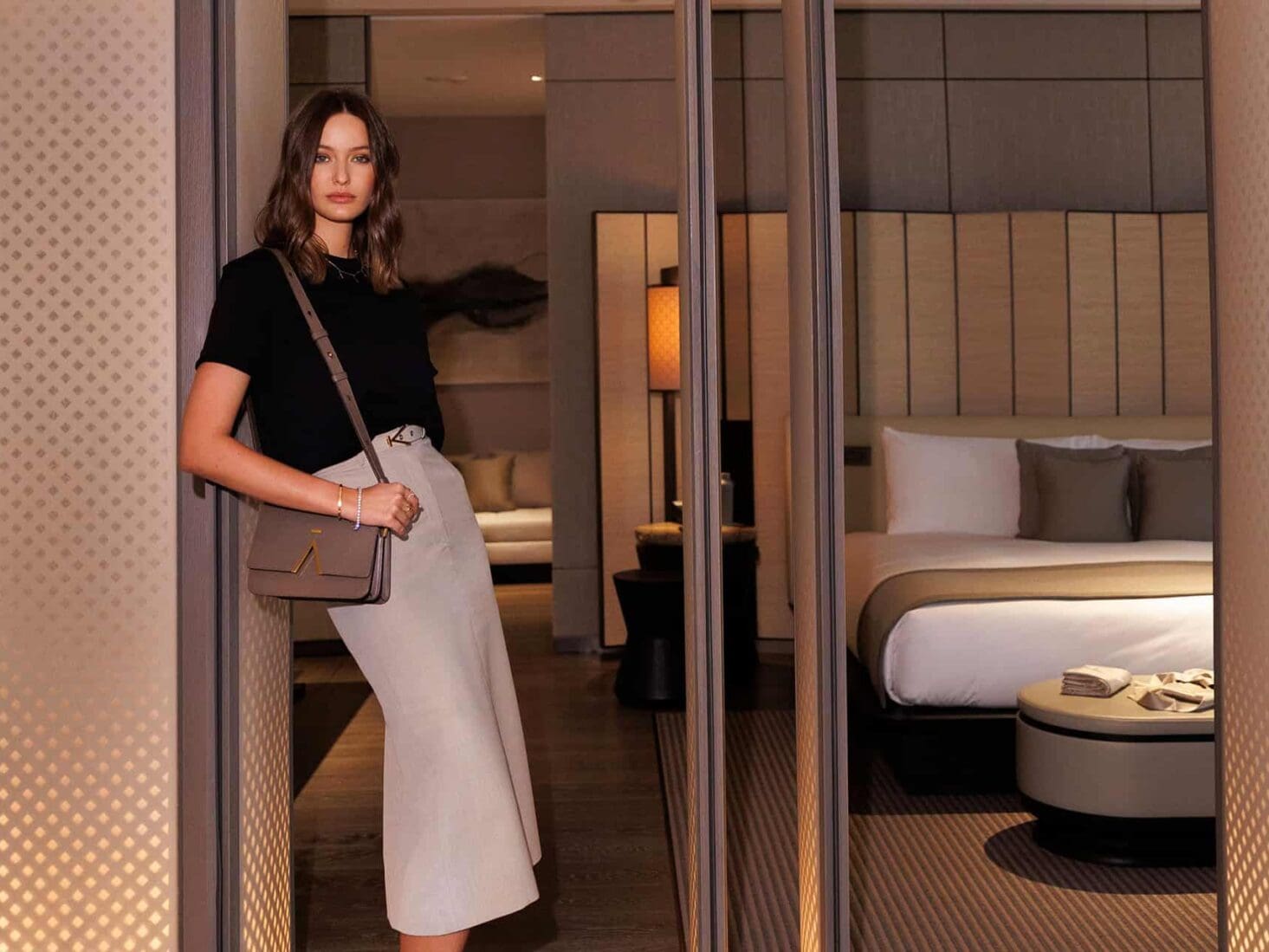 Tour de force: Kristina Romanova on turning Aman into a full-service lifestyle brand
As Aman Essentials opens its first standalone concession in Harrods, CEO Kristina Romanova explains why the group is doing things it's own way
The Venn diagrams of travel and fashion have long overlapped. Whether it's a monogrammed Louis Vuitton trunk or Gucci interior design at The Savoy, the connection is clear: those with enough wealth to stay at the world's best hotels want to look good while doing so. Both hospitality groups and luxury houses have been more than happy to cash in on this symbiotic relationship.
For a long time, this was as simple as luxury boutiques opening in the grounds of high-end hotels, offering a captive audience an easy way to supplement their holiday wardrobes with new swim shorts, summer dresses and beach bags. More recently, brands have become increasingly creative, with headline-grabbing partnerships tapping into the contemporary trend for fashion collaborations. Think a Dior spa in the new Cheval Blanc Paris, Net-A-Porter teaming up with luxury rental platform Plum Guide and The Standard Ibiza calling on Onia and Craig Green for swimwear and bathrobes, respectively.
Which all seems very impressive until you discover Aman Essentials.
If you've ever stayed at an Aman resort you'll know that the hospitality group doesn't do things by halves. Now totalling 35 worldwide – the most recent having opened in New York earlier this year – entry-level rooms can command a starting rate in the thousands and staff often vastly outnumber guests. So dedicated is the group's clientele that they self-identify as 'Amanjunkies'. Instagram posts using the hashtag #amanjunkie currently total more than 43,000 and feature repeat guests including Kim Kardashian and Fendi creative director Kim Jones.
Which, says Aman Essentials CEO Kristina Romanova, goes some way to explaining why the group wasn't going to settle for just another lifestyle collaboration. "There's such a huge appreciation for the [Aman] brand and such a cult following," she explains. "We didn't want to risk that. We wanted to do it on our own terms and really make sure that it carries everything that Aman stands for."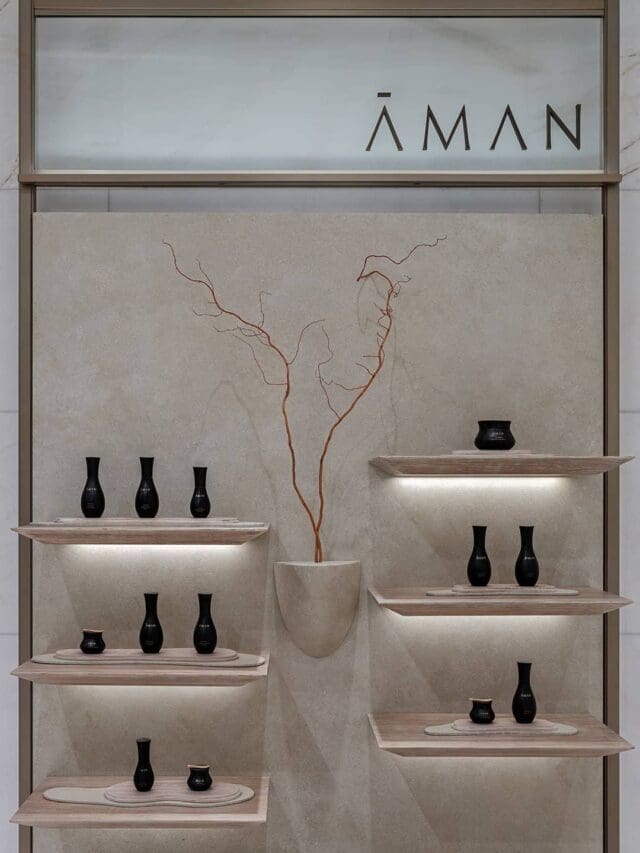 The result is a fully-fledged luxury lifestyle offering that currently counts skincare, fragrance, ready-to-wear and leather goods among its collections, with furniture and homeware forthcoming. Each product has been meticulously considered to reflect the kind of understated yet utterly elite level of luxury the Aman hotel group has come to symbolise.
"Inspiration definitely comes from the hotels, from the nature around them, from the cultures surrounding them, and from the design ethos of the architecture," says Romanova, who, as well as being CEO, is also the lead designer for ready-to-wear and leather goods. "Everything is in the Aman colour palette. It's definitely coming from our Aman world."
We are meeting at Harrods, where Aman Essentials has just opened its first standalone retail space – a small but elegant Kengo Kuma-designed corner of the Beauty Hall opposite the new Moet & Chandon bar. Romanova, a willowy former model dressed in a leather pencil skirt and ivory knit polo from the Aman collection, is a walking advert for the Aman way of life. Poised, pretty and polished.
It helps, one imagines, that Romanova is so utterly immersed in the Aman brand. As well as being CEO and creative director of Aman Essentials, Romanova owns a 50 per cent stake in the company. The other half was taken by Aman owner Vladislav Doronin (and Romanova's personal partner) when the brand was spun out from the wider Aman Group in March 2022.
The Aman Essentials story, Romanova maintains, is more organic than it may appear on the surface – beginning in 2018 with the launch of the holistic skincare line. "That was very much at the request of our clients. Every time they had a massage in the spa, they would say, "Oh, what kind of oil did you use? The smell was beautiful. Where can I get it?" They wanted to recreate the Aman spa rituals in the comfort of their homes." True to form for a hospitality group that once told Forbes it would happily dispatch a private jet to source a specific type of chocolate, Aman willingly obliged.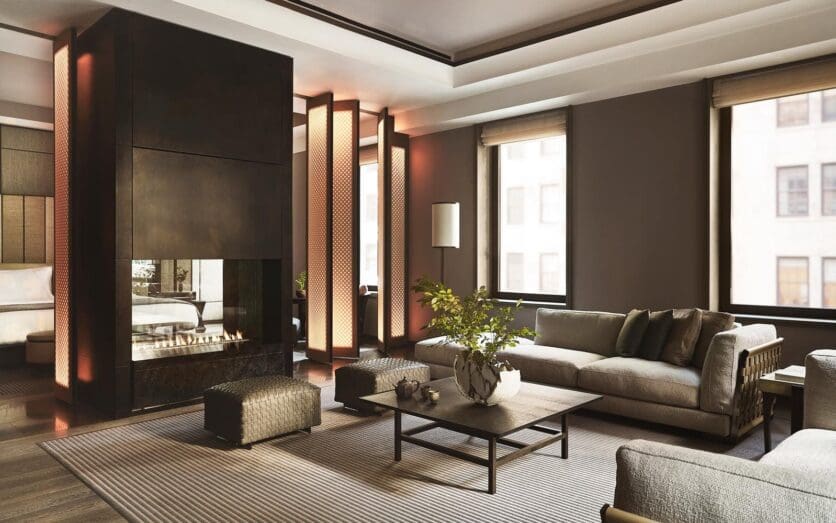 For now, beauty remains the core pillar of the Aman Essentials brand. A sheet mask created in collaboration with 111 Skin recently launched, while Romanova hints that a more expansive functional skincare range with an as-yet-unnamed Japanese brand is coming in early 2023. Beauty also remains the only category available to purchase outside of Aman's own platforms, carried by stores including Luisa Via Roma and Neiman Marcus across the US and Europe, with Asian expansion on the cards in the near future. But, while Aman's own online shop offers bags and leather goods, you'll need the financial nous to check in to one of its hotels to get your hand on any of the ready-to-wear.
And while the brand isn't without ambition – in August Vogue Business reported that Aman Essentials was forecasting 162 per cent revenue growth in 2022 – this exclusivity is very much by design. "We're still debating whether we want to go beyond Aman with the ready-to-wear and leather," says Romanova. "With the skincare, we decided to go wide and big. We're more protective over the ready-to-wear and leather because it's a more precious item. Our clients love the fact that they can't find it anywhere else. They feel very special having this product and not seeing anyone else wearing it."
For a brand that comes with the advantage of a built-in customer base, it's a sensible approach – and explains why Aman Essentials can command some seriously eye-watering price points. One has to assume it is not twenty-somethings looking to make their first big fashion investment that are dropping the best part of £3,000 on an Aman tote bag. It is far more likely Aman Essentials' customers are those with a closet already bursting with Chanel and Louis Vuitton and, perhaps more importantly, a photo album full of holiday snaps taken at Aman hotels.
If you're lucky enough to count yourself a member of this exclusive club, however, don't expect seasonal drops or even much new product at all. Romanova has her sights set on loftier ambitions: "It's very hard to compare ourselves to anyone but I would say Hermès is closest. It's about craftsmanship rather than connecting to trends and celebrities as a lot of other brands are doing.
"The idea was to create this perfect wardrobe, something that never goes out of style. It's about timeless design and quality and also keeping sustainability in mind. It's not about logomania or consuming or producing more, it's about creating these perfect pieces that will fit in your wardrobe seamlessly and be contemporary classics."
The Aman Essentials concession at Harrods is open now, visit aman.com
Read more: Christie's Katharine Arnold on philanthropy, partnerships and record-breaking prices