Andronis Arcadia, Santorini: Serene Aegean luxury at its finest
'If you want it all, we have it all'. Does this all-suite-and-villa hotel in Oia deliver its promise for those after a romantic, relaxing long weekend in the sun?
Andronis Arcadia Santorini. Its name alone sets the bar pretty high. Arcadia: the mythical home of Greek god Pan; a place, as the hotel itself puts it, "of natural harmony and pastoral enchantment". Arcadia might bring Tom Stoppard's celebrated play to mind, for some, or a festival field centred around a giant, music-playing mechanical spider.
For me, a Glastonbury-going, former Classics student, it's all of the above, and this Arcadia is an excellent one to add to the list. Harmony and enchantment are achieved thanks to an understated palette of neutrals, natural materials, greenery and flowers, allowing its biggest star – the Aegean Sea – to shine from dawn to dusk.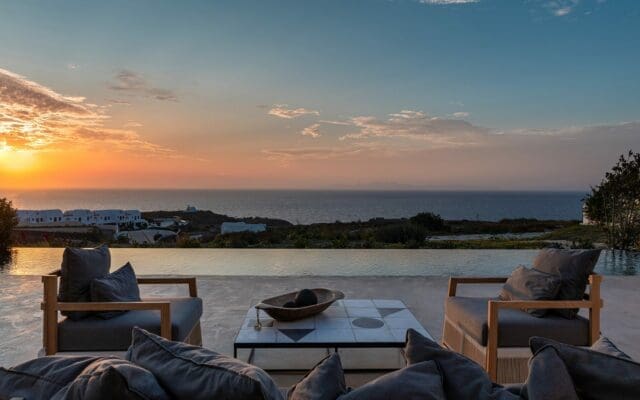 This all-suite offering is the newest addition to the Andronis family of hotels, villas and honeymoon retreats on Santorini, an island synonymous with endless expanses of cerulean sea, infinity pools, white-washed buildings and sunsets that beam twinkling golden rays across the water. And the views of that from our room: this is what we came for.
Again – the clue's in the name. As we clink cocktails on our private Sunset Suite terrace, the sun – like a blazing disco ball – drops down behind what feels like the edge of the earth and we try, unsuccessfully, to capture an iota of its magnificence on our phones.
One of the marks of a great hotel is a suite so perfectly appointed you could gladly stay in it all day and ours fulfils this requirement with an emphatic swoosh – especially given the fact we have our own pool. The room itself is beautiful, spacious and filled with natural light. The antithesis of boring beige, it blends white and shades of brown to hugely calming effect. The Andronis branded beach bag is a useful inclusion. As is the pillow menu: a sleep unhampered by the wrong kind of pillows should be guaranteed in five-star resorts but so often a pillow swap isn't offered, or obviously so.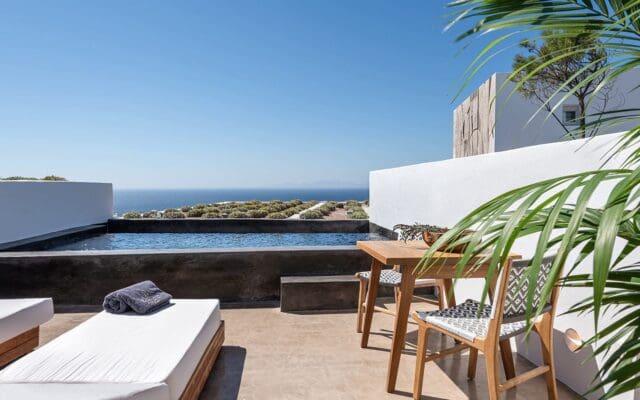 And back to the view, which demands our attention at every turn, and which is just as absorbing and deep breath-inducing from the Pacman Sunset Restaurant. This is a hotel that likes to signpost what you can expect from its offerings, but this dining spot is nothing to do with the 1980s video game (which would be odd) and entirely to do with the sunset, ticking all the al fresco, twilight, infinity pool supper boxes at the same time. Choose from the sushi menu or the Pacman menu, which is Mediterranean and features plenty of the freshest seafood. A standout dish is the seabass, which is filleted expertly tableside while a live DJ spins lively but not overpowering tune sin the background. If you like the music here, you can find Arcadia playlists on the hotel's website to enjoy in your suite or at home.
Our evening continues in the bar area by the infinity pool (after taking sweets from the stand outside Pacman; an ideal end to the meal). We try out a few moreish cocktails then wander the few minutes into Oia for drinks – a beautiful Cycladic town with labyrinthine alleys and those famed blue and white-domed buildings. Upon return, we're scooped up in a golf buggy as soon as we re-enter Andronis to be delivered back to our suite. (Which, I promise, had very little to do with the drinks and a lot to do with the hotel's hugely attentive service.)
It's absolutely worth going to the Andronis Luxury Suites' Lycabettus Restaurant for supper on one of your other evenings at Arcadia too. It's just 500 metres down the road and is a gourmand's paradise. The Andronis Gastronomy festival takes place here every summer and on our visit, we enjoy an epic menu created by Michelin-starred chef Alex Dilling.
The next morning, the floating breakfast we'd pre-ordered is delivered to our suite – something I hadn't encountered before and another of those charming little touches that makes Arcadia – well – Arcadian.
Thankfully, full and relaxed, next on our agenda is simple R&R. The Evexia Spa is the perfect place for it: its décor feels Balinese to me and has a wonderfully calming air. Some spas just don't achieve that feeling but here they have it in spades. The back and shoulder treatment is excellent and be sure to leave time to complete the Water Path. comprised of two pools, shaped like an L, one side has cold water and the other hot. Each is just 3.5 feet deep and embedded with stones that ignite reflexology points in the base of the feet line. Amazing, and unlike anything I've seen elsewhere, even at spa hotels.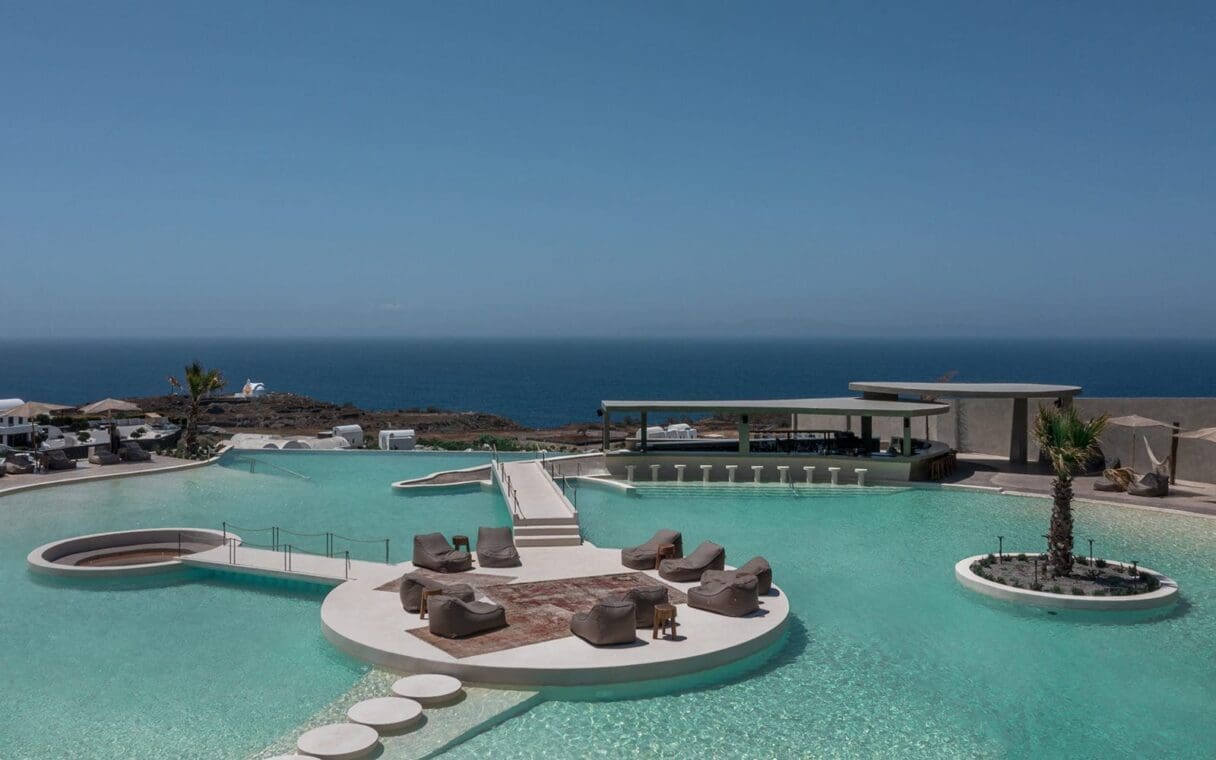 I transfer myself – slowly – to a sunbed by the Grande pool, drink in hand, to savour our last hours. My book is frequently discarded in favour of gazing at the blue-hued Neapolitan layers before me; sparkling pool water merges with distant waves and a cloudless sky. The fiery European heatwave making headlines during our visit soothed by in-pool sunbeds – not something I've seen often but very welcome in Greece's summer sun.
I close my eyes and think back to writing postcards yesterday, in an Oia taverna, to relatives young and old (for whom postcards still mean a great deal). The elderly owner lingered for a chat and told us the island's current name goes back to the 13th century, and Saint Irene; before then, it was known as Kalliste – 'the most beautiful one'. Santorini may be a pretty name but Kalliste describes this Aegean gem perfectly.
Suites from £407 per night, visit andronis.com
Read more: Why the Italian Dolomites are the ultimate year-round destination