Copenhagen: the Happy Capital of the World
Cheery dispositions abound in Denmark, which is famed for its citizens' unfaltering happiness – but does its capital city offer a similar state of mind?
When former Marie Claire digital editor Helen Russell was told her Lego-loving husband had secured a job at casa brick in Denmark, she was concerned. What would she do? Who would they speak to? She imagined herself confined to a life of hygge and herring. Instead, she took to Google, where she discovered that Denmark has been repeatedly named one of the world's happiest countries. She set herself a mission to find out why and – hopefully – achieve a similar state of mind, charting her cultural acclimatisation in a sell-out debut novel, The Year of Living Danishly.
It's this, instead of the typical Rough Guide, that I take with me on my weekend tour of Copenhagen; it turns out, however, that there's no need. Every Tom, Dick, Harry and boghandel (that's bookshop to you and I) is selling them. Whatever secrets Russell uncovered, the Danes are happy to share.
Sharing, it transpires, is the root cause of their perky dispositions. They pay through the nose in tax, but the result is a comprehensive welfare system, with one of the smallest gaps between the poor and the rich. According to Russell, more than 70 per cent of Danes believe that most people can be trusted.
For a born-and-bred Londoner, such behaviour seems something of a novelty, and I decide its capital city is a good place to begin my pursuit of Danish happiness. The home of Hans Christian Andersen, Scandi cool and the cinnamon bun – a.k.a kanelsnegle – I arrive expecting a visual feast of Nordic stereotypes, with dainty Danes running around in Sarah Lund-style Faroe jumpers. While the knitwear might have been a stretch, for the most part I'm not disappointed.
My first stop is Nyhavn, the 17th-century harbour that was once an integral entity in Denmark's trade sector, but is now a veritable – yet charming – tourist trap with restaurants serving pickled herring and rye bread smørrebrøds alongside pints of Carlsberg. The towering townhouses that flank the waterfront are resplendent in shades of yellow, blue and red, and boast their own slice of history: seek out No.67, where a plaque remembers Hans Christian Andersen, who resided here for 19 years – nearby is Edvard Eriksen's popular but somewhat disappointing The Little Mermaid statue, a homage to the Danish writer.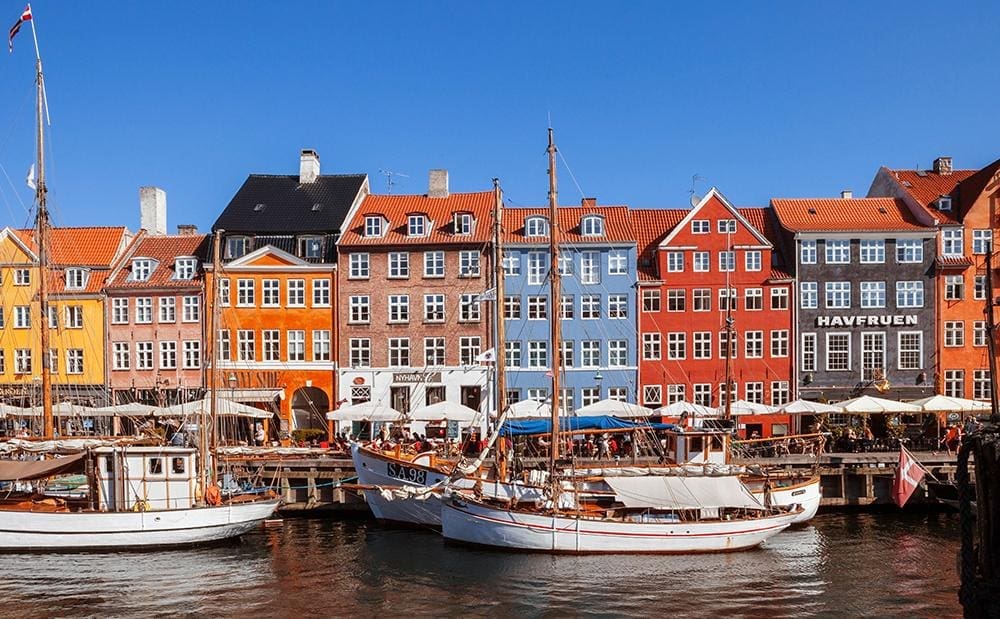 Around the corner sits the striking Royal Danish Theatre, where opera, ballet and orchestral numbers are still performed. It was once the proverbial home of Danish ballet dancer Alexander Kølpin, who was principal dancer there for several years. Now a designer-come-hotelier, Kølpin's first foray into city living comes in the form of Hotel Sanders, which is a stone's throw from his former pirouetting ground.
A Soho House-esque space with velvet louche armchairs, oak furnishings and green upholstery, Hotel Sanders is what happens when Scandinavian design meets theatre stage production. It opened at the tail end of last year and has already earned itself a reputation as one of the most stylish stays in the city. Its rooms boast rattan bed frames, duck egg blue soft furnishings and Bang & Olufsen radios. Upstairs, the rooftop bar acts as a lofty greenhouse, with a glass roof and potted plants aplenty; order the house gin and tonic and relax in one of the wicker armchairs.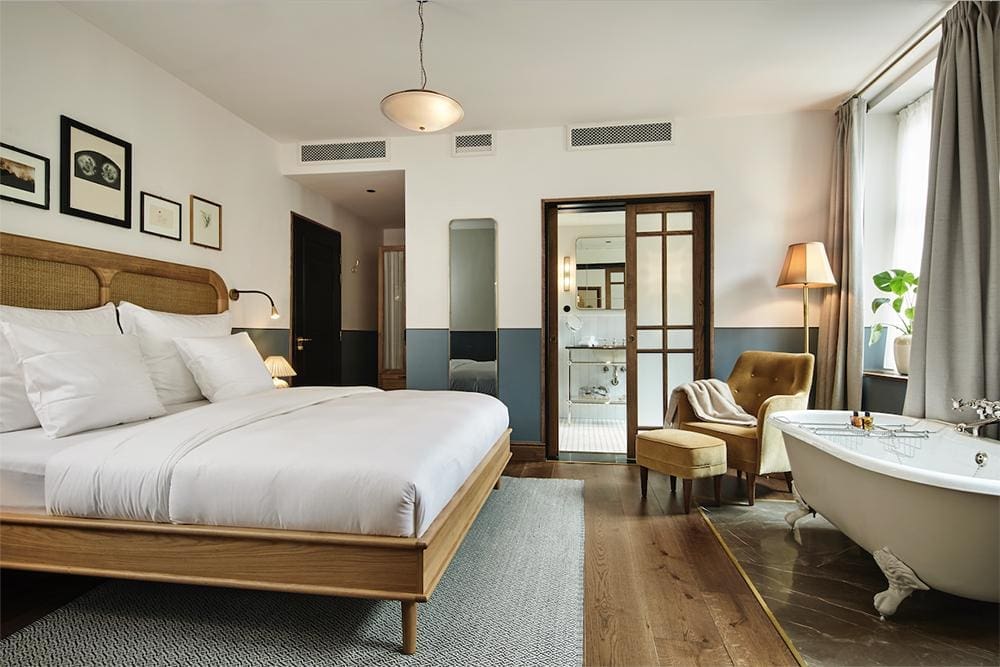 On the ground floor you'll find TATA, the resident cocktail bar that has become a favourite among locals as much as it has among passing visitors. Low-lit with a roaring fire and sink-in armchairs, the bar's designers have taken the Danish lifestyle phenomenon hygge (a cosy feeling) and run with it. I visit in February, when the Baltic wind cuts like a knife, and it's hard not to spend a whole afternoon curled up in this snug bolthole.
Should you venture outside, however, you'll find Hotel Sanders' fleet of bicycles parked and ready to be used, for free, by the hotel's guests. A word of warning – they are attuned to taller cyclists and pedalling along the arterial cycle paths with one hand on the bike, the other steering Google Maps, proves to be something of an art.
Once I've got it mastered, I head to Rosenborg Castle to navigate the mini maze, before taking a turn around the nearby Rundetaarn (Round Tower) – so named for its equestrian-friendly spiral ramp, built to allow horse and carriage to reach the observatory at the top. Go for the cylindrical slope and stay for the panoramic views of the city.
Back on the bike, I make the most of my two wheels and head across the lake to the Nørrebro district, where we park up and stroll along Jægersborggade, a street famed for its mix of quirky homeware, underground wine bars and vintage fashion boutiques. The saccharine scent of caramel wafts up the road and we can't help but poke our heads through the doors at Karamelleriet, where the chefs roll sheets of sticky toffee in front of you. We resist, shunning the sweets for Meyers Bageri, a nearby bakery where doughy cinnamon spirals relieve our sugar cravings.
More foodie delights are found in the Meatpacking District, home to trendy beer halls, restaurants and photography galleries, which are housed in the area's maze of 1930s concrete slabs, once thriving meat halls. Don't miss Mother, a pizzeria boasting sourdough wheels of wonder, creamy burrata and flagons of neon Aperol spritz – it was so good we went twice. For a more upmarket experience head to the pedestrianised shopping street Strøget, where you'll find high end fashion houses mixed with charming Scandinavian boutiques and cosy cafés.
Less chic but no less interesting is Freetown Christiania, found on a series of small islands near Nyhavn. Originally a military camp, the space has been a historic source of conflict between the government and its people, but in recent years the residents have largely been left to their own devices. They are friendly and welcoming to visitors who follow the rules (no photos, no cars), and while their bohemian mentality might not be for everyone, their makeshift homes make for interesting viewing.
Most telling is their sense of freedom; where else would such a commune exist than in the happiness haven that is Denmark? Indeed, after a weekend being initiated into the Scandi way of life, I am starting to feel my highly strung London self slacken. While I'm yet to be truly bit by Denmark's happiness bug, a few days in the capital are certainly relaxing. It might be the mountain of cinnamon buns and Carlsberg I've consumed, or the reckless abandon of leaving a bike unlocked, but I'm starting to think Russell and her husband might have been onto something. A life of hygge and herring doesn't sound so bad after all.