Thanda Island: How this exclusive-use resort is reimagining sustainable luxury
Step onshore at this award-winning Tanzanian private island to discover a paradise that feels as good as it looks
Nestled within Tanzania's protected Shungimbili Island Marine Reserve is the remote Thanda Island, an uninhabited, eight-hectare tropical hideaway that's surrounded by the turquoise waters of the Indian Ocean. Translating to 'love' in the Zulu language, Thanda is a destination where time slows – and where a connection between people and nature is forged through a shared appreciation of the environment and community.
As such, there are a whole host of sustainable, marine, environmental, and community initiatives designed to safeguard the ecosystem of the island, its waters, and the people who live and work in its surrounding areas. At the heart of this is the protection of the vulnerable coral reefs and local marine wildlife. Integral to that mission is Thanda Island's full-time marine biologist, Rianne Laan, who has been working to protect marine wildlife and keep track of the island's underwater conservation activities since she joined in 2017.
A once-in-a-lifetime type of holiday, Thanda's guests can expect incredible experiences such as swimming with whale sharks (with GoPros to record the swim), diving (equipped with eco-friendly gear made from recycled ocean plastic waste), snorkelling, Swahili feasts, unlimited water sports (jet skiing, sunset sailing, and paddle boarding to name a few), African spice tours on mainland Tanzania, and visits to Zanzibar and Mafia Island. Prefer a slower pace of life? Kick back and relax, indulge in spa treatments, or unwind in Thanda's signature copper bath, which is on the beach, of course.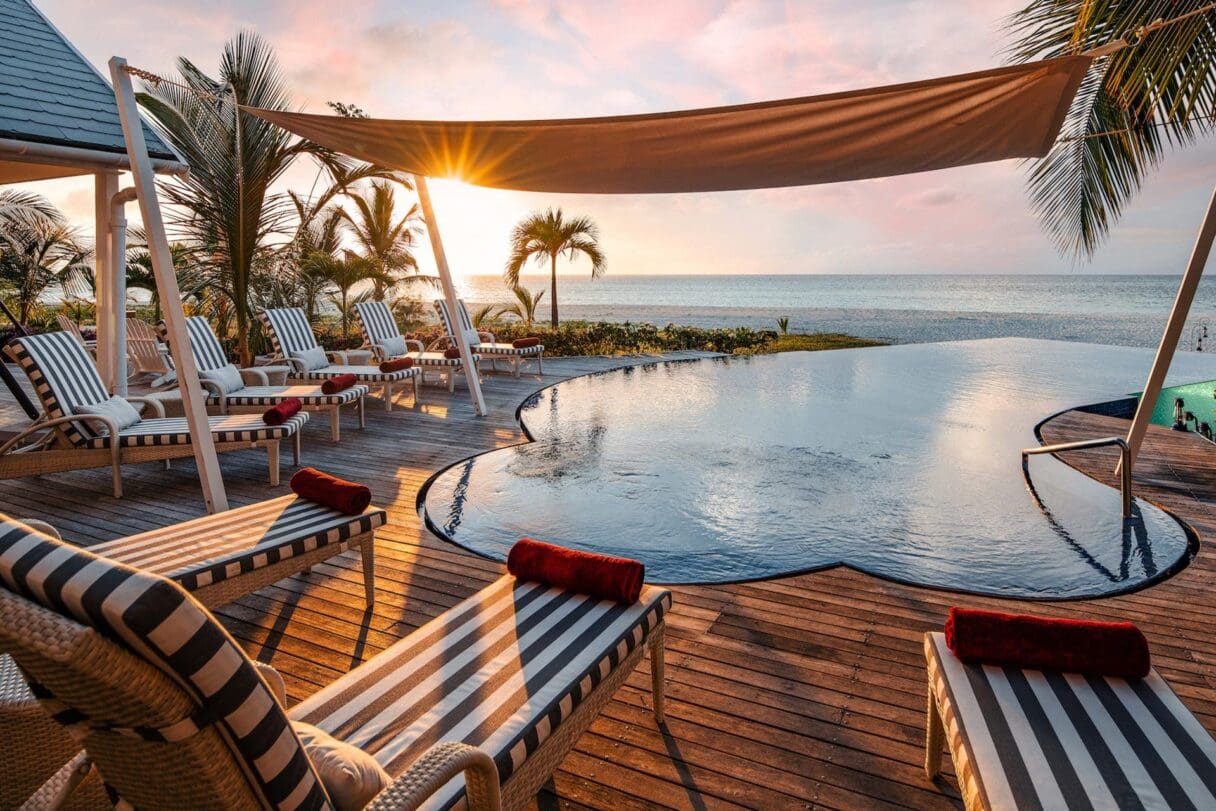 The resort
Thanda Island's USP is its exclusive-use-only offering – guaranteeing that you and your guests are the only visitors, receiving the undivided attention of every single member of hotel staff. Accordingly, it's not cheap: rates at Thanda Island start at £25,000 per night. With this type of luxury comes a colonial-style, five-suite villa with a gym, infinity pool, library, and patio to look out over the Indian Ocean.
Sitting alongside the main villa are two recently refurbished bandas (beach chalets) and, of course, there are luxury amenities in the form of a tennis court, ocean-front yoga pavilion, helicopter, Sea Lion superyacht, and a fully-equipped boat house. Food is sourced locally where possible, and sustainably-caught fish are provided by trusted fishermen from Mafia Island and prepared by the island's in-house chef.
Protecting local wildlife
Thanda is committed to the preservation of marine and land ecosystems. As marine biologist Rianne Laan explains, "Thanda Island is located in the Shungimbili Island Marine Reserve, and here there are the highest level of protection, which is incredibly important for conservation of the coral reefs and marine life. In the last few years, we have seen an increase in fish abundance, iconic species such as eagle rays and giant grouper return to the reserve, turtles coming back to nest and the reef recovering. This clearly shows the value of a marine protected area and Thanda is grateful to be able to play its role in this."
Among Thanda's major conservation projects is its coral restoration programme, Ropes of Hope, which was established in 2021. "The island is surrounded by vulnerable coral reefs and the Ropes of Hope helps educate the local community on the importance of their conservation by employing locals and training them up as 'coral gardeners' to help rebuild and restore the reefs," says Laan.
"Coral fragments that have been broken off due to different causes are collected from the sea bottom where they would not survive and placed into underwater coral nurseries of different designs. These provide optimal growing conditions for the corals and the coral gardeners look after them through maintenance and cleaning of algae to ensure the best growing conditions for the corals. In about a year's time they have grown big enough to be outplanted back onto the reef, thereby stimulating reef recovery."
The island is also home to various species of turtles: "We have two species of sea turtle – green turtles and hawksbill turtles – and we're incredibly happy that the 2023 nesting season has resulted in three green turtle nests on the island. We also work with the NGO Sea Sense to protect these turtles, and the field officers from Sea Sense help Thanda staff to locate the turtle nests, relocate them if they are in an unsafe position, and teach the staff all about the turtles and their nests."
Other marine life includes bottlenose and humpback dolphins, as well as whale sharks, which are now categorised by the IUCN as 'vulnerable to extinction' and have their main feeding area just off Kilindoni in Mafia, giving guests the ability to swim with them from October to March. Guests can also take part in the Whale Shark Citizen Science Programme, which helps collect identification data on whale sharks via images. Photos of whale sharks can be taken and then uploaded to ecoocean.org and sharkbook.ai after which they are used to study feeding, migratory and breeding habits.
Creating a sustainable luxury hotel
An island designed with sustainability at its core, Thanda has worked hard to put in place various sustainable operational practices that encompass energy, water, recycling, and food usage. When it comes to water supply, the primary source is rainwater, and buildings are fitted with harvesting tanks which feed into a main storage tank with a capacity of 60,000 litres (the estimated daily use is between 5,000-10,000 litres). There are also water-saving fittings to reduce water consumption, and for heating, solar geysers are used. The island's greywater is also recycled and used to feed its garden.
Solar power is also the main source of electricity on the island and this is stored in battery stacks. For cooking, gas is used and the cylinders are transported from and refilled on the neighbouring Mafia Island. Waste on the island is either recycled on Mafia Island, at a recycling plant in Dar es Salam or composted and re-fed into the gardens.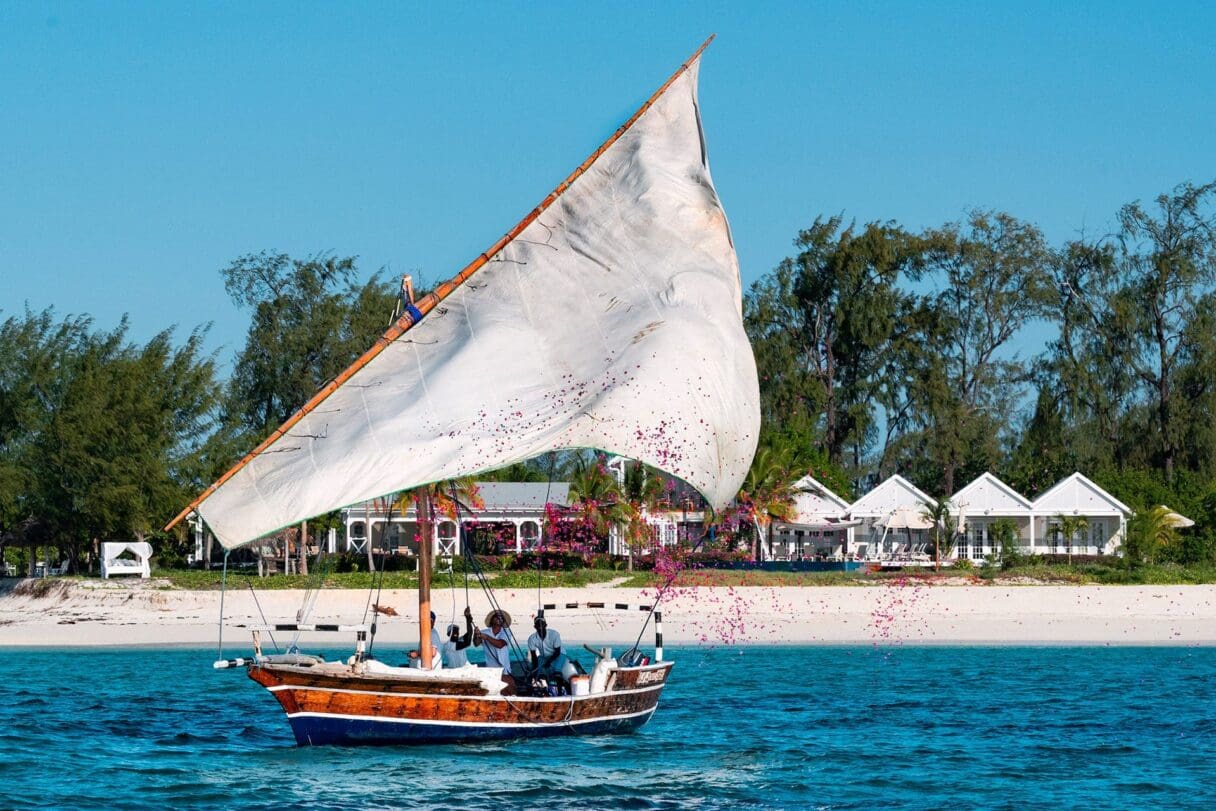 Supporting the local community
On a community level, Thanda Island invests in local communities and seeks to provide an economic uplift by fostering opportunities, skills, and career progression for residents, employing local Swahili staff, with 75 per cent of the resort's workers coming from Mafia Island. Working in tandem with this is the Devent Project which fosters the entrepreneurial spirit of local people, supporting them to start and develop businesses.
There are educational schemes too, such as the Star for Life programme that empowers young people to focus on their education and provides extra-curricular guidance to help them stay healthy, positive and make contributions to their families and communities.
From £25,000 per night with a minimum five-night stay, visit thandaisland.com.