The best members' clubs in Kensington & Chelsea
Where to rendezvous in the Royal Borough, from fine dining institutions and legendary nightlife to laid-back locales and luxury gyms
The capital's most affluent neighbourhoods are oft dismissed by consummate Londoners as merely destinationd for over-excited tourists en route to Harrods and noisy school children off for a day out at the Natural History Museum. But nestled alongside the area's Michelin-starred restaurants and white stucco townhouses are some of the city's finest private members' clubs. And, whether you're looking for a quiet enclave to conduct your latest business deals or a rip-roaringly good night out, Kensington and Chelsea are more than happy to oblige. From late-night revelry to a Russian Banya in the Royal Borough, these are the most sought-after private members' clubs in Kensington and Chelsea.
Raffles
One of London's oldest nightclubs – second only to Annabel's, we're told – Raffles first opened its doors on the King's Road in 1967 and has since become one of the capital's premier nightlife institutions. Reopened in 2018 following extensive refurbishment, the club is a love letter to the heady nights of the late '60s, resplendent in bold reds, greens, golds and rich wood tones, with deep green marble panelling and velvet seating set underneath framed photographs of famous former revellers. Open 'til 5am, and operating guest-list-only entry Thursday to Saturday, this late-night hotspot has seen everyone from a young Duke and Duchess of Cambridge to Usain Bolt and Eddie Redmayne stumble through its illustrious doors.
Why: Late-night revelry soundtracked by some of the world's biggest DJs and performers.
Price: £500 per annum with a £250 joining fee, or a £2,500 one-off life membership payment.
Best for: Bright young things with a penchant for partying.
Alumni: Undisclosed.
Dress code: Smart.
287 King's Road, London, SW3 5EW, raffleschelsea.com
KX
Encompassing a state-of-the-art gym, luxury spa and wellness restaurant helmed by chef William Best, KX is Chelsea's premier private members' wellness club. Renowned for its bespoke, integrated approach to wellbeing, with access to London's industry-leading trainers and practitioners, KX helps members transform their bodies by making effective, long-term changes to diet, physical and mental health.
Why: State-of-the-art fitness facilities, spa and wellness restaurant; access to the UK's leading personal trainers and unlimited group classes.
Price: From £615 per month for individual membership, £575 per person per month for a joint membership, joining fee applies.
Best for: Fitness fanatics, gym bunnies and wellness warriors.
Dress code: Appropriate exercise attire is to be worn when using the gym, tops must be worn at all times.
151 Draycott Avenue, London, SW3 3AL, kxlife.co.uk
Mosimann's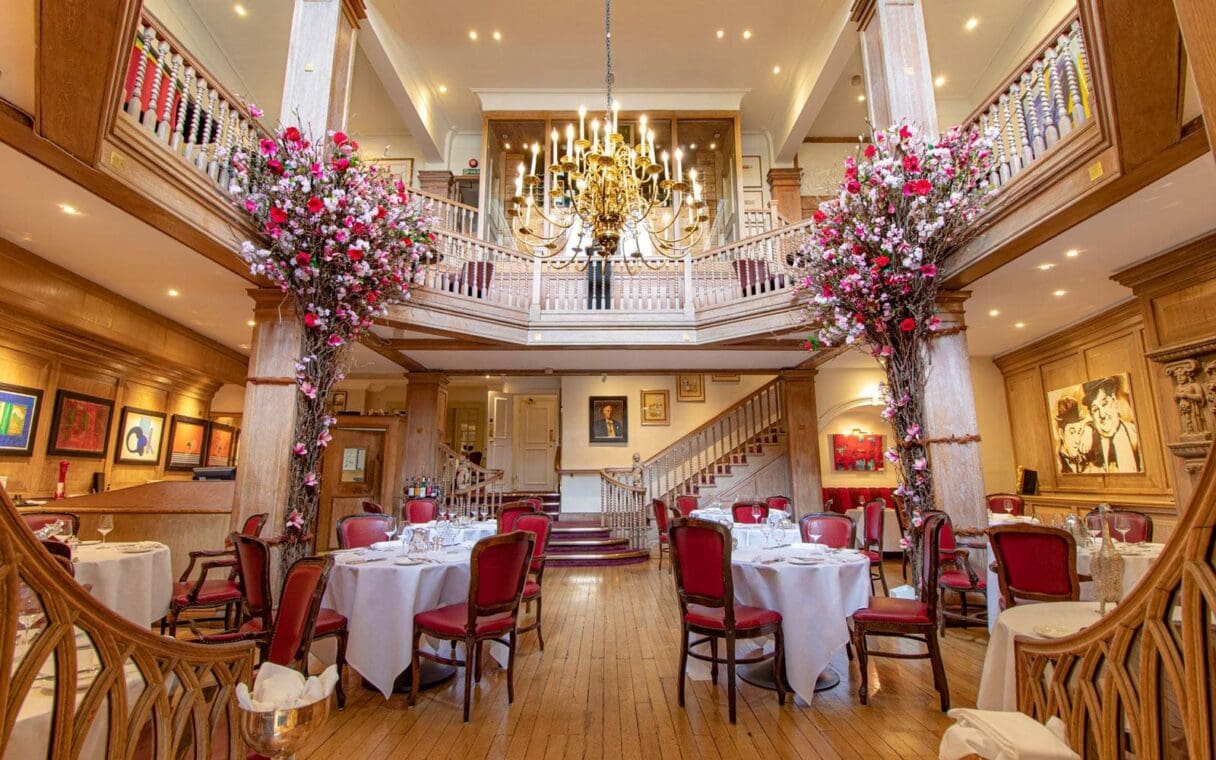 Housed in a converted 19th-century church, Mosimann's first opened in October 1988 and has since become one of the world's most exclusive private dining clubs. Helmed by esteemed chef Anton Mosimann OBE (who was joined in 2007 by his sons Philipp and Mark), Mosimann's has held a Royal Warrant from HRH the Prince of Wales (now King Charles III) for catering services since 2000, and caters to an international roster of members – many of whom have been with the club since its first year – across its main dining hall, intimate balcony bar and seven private dining rooms.
Owners: Anton Mosimann OBE, Philipp and Mark Mosimann.
Why: For private fine dining in remarkable surroundings.
Price: £1,500 per annum for member and partner/spouse, £600 for lunch membership, £750 for international members, or a £10,000 one-off lifetime membership payment.
Best for: Discerning foodies on the hunt for something special.
11B West Halkin Street, London, SW1X 8JL, mosimann.com
Chelsea Arts Club
Chelsea Arts Club is a London institution with a party-hard past, established in 1891 by a group of local artists. Its now legendary Chelsea Arts Ball was banned in 1958 due to "rowdiness, nudity and public homosexuality."
Today, Chelsea Arts Club remains a home-away-from-home with hedonistic flair. It shuns glitz and pomp in favour of relaxed discretion, imbued with a louche, laidback charm. The club is recognisable by its long white façade, which is regularly repainted to reflect the theme of an exhibition or event. Inside, it feels like the rackety home of an eccentric artist, while it has also been compared to a family-run country house in rural Ireland. There is a dining room for 100, hung with oil paintings; a large bar with a snooker table; verdant garden and 12 bedrooms for members to book.
Why: A rotating collection of eclectic art, often better than any gallery in London.
Price: £754 per annum; £276 for under 28s; new applicants must be sponsored by two existing members, whom they have known for at least two years.
Best for: Artists, filmmakers, photographers, architects, poets and creative mavericks.
Alumni: James Whistler, John Sargent, Augustus John, David Hockney, Maggi Hambling, Lucinda Chambers.
Dress code: None.
143 Old Church St, Chelsea, London SW3 6EB, chelseaartsclub.com
The Sloane Club
The Sloane Club started life in 1922 as the Service Women's' Club, founded by Princess Helena for female officers of the Armed Forces during World War II. It then became the Helena Club for ladies in the early 1960s before admitting men in 1976 and rebranding as The Sloane Club.
Today, this venerable stalwart remains a smart and prestigious home-away-from-home for London's well-heeled set. The Sloane Club today carries the baton of this heritage by being a space exuding bonhomie for people to meet and come together with a shared attitude of embracing life across its 106 bedrooms, Garden Room, Sloane Room, Bar and The Chelsea, its airy co-working space. From the service to the décor, everything is deferential and traditionally British, while oil paintings of illustrious women hang on the walls as an ode to the club's females-first past. Just next door is the new Sloane Place, its sister hotel property, and The Apartments, a selection of one and two bedroom fully equipped apartments.
Founders: Princess Helena, 5th child of Queen Victoria and Albert, and her ladies in waiting.
Why: Quintessentially English, perfect for working in Chelsea by day and entertaining and wining and dining by night.
Price: Full membership from £1,240 per annum, social membership from £1,015 per annum, under-30 membership from £800 per annum, joining fees apply.
Best for: Modern sloanies and international jet-setters.
Alumni: Undisclosed.
Dress Code: Smart casual; ripped denim and sportswear not allowed.
52 Lower Sloane Street, Chelsea, London SW1W 8BS, sloaneclub.co.uk
Albert's at Beaufort House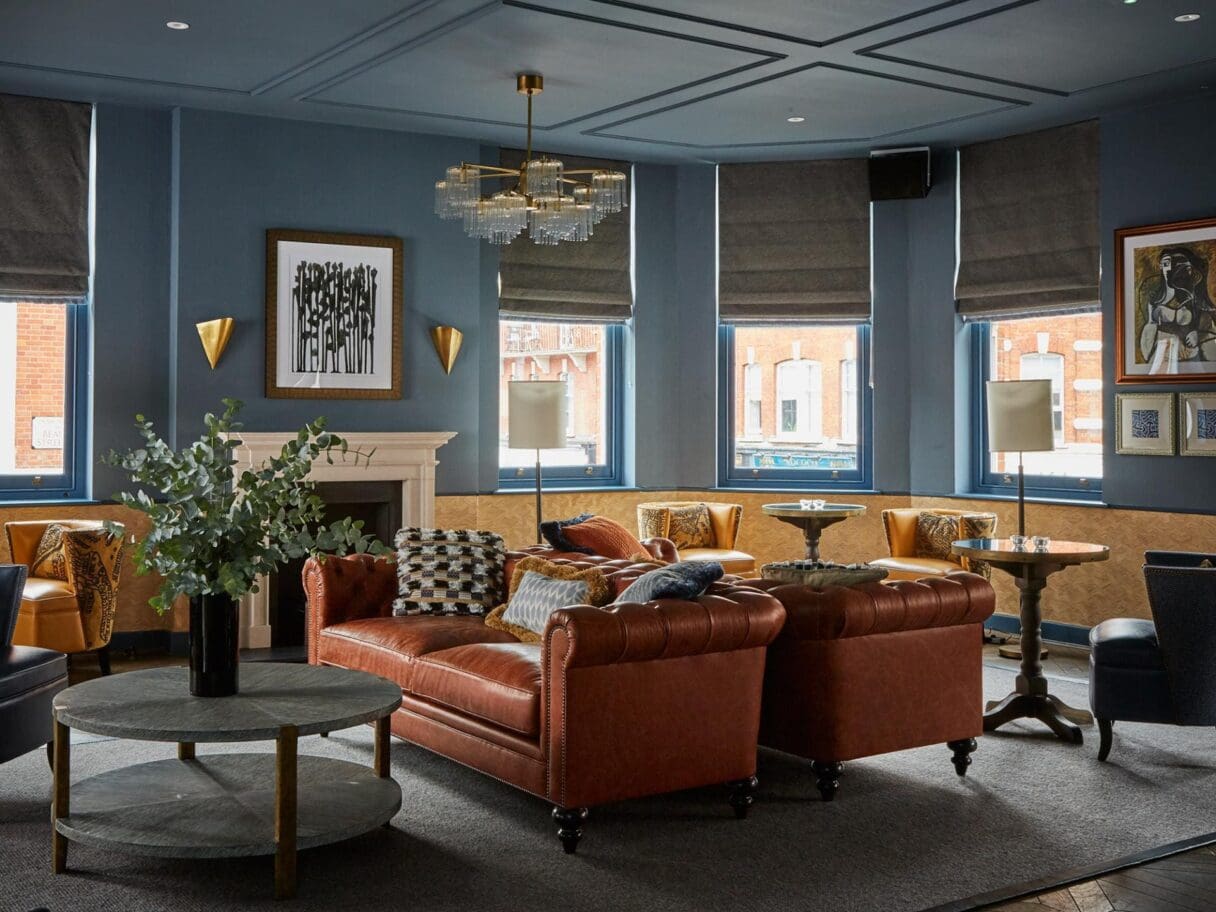 Albert's relocated in 2018 from Brompton Road to Beaufort House on Chelsea's King's Road. This four-storey space feels very much like a plush private residence, hung with contemporary artwork. The wallpapered bathrooms are a particular favourite, complemented by a chic champagne bar on the top floor. Revellers will relish Albert's eclectic line-up of late-night DJs and events, where discretion is paired with devil-may-care decadence.
Founders: Simon Oldham, Louis Hysa.
Why: Round-the-clock curated events, from morning yoga to late-night revelry.
Price: From £650, with a £250 joining fee; or £250 per annum for the Night Owl membership.
Best for: A younger, well-heeled crowd.
Dress code: Smart.
354 King's Road, Chelsea, London SW3 5UZ, beauforthousechelsea.co.uk
Read more: The best private members' clubs in the City of London