Burgers are the epitome of democratic decadence. Whether you consider yourself a fine-dining foodie or a fast food fan, everyone loves a burger – and the capital is bursting with restaurants dedicated to finessing the art of their creation. And as this week marked National Burger Day on 24 August 2023 – giving us all an excuse to indulge in the most popular comfort food – here's where to find the best burgers in London.
Blacklock, across London
Serving some of the best meat dishes in the capital, it's perhaps unsurprising Blacklock's burgers are extraordinary. Sunday roasts are what Blacklock is famous for, but if you're looking for something a little less filling, we recommend you opt for the double cheeseburger. Smothered in Ogleshield and Montomery cheddar cheese and topped with caramelised onions cooked in vermouth, sliced gherkins and a tangy burger sauce, patties are ethically sourced from Cornish butchers and farmers Philip Warren. Oh, and don't forget a side of beef-dripping chips.
Visit theblacklock.com
Fallow, St James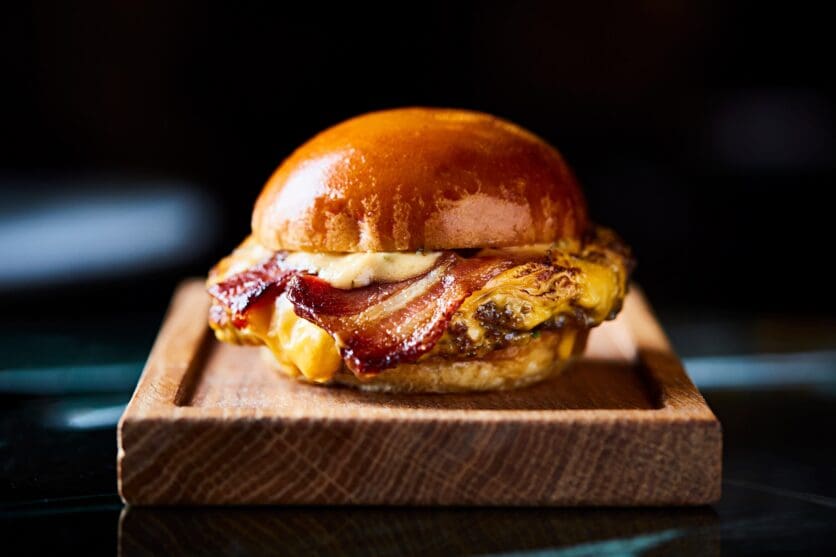 Chefs Will Murray and Jack Croft have received high praise for their sustainable fine-dining concept at Fallow. Alongside plates of smoked cod's head, venison tartare, mushroom parfait and sirloin steak, Fallow has also become famous for its take on the fast-food speciality. There are currently four burgers on offer, including fillings of venison and pork, however the highlight is its signature namesake priced at £24. The homemade patty includes aged ex-dairy beef, premium venison and dry-aged rib cap for a unique flavour and richness. The brioche buns are branded with Fallow's logo before being toasted, dressed with baby gem lettuce coated in a Caesar dressing and topped with the patty, melted cheese, smoked crispy bacon and burger sauce which is made from the restaurant's vegetable trimmings.
52 Haymarket, St James's, SW1Y 4RP, visit fallowrestaurant.com
The Mayfair Chippy, Mayfair
Looking to push the boat out on National Burger Day? The Mayfair Chippy, famous for its classic fish and chips and seafood, will be serving an exclusive fish sandwich featuring a halibut patty, deep-fried lobster tail, spiced caviar mayonnaise, truffle comte cheese, brioche and pickles. Priced at £60, enjoy hand-cut chips and salad with every serving alongside a selection of carefully sourced British gins, beers, and ciders, as well as an expertly curated wine list, so you can toast to one of the most celebrated days in the food calendar.
14 North Audley Street, W1K 6WE, visit mayfairchippy.com
Nessa, Soho
In honour of National Burger Day, Nessa's Tom Cenci has created a tempting double beef slider available from 24 August for one week only at Soho's newest neighbourhood restaurant. Priced at £14, the burger comprises a double milk bun with two smashed beef patties, American cheese and pickles, nodding to Tom's passion for nostalgic flavours and playful creations. Diners are encouraged to complete the meal with a perfectly-poured pint and some beef dripping chips for the ultimate celebration.
86 Brewer Street, W1F 9UB, visit nessasoho.com
The Beaumont, Mayfair
One of the best steak restaurants in London, The Beaumont has done a good job of priming other cuts of beef to create the perfect burger in time for the national celebration. Featuring a special blend of three different cuts of beef, each patty is minced with dry aged beef fat served on a bed of 12-hour caramelised onions and topped with two types of cheese. Served with shoestring fries, the burger is available on the menu in Gatsby's Room and The Colony Grill for a whole month.
8 Balderton Street, Brown Hart Gardens, W1K 6TF, visit thebeaumont.com
The Chelsea Pig, Chelsea
Tucked away on the quiet corner of Old Church Street and Paultons Street, while being just a stone's-throw from the bustling King's Road, The Chelsea Pig has long been a destination spot for locals in-the-know. Guests can head to the high-end pub on National Burger Day to enjoy the Wexford beef burger with American cheese and smoked streaky bacon served with fries by head chef Fionnan Flood.
35 Old Church Street, SW3 5BS, visit thechelseapig.co.uk
Black Bear Burger, across London
Black Bear's motto is 'simple, done well'. So, if you're after a classic cheeseburger taken to the next level, this is your go-to. This Canadian-inspired restaurant started life as a stall in Broadway market and now has four permanent sites in Brixton Village, Boxpark Shoreditch, Canary Wharf and a recently opened restaurant in Exmouth Market. All meat is sourced from high-welfare farms in the UK, with a blend of dry-aged cuts from Native Breed beef cows used to create patties that are tender and full of flavour. But the attention to detail doesn't stop there. Chips are hand-cut on-site, while all condiments, rubs, sauces, pickles, ferments and even the soft serve ice creams, are homemade.
Visit blackbearburger.com
Neat Burger, across London
Ever wondered how Lewis Hamilton stays in tip-top condition for a life on the F1 track? Well, we're not saying he eats at Neat Burger every day but, as a chief backer, it's safe to say he's probably tried more than his fair share of its delectable vegan treats. There are currently nine Neat Burgers in the capital, including Stratford, Oxford Circus, Canary Wharf, Liverpool Street, Victoria, Camden, Soho, Mayfair and Finsbury Park. With ever more in the pipeline, expect it to become your new favourite neighbourhood spot. The menu is entirely plant-based – not that you'd ever guess it from the look or taste. As well as a full complement of 'Neat Meat' burgers, chick'n burgers, hot dogs and Filet-No-Fish sandwiches, there are also nuggets, burger bowls, vegan shakes and gelato.
Visit neat-burger.com
Burger & Lobster, across London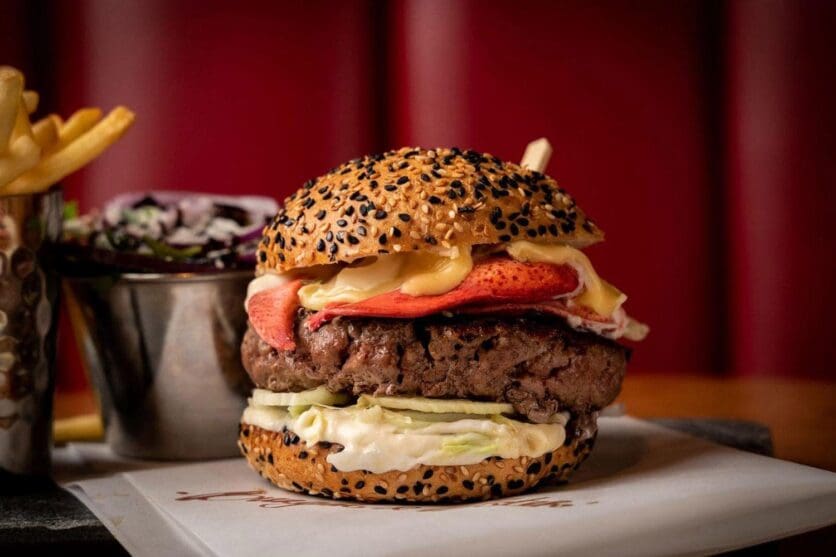 The first Burger & Lobster opened its doors in Mayfair in 2011 as part of a growing wave of fast-casual restaurants making their name by doing one thing really, really well. Burger & Lobster's USP, as you may have guessed, was in blending the elegance of the ocean's most revered crustacean with the everyman appeal of a great burger – and it was an instant hit. There are now nine restaurants across the capital, plus branches in New York, Singapore, Bangkok, Kuwait and Malaysia, which should give you some idea of just how good the food is here. There are four burgers on offer (as well as a huge variety of shellfish), including the classic B&L burger, Beast burger with lobster, brie and truffle, a Wagyu burger, and a vegan option.
Visit burgerandlobster.com
Nanny Bill's, Wembley and London Bridge
Inspired by founder Darren Simpson's own Nanny Bill, and the café she ran during the 1970s and 80s, Nanny Bill's started life in 2015 as a vintage food truck at East London's Night Tales market. Word about its hand-pressed burgers and Mac & Cheese croquettes quickly spread and, following collaborations with the likes of Barbour, Tommy Hilfiger, Adidas and Levi's, Nanny Bill's found a permanent home in Boxpark Wembley and Vinegar Yard in London Bridge. If you're not based in North London, you'll also find Nanny Bill's popping up at Goose Island in Shoreditch, Monarchy in Camden and Karma Kitchen in Wood Green. The signature here is the Dalston Dip: a double-beef patty with mustard glaze, American cheese, caramelised onions, relish, burger sauce and a pot of gravy for dipping.
Visit nannybills.co.uk
Hard Rock Cafe, Park Lane
Whatever your opinion of the Hard Rock franchise – musician's paradise or overpriced tourist trap – it would be difficult to ignore any restaurant with the confidence to call its signature burger the Original Legendary when compiling this list. Said burger was, in fact, the impetus for the entire Hard Rock enterprise, which was founded by Isaac Tigrett and Peter Morton after trying and failing to find a decent American burger in London. Constructed with a steak patty, bacon, cheddar, onion ring, lettuce and tomato, it has since spawned an entire series of Legendary siblings, including a BBQ bacon cheeseburger, double-decker cheeseburger, surf and turf burger, and a vegan variety made using Moving Mountains patties.
Visit hardrockcafe.com
The Vurger Co, Canary Wharf and Shoreditch
If the name didn't give it away, The Vurger Co offers a completely plant-based menu inspired by California's forward-thinking vegan food scene. Another chain that began life as a market stall, husband and wife team Neill and Rachel crowd-funded their first Shoreditch location in 2018, enlisting chef Gaz Oakley to work the pots and pans. The Vurger Co has since expanded with locations in Canary Wharf, Manchester and Brighton, offering six Vurgers – including a Buffalo 'Chicken' topped with vegan mayo, an unmelted vegan cheese slice, gherkins and crispy onions, as well as the Smoky Shroom with a mushroom vegetable patty, teamed with smoky chipotle sauce and gherkins alongside salad bowls, fries, mac'n'cheese and mini hash browns.
Visit thevurgerco.com
Read more: The best new restaurants in London in 2023