When it comes to the best Indian restaurants in London, you may think you're loyally committed to your local curry house. In truth, there will always be a place in every Londoner's heart – and stomach – for a good old butter chicken or hangover-curing vindaloo, but not all kormas were created equal. There's a lot more sophistication to Indian cuisine than oil-drenched onion bhajis.
From Michelin-star menus with paired wines in private dining rooms, to authentic tandoori BBQs, and specialist purveyors of all things seafood, the capital is home to a swathe of establishments that will change your perception of what fine Indian food is all about.
From Mayfair to Marylebone, Bank to Fitzrovia and Spitalfields to St James's, we have sampled some of the best tandoori prawns, spiced samosas, and curried stone bass out there – now follow our lead…
Trishna, Marylebone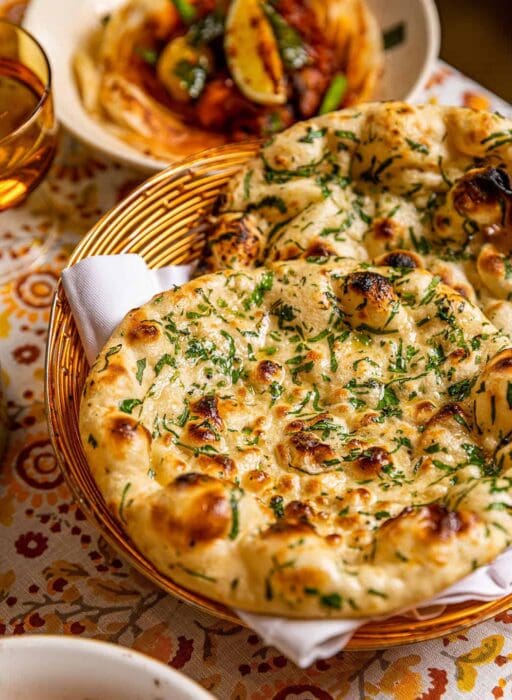 Located in the heart of Marylebone Village, Trishna has been championing contemporary Indian coastal cuisine for more than a decade and was awarded a Michelin star in 2012. Don't miss the soft-shell crab with green chilli, white crab and tomato chutney, or the Hariyali bream with smoked tomato kachumber, followed by the beef short-rib coconut fry with coconut chutney, and served with pickled shallots.
The extensive wine list also focuses on emerging regions and fine wines from niche producers. The beautiful, beachy room is pared back and calming, offset with antique mirrors, marble tabletops and original wooden panelling, while terrace doors that open onto Blandford Street create a semi-alfresco feel. Indian summer indeed.
15-17 Blandford Street, W1U 3DG, trishnalondon.com
Gymkhana, Mayfair
Inspired by the elite clubs of India, where members of high society socialise, eat, drink, and play sport, the wonderfully decadent and opulent Gymkhana has held a Michelin star since 2014 for its standout menu. May we suggest opting for the extensive tasting menu to really get a feel for what this place is all about: you won't regret the amritsari pink shrimps and queenies with dill raita; the unctuous kid goat methi keema with salli and pao; or the wild muntjac biryani with pomegranate. Treat your tingling tastebuds to a saffron pistachio kulfi falooda for dessert while the meal is complete with thoughtful wine pairings throughout. Slum-dogging it this is not.
42 Albemarle Street, W1S 4JH, gymkhanalondon.com
Brigadiers, Bank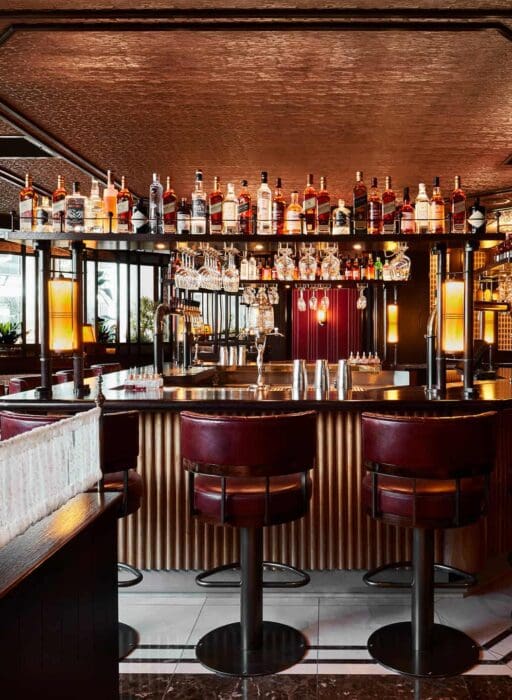 While this may not be your Mayfair-based, Michelin-starred affair, Brigadiers is also a far cry from your local curry joint thanks to its open kitchen, vibrant ambience, and unusual Indian art deco design. Inspired by the army mess bars of India, where military regiments go to eat, drink, and generally get up to no good, Brigadiers offers a side of live sport, pool, and classic card games with its biryani, across multiple private dining rooms. The sensational food focuses on different methods of Indian barbecue, utilising tandoors, charcoal grills, rotisseries, wood ovens and classic smokers, with plenty of beer, whisky, large serves, and cocktails on tap. No army rations here…
1-5 Bloomberg Arcade, EC4N 8AR, brigadierslondon.com
Benares, Mayfair
Benares is all about showcasing Michelin-starred modern Indian cuisine, combining the finest quality British ingredients with unique and sophisticated Indian flavours. We love the Essex Farm chicken dumplings with slow-roasted chestnuts and winter truffle, as well as the macchi ceviche chaat of cured sea bream and Carlingford oyster, drenched in aam-panna tiger milk and avocado purée. Don't miss the Lucknowi-style Scottish lobster yakhni pulao for main: cooked in aromatic stock and served with dill and pink peppercorn raita onion salad, it will knock your culinary socks off.
12a Berkeley Square, W1J 6BS, benaresrestaurant.com
Gunpowder, Spitalfields, Soho and Tower Bridge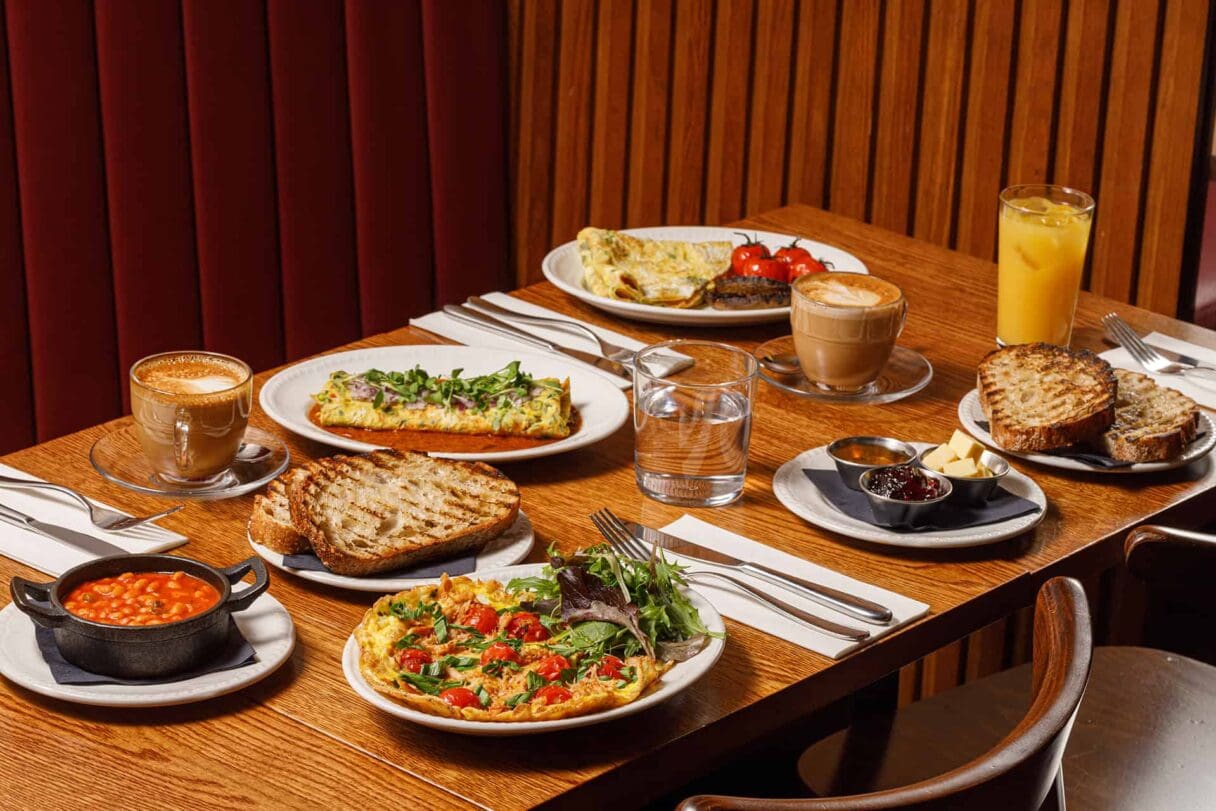 This self-proclaimed home-style Indian kitchen (although we're not sure who cooks like this at home) showcases the bold flavours of the subcontinent with a focus on responsibly-sourced ingredients. Dishes are inspired by the Indian coast and include classics such as karwari soft shell crab, sea bass paturi maach (freshly steamed mustard fish), Goan-style grilled prawns and the restaurant's famous prawn toast. There are three branches across London, but you'll want to head to Tower Bridge for a fabulous brunch menu including market-style crab omelette, inspired by the shores of Goa. Avocado toast, eat your heart out.
11 White's Row, E1 7NF, gunpowderrestaurants.com
Chutney Mary, St James's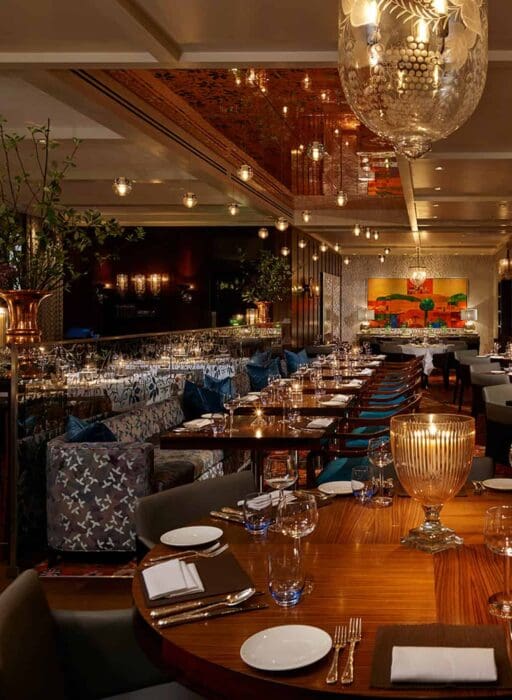 Originally a Chelsea girl, this gem has been a St James's based broad since 2015 and serves fine Indian cuisine in a suitably fine and opulent dining room. Start your night at the Pukka bar with a cocktail and a couple of bar snacks before embarking on the main event: golden fried prawns, griddled scallops in Mangalorean sauce and venison samosas, followed by Afghani chicken tikka and Goa green chicken curry. There is also a tasting platter of curries, showcasing the flavours from both the north and south of India, as well as a range of contemporary fusion desserts. There's just something about Chutney Mary.
73 St James's Street, SW1A 1PH, chutneymary.com
Jamavar, Mayfair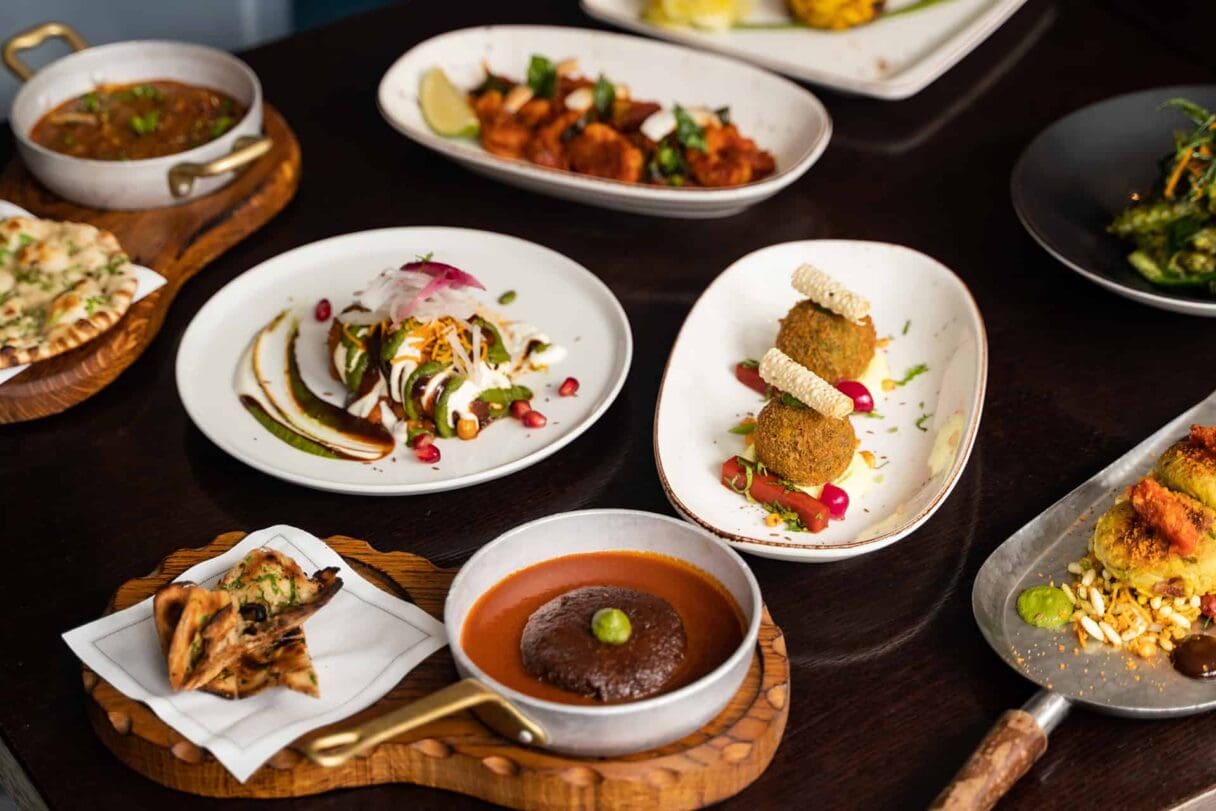 Originally created by the founding family of the Leela Palaces, Hotels and Resorts in India, the Michelin-starred fine dining concept here is all about drawing on the rich and diverse culinary traditions of pan-Indian cuisine. Go hard on the small plates of lobster idli sambhar with rice-lentil cakes and vegetable stew, bhatti ka octopus with corn salad and peanut chutney, and Malai stone bass tikka, before hitting the range of fish, seafood and meat curries and biryanis for mains. The dum nalli biryani of Hampshire lamb, served with basmati rice, crispy onions, fresh mint, and raita is worth the inevitable food coma.
8 Mount Street, W1K 3NF, jamavarrestaurants.com