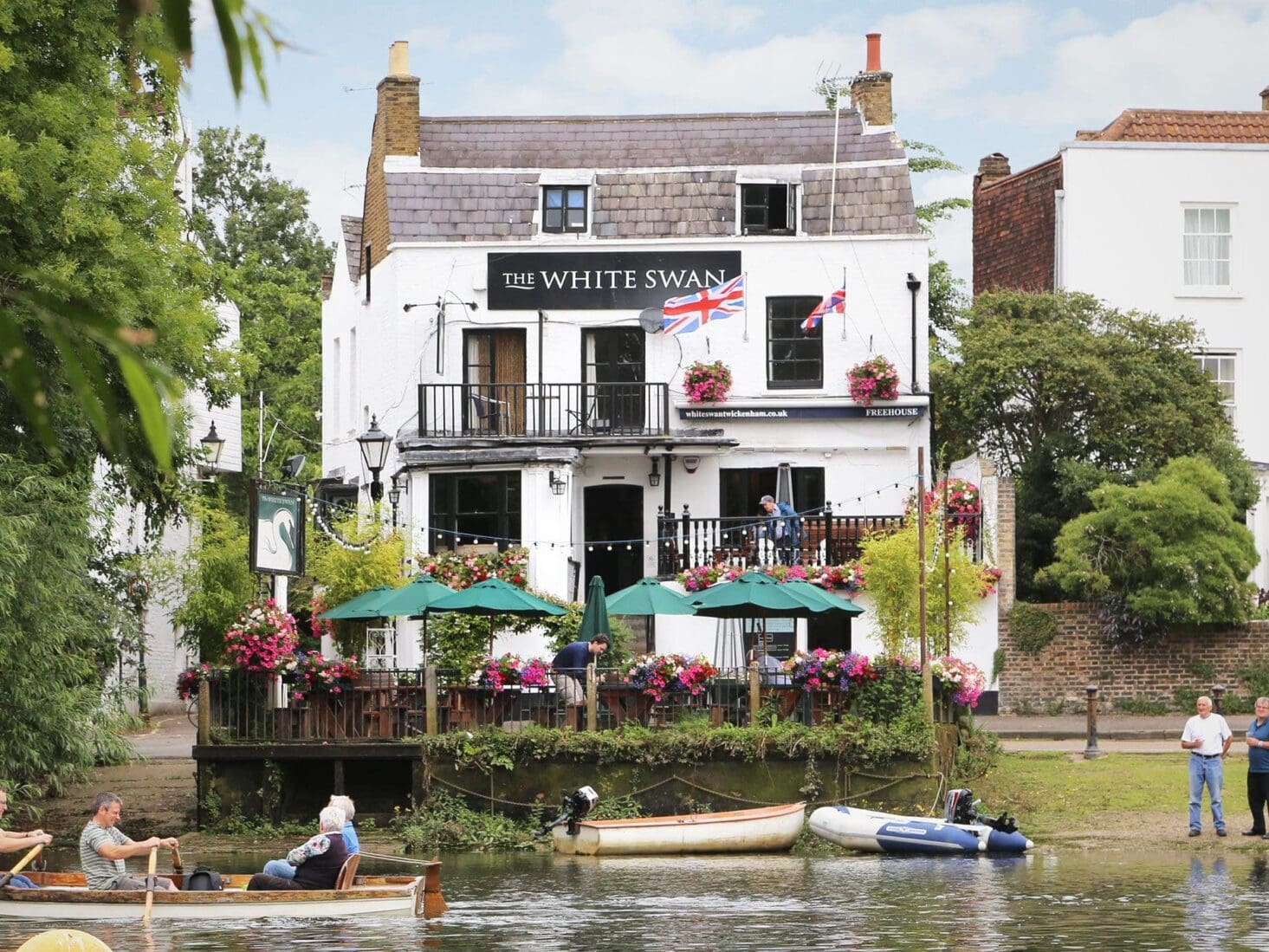 The best London pubs with beer gardens
From classic boozers in Hampstead and Hackney to riverside drinking holes in Wandsworth, here's our edit of London's best beer gardens
The evolution of the British pub beer garden has been a strangely slow and jittery one. Even three decades ago, the majority of boozers felt the only effort they needed to make with any precious outdoor space was to safely pile up the beer barrels and place a rotting picnic table near the fire exit.
Then, somewhere around the mid to late '90s the beer garden grew up a little. Sun umbrellas plastered with lager slogans became ubiquitous and some hostelries even toyed with the radical notion of installing a BBQ. Then the smoking ban hit and pub gardens became giant al fresco ashtrays with heaters filled, in any weather, by those who simply couldn't contemplate the idea of a pint without a nourishing ciggie.
The past few years sparked a renaissance for the humble beer garden as Covid guidelines saw inside spaces shuttered and patios, car parks and gardens lovingly transformed with the addition of awnings, heaters and gazebos in order to keep the good times flowing — and, happily, many of them have stuck around even after restrictions had been lifted. Here are some of the finest London pubs with beer gardens, where 'outdoor space' means more than just a patch of concrete with a dog bowl.
The People's Park Tavern, Hackney
An East London institution since 1865, The People's Park Tavern is set on the tip of Victoria Park, possessing one of the largest beer gardens the capital has to offer. Having nailed al fresco service with its outdoor bar long before Covid reared its ugly head, it's no surprise this beloved boozer took to post-lockdown life so well. In winter, its sprawling garden is sheltered by a fully heated 'greenhaus', and come summer it's transformed into a picture-perfect suntrap, complete with rows of picnic benches, ideal for stretching out and soaking up some rays. Food here is simple yet effective with BBQ favourites served all week alongside an impressive array of craft beers and some smashing live entertainment.
360 Victoria Park Road, E9 7BT, visit peoplesparktavern.pub
The Ship, Wandsworth
At first glance, The Ship is the kind of old-school watering hole where your grandad might feel at home, but step through the airy conservatory onto its Thameside terrace and any illusions of this as an old man's pub are swiftly dispelled. With a wide selection of craft beer, wines and cocktails, this is a great place to while away a Sunday afternoon in the company of friends, alongside a full menu of pub classics, including a slap-up Sunday roast, bar snacks and Wandsworth's best burgers, courtesy of Burger Shack. Complete with riverside cabins, a pergola and decommissioned telephone box, this self-professed party boat sees the bright young things of south west London descend en masse — lap dogs in tow — the second the city sees a hint of sun.
41 Jews Road, SW18 1TB, visit theship.co.uk
The Edinboro Castle, Camden
Nestled between Camden's buzzy market stalls and leafy Regent's Park, The Edinboro Castle's convivial pub garden is one of the area's worst-kept secrets. Fitted out with lengthy picnic tables and heated cabanas for covered cold-weather socialising, it's packed to the rafters come 5pm when the after-work drinks crowd shows up, so you're best booking a space or showing up a little early to ensure a seat. Food here follows the classic pub grub route, with everything from baked camembert and crispy calamari to shredded duck salad and seafood linguine on offer alongside a pint from the venue's selection of frequently changing craft beers.
57 Mornington Terrace, NW1 7RU, visit edinborocastlepub.co.uk
The Prince, West Brompton
Like an explosion at an Interflora depot, the rooftop bar at this chi-chi Fulham hostelry is fairly festooned with hanging baskets, floral arrangements and wall flowers. The long, pale green tables and benches all sit amid this riot of bucolic excess and the drink and food options are similarly delicate and thoughtful. This isn't a packet of peanuts joint; rather choose from the three different street food vendors plying their trade here. Currently, there's Salt Shed, East West Pizza and Temaki Bros but be aware that new menus are set to be released very soon.
14 Lille Road, SW6 1TT, visit theprincelondon.com
Duke of Edinburgh, Brixton
OK, so the views from here are nothing special (you'll get a couple of apartment buildings and a railway line) but the Duke of Edinburgh is renowned among Brixton-ites as being the only pub for miles around which actually has a large outdoor space. And we mean really large. The Duke can hold a good couple of hundred people in its al fresco space, which you can book up to a maximum of six people. The pub has also got the 'Your Round' app in operation, so you can order from your table, and the drinks are supplemented by some outstanding meaty cuisine from the Bodeans BBQ team who are bringing the flavours of Kansas City to the heart of the capital.
204 Ferndale Road, SW9 8AG, visit dukeofedinburghpub.com
The Scolt Head, Dalston
Named after a small island off the coast of Norfolk, this small, wedge-shaped garden is a charming little oasis amid Dalston's urban choke of De Beauvoir. The grub here is delicious; mains include oyster mushroom shawarma, roast chicken pie and beef shin ragu. Have no fear if it rains, the pub has a 'jumbrella' parasol that covers half the garden, and for those who don't manage to bag a seat, hot sandwiches and ice-cold pint bottles are available to take away from the venue's handy hatch.
107A Culford Road, N1 4HT, visit thescolthead.co.uk
The Spaniards Inn, Hampstead
The Spaniards Inn has been situated on the fringe of Hampstead Heath since 1585, with Charles Dickens and John Keats both frequently acquainting themselves with the pub in their heyday. These days, the crowd is younger and often accompanied by dogs, exhausted from a ramble on the heath. The lovely beer garden is strewn with fairy lights come nightfall and the menu is rich in upscale (albeit quite pricey) gastropub fare, including pan-fried hake with gunpowder potatoes and chicken, smoked ham hock and leek pie. 
Spaniards Road, NW3 7JJ, visit thespaniardshampstead.co.uk
The Stag, Belsize Park
This uber-classy Hampstead old-timer has what have been referred to as 'Ibiza style' chalets around the edges of its garden. This is a tad overstated. It's hard to imagine Tiesto with his champagne in one of these more humble hideaways, but there's no doubting this is an impressive outfit, particularly in terms of outdoor table service. There's always a decent selection of real ales on here, and, with 24 taps to tempt you, it's likely you'll find something to quench your thirst. Step outside to enjoy the live acoustic music sets and if you're peckish, sample the kitchen's award-winning Sunday roasts or selection of daily specials. 
67 Fleet Road, NW3 2QU, visit thestagnw3.com
The Castle, Tooting
Young's pubs rarely get our hearts racing on the dining or drinking front but this behemoth of a boozer in Tooting has a major advantage when it comes to the former car park turned immense garden: the recent addition of chalet-style huts (some of which have their own drinks fridges and fireplaces). These can be booked for a cosy, and definitely non-soggy, afternoon or evening of putting the world to rights. It's also offering a canny 'step into the office' deal where you can book a hot desk here during the day for yourself or your team and you'll be well cared for with brunch and unlimited tea and coffee to help you through that busy shift.
38 Tooting High Street, SW17 0RG, visit castletooting.com
The White Swan, Twickenham
With a garden right on the riverside, a day trip to Twickenham might not exactly be leaving the city but, with the weeping willows and hanging baskets, you'll still feel as if you've made it to the countryside. Dating back to the 17th century, the Union flag fluttering outside suggests that this is a boozer that takes its history seriously and if you're looking for a good old-fashioned pub it won't disappoint. The food, however, has very much entered the 21st century, with mains including chipotle-baked mahi mahi fillet and a vegan penne in creamy pesto with sundried tomatoes and parmesan.
Riverside, TW1 3DN, visit whiteswantwickenham.co.uk
The Mayflower, Rotherhithe
When George Orwell wrote his famed Moon Under Water essay about the pub of his dreams, there was no evidence that he'd ever stepped inside this Rotherhithe stalwart. We, however, feel sure the Mayflower would have thrilled him. Dating back to 1620, the dark beams and wooden church pews of the interior are stunning, especially when illuminated with candlelight, but the terrace truly takes the cake with its wooden slats sitting directly above the slapping waters of the Thames itself. With views over the City, it really does feel like you're stowing away on an ancient tea clipper as you sip a real ale or devour one of its immense meat platters.
117 Rotherhithe Street, SE16 4NF, visit mayflowerpub.co.uk
The Leyton Star, Leyton
Another very lively boozer, this time out east, The Leyton has gone for the wooden cabana/chalet style option in its garden complete with those all-important heat lamps. One thing you can be guaranteed of at the Star is outstanding food options. Its 'in residence' kitchen outfit regularly changes — it's currently playing host to burger experts, Fireyard BBQ — but its comprehensive Sunday Roast offering is a staunch favourite of new guests and regulars alike.
116 High Road Leyton, E15 2BX, visit leytonstar.co.uk
Read more: The best bottomless brunches in London