As I'm interviewing Elliott Grover, executive chef at Wolfgang Puck's Cut at 45 Park Lane, he casually pulls up a text conversation he had with the famous Austrian-American chef earlier that morning. It read: "How is London? Don't forget to light the big grill." Elliott laughs, mentioning he speaks to Puck everyday on the phone, not just about the restaurant but about life. "Wolfgang and I have a very good connection. He's more like a friend than a mentor, and this is why he is so successful and has so many chefs working for him."
It's a relationship very few protégés have with their seniors, and it's one Grover knows he's lucky to have. Three days before our interview, Puck was in town on one of his many visits to London and spent time in the Cut kitchen making smoked salmon pizzas with the team. The key to their relationship? Both Grover and Puck are aligned on one very important thing: treating and valuing the team. "There's a very, very bad stigma around kitchens and I hope I am changing the way it goes," he adds. "I reckon that 10 per cent of kitchens have this forward-thinking attitude and that's why I'm fully staffed. I am so, so proud of the kitchen and everyone who works here."
Grover admits that he's had his fair share of good and bad experiences in the kitchen, but he values the lessons each one has taught him. Having moved to London from Cornwall when he was just 15 (he spent his 16th birthday in the kitchen at the now-closed Le Caprice), he recalls how he found city life terrifying. But he stuck at it and now at 32, his CV reflects that commitment, boasting names including Le Caprice, Scott's, Millie's Lounge at The Ned, and Duck and Waffle, before he arrived at Cut.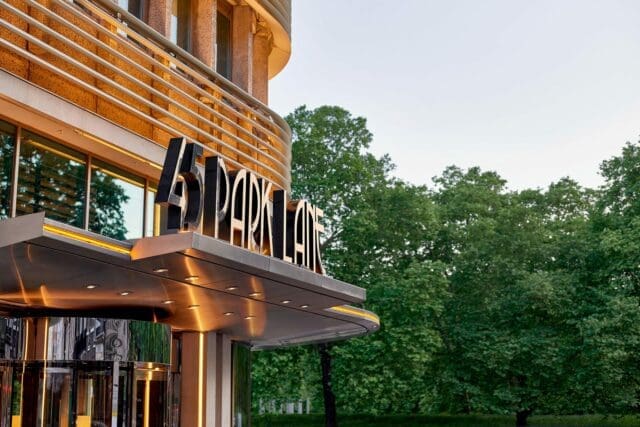 But, as you'd probably expect, interview processes at the Dorchester Collection aren't exactly easy. Eight meetings and countless tasting menus later, Grover got the job in March 2022 – it's an experience he describes as a "whirlwind". From the importance of teamwork to cooking at the Oscars alongside Puck, Grover talks about his career so far – and all the highs and lows that have come with it. 
Tell me about your childhood and where you grew up. Did you always want to be a chef?
I grew up in Fowey, Cornwall. It's a beautiful place but I knew I needed to get out of Cornwall and I didn't know what to do. I wasn't that academic, I was very silly in school and just didn't really enjoy it that much. I went to do a catering course at St Austell College after scraping enough GCSEs to get in.
I vividly remember one morning when I was about 15 watching a documentary about how the Queen always dined at The Ivy. I sent an email to The Ivy and they actually wrote back, inviting me for a trial at Scott's soon after it opened under Richard Caring.
What's your earliest food memory?
God bless my mum but she's a dreadful cook. My dad did most of the cooking but my earliest memory is making a Victoria Sponge with my mum from the Gary Rhodes book. It looked exactly like the recipe, so I think my mum was pretty proud of that.
How did you find settling into London?
I was petrified to even cross the road. I would call my mum every single day. I couldn't just rent at the time because I was so young, so I had to live with a nominated guardian in Endell Street in Covent Garden. One of the things that motivated me was on my walk to work everyday, I would pass Hugo Boss and Ray Ban and thought 'I want one of those'.
I'm 32 now and I remember, at 15, walking through Berkeley Square and there were no Prets, Annabel's wasn't as you know it and no Sexy Fish. Mount Street is bustling now, but Scott's made Mount Street what it really is. After the trial [at Scott's], which was just one day, I was offered a job at Le Caprice and stayed for two years – the best two years of my life. I then went to the Hix Restaurant Group for a couple of months, but I then moved to Scott's which is where I learnt a lot. I was there for about eight years.
Did you learn on the job?
I got an NVQ 2 from St Austell College and I completed it in two weeks before I left for Le Caprice. I remember being on the sauce section as a sous chef at 21 at Scott's and all these 20 years old came in and they'd all just qualified from Westminster Kingsway – I was already miles ahead. I think Westminster Kingsway is amazing, but I prove how you don't always need to complete the academic side of it.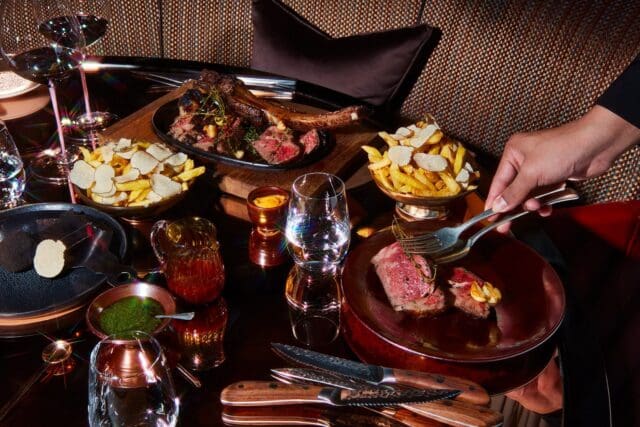 What do you look for in young chefs now?
I don't think a qualification is the be all and end all. However, if you see someone is fully qualified from Westminster Kingsway, you know they're good and I really think that college is great. But I will give anyone a chance. If they're willing and they care, that's the main thing. Good people skills are more powerful than any qualification.
Why did you stay at Scott's for eight years?
We were all so proud of working there because it's one of the best restaurants in London – it's an institution. The people you get in there range from Elton John to Prince Harry; name any celebrity and I've cooked for them there. I loved working with the fresh produce and seafood, it gave me so many magic memories. Tim Hughes, the chef director of Caprice, was like a dad to me in the industry. It was time to leave because you can stay somewhere forever but you won't grow. There are people who are still there in the same position and that's up to them, but for me I saw that I got to a certain stage and I wasn't going any further.
After Scott's, I went back to Mark Hix as head chef at Hix Soho and then I went to The Ned as head chef at Millie's Lounge, overseeing five restaurants. That was a big job because of the high volume. I worked The Ned's busiest year [2017] and we were doing 1,000 covers just at Sunday brunch. But now, it's not as good as it was as far as I'm concerned.
The Ned was so difficult that I only did a year but it was a huge milestone. I went to Duck and Waffle for two years during the pandemic which was all about volume, and we had a great team and I'm so proud of myself for doing it. Then I came to Cut which was all about bringing the covers down and the quality to the top. But at least I can say I've got the experience of fast food, private members' club and multi-restaurant [aspects] too.
What is it like working with Wolfgang Puck? How would you describe your relationship?
It's been an absolute whirlwind. The amount of people that wanted this job was insane and the interview process for the Dorchester Collection is so long, but it's the right thing to do because they know they're getting the right person. I think it was about eight interviews and cooking demonstrations but at least they knew it was right and I knew it was right, and I got the job in March 2022.
A week after, I flew to LA for a month with Wolfgang Puck. His team, who he's had around him for more than 40 years, knows exactly what he wants and oversaw the interview process. I was nervous to meet him but he rolled up in a Hummer, chatted away and started helping me in the kitchen. He's a lovely, lovely man and very down to earth. He always talks about being nice to staff and looking after people. The one thing he says is that if you buy the right product, it's very difficult to mess it up.
Wolfgang and I have a very good connection. I speak to him daily on the phone and he always asks how I am. He's more like a friend than a mentor, and this is why he is so successful and has so many chefs working for him.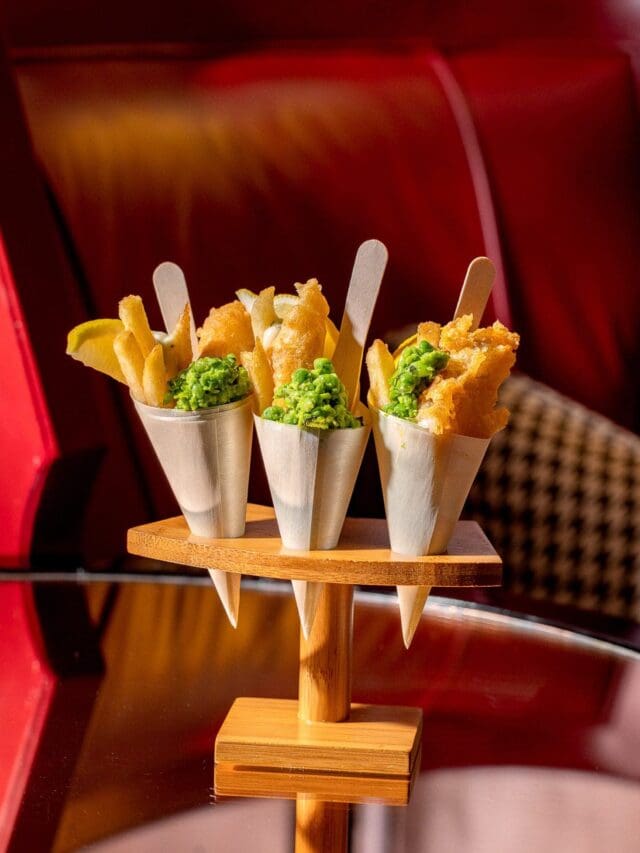 Tell me about your involvement with the Oscars 2023.
Puck has been cooking at the Oscars for 30 years; there's about a thousand people in a room within 10 minutes and we've got to feed them. There are a lot of people in the company who have worked [for Puck] for years but have never done it; I simply asked him if I could go and he said yes. The Dorchester Collection really supported me going. "Last year, I put fish and chips on the menu, alongside sherry trifle and beef Wellington. [It was surreal seeing] Brendan Fraser, Lady Gaga and Lenny Kravitz all eating our fish and chips.
I already booked my flights for next year [2024] without telling him so he didn't have much choice. There's a new dish I will be cooking which is really British, but I can't reveal it just yet. We'll be doing fish and chips again as Wolfgang said it was such a hit.
What's the most important lesson you've learned in your career so far?
Stay in your lane and be nice to people. This stigma around chefs and all these movies coming out… I cannot watch them. It's such a bad representation and it's spoiling the industry. There's a very, very bad stigma around kitchens and I hope I am changing the way it goes. I reckon that 10 percent of kitchens have this forward-thinking attitude and that's why I'm fully staffed.
We had a female chef come in from a college today and she looked quite scared. I instantly asked if she'd like a drink, gave her a tour of the hotel and told her to sit down for 10 minutes to enjoy her tea. If you were in an office job, you'd get that treatment and it shouldn't be any different in the kitchen. Women in the kitchen are so important – they're amazing. I am so, so proud of the kitchen and everyone who works here.
What's the key to running a happy kitchen?
Just being human, being welcoming and being helpful. If you have happy people, you'll have a happy product. Look after the people and they'll look after the guests.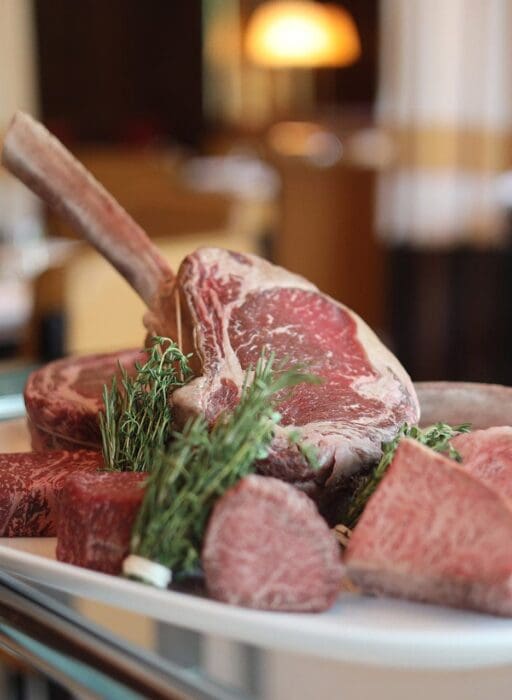 What influences your menus at Cut?
As long as it's part of Cut's DNA, [Puck] will always let me put my own dishes on. He's always telling me to create a Cornish dish, just like he tells his Italian chefs to cook their family's pasta. I've never met anyone like him.
The Wolfgang DNA is the steaks but from me he wanted fish and seafood. We now use a lot of Dover sole, tiger prawns, and wild sea bass. My favourite dish is Wolfgang's Hong Kong steamed sea bass because it's locally caught fish served with Asian vegetables, soy sauce, sesame and steamed rice. It's super clean and very delicious.
Let's talk about the new Sunday lunch.
We use a beautiful dry-aged beef sirloin with truffle roasted potatoes, Yorkshire puddings in wagyu fat served with seasonal vegetables and cauliflower cheese. The key to elevating it into a fine-dining setting is buying the best ingredients and cooking it well with love.
What is your one other favourite London restaurant?
I keep going back to Maison François with Matthew Ryle. The food is super French – paté en croute and steak tartare tableside – and it's reasonably priced, and really delicious. You know when you go there you're going to get a good meal.
Are there any other London chefs you're impressed with at the moment?
I love Jamie Shears at The Audley. I was his predecessor and I find it fascinating how he produces such quality food in such a small space. He's a magician.
Visit dorchestercollection.com
Read more: World Pasta Day: The best pasta restaurants in London