Age is just a number, but for Tom Booton it's a part of his success story. From working in professional, fine dining restaurants since the age of 15 to leading his own kitchen in one of the most celebrated hotels in the capital at 26, what Booton has achieved by the tender age of 30 is something most chefs can only aspire to.
The secret to his success? Certainly hard work has played a large part, as has his attention to detail, ability to listen to consumer's needs and flair for food – as well as having nursed a passion for cooking since he was at secondary school.
Booton grew up in the Essex city of Colchester where, he admits, food wasn't a huge part of his life. It was only when his secondary school encouraged his year group to find work experience placements that Booton decided to try his hand in the kitchen. Mentored by the team at Le Talbooth, a local three-AA-rosette restaurant, Booton fell in love with the industry and went on to work with award-winning chef Alyn Williams at The Westbury, becoming its head chef at 24 and successfully retaining its Michelin star, and L'Autre Pied under Andy Mcfadden, alongside cheffing stints in Copenhagen and New York.
Given his vast experience, albeit achieved at a much younger age than most, it was notable but not surprising when The Dorchester invited such a young talent to take over the reins of its newly-relaunched Grill in 2019. A risk, certainly, but one that clearly paid off. Earlier this year the 90-year-old ornate space relaunched again, this time putting a name above its Grade-II listed golden doors for the first time: welcome to The Grill by Tom Booton.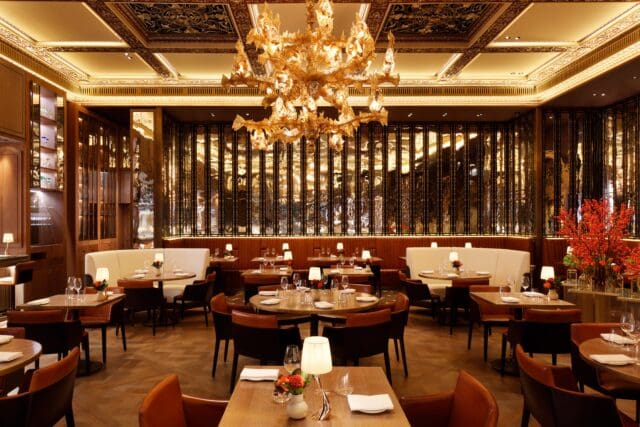 Arranged around a striking chandelier and furnished with leather banquettes and bright mirrored walls, the reimagined menu focuses on upscale British grill classics. Dinner fare features Welsh lamb belly skewers, cod doughnuts and crispy pig with barbecue slaw, while main events include meatier plates of skate wing, beef fillet and, a personal favourite, All The Chicken: a whole chicken dissected into delicious morsels and served on a sharing board. The restaurant also serves brunch and Sunday lunch, the former being a new standout feature in The Grill's offering.
We catch up with the celebrated chef to discuss his newly-relaunched menu, Michelin stars and his plans for the next 30 years.
Did you always want to be a chef?
I fell into being a chef after doing work experience at Le Talbooth in Colchester at the age of 15 for two weeks. I pretty much never left the kitchen after that. If I weren't a chef, I'd be doing something with produce.
What's your earliest food memory?
My first food memories are of my mum's overcooked Sunday roasts and the smell of beef as I walked down the stairs while my parents were shouting at me to come down for lunch. You just can't beat it!
I was really inspired by the direction the hotel wanted to go, they were looking for something with more energy and really a new life for a restaurant that had been there for over nine decades

Tom Booton
What restaurants did you work in during the early years of your career?
After my work experience, I'd work Friday night, Saturday, and Sunday at Le Talbooth, back to school on Monday, sleep in History, and do my paper round during the weekdays. I did that for a year and a bit. I somewhat got my GCSEs, so I could have gone to sixth form, but then I was asked to work full-time at Le Talbooth. I stayed there for four and a half years and learnt the basics of cooking at a very high level.
Then one of my sous chefs at the time knew Alyn Williams and knew he was just opening at The Westbury, so he put me in touch. Alyn rang me up one day and then that was it – I went off packing to London. I was there from 2012-13; then I went to work at L'Autre Pied for three years. Next, I went travelling but I was working at the same time – to Copenhagen, Iceland and New York. I came back and got offered the sous chef job at The Westbury, where I worked for three years.
Were there ever points where it felt overwhelming to be in charge of a kitchen before you were 25? How did you deal with the challenge?
Still today there are moments when being in charge of a kitchen can be overwhelming, but I learnt very quickly in my career that there is a certain way of handling this pressure and it essentially comes down to really trusting your team. I started in a kitchen when I was 16 so by the time I got to my early 20s I knew that it all comes down to communication. I make sure to maintain an open and transparent dialogue with my team – the kitchen needs to be a collaborative environment.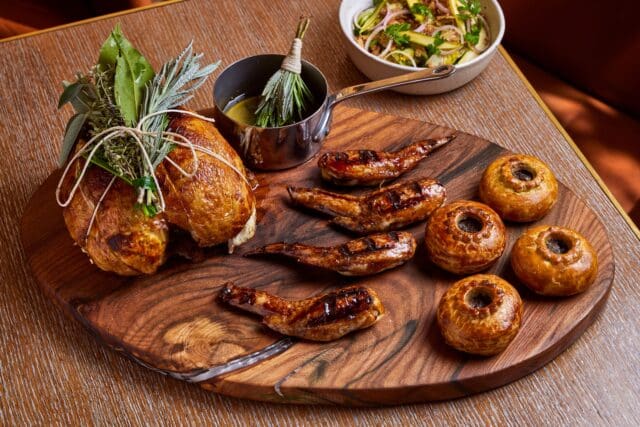 From Copenhagen to New York, your career has taken you across the globe. Which country did you like working in the most and why?
Working in Copenhagen opened my eyes to the fact that food doesn't have to be buttery and rich – people want to eat freshness and pickles and vinegars. That comes into my food a little bit now: keeping that richness but being cleverer with it.
You've worked with several acclaimed chefs. What is the best bit of advice you've received and who gave it to you?
Over the years, I've been fortunate to receive valuable advice from many great chefs. One piece of advice that has stuck with me is: "Stay true to your cooking style". This gem came from a mentor of mine, Alyn Williams.
What drew you to The Dorchester in 2019?
My move to The Dorchester started with the hotel manager coming in to try my food when I was head chef of The Westbury, he asked to meet me and it sparked my journey to becoming the head chef of The Grill. I was really inspired by the direction the hotel wanted to go, they were looking for something with more energy and really a new life for a restaurant that had been there for over nine decades. It was the perfect opportunity for me to create something special with my team.
Tell me a bit about the recent menu relaunch at The Grill by Tom Booton.
The new menu is centred on a sharing-led concept designed to highlight British produce and create a relaxed and informal atmosphere. I took many British classic comfort dishes, mainly from my own childhood, and modernised and refined them whilst ensuring the charm of the dish wasn't lost.
The more relaxed approach of the menu is reflected in the fun atmosphere of the restaurant, with a playlist that I have personally created and will be on all music streaming services so guests can recreate and listen at home.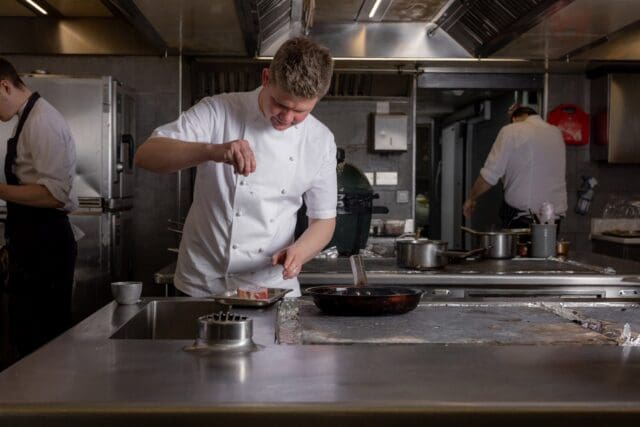 What's your favourite dish on the menu?
We have launched a breakfast menu and our truffled eggs and soldiers are definitely a signature dish. I would also say my bacon, cheesy sauce and fried egg baked pastry.
Are you focused on achieving a Michelin star or do you believe it puts too much pressure on chefs?
For me, it is still the Olympic medal and very important for the reputation of a restaurant, but the real stamp of approval comes from the guests who come back time and time again because they love the food and the atmosphere.
Your career has always followed an upward trajectory and you've achieved so much in the past 30 years. Where do you see yourself in the next 30 years?
Looking ahead, my aspiration is to continue evolving as a chef and leader in the industry. Whether it's through new collaborations or even personal projects, I hope to leave a lasting impact on the culinary world and inspire others to follow their passion for food. Having said that, I do think planning too far ahead stops you from living in the moment!
How do you spend your free time away from the restaurant?
Singapore is one of my favourite places to visit. I recently went there and dined at Zén which is out of this world. We were there to see my partner's family and were blown away by chef Björn Frantzén's concept and menu.
I like to wake up late and head to Bernardi's in Marble Arch for a leisurely brunch. This is often followed by a walk through Hyde Park for a bit of exercise and fresh air before joining some friends in a local pub for a couple of pints.
Visit dorchestercollection.com
Read more: Meet the chef: Miho Sato of The Aubrey