Oscars 2023: The must-see red carpet looks
See the most stylish stars from the biggest night in cinema
The last great hurrah in the awards season calendar: the Oscars 2023 is finally here. Now in its 95th year, the ceremony will once again be returning to the Dolby Theatre in Los Angeles to crown the latest recipients of Hollywood's highest accolade.
But, before the teary acceptance speeches can commence, there's the small matter of the red carpet to attend to and, with this year's nominees including fashion-forward stars such as Cate Blanchett, Paul Mescal and Ana de Armas, expectations are high. Here are the biggest, boldest and most talked about red-carpet looks from the 2023 Academy Awards (and a few highlights from the after parties too).
Cate Blanchett in Louis Vuitton
After pulling out the vintage Maison Margiela for the BAFTAs, fashion fans were expecting something very special from Cate Blanchett of the Oscars – and she didn't let us down. This custom-made look features a top from a never-before-seen archival Louis Vuitton collection and a skirt cut from fully sustainable silk all, of course, topped off with high jewellery from house's own line.
Florence Pugh in Valentino
Oh to see Florence Pugh's face when she arrived at the Oscars  to realise her dress was the exact same shade as the carpet. This look has proved to be very Marmite but, looking at Pugh's red carpet history, it's becoming to seem that may very well be the point.
The lack of red carpet certainly hasn't done her any favours and I could have done with the hemline of the mini skirt being a couple of inches longer to even out the proportions but this is highly memorable and will certainly be one of the most talked about looks of the evening. The Tiffany jewellery is well choseon. Job done I'd say.
Paul Mescal in Gucci
Everyone's favourite Irish heartthrob was nominated for Best Actor for Aftersun and Paul Mescal came over all old-school Hollywood for the occasion. The slightly longer cut of the jacket was a great choice to pair with those wide trousers and posing next to a bouquet that mirrors his Cartier lapel pin shows just how wise Mescal is getting to the red carpet game. I approve.
Elizabeth Olsen in Givenchy
It's a relatively simple look for an event as big as the Oscars but Elizabeth Olsen wasn't up for an award so that makes sense. Centre-parted buns on the red carpet usually read more 'stumbled in on my way back from yoga' than polished film star but it works with the neckline of this Givenchy gown. Tres chic Miss Olsen.
Michael B. Jordan in Valentino
The double-breasted suit was the big style story coming out of the Oscars as far as men were concerned and Michael B. Jordan pretty much nailed it in this Valentino suit at the Vanity Fair party. It's not ground-breaking but it fits well and the giant flower is a nice touch.
Michelle Yeoh in Dior Haute Couture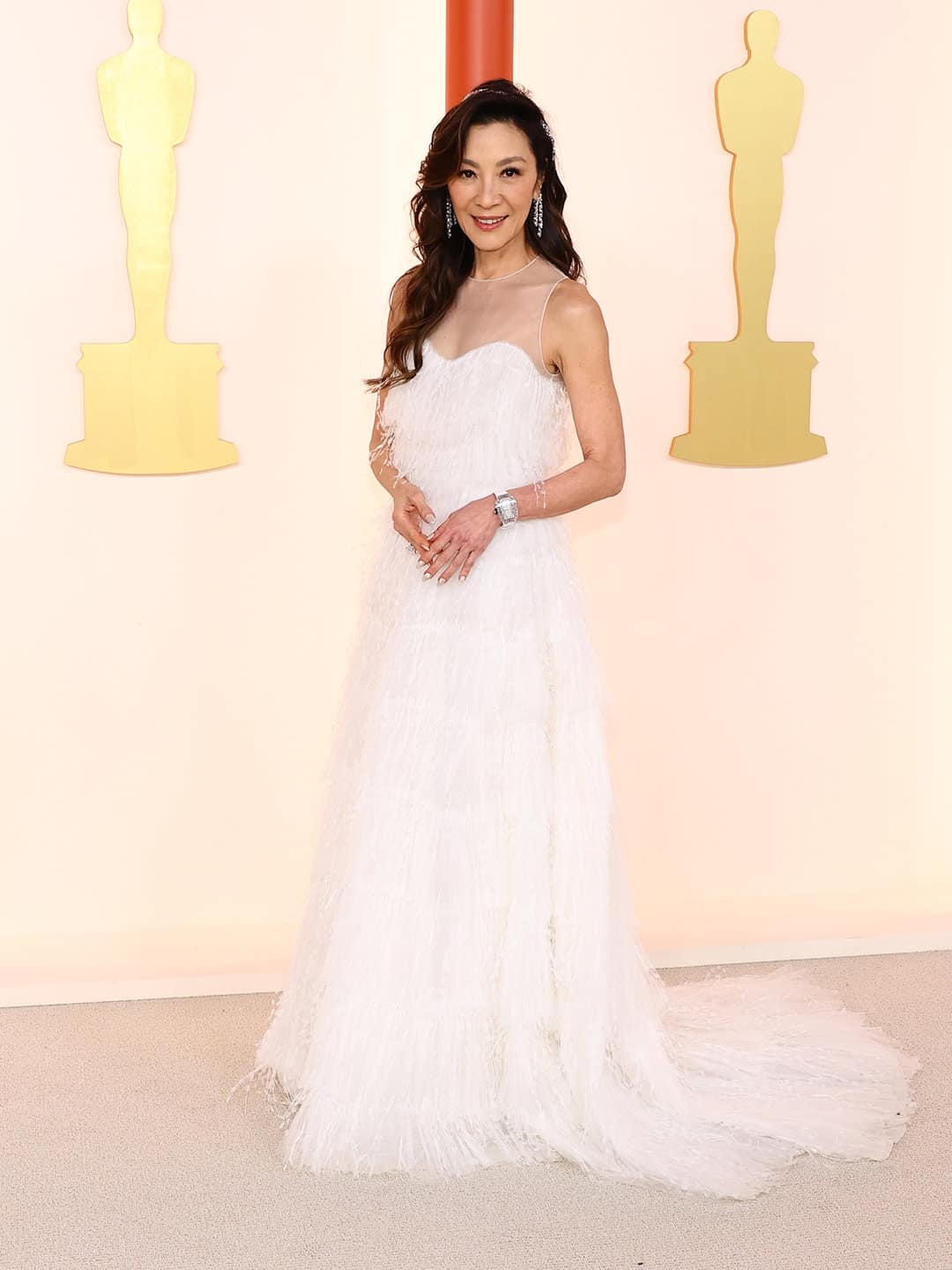 Michelle Yeoh took home the gong for Best Actress for her role in Everything Everywhere All At Once – and was an absolute vision while doing so. One of the many white gowns to grace the 'champagne' carpet, I love that she went all out, pairing her Dior Haute Couture dress with a white Richard Mille watch and a ton of white diamonds.
Idris Elba in Gucci
Idris Elba, who presented the award for Best Director, opted for head-to-toe Gucci (including the watch). The big floppy bow tie is great and the fit on the trousers is impeccable but I do have some quibbles with the jacket. The whole thing just looks slightly too small. Perhaps it's because he stands out among a sea of double-breasted jackets but both the sleeves and the bodice could do with being about an inch longer. Would have loved to see more men in these loafers.
Sophie Turner in Louis Vuitton
Well this is a fun new take on the LBD from Louis Vuitton. The cape is very much within Sophie Turner's wheelhouse and delivers a lot of drama without requiring a whole lot from its wearer. Given the whole thing is covered in glass beads she probably didn't need much in the way of jewellery but who am I to argue with a girl who wants to wear a full suite of LV diamonds?
Sigourney Weaver in Givenchy Couture
When in doubt go for gold – in this case a pairing of Givenchy gold lurex and Fernando Jorge SMO gold jewellery. Will this look set anyone's world alight? Probably not – but Sigourney Weaver has earned the right to not have to try so hard. She looks relaxed, confident and absolutely on theme.
Jennifer Connolly in Louis Vuitton
Jennifer Connolly has long favoured looks from the quirkier end of the Louis Vuitton portfolio so, while it may look as though a crystal-encrusted spaceship is landing on her chest, this is actually a relatively low key look for her. Joking aside, I'm a big fan of the witchy sci-fi vibe she's giving.
Salma Hayek Pinault in Gucci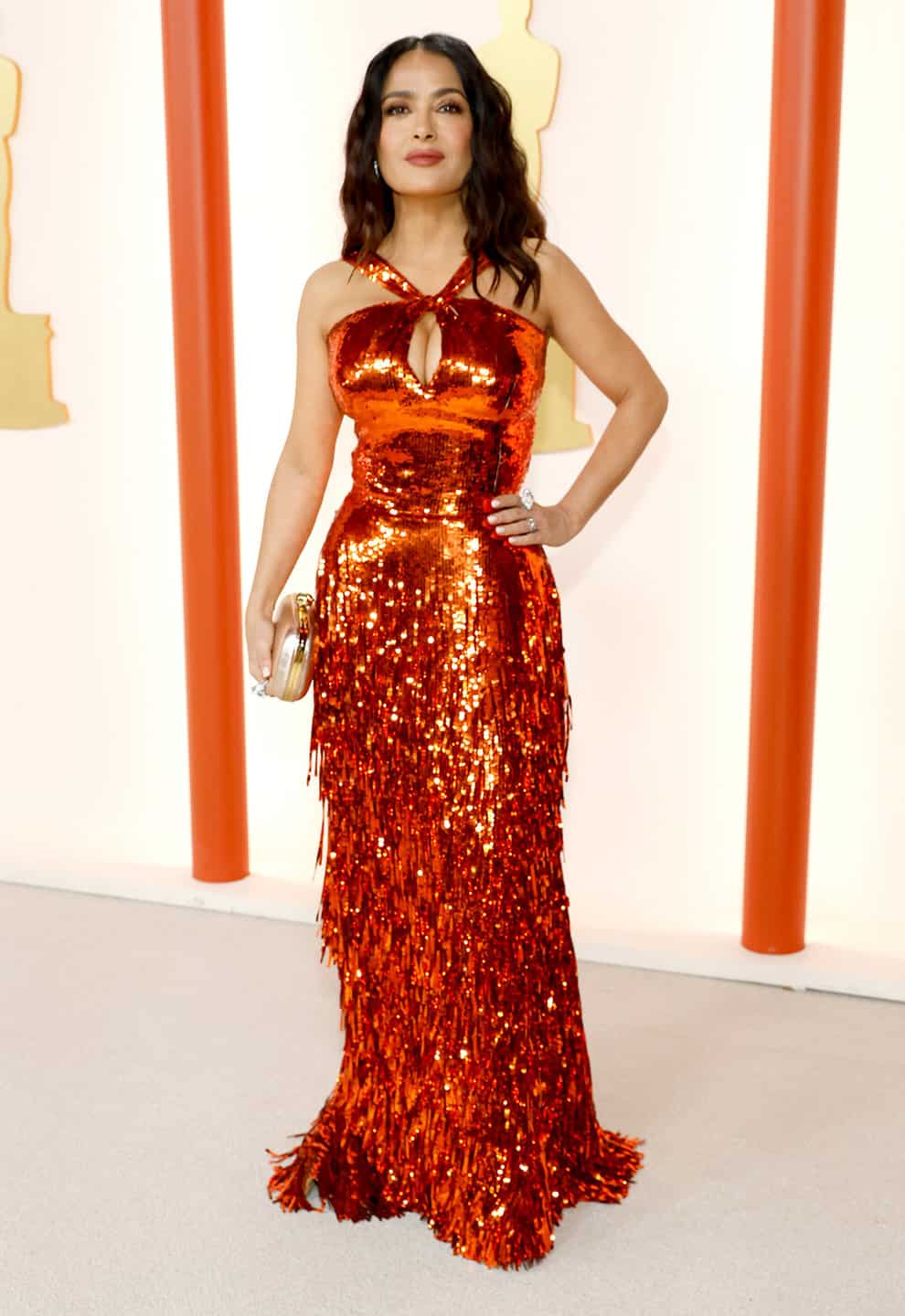 With practically every other star opting for black or white, Salma Hayek Pinault's vibrant orange number made for a refreshing point of difference.  That said, the onslaught of sequins does mean she's one short hemline away from resembling a Strictly Come Dancing contestant. Props to the stylist who realised beachy waves and a lack of jewellery (save for some Boucheron rings) were what was needed to rein this look in.
Stephanie Hsu in Valentino Couture
Stephanie Hsu, who was pipped to the Best Supporting Actress gong by her castmate Jamie Lee Curtis, grabbed her princess moment with both hands in a Barbie-pink Valentino ballgown. Yes, it's a lot of dress and I'd argue it might have suited her better without the dropped waist, but she looks like she's having a blast.
Pedro Pascal in Zegna
Given this tuxedo was custom-made by one of Italy's finest tailoring houses, I have questions. Namely, did Pedro Pascal lie about his inside leg measurement? The jacket is gorgeous, the stand-up collar shirt is an interesting choice that suits him down to the ground, so why on earth are the trousers three inches too long? So, so close.
Naomi Watts in Givenchy
Feathers, sequins and, well, I'm not exactly sure what those details around the bust are: there's a lot going on here but Naomi Watts is making it work. The silhouette is great on her and the low-key hair was the perfect choice. Did she go overboard on the jewellery? Possibly but, hey, it's the Oscars.
Ariana Debose
Last year's Best Supporting Actress winner Ariana DeBose attended the 2023 Oscars as a presenter and brought with her all the glitz and glam you would expect of someone raised in musical theatre. Yes, the whole thing is a little showgirl but if you can't pull out all your rhinestones for the biggest night in filmmaking, when can you? Also check out the Omega De Ville Prestige worn over the sleeve – DeBose knows how to flash a good timepiece.
Olivia Rodrigo in Valentino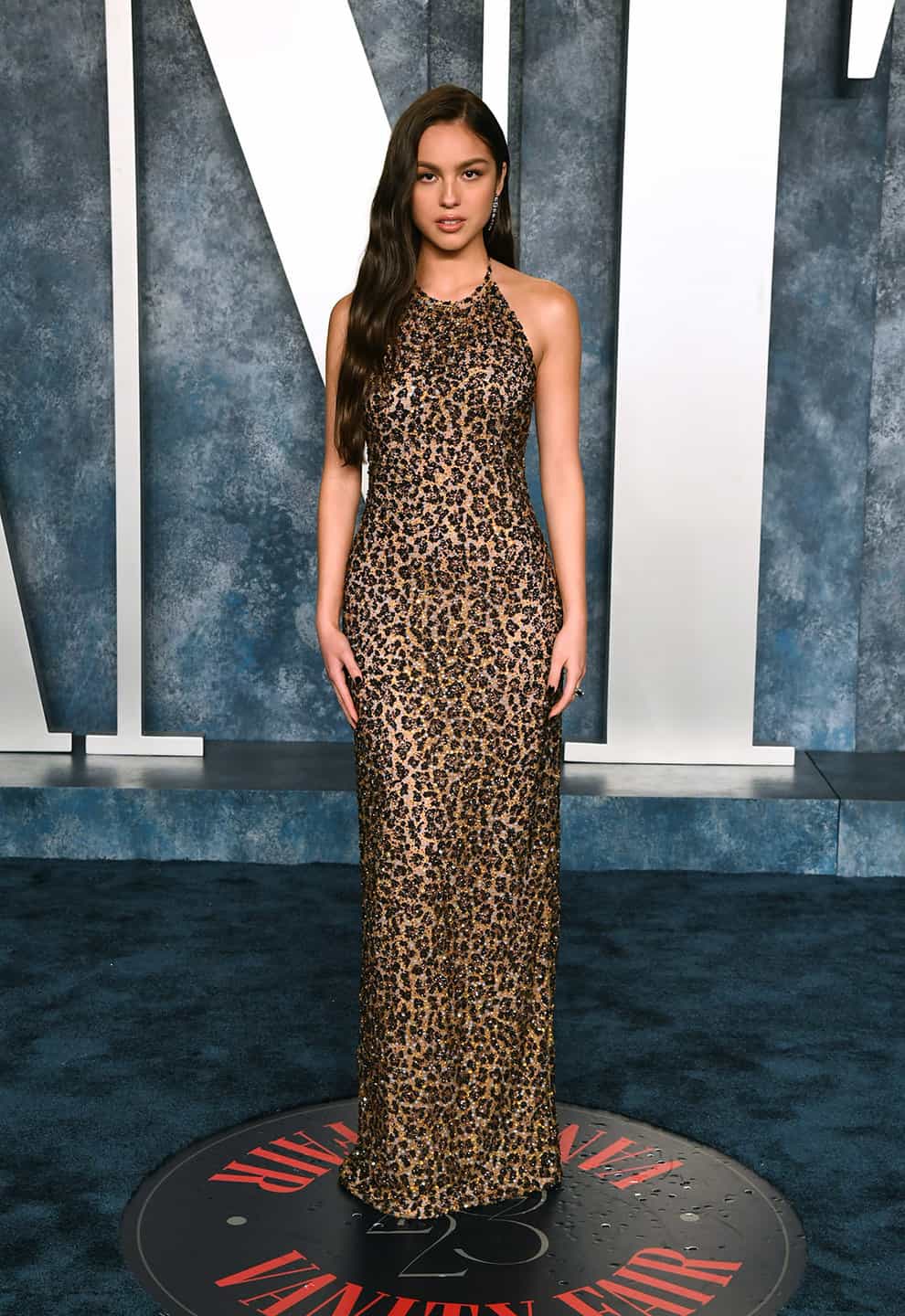 This was a fabulous choice from Olivia Rodrigo. She's a 20-year-old at one of the biggest celebrity bashes of the year – if there's anyone that should be wearing full leopard print, it's her. It's fun, youthful and just a little bit sexy: the perfect party frock. The contemporary Boucheron jewels are an ideal finishing touch.
Andrew Garfield
Also presenting at this year's awards, Andrew Garfield kept things classic in a double-breasted black tux, patent shoes and Omega De Ville Trésor watch. Well, if it ain't broke, don't fix it…
Malala Yousafzai in Jil Sander
Attending the Oscars in her capacity as executive producer on the nominated short movie Stranger at the Gate, Nobel prize winner Malala Yousafzai changed out a full-sequin Ralph Lauren number and into this more minimalist Jil Sander gown for the Vanity Fair Oscars party. That pale yellow is gorgeous on her and the Santi jewellery is incredible.
Jennifer Coolidge
Jennifer Coolidge is serving Brigitte Bardot with a side helping of Sophia Loren and I'm here for every second of it. The pout, the gobstopper rings over the translucent gloves, the hint of lace at the bust: 10/10, no notes.
Olivia Wilde in Gabriela Hearst
If you're looking to grab headlines this is the way to do it. This look has potential but it feels a little lopsided: the bralet is too plain and flimsy to holds its own against the heaviness of that sleeve and the fit around the waist is off. Fantastic Boucheron jewellery though.
Donald Glover
It's a truth universally known that Donald Glover looks good in everything but a high-waisted double-breasted backless tailored jumpsuit is really pushing his powers to the limit. The fit of the jacket doesn't seem quite right – a little low in the lapel and a little tight at the buttons – but, in truth, he still looks great. Love the layered Tiffany chains.
Harry Shum Jr. in Adeam
Love. This. Shum Jr.'s custom tux was made by Japanese-American brand Adeam and is a lesson in how to make small changes to traditional dress codes that have big impact. The kimono influence is clear, even down to the single shawl lapel, and ditching classic black in favour of navy was a masterstroke. Throw in some Louboutin shoes and an Omega De Ville Prestige watch and you've got yourself a perfect Oscars look.
Nicole Kidman in Armani Privé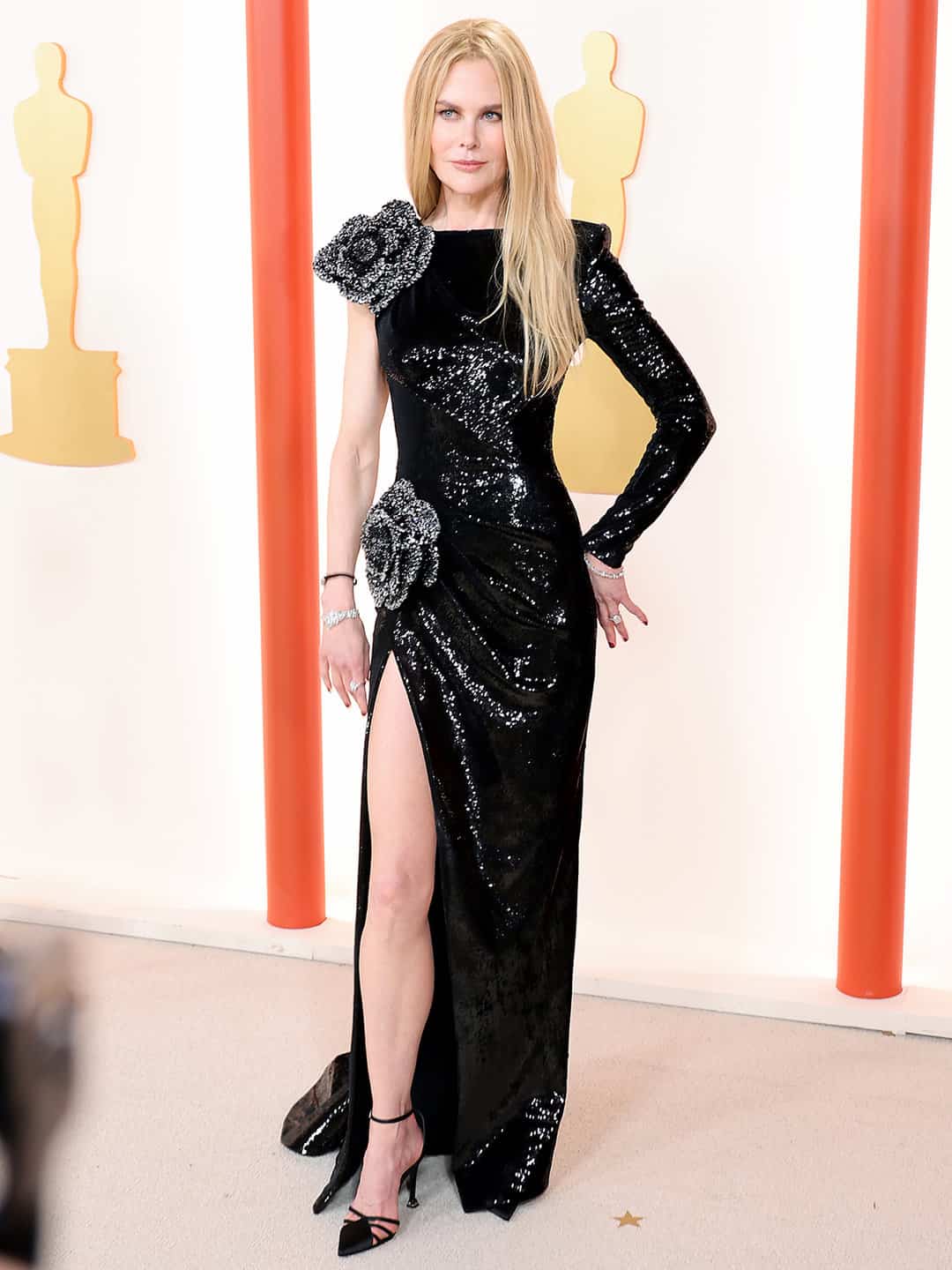 Nicole Kidman has the ideal colouring to work darkly glamorous looks and this one is pretty spectacular. The asymmetry suits her although the second flower at the shoulder may have been overkill – a pair of killer earrings would have served her better. Loving the rest of her Harry Winston jewellery.
Emily Blunt in Valentino and Dwayne Johnson in Dolce & Gabbana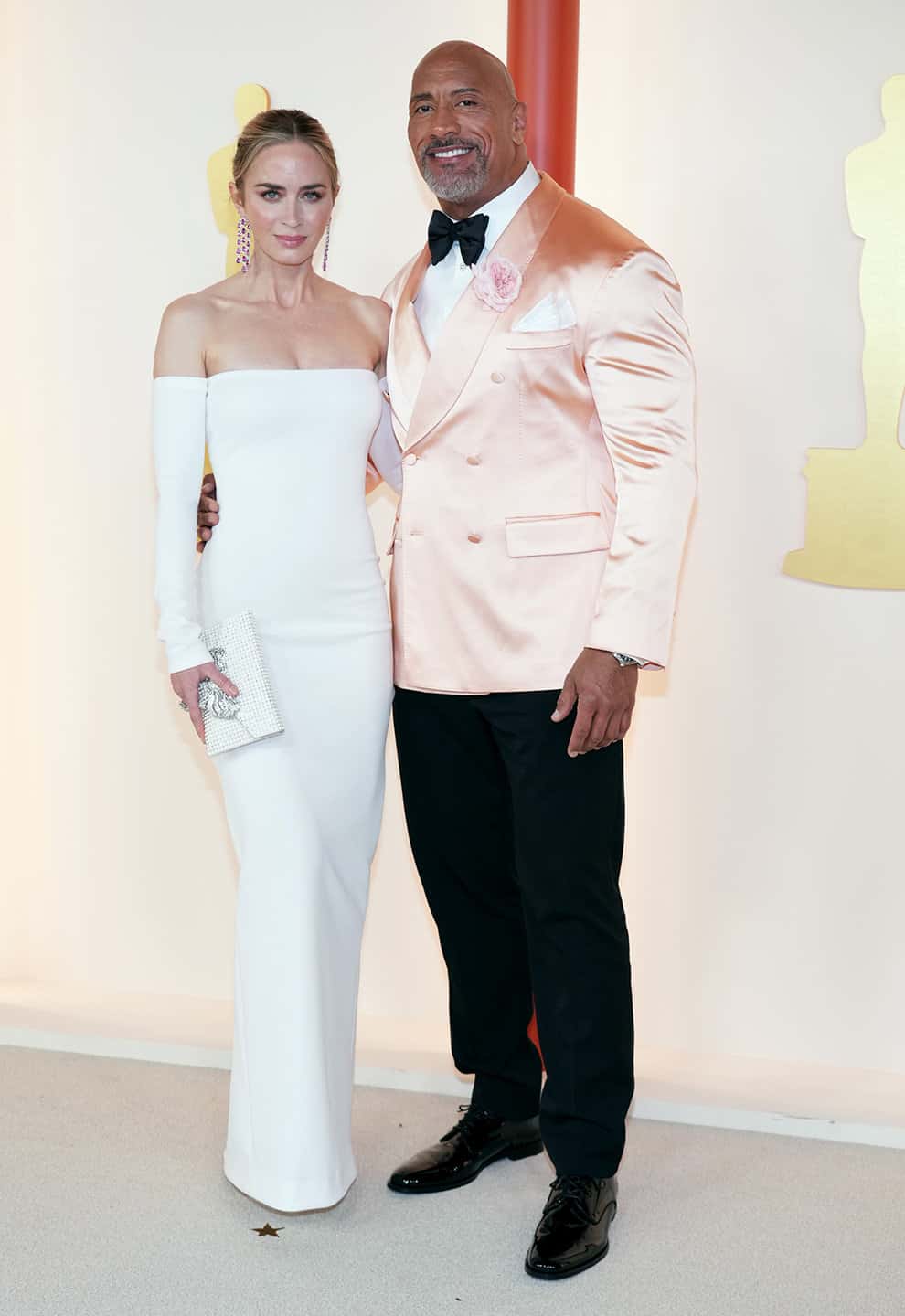 It may have been nearly two years since these two appeared in Jungle Trip together but they're still fond of hitting the red carpet together. And why not when you look this good?
White is proving hugely popular for the Oscars 2023 and Blunt's minimalist Valentino gown is perfectly suited to her style (and, most importantly, avoids swerving into bridal). Peach satin, on the other hand, is a tricky fabric – especially on a man of Johnson's stature. Kudos to his tailor at Dolce & Gabbana for making this one work.
Halle Berry in Tamara Ralph
Halle Berry is quite clearly feeling herself in this Tamara Ralph dress and, honestly, fair enough. She looks great. She's been in the game long enough to know how to work a red carpet and, while the thigh slit and glittery rosettes could be awkward on a newcomer, her pitch perfect styling (check out those Jimmy Choo platforms and Pomellato jewels) and execution carries them off with ease.
Jessica Chastain in Gucci
Red carpet etiquette has it that, if you're not actually nominated for an award yourself, you should tone things down and let those who are have their moment. Clearly no one told Jessica Chastain – who came to the Oscars dressed as the award itself in a shimmering Gucci gown. And looks, frankly, incredible.
Ana de Armas in Louis Vuitton
This is a clever Louis Vuitton gown from Ana de Armas. She's nominated for her role as Marilyn Monroe in Blonde and, is it me, or does the top of this gown look rather similar to Monroe's 'Happy Birthday Mr President' dress (you know, the one Kim Kardashian nearly destroyed at last year's Met Gala)? It could have done with a necklace and more interesting hair but a savvy move nonetheless.
Vanessa Hudgens in Chanel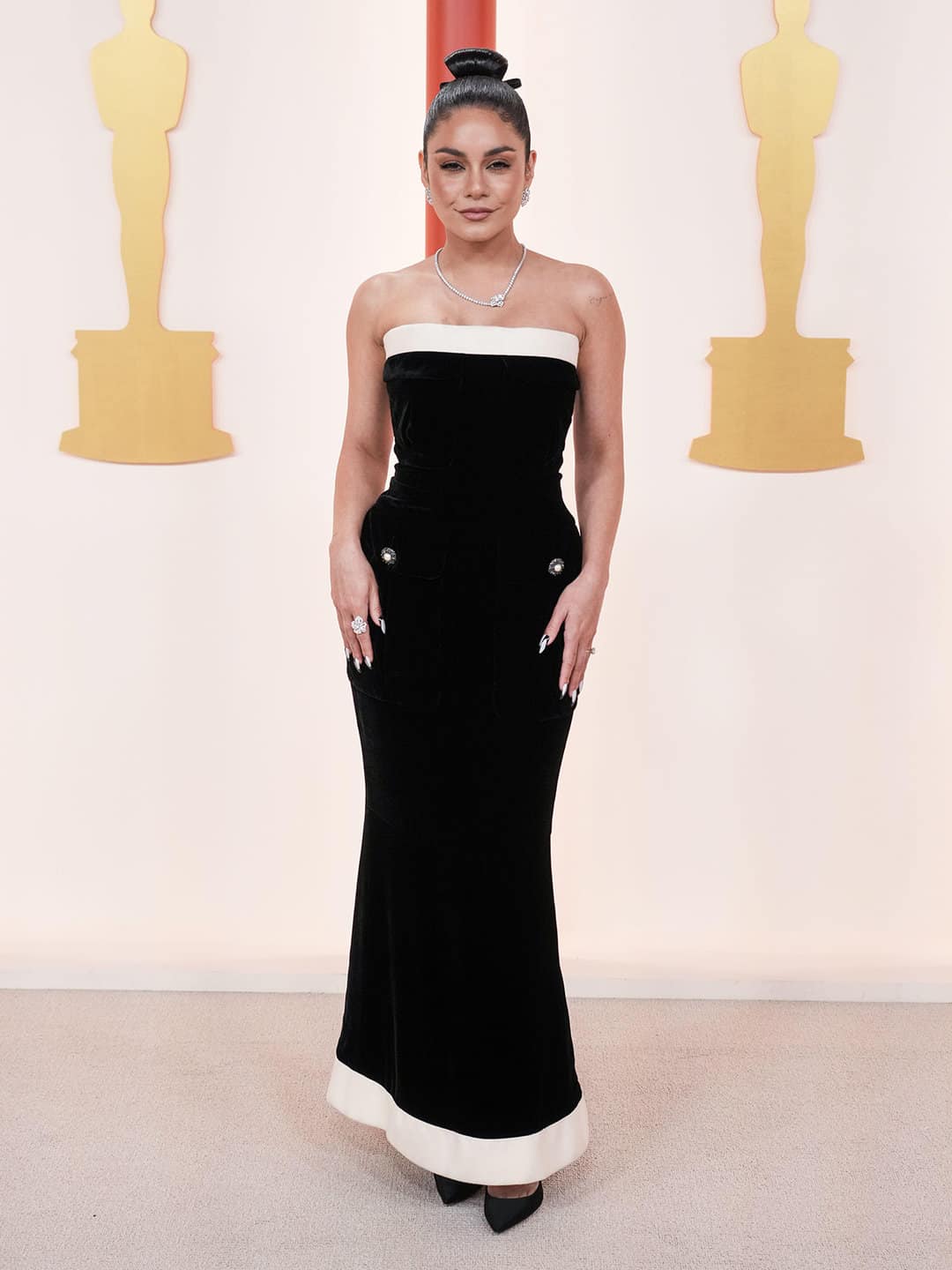 Monochrome proved to be a big trend at the BAFTAs and, if Vanessa Hudgens' timeless (literally, it's vintage) Chanel strapless gown is anything to go by, may be a hit at the Oscars too. Do I wish the dress had been a smidge longer? Sure – but she gets points for an interesting up 'do and great jewellery.
Fan Bingbing in Tony Ward Couture
Chinese actress Fan Bingbing has become something of a fashion world darling over the past few years – thanks in large part to her penchant for wearing big, camera-stopping gowns on the red carpet. So, of course, she pulled out all the stops for the Oscars. Her Tony Ward Couture gown is likely to prove divisive but I'm loving the Old Hollywood vibe.
Ashley Graham
Models can always be counted upon to bring the drama to the red carpet and Ashley Graham did not disappoint at the 2023 Oscars. She may have chosen head-to-toe black but watch her work those cut outs and OTT sleeves like a pro.