2019 was a sad year for London's dining scene, as the former L'Atelier de Joël Robuchon closed its doors after 13 years of service in Covent Garden. The Michelin-starred French restaurant's departure came less than a year after the death of Joël Robuchon, one of the most critically-acclaimed chefs of our time. He was named 'chef of the century' by French restaurant guide Gault Millau, was awarded the prestigious Meilleur Ouvrier de France for his service to the hospitality industry in 1976, and has been dubbed the 'primus inter pares' of Paris' three-star chefs for his work both at other restaurants and his eponymous eatery. The latter kickstarted a global empire, now with outposts spanning Tokyo to Las Vegas totalling a whopping 26 Michelin stars between them. His success is unparalleled – and sets a high bar for chefs hoping to follow in his footsteps. They don't make them like Robuchon anymore.
Unless, perhaps, they do. The brigade of chefs and directors have oiled the Robuchon machine well since his passing, spurring on new openings across the world – with one landing in London just last month. Having opened on 15 September, L'Atelier de Joël Robuchon returned to the capital on the former Comptoir Robuchon site – which failed to make the same outstanding impression at the L'Ateliers – on Mayfair's Clarges Street. It's spearheaded by executive chef Andrea Cofini who joined the Robuchon brand in 2014, serving at the two-starred L'Atelier de Joël Robuchon in Paris and Shanghai.
On the menu, L'Atelier Robuchon London will celebrate some of the French master's sorely-missed classics, from the Purée de Pomme de Terre – known in certain circles as the best mashed potatoes in the world thanks to the 2:1 potato to butter ratio – the sea bream carpaccio, and quail with foie gras, all made using the same supply chain the group gained its initial success with. Cofini's influence, however, is reflected in the regularly-changing modern additions to the menu, bringing his experience to create elegant plates with Asian flavours, including native lobster with pak choi and spiced lobster bisque, and lemon and cucumber jelly with sake foam.
Elsewhere, the glistening, ruby-hued restaurant will also mark the return of the much-loved dessert trolley: a sleek, marble-topped display of the best sweet treats from the kitchen, including fresh á la minute madeleines and Parisian patisserie classics. If one trolley wasn't enough, L'Atelier will also boast a trolley dedicated to its exceptional cheese offering, with a daily-changing rotation showcasing the best of southern French and Italian cheeses.
Inside, the sweeping marble countertop puts the chefs at the heart of the action – a signature feature of all the original Joël Robuchon restaurants where the open kitchen format was pioneered – while the colour palette harks back to the Covent Garden L'Atelier with red and black accents. The reincarnation also features a new evening offering, where L'Atelier will showcase a changing roster of DJs and live musicians to provide the perfect backdrop for the new bar area.
Robuchon was famous for being a strict perfectionist (known to put the likes of Gordon Ramsay, Eric Ripert and Michael Caines through their paces), so how does his protégé Andrea Cofini compare? We ask the new executive chef about how it feels to take the wheel and the most important lesson he learnt from Robuchon. 
How does it feel to be at the helm of the newly-opened L'Atelier Robuchon in Mayfair?
It is an incredible feeling to bring this iconic concept from Joël Robuchon back to London after the original L'Atelier in Covent Garden closed shortly after his death. The restaurant's concept is rooted in fun with interaction with the guests as a result of the open kitchen, while we produce the highest quality of food, which brings me so much joy. This will be the third L'Atelier I've worked at – previously in Paris and Shanghai – [so] this new opening will be a challenge to achieve all of our goals, but one that myself and the team are very excited and ready for.
Have you enjoyed the process of opening a new restaurant in one of the capital's busiest areas? What have you found most challenging?
It has been great and London is just getting busy again after the summer so there is a fantastic buzz in the city that is getting us all excited. The biggest challenge I must say was finding the right people to be part of the team for L'Atelier Robuchon – I believe that we have now found those people and we are excited to be working all together.
How has this new restaurant honoured Joël Robuchon's legacy?
Excellence, simplicity, and consistency are the three values we follow to ensure we honour Joël Robuchon's legacy. Guests will get to have some of his classics on our menu, such as Le Caviar Spaghetti or Le Burger. We are also taking our values and applying them to our bar, where a fantastic list of cocktails has been developed in tandem with our menu.
How is L'Atelier Robuchon both similar and different to its European sister restaurants?
Each Robuchon chef brings their own touch to the menu, whether it's my Asian touch from Shanghai, or at L'Atelier Robuchon Madrid where they bring a local flair of Spain. We all try to safeguard his spirit in all the Ateliers. Then we have the more technical part: Robuchon was adamant on always having the best and freshest ingredients, therefore, regionally we all set out to find the best suppliers to work with.
So, tell me about yourself. What's your earliest food memory?
My grandparents used to own land [in Italy] where they would have their own animals, vegetables, fruits, eggs, oil and so on – we grew up with the highest quality of food supplies. My mother was also passionate about food, everything was fresh and she used to make the best homemade pasta!
Where did you train as a chef?
I trained in restaurants mainly, and did a short course at culinary school before I went to train with Chef Sciullo at his two Michelin star restaurant in Rome. I then went on to Casina Valadier Rome, La Pergola, a three Michelin star restaurant. I also had the chance to work in a Japanese fusion restaurant in Paris, where my interest in Asian cuisine started.
What was it like working under Joël Robuchon? What's the best thing you learnt from him?
He taught me to be focused about the product and the service, and to take care of your guests. I used to be more focused on my own ego, not realising that what I may like to eat is not always what the guest wanted, but he taught me to make them the focal point of everything we did in the kitchen and beyond.
What drew you to the L'Atelier and why have you never wanted to leave?
I loved the concept that you had the opportunity to stay with the guest – you are at the heart of the restaurant and therefore you have more than just the food around you. There are always ever evolving food trends, cooking styles and I find too many restaurants follow these. Robuchon, however, always stayed true to who he was – he made simple, honest food with the best ingredients, and this is why I haven't wanted to leave.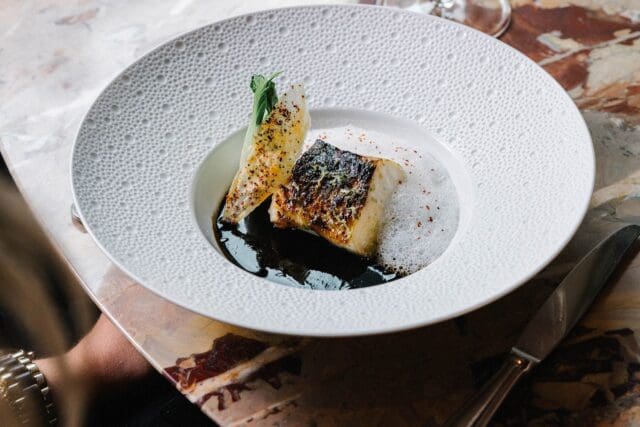 What can guests expect from the new restaurant, both in terms of atmosphere and menus?
Inevitably, the menu will have a French twist and, as at every L'Atelier Robuchon, seasonality of produce will be key. Of course, some of chef Robuchon's original heritage dishes will be featured on the menu and I will be bringing in some Asian influences and ingredients to new dishes from my time spent in Shanghai. We will be focusing on sharing plates, so that our guests can experience an array of different dishes from across the menu.
Are any classic dishes making a comeback?
The caviar is coming back as the elegance it has on the plate is unparalleled. The langoustine needs to be there, and our langoustine supplier in Scotland offers the best out there, and it would be a shame not to have it on the menu!
What is your one other favourite London restaurant and why?
I recently went to the newly opened Pavyllon by chef Yannick Alléno [at Four Seasons at Park Lane] who was very close to Mr Robuchon – it was great to see another French institution open in London.
How do you spend your free time away from the restaurant?
I love travelling, and since my time in Shanghai, I am trying to discover as much of Asia as I can. When not at the restaurant, I tend to spend time with my wife and enjoy going out to restaurants.
Visit robuchonlondon.co.uk