Wine and dine: The best foodie gifts for Christmas 2023
Knives and forks at the ready; the festive season is all about indulging and we've got the foodie gifts guaranteed to satisfy even the most discerning chefs
All products are chosen independently by our editors. Luxury London may earn commission on items purchased.
Foodies are, arguably, the easiest people to buy for when Christmas rolls around. As long as you know their area of special interest – coffee, baking, fine dining – the options are practically endless. Provided, of course, they haven't already bought them all themselves. With this in mind, we've scoured the finest foodie outlets for limited-edition, personalised and utterly luxurious present ideas we promise you won't need a gift receipt for.
The best gifts for the bar
Belvedere Silver Sabre
If you know someone who loves a tipple or two during the festive season there are few better places to secure an impressive gift than Clos19. The LVMH-owned platform acts something like a Net-A-Porter for fine wines and spirits, offering the cream of the crop in whiskies, champagnes, brandies, gin and much more, alongside chic glasses and bar accessories.
There is nothing guaranteed to impress guests (or very lucky gift recipients) quite like a magnum. And, while oversized wines and bubbles may be traditional, this elegantly-decorated magnum of Belvedere vodka is far chicer, no? The Chrome Edition bottle features a mirror-effect label inspired by haute couture and can be personalised with names, dates and messages for a keepsake they'll treasure long after they've enjoyed the quadruple-distilled spirit inside.
Belvedere Vodka Bespoke Chrome Edition Magnum, £162, clos19.com
Veuve Clicquot La Grande Dame Champagne
Gifting champagne is always a good idea but gifting Veuve Clicquot La Grande Dame champagne is a really good idea. No, it doesn't come cheap – but there's a good reason for that £200 price tag. First, there's the vintage. 2015 was a stellar year for champagne production, characterised by the mild temperatures and overcast skies vintners pray for every year. Then there's the bottle. Part of Veuve Clicquot's long-standing support of the art world, the 2015 vintage is presented with special labels and colourful gift boxes designed by famed Italian ceramicist Paola Paronetto. Like we said, this isn't just any bottle of champagne.
Veuve Clicquot La Grande Dame 2015 champagne, £200, harrods.com
Louis XIII The Drop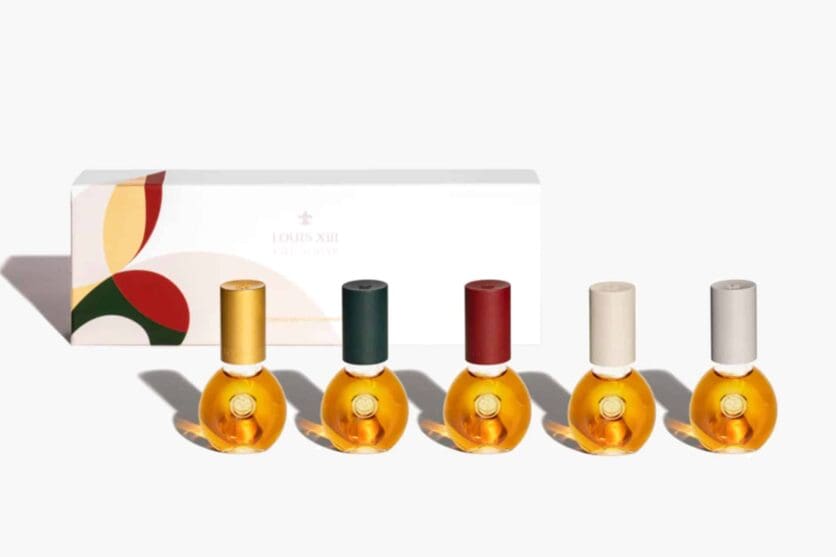 No these are not super-chic perfumes or nail varnishes. This is The Drop: the latest drinking innovation from Louis XIII cognac. Each chic miniature contains 1cl of the house's famed spirit and is designed for taking advantage of spontaneous moments of celebration. A matching leather case and strap are available in each of The Drop's five colours, so you can take a bottle with you wherever you go and always be ready for life's most joyous occasions – whether enjoyed alone or in a crowd.
Louis XIII The Drop Collection Box, £750, louisxiii-cognac.com
Mijenta Blanco tequila
Haven't you heard? Tequila is having quite the moment. No, we're not talking about the burn-the-back-of-your-throat rocket fuel favoured by particularly raucous hen parties. We're talking top-shelf, finely crafted spirits designed for sipping slowly and savouring. Hailing from the highlands of Jalisco, Mexico, Mijenta is a small-batch tequila made using 100 per cent agave and distilled using traditional methods. It's also the world's only B-Corp tequila. Serve as you would a fine whisky for the full experience.
Mijenta Blanco tequila, £63.99, selfridges.com
The best gifts for the table
Rita Farhi hamper
Buying for someone seriously tricky? If all else fails, you can't go wrong with food - and North London-based confectioner Rita Farhi does a range of gourmet gifts that are guaranteed to impress. Select from the vast range of Middle Eastern-influenced treats or allow them to do the hard work and take home a delectable hamper. We're fans of the signature collection, featuring chocolate-covered dates, sugared almonds, dark pistachios, nut-filled dates and much, much more.
Farhi luxury hamper, £100, farhi.co.uk
Pols Potten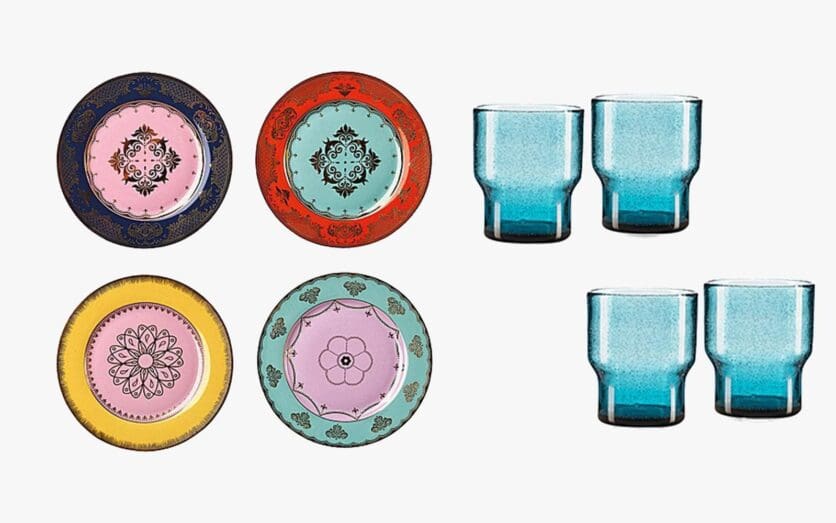 Every stylish host knows the best tablescapes are a riot of colour and pattern - especially when you have Christmas decorations to contend with. Pols Potten's mix-and-match crockery, glassware and home accessories are ideal for creating a collection of cohesive pieces that look artfully mismatched. We're particularly fond of these tactile bubble tumblers and 'grandpa' print plates.
Pols Potten side plate set, £80, fenwick.co.uk; Tumbler set, £40, nisiliving.co.uk
Jonathan Adler cocktail napkins
The likelihood is the hostess in your circle already has a drawer full of neatly laundered napkins – which makes the cocktail napkins they don't currently own a deeply chic choice of gift. More sophisticated than a coaster (best reserved for hot drinks, no?), Jonathan Adler's come embroidered in a variety of eye-catching designs. We're partial to the designer's signature snake motif.
Snake cocktail napkins, £50 for four, jonathanadler.com
Adare Manor
You may think they've got everything but we can practically guarantee that they don't have a silver-plated oyster shell salt cellar with matching spoon. Presented in a gorgeous gift box complete with a wooden board and Sylt sea salt, this extravagant set comes from the equally luxurious five-star Adare Manor in Ireland (well worth a visit, since you're asking). Trust us, this is a gift that will illicit surprise and delight in equal measure.
Adare Manor oyster shell salt cellar, €750 (approx. £645), adaremanor.com
The best gifts for the kitchen
The Female Chef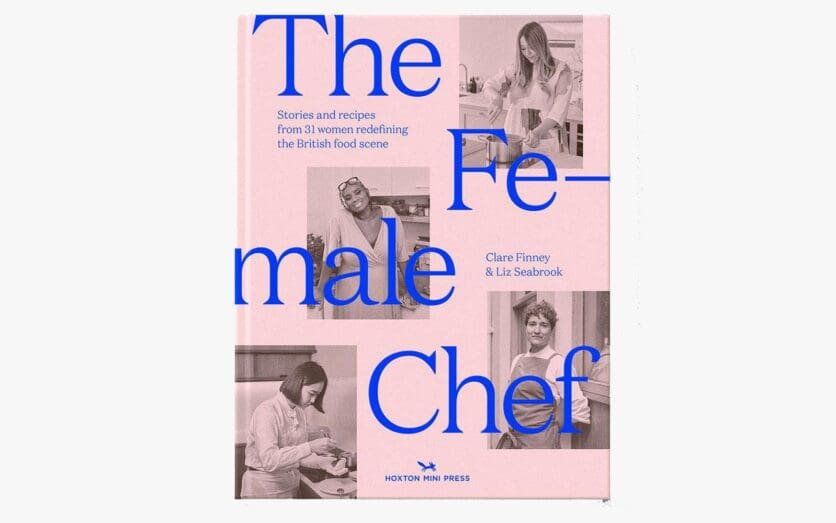 It's no secret that the professional kitchen has long been a man's world but this cookbook from food writer Clare Finney and photographer Liz Seabrook aims to shine the light on female luminaries in the culinary world, both established and up-and-coming. The Female Chef is a beautiful tome featuring recipes and interviews with 31 women leading the charge in the British food scene, including Andi Oliver, Anna Jones, Pamela Yung and more.
The Female Chef by Clare Finney and Liz Seabrook, £28, hoxtonminipress.com
Sage
There are coffee machines – and then there are coffee machines. Widely regarded as the Rolls-Royce of the genre, Sage is the brand to opt for if you're buying for someone who really knows their beans. As its name suggests, the Barista Touch coffee machine is a professional-grade offering that, alongside its sleek design, boasts an in-built grinder, touchscreen display and pre-programmed menu of cafe-style drinks. It's time to banish the instant for good.
Sage the Barista Touch coffee machine, £1,099, harrods.com
Laguiole
No one appreciates the quality of a great knife quite like an enthusiastic at-home chef – and if they get to share their love of quality cookware at their (many) dinner parties with a set of gorgeous steak knives then so much the better. Created by Laguiole, the fine French knife brand that was founded in the village of the same name in the 1920s, these horn-handled numbers feature stainless steel serrated blades guaranteed to last a lifetime.
Laguiole en Aubrac steak knives, £595, divertimenti.co.uk