When it was announced that the first international outpost of Madrid's hugely-hyped Latin American restaurant Amazónico would be coming to Mayfair in 2018 it's fair to say that London's serious foodies weren't exactly falling over themselves to get the first tables. In fact, many were wont to lament that a prime hospitality site had gone to yet another social media-focused party palace. London, they argued, was already home to more than its fair share of restaurants brazenly serving subpar sashimi at inflated prices justified by proximity to a resident DJ, flower wall and late-night liquor licence, thank you very much.
And, in fairness to the detractors, all the hallmarks were there. Amazónico stays open until 1am every evening (3am at weekends). It is home to a rotating roster of live musicians and in-house DJs playing 'electropical' sets and even has its own basement nightclub. It's also just a few doors down from Sexy Fish – perhaps London's most famous party restaurant. Given its theme, it would have been very easy for Amazónico to tip into Rainforest Cafe territory – albeit with a rather pricey cocktail menu.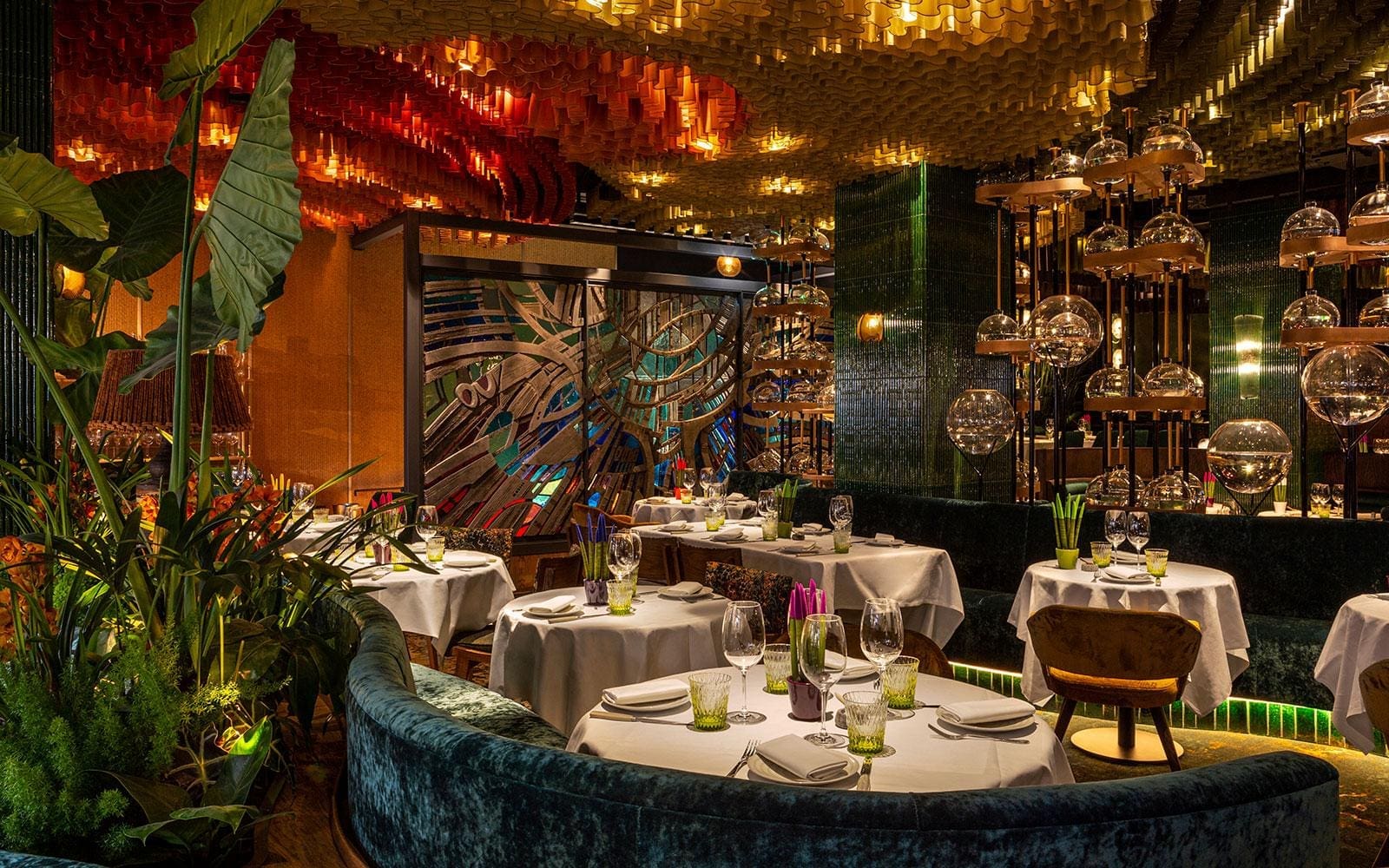 It doesn't take long once you step inside Amazónico to realise that this is not that. The restaurant is vast but, rather than feeling cavernous, has been cleverly designed by Studio Lázaro Rosa Violán as five separate but connected areas, which give the illusion of intimacy while retaining the buzzy atmosphere that patrons undoubtedly booked it for.
The brief, explains the general manager, was for diners to be taken on a journey through the Amazon rainforest. Along the way, staff in impeccable emerald-green suits may drop them off in a bar primed for people watching, a lounge space with DJ booth or an aquarium-themed sushi bar, before making it to the main restaurant. On our visit, many were choosing to sample more than one space, arriving at their final destination clutching cocktails in glasses the shape of Easter Island statues or monkey's heads (a shared snap of which caused a flurry of Indiana Jones memes on the group WhatsApp).
As expected, Amazónico sports flora in abundance, as centrepieces, rooms dividers, hanging from the ceiling and as prints on its plush velvet chairs and banquettes. Every inch of the restaurant, from its textured ceiling and vibrant glass chandeliers to a snaking cabinet of curiosities used to support a mezzanine dining space, is a lesson in carefully considered maximalism.
The kitchen, too, is all about spectacle. Running down the entire length of the restaurant, a gallery window showcases a bustling kitchen in which chefs grill Brazilian picanha steaks over open coals, carefully construct the signature house salad, and baste pineapples while they slowly caramelise on a spit.
Amazónico takes the concept of food as theatre very seriously. Almost every dish that arrived at our eventually heaving table, from a stand-out guacamole to a delectable arroz chaufa (wild rice with duck and egg), came as an assembly of precisely cooked and presented ingredients waiting to be mashed, mixed and reassembled into a finished product tableside. Yes, it's great for Instagram – but it's also rather fun just to sit back and watch.
The small-plates menu is divided into sections including salads, raw, caviar, sushi, bites, fish and meat, and encourages meandering, experimentation and sharing – and there's plenty to satisfy the pickiest of appetites. Among our highlights were the stone crab arepas, pulled pork served on crispy plantain and a pitch-perfect yellowtail tuna sashimi. Oh, and that picanha? Proclaimed by my companion to be the best steak he's ever tasted.
Given its immense social media popularity, Amazónico has become the place to see-and-be-seen-in, with well-heeled patrons equally charmed by the fact that a nightcap at Annabel's is a mere stilettoed stumble across Berkeley Square. But, underneath all the glitz and frippery, there's real substance backing it up. A good time and a great meal? Colour us charmed.
10 Berkeley Square, London W1J 6BR, amazonicorestaurant.com