Penélope Cruz on Trailblazing Conscious Luxury
She's one of the world's most famous actresses but far from living in a bubble, Penélope Cruz is using her position to pioneer a less glamorous venture: sustainability. Over tea at the Mandarin Oriental, the Oscar-winning
Penélope Cruz isn't one to make an entrance. The petite actress slips unnoticed into The Rosebery tearoom at the Mandarin Oriental in Hyde Park, stealthily passing the gaggle of press that awaits her. She announces her arrival with a polite but shy "hello", and seats herself on the chartreuse chaise longue, self-consciously arranging her ruffled Chanel dress before turning to fix her audience with that doe-eyed look that won over viewers of Vanilla Sky (2001), Nine (2009) and Vicky Cristina Barcelona (2008).
This is not the Hollywood actress I was expecting. Far from being the life and soul of the room – she is being somewhat overshadowed by the formidable Nadja Swarovski, more on whom later – Cruz appears reserved. That is, until she speaks. Affable and charismatic, her sultry Spanish lilt still firmly intact, Cruz emits the same charm that has seen her rack up more than 70 cinematic credits.
We're here to discuss her latest synthetic jewellery collection with Atelier Swarovski, and as the tearoom's fuchsia cushions, gold cake stands and chattering diners are cleared to make way for jewellery display cases, Cruz waxes lyrical about the importance of conscious luxury.
"I really care about having a positive impact on the planet, in what I do, what I wear and what my family and I consume," she says, gesticulating passionately as she explains her commitment to sustainability. Her fervour comes as something of a surprise – Hollywood isn't the first place I'd look for environmentalists. But Cruz instils a passion into everything she does. From Hollywood to haute joillerie, if she's involved, she says, she's in it for the long-haul. "With my message it's all honest," she shrugs. "I don't want to give my name to something if I have not been involved, because that's fake."
Born in a working-class suburb of Madrid as the eldest of three children to Eduardo, who worked in a hardware shop, and Encara, who ran a hair and beauty salon, Cruz was interested in performance from the off. She initially dreamed of dancing, and studied classical ballet for nine years at Spain's National Conservatory. Today, she says her years perfecting demi-pliés were crucial to her future acting career, crediting dance with generating the discipline required for a life on screen.
Her fascination with film began aged 13, when her father bought home a Betamax video player. In lieu of a nearby cinema, she wore it out, watching the likes of Marilyn Monroe and Sophia Loren storm the screen.
"Nobody around me had a job related to the arts, music, anything like that," the 45-year-old told Esquire in 2017. "The dream was much more humble, but it was big for me. It was: 'I want to be independent when I'm older and have a job that I love. It's either going to be a dancer or an actress'. Just to be able to eat from that, that was my dream."
It was watching Spanish director Pedro Almodóvar's 1989 film Tie Me Up! Tie Me Down! that convinced Cruz acting was the career for her. Aged 14 and alone in a cinema in central Madrid, she was mesmerised, so much so that afterwards she wandered the streets for hours, concocting a plan that would change her life. She decided she needed representation and bugged a talent agency to give her a screen test. She failed three times due to being too young but, at the final hurdle, nabbed a spot thanks to a flawless improvised performance. She still has the same agent 30 years later.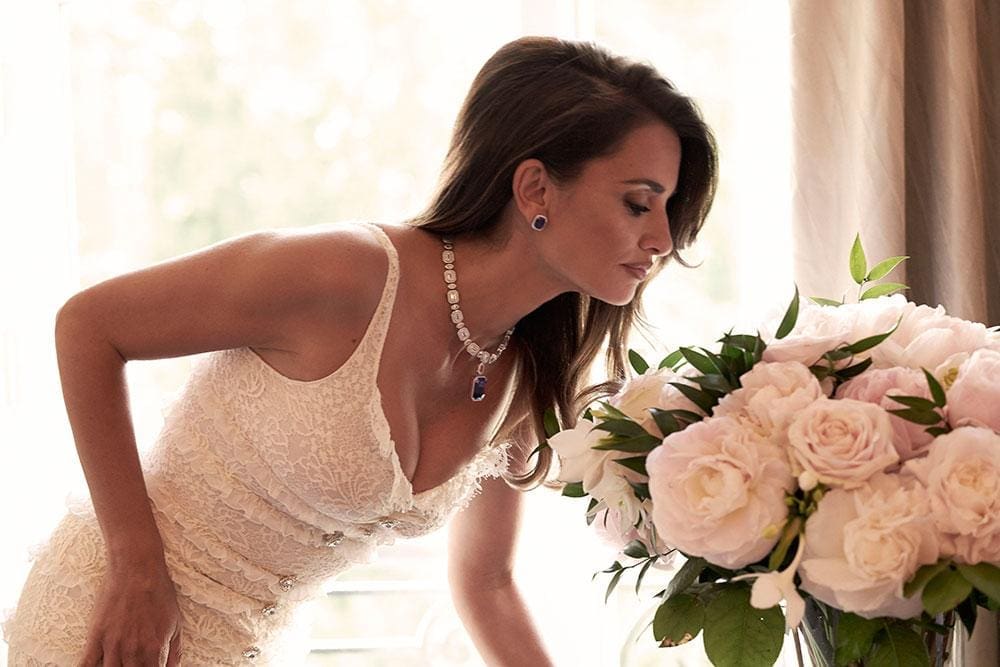 Her feature-film debut came in 1992, when she starred in the raunchy comedy Jamón Jamón aged 18. Her performance earned her the first of many Goya awards, the Spanish equivalent of the Oscars. It was a pivotal role, not just for kick-starting her career, but because it was where she met her husband, her co-star Javier Bardem – although the relationship didn't start until 16 years later (they married in 2010).
Today the couple are something of Spanish royalty – to date they are the only Spanish actors to win Academy Awards, the first of which went to Bardem in 2007 for No Country for Old Men, and the second of which went to Cruz for her role as Maria Elena in Woody Allen's 2008 hit Vicky Christina Barcelona, in which Bardem also appeared. They live together in Madrid with their two children, a son and a daughter, and while they have an agreement not to speak about one another in the press they are often seen together on screen. In fact, some of their best films independently are the ones in which they star together: The Counselor (2013), Loving Pablo (2017) and Everybody Knows (2018), to name a few.
Her second big break came courtesy of her favourite director: Almodóvar's Live Flesh (1997). So impressed was the director with Cruz that he wrote and expanded the role of Isabel Plaza Caballero especially for her. They've since released five more films together. This August, they will release their seventh: the emotionally potent Pain and Glory. The director's semi-autobiographical flick charts the life of Salvador Mallo (Antonio Banderas), an aging filmmaker at crisis point. Suffering from chronic back pain, Mallo, who is considering retirement, experiences a series of encounters – some of which are real and some remembered – that alter his course. Cruz plays Mallo's mother in the flashbacks that flit throughout the film.
Seven movies in, the buzz of working with her favourite director hasn't worn off for Cruz. "He is one of the reasons I became an actress, because of his films that I saw growing up," she tells me. "Whenever I get his blessing I feel like I can breathe, because he can be a very tough judge – but it's good that he's honest. If he doesn't like something, he will say."
The film made its debut at Cannes earlier this year, received a standing ovation at La Croisette and was hotly tipped to take home the much-coveted Palme d'Or, the festival's top prize (it narrowly missed out to French drama Parasite). France has held a special place in Cruz's heart after she was awarded an honorary César award (the French equivalent of an Academy Award) for lifetime achievement last year, and being at the nation's largest film festival was an honour, she says. "I was so happy to be at Cannes with Pedro, for this film that I love so much."
Today, the jewels that she wore to the Pain and Glory screening at the Palais des Festivals glitter from plinths that surround us in The Rosebery. Launched last year, the line of Hollywood glamour-inspired necklaces, bracelets, earrings and rings is exquisite, not just in design but creation too – the entire collection is crafted from Swarovski lab-grown diamonds and gemstones. Married with synthetic rubies and sapphires, as well as sustainably sourced topaz and fair-trade gold, the diamonds sparkle as pendant chokers, pear-cut strings of necklaces and double-drop earrings designed by Cruz.
"This has been my dream since I was a little girl; I used to draw on the top of my mother's magazines and change all of the designs," she explains. "I wanted this collection to feel a little bit vintage, to feel like some of the jewellery pieces that have had an impact on me from watching movies with Audrey Hepburn and Marilyn Monroe; jewellery seemed more present in cinema in the 1940s and 1950s than it does now."
A family heirloom also provided inspiration. "My grandmother Modesta had a ring that was garnet and gold, and since I was a little girl I was asking her to give me that ring. She gave it to me and my sister but it was lost," she recalls. "The value was sentimental, but it was the most important thing we had. I was so sad to lose this piece, so I have designed a ring in her honour, which I am very proud of. It is crafted from three rubies surrounded by Swarovski-created diamonds. It's something I've wanted to do for a long time."
The collaboration arose after the Swarovski team sent the actress a few pieces to wear to an awards ceremony, along with a booklet on their sustainable stance. Cruz read it cover to cover. "I feel this collection brings my responsibility to a higher level," she tells me now. "Sometimes people know what to say to capture the attention of the world, but in this case it is a totally honest message. From now on, if a company like Swarovski is able to work [sustainably], everybody has to make the effort. It raises the bar very high."
As our interview comes to a close, the brand's creative director Nadja Swarovski begins to rhapsodize about having the actress onboard. "I feel like I'm working with an angel," she exclaims. "You're such a role model." Cruz blushes and brushes off the compliment, but there's a sense she understands the responsibility her position comes with.
A week after we meet, she joins Gwyneth Paltrow at a Goop wellness summit, and unintentionally becomes a spokesperson for women the world over when she criticises the pressures she felt post-childbirth and the stigmas that come with menopause. Conscious luxury, it seems, is just one of many strings to Cruz's bow. As fellow actress Marion Cotillard said when she presented her friend with the César award, Cruz is "an icon of the people" who has "remained the daughter of craftsmen, rooted in real life."
Atelier Swarovski's Fine Jewellery by Penélope Cruz collection is exclusive to Harvey Nichols, 109-125 Knightsbridge, SW1X, www.atelierswarovski.com