Gouache With Panache : The Art of Fine Jewellery
As the time-honoured tradition of gouache continues to defy the tech era, discover the craftsmen turning paint and paper into precious jewels
If you're not familiar with gouache, you could be forgiven for thinking it sounds vaguely like an awkward fashion mistake or perhaps a hearty Hungarian dish. Dig a little deeper and a ravishing world of colour opens up. Gouache is the art of painting in opaque watercolour and was used by masters such as Matisse and Toulouse-Lautrec.
What is less well known is that for centuries bespoke jewellery designers have been using the art form to guide craftsmen when they create the final pieces. Even now, top houses like Boucheron, Dior and Piaget insist on using a delicate painting, known as a 'render' in the trade, which is passed from stone setters to goldsmiths to polishers.
Chelsea-based fine jewellery designer Luis Miguel Howard explains: "The process of creating a gouache is quite straightforward, but it is also time-consuming and requires some skill. "Most are painted on vellum, tracing paper or coloured Ingres paper. Shadows are painted in Chinese ink, while metal and stones are in washes of gouache of varying intensities, often leaving areas unpainted to give a sense of lightness and delicacy."
Once the jewel has been created, brands will keep the gouache on file, dated and signed by the designer. This will be used in the future for designers to refer back to and also when trying to authenticate a gem. Cartier's archives include 30,000 sketches that track the history of the brand from its origins in the 19th century. They are kept in pristine condition in temperature and humidity-controlled rooms.
Surprisingly, gouache is managing to evade the grasp of modern technology. Although computer-generated images can take the place of sketches done by hand, the finest houses insist on the creation of jewels in paint and ink before gold and diamonds.
Chopard's artistic director Caroline Scheufele recently unveiled a new series of gouache to celebrate its Silk Road collection. She says: "The process of creating gouache can take from a few hours to several days for the most complex pieces. "It doesn't have to be 100 per cent accurate – another more technical design will then be made from it and used by the jeweller – but it still has to give the best possible idea of the final piece."
Scheufele relies on her in-house designers, but some creators prefer to do the work themselves. Giampiero Bodino, creative director of Richemont, is also the master of his own fine jewellery brand. Passionate about his art, he explains: "I am blessed by being very fast – once I get inspired, the whole process can take less than an hour."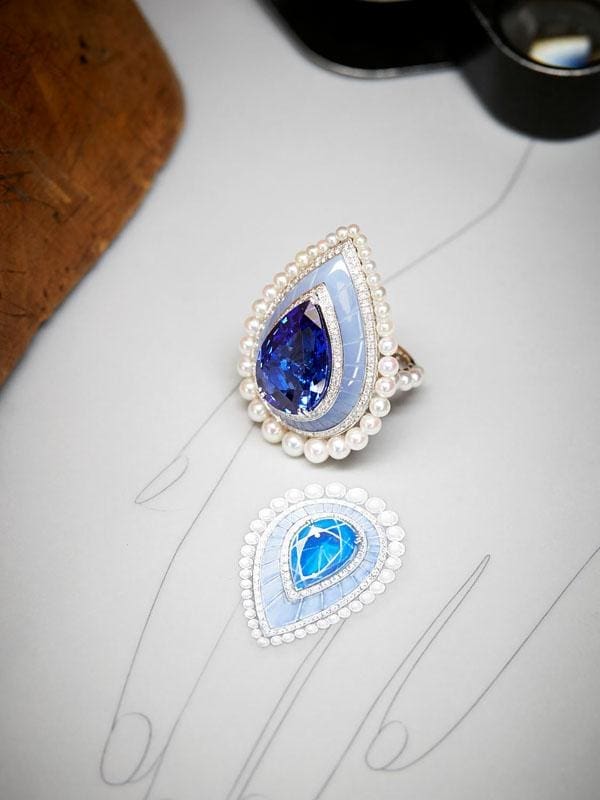 His latest collection, revealed during Paris Couture Week, was a radiant ode to the Mediterranean Sea, with seed pearl shells on bright titanium and rolling wave motifs in diamonds and sapphires. He adds: "The high jewellery world is still very much craft-oriented, therefore the original handmade drawing must be part of the process, from creation to purchase."
While handing over gouache to a customer is a rite of passage at Bodino's eponymous label, it's a case of don't ask, don't get at other houses such as Chopard. Scheufele says: "We normally keep them for our archives, but if a client wishes to keep it, we would of course gift them with a copy."
Having the original could add up to 20 per cent to the price, should the piece go to auction. In fact, jewellery gouache is valuable enough on its own. A collection of 17 Cartier drawings recently fetched £5,000 at Bonhams. Exclusive jeweller Nirav Modi, who opened in London last year, says: "It is about the entire process – the vision behind it and the creativity, the craftsmanship that goes into making each and every jewel a piece of art. "I believe what goes from the head to the hand truly has an emotional influence and there is something about its beauty that moves you from within."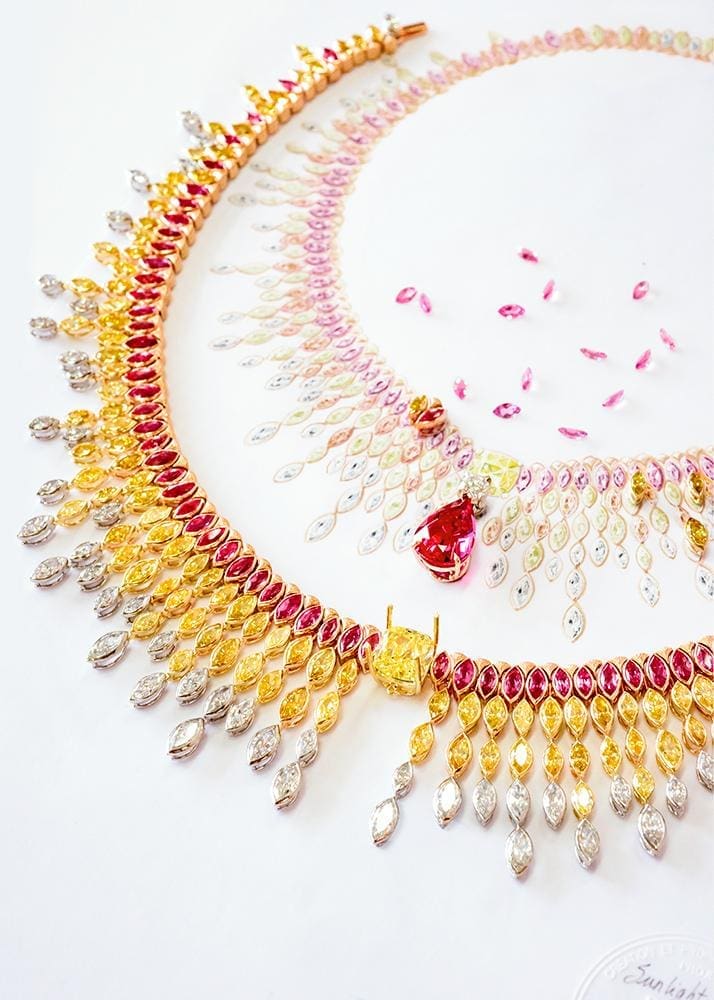 He adds: "As someone who has always looked up to art and architecture for inspiration, the allure of an actual sketch is certainly a whole lot more [inspiring] than that of a computerised rendering." This year, designer Anna Hu became the first contemporary jeweller to host a solo exhibition at Christie's. Her art is so enchanting that she often sells jewellery straight from gouache to clients.
She says firmly: "It's a very important process and one that I focus on the most. Often during this stage I've got to communicate with my clients and learn more about their personal stories and needs, which always touch me so much. This is not something that technology could replace."
It's good to know that in our tech-dominated world, the traditional method is hard to beat.