Fashion illustrator David Downton on sketching the stars
As a new exhibition of his work opens in South Kensington, veteran fashion illustrator David Downton reflects on lockdown, fashion week and his most memorable sitters
The Financial Times first commissioned David Downton to illustrate the couture shows in Paris in 1996. He has since become a hunched-over fixture during fashion week, swiftly capturing the runway in his distinctive ink and oil pastel style. Downton is also the artist-in-residence at Claridge's and has worked with retailers and fashion houses including Harrods, Dior and Saint Laurent.
Downton's expressive artworks feature in a new exhibition, Drawing on Style, which is currently on show at Cromwell Place gallery in South Kensington. Celebrating fashion illustration through the years, it also features rare works by Old Masters including René Gruau and René Bouché, whose figurative drawings regularly featured in Vogue between the 1930s and 50s.
Ahead of her 90th birthday, the exhibit brings together Downton's drawings of Carmen Dell 'Orefice, widely regarded as the world's oldest supermodel. Here, Downton discusses how the industry is constantly adapting and what we can all learn from the irrepressible Dell 'Orefice.
My career in fashion began at a time of great change with the appointments of John Galliano at Dior and Alexander McQueen at Givenchy. There was an explosion of energy and excitement. At the same time, I witnessed the elegiac final shows of Christian Lacroix, Gianni Versace and Yves Saint Laurent. I often felt like I had entered Narnia or landed in Oz.
Fashion is completely different today. No one in the audience had a camera back then. Photography was strictly the preserve of the catwalk photographers, who formed a wailing wall at the end of the runway. Everyone else drew or scribbled notes. Now we all have a smartphone to record details and transmit them to the world. They are today's essential tools, but they cannot duplicate atmosphere or take the place of looking and absorbing.
At fashion month this year, I am most looking forward to seeing how the industry adapts to the new world we all inhabit. There is no going 'back to normal', as we now know. What was normal then would be inappropriate now. Fashion reinvents itself constantly. The issues of climate, cost and sustainability used to be ideas on the periphery. No one can afford to be laissez faire today. I'm optimistic.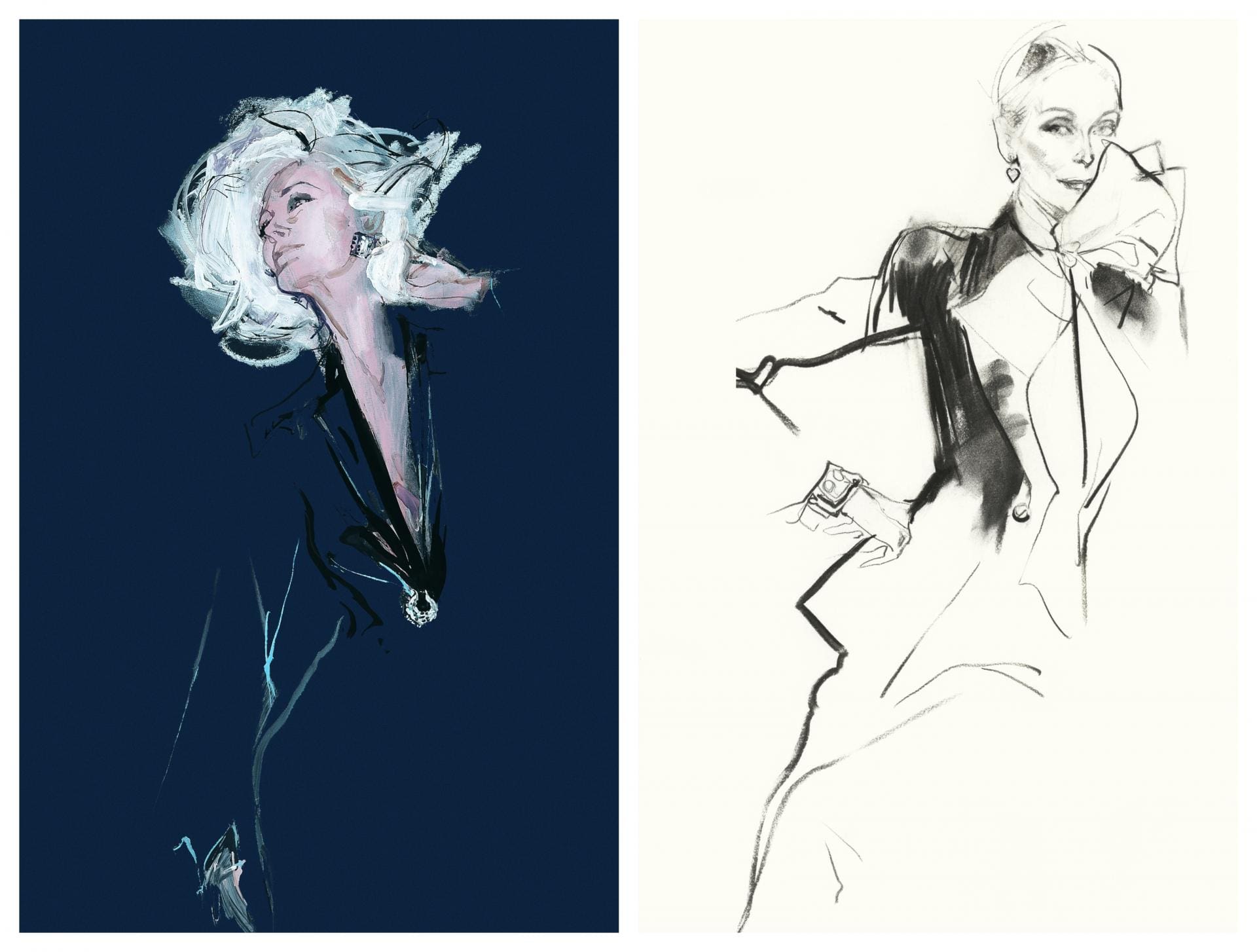 To quote the great New York photographer Bill Cunningham: "The best fashion show is on the street, always has been, always will be." Go to any venue and outside it you will see what's going to happen next.
When fashion shoots couldn't take place during lockdown, Vogue Italia put out five different illustrated covers and new avenues opened up, such as working on Zoom and teaching online masterclasses. I hope it continues, but I am not worried. Fashion illustration (like couture) has been pronounced dead so often, and yet here we are celebrating with this wonderful exhibition, Drawing On Style. As long as there are designers there will be artists to record and interpret their work. It's a symbiotic relationship.
It was strange and beautiful to walk around London during lockdown, as though every hour was Sunday morning at 7am. It was unfamiliar, eerie, unforgettable. I think, most of all, I missed the sense of a city at ease and of course, people.
My favourite hotel in London is Claridge's. I defy anyone not to feel good there. Its sleight of hand is to keep evolving while never losing sight of its heritage. There was a magic in the air, I'm sure, when Winston Churchill and Audrey Hepburn crossed the lobby, and it remains today. Also, the staff are the best anywhere.
I don't drink cocktails, but I have it on good authority that 5 Hertford Street and The Connaught serve the best in London. My spot, of course, is a table four at the Fumoir bar at Claridge's.
It's impossible to pick a favourite sitter. Anjelica Huston, Charlotte Rampling, Catherine Deneuve, Stella Tennant, Iman, Joan Collins, Erin O' Connor, Dita Von Teese, and of course Carmen. They have style, personality, elegance and purpose.
From Carmen Dell 'Orefice, we can learn fortitude and fun. 'Happiness', she says, 'is an inside job'. Carmen knows!
The definition of everlasting style? Pablo Picasso.
Read more: In conversation with celebrity photographer Andy Gotts
Drawing on Style is open until 26 September at 4 Cromwell Place; tickets are available to book here. The show will then travel to Bath, where it will be on display at 5 Margaret's Buildings from 18 October – 20 November. The show is also available to view online: drawingonstyle.com.