Women in Luxury: Tamara Ralph, fashion designer
Fresh from launching her eponymous brand, designer and couturier Tamara Ralph talks leadership, determination and why switching off isn't an option
"My partner is constantly asking me, 'When are you going to stop working? When are you going to relax?' You go on holiday and you're not really switching off. I'm never one to say I'm taking a week off so nobody contact me. That's not me." It may sound like a classic #hustleculture humblebrag but, for fashion designer Tamara Ralph, this is simply a reality of life.
Not that she makes it sound like much of a hardship. "It's a lot of work but when you love what you do and you're passionate about it, it never feels like work," she continues. And, for Ralph, it's clearly a mindset and level of dedication that has paid off.
Now aged 41, the Australian-born designer has just launched her eponymous couture house, showing her first collection in July to much acclaim. You may, however, know her better as one-half of Ralph & Russo, the couture house she founded with former business and life partner Michael Russo in 2010. After huge success, including becoming the first British fashion house in over a century to gain couture accreditation from the Fédération de la Haute Couture et de la Mode and creating an extravagant engagement gown for one Meghan Markle, Ralph stepped away from the brand in 2021 after the negative impacts of the pandemic put Ralph & Russo into administration.
Undeterred, Ralph is throwing her hat back into the fashion ring – or, as she puts it, "You try something and if it doesn't work you try again, and I'm not one to give up." She tells me why fashion was always going to be her career of choice, how to find the positives in any setback and why things are different this time round.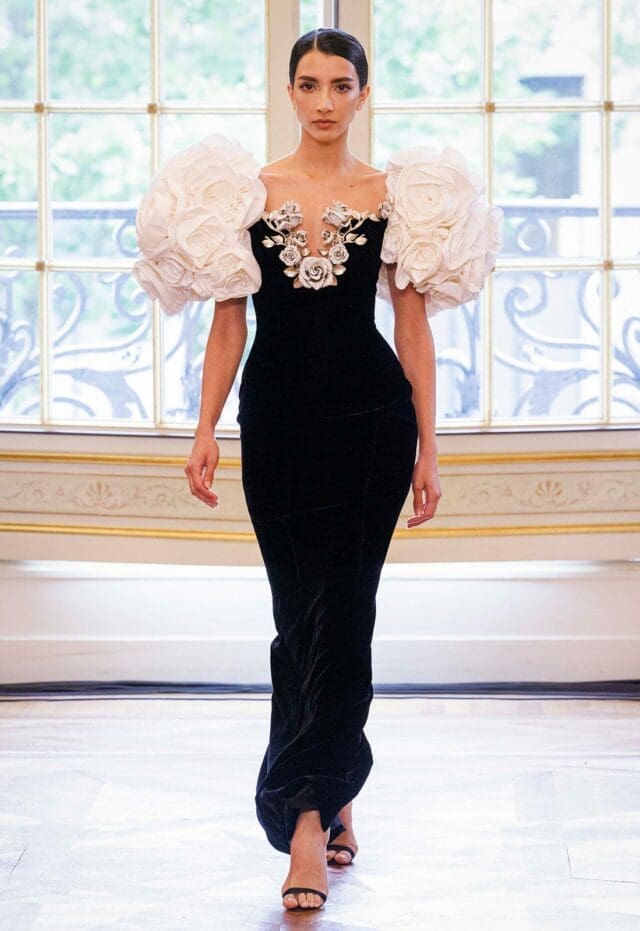 When you were a child, what did you want to be when you grew up?
From a very young age, I dreamt of being a fashion designer. It was something that came quite naturally to me. My grandmother was a couturier and my mother worked in the fashion industry for part of her career. I had a long lineage of family members who were in design and creative fields. From a very young age, I loved fashion and would sketch all the time. My mother had a huge library of Vogue patterns and I loved being in her workshop and looking at everything she was designing and creating.
I used to create pieces at home and my grandmother would critique my work. Looking back, it was an amazing experience because it really set the foundation for my career. The quality, craftsmanship and values that I hold for my work today were all instilled by my grandmother and the couture techniques she passed down to me.
You had a lot of knowledge about the fashion industry before you began working. How did your expectations compare to reality?
Fashion is an incredible industry because it moves very fast and it's ever-changing. That's what I love about it, it's never the same, but what looks to the outside world like an overnight success really takes years or decades to build. As with any industry, it requires a lot of dedication, a lot of hard work and it really takes a lot to carve a name for yourself. I've always been an incredibly driven, entrepreneurial person and very hard-working.
A common theme with young designers is that they're very invested in the creative side and aren't really prepared for the realities of running a business. How do you juggle these two aspects of your role?
Well, my role [at Ralph & Russo] was really the creative aspect. I was very much focused and immersed in the design side of the business. Now with my new brand, I do have to wear many different hats which is interesting and challenging at the same time. It forces you to push yourself in different directions but I think it's about being surrounded by the right team. I'm lucky to be surrounded by incredibly talented people who share the same vision and the same goals. It's really nice to oversee everything and have a unified vision.
You're coming to this new business after having had a lot of success with Ralph & Russo. How does setting up this business compare to your previous experience?
Ralph & Russo grew very organically. When I came to the UK many, many years ago, I didn't know anybody in Europe, let alone in the fashion industry. So it really was a passion that I started from scratch and built into the brand. I started with one sewing machine, I created pieces myself and people started wanting what I was creating and it grew very organically from one client into many, many clients through word of mouth. I was the first creative director in 100 years to be invited to show at Couture Week by the Fédération de la Haute Couture et de la Mode in 2014. I think it was the first time a designer had ever been invited without actually having shown a collection before.
This time around, I'm in a different place in my life. I've gone through the experience of building a brand from scratch and I have an incredible base of loyal clients that I've built relationships with over the years. With the new business, laying a foundation that supports the business through many different situations is incredibly important for me, as is having the right team and the right people surrounding me.
Is there anything that you plan to do differently?
You know, it's funny, because when I was planning to relaunch a lot of opportunities came my way in terms of people wanting me to be creatively involved in different projects. Building the brand this time, we worked on a lot of interesting creative projects that are different to what I did in the past and it's actually really lovely because it's laying a foundation for a lifestyle aspect that I envisioned for the brand. Creatively I've evolved as well. I think I've matured and I have a different purpose. Before my designs were always very feminine and elegant, which people love about my work and that is always part of my DNA, but I think this time around it's a little bit stronger, it's a little bit bolder, and a little bit more powerful.
What does an average day look like for you?
There's no average day! I always start the day with green tea and spend the morning with my daughter and my partner. I do Pilates and meditation to get ready for my day. A day normally involves juggling the business aspects of the company and the creative aspects. I have close relationships with a lot of clients so I'm in touch with them on a daily basis. Then, of course, there's the incredible team that I work really closely with. My atelier is based in London and I travel constantly between London and France, where I live and see clients, so it's always very busy. I work really long hours and tend to sketch more in the evenings because it's when my phone stops ringing and I can have a bit of creative space.
What would you say are the best and worst parts of your job?
The best parts are creating pieces for incredible women and being involved in the special parts of their lives. A lot of people buy couture for events that have a big meaning to them so it's really lovely to have that connection with someone and to see them happy and experiencing these incredible moments in their lives. Obviously, I love the creative side; being with my team in the atelier and creating with them. The atelier has an incredible energy. To see all of these craftsmen who are so passionate about their work is such a nice feeling. It's an incredible inspiration for me as a creative but also as a business owner.
As for the worst – the admin!
Tell me about one of your career highlights.
There have been so many over the years that it's difficult to name one. The highlight most recently would be the launch of my new brand and having my daughter join me on the catwalk because that has always been a dream. She's been instrumental in the relaunch of my brand and so to have her involved has been an incredible highlight for me.
Have there been any tough times or setbacks and what did you take away from them?
Fashion is incredibly dynamic and moves very fast so it takes a lot of dedication and a lot of work, which isn't necessarily a tough time, it's just something that is part of my work. Going through the pandemic and the struggles of the previous business was really the toughest time of my career. The impact that the pandemic had on something that I built from scratch was very difficult but I learned a lot. You take away the good from those experiences then you instill them in the future and I think that's an important lesson.
How easy do you find it to switch off?
I find it very difficult. I think when you have your own business you never really stop, it's your baby, you need to be on it 24 hours. My clients are international so they're messaging and calling me at all hours. I don't mind that; when you're devoted to something that's part and parcel of it.
I take time to switch off here and there; we go on holiday but I still have to take a couple of hours each day to put aside for some work. I meditate and work out and that helps me to keep balanced. My idea of a timeout is to have a facial for two hours and I do try and set aside time for my family as well because they really are an incredible support and give me so much drive and inspiration. It's important to me to have my mornings and evenings with them.
Tell me about a woman you count as an inspiration or mentor.
My mother has been very instrumental. She's always been the one that pushes me to follow my heart; to do what I love doing and to work hard at it. When I was young and said I wanted to do fashion, she was like, 'Okay, well, it takes a lot of work, but if that's what you want to do, then that's what you want to do.' She's at every fashion show and she's constantly pushing me to do more and do better.
What do you think makes a good manager or leader?
To listen is always important. To have mutual respect and trust the abilities of your team. You can't do everything, you need to delegate and you need to believe in them. I think in order to be a leader, it's important to be confident and self-assured, clear in your vision and your objectives – that really sets the tone of the business. Most of all, it's important to be inspiring because people work hard for people that inspire them. When you have a team that is working for the love, as opposed to working for a job, it creates a more dynamic entrepreneurial vibe which is incredibly important for the business to grow.
How do you think the career landscape has changed for women since you entered the industry?
It's come a long way. As a woman, you still need to work a little bit harder than men but I do feel this is changing and evolving. It's incredible to be in an industry that's so supportive of women. In general, we still have a lot of work to do and a long way to go, but I think it's come a long way since I started.
Do you think people's attitudes towards their jobs and their careers have changed in that time?
I think, since Covid, yes. I think there's been more focus on work-life balance. For my industry, especially because it's such a creative industry, it requires the team to be together and to feed off each other. I think work-life balance is important but for industries such as ours, it really requires the team to be working together creatively.
What do you think are some of the hurdles still facing women in the workplace?
Different industries have different hurdles but I think women, in general, still feel they have to work harder to prove themselves. That's why supporting women and empowering women, especially when you're a female leader, is incredibly important.
What would you tell your younger self with the benefit of experience?
A lot. Always stay true to who you are and to your vision. Listen to your heart and your gut. As a business person, make sure you surround yourself with like-minded people who support you. I would also say to my younger self, don't stress about the small things. I used to stress about every little thing and, looking back, it was unnecessary.
What advice would you give to young women who are entering the fashion or luxury industries?
Always believe in yourself. I think it's incredibly important because that will give you the foundation of a clear vision about what you're setting out to do. One piece of advice I always give to people, and I always say to myself, is the only limits you have in life are the ones you place on yourself. To have that mindset that anything's possible is the best piece of advice.