A sight for sore eyes: London homes with incredible views
Fancy dinner with a panoramic perspective of the city? These homes are so well-positioned you can enjoy landmarks from your living room.
You could have the most beautiful property in the world – an Italianate mansion with a wisteria vine and interiors to die for. But what's the point if it overlooks a B&Q car park? It's not just bougie stateside buyers who will pay a pretty premium for a view à la Selling Sunset – landscapes are big business here, too. Especially in a city so chock-full of them. Read on for our round-up of London homes with views, whether you're partial to parkland or Park Lane. All are available to buy or let now.
The Vertus portfolio
Vertus is the property group that looks after rentals in Canary Wharf – an area whose residential proposition has grown exponentially in recent years. Once known as a business district, the Wharf is now brimming with food outlets, culture spots, and a community of renters.
There are three buildings in the Vertus portfolio: Newfoundland is the headliner – a 58-story icon that boasts homes with views looking eastwards over the Docklands and westwards towards the rest of the capital. 10 George Street, meanwhile, is situated in Wood Wharf, the Estate's newest neighbourhood – observing the buzzing district from the apartment balconies is rather lovely. The final Vertus homes are at 8 Water Street, a low-rise building whose charm is derived from its connection to the water and green space that surrounds it. Its private garden overlooks South Dock and the floating pavilions of Water Square, while the roof terrace is the largest outdoor space in the Vertus portfolio.
Battersea Power Station Sky Villas, SW8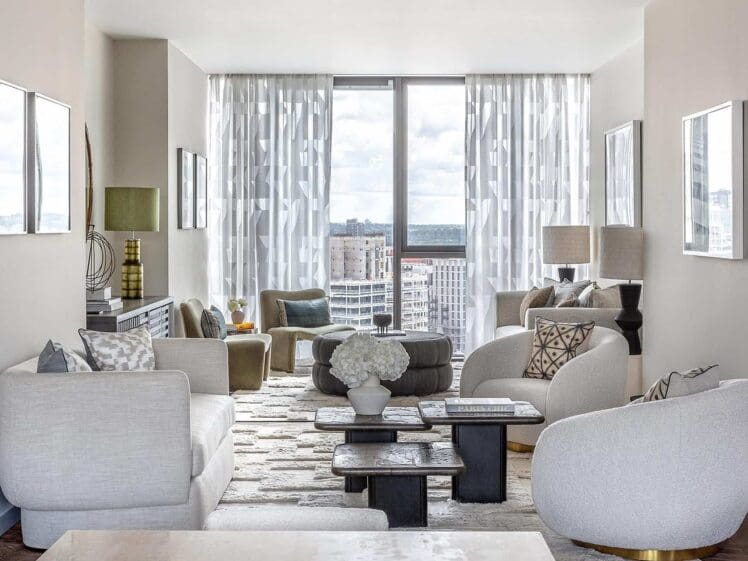 Battersea Power Station – the redeveloped coal-burning towers that once provided a fifth of London's electricity needs – is, as of today, open. After standing derelict since the 80s, a plan to convert the station into 253 residential units, as well as bars, restaurants, offices, shops and entertainment spaces, is now complete. Battersea Power Station is a vision itself – an Art Deco bastion that has become as synonymous with south-west London as Wimbledon tennis or Richmond Park. But its position on the river at Nine Elms also means homes with amazing views, and none more so than those occupying the Sky Villas – a collection of 18 residences sitting between the building's four iconic chimneys.
Prices start from £865,000 in the Power Station; Sky Villas start from £7 million, batterseapowerstation.co.uk
Lancer Square, W8
Lancer Square is a mixed-use development built on the site of the original Kensington Palace grounds and kitchen garden, which later became Kensington Barracks. It comprises 36 one to four-bedroom residences boasting a backdrop of St Mary Abbots Church – an 1872-constructed spire combining neo-Gothic and early-English styles. The three buildings that make up Lancer Square are positioned around a courtyard that has the aura of landscaped palace gardens, but upgraded to feel super-modern, so don't feel too bad if your apartment doesn't look out across the rooftops of Kensington.
Prices start from £4.86 million, lancersquare.co.uk
Chelsea Waterfront, SW10
Chelsea Waterfront is the renovation of the historic Lots Road Power Station, the disused coal station which once supplied electricity to the London Underground. The redevelopment has been masterminded by Sir Terry Farrell, and will include two glass towers of 37 and 25 storeys, plus a number of riverside buildings arranged around landscaped gardens. Chelsea Waterfront is located on the north of the river, between Chelsea and the city, making it the last front site on this bank. This means that views are protected – there's no risk of future construction obstructing it. For the best panoramas in the house, it's the balcony of the Accouter-designed apartment (pictured), which is located on the 19th floor of Tower West.
Price: £6,031,000, savills.com
Chelsea Riverview, SW6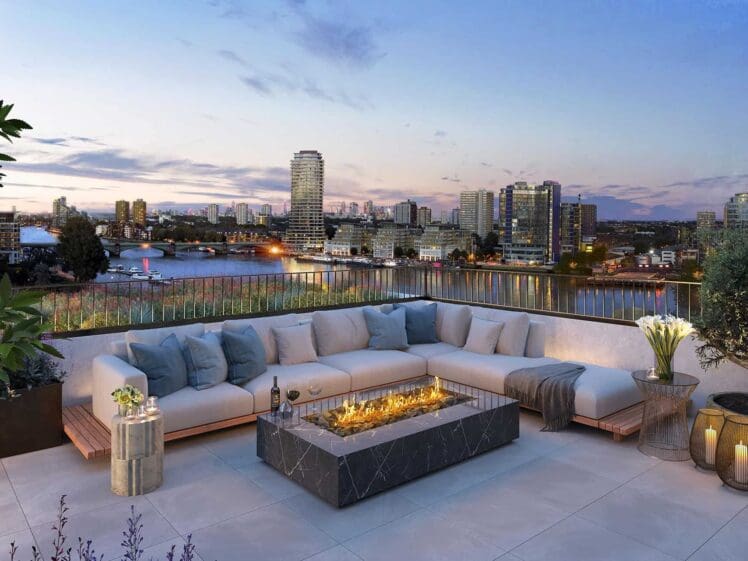 On completion, this ten-storey development will comprise 110 spacious homes, 73 of which have access to private balconies or terraces. Chelsea Riverview boasts a privileged position on the precipice of Imperial Park in Fulham, which, when it opened, was the first public park of its size to be completed in London for 50 years. Its tree-lined avenues and manicured flower beds make up the foreground of the building's view, but the snaking river beyond is the star of the show. You don't get much closer to the action than this, and the developer has exploited this fact – the Terrace Collection, located on the upper levels of the development, will comprise apartments with huge wrap-around terraces.
Prices start from £675,000, residential.jll.co.uk
Alderbrook House, KT13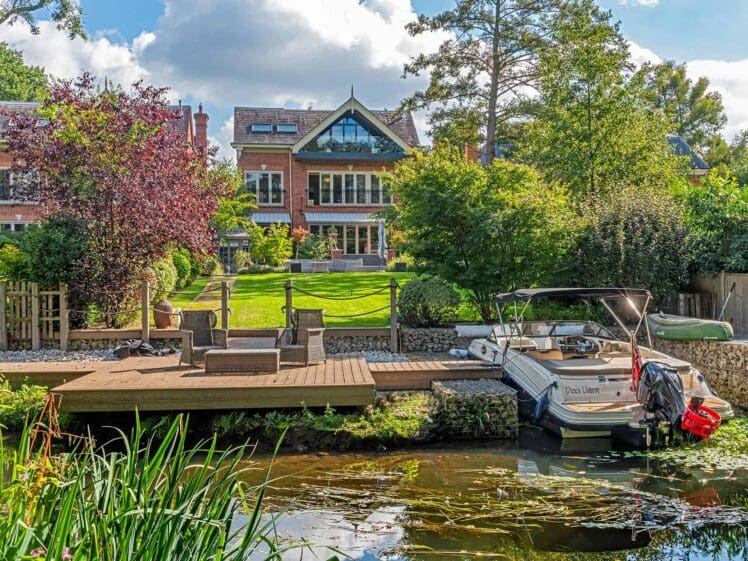 A bit of a change of tack here, but not everyone is a fan of the 'concrete jungle' vista. Jump on the train for an hour, get off just past Hampton Court, and you reach the London-adjacent area of Weybridge. Here, you have proximity to the city proper, as well as homes with views like the one above. This home's private garden moors on the River Wey; meanwhile, the landscape from the upper levels is basically just greenery as far as the eye can see – it feels a bit like living in your very own luxury treehouse. Alderbrook House is as charming inside as it is out, stretching across 6,443 sq ft. But we don't need to tell you about the space benefits reaped when you go outside of the M25.
Price: £4.5 million, waterview.co.uk
Coleraine Road, SE3
It is this home's unique elevated position on the street that has earned it a place on this list. You really feel the benefits of this from the second-floor terrace, which overlooks the garden and has amazing views of Canary Wharf beyond; the vista is perfectly framed through Crittall-style doors in the living room. But this isn't the only thing that makes this double-fronted home so desirable; built in 1877, it is situated over three floors and measures in excess of 5,000 sq ft. It's super light and airy, which is perhaps attributable to direct access to an enormous rear garden, which approaches 120ft in length and 60ft in width.
Price: £4,500,000, knightfrank.co.uk
Coldharbour, E14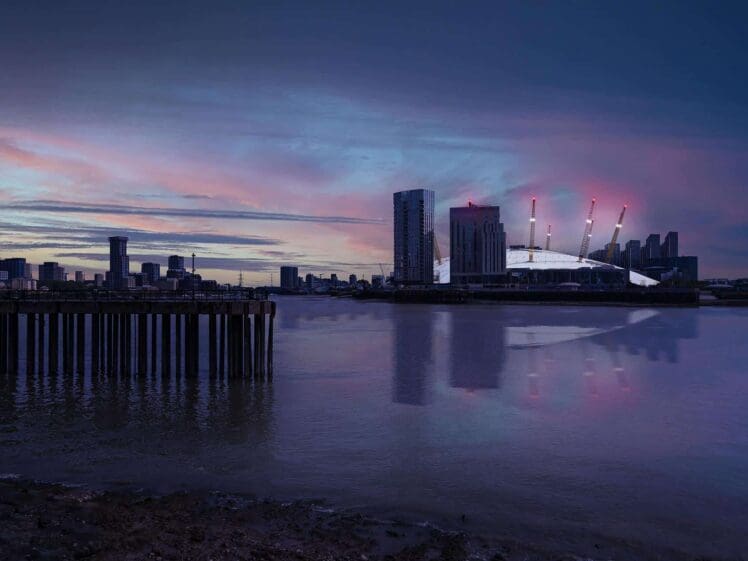 It's harder to achieve breathtaking views with older homes, due to the fact that they don't generally soar 30 stories into the air. However, if you're a die-hard proponent of the period property, but don't want to compromise on the scenery, Coldharbour may be perfect. This Grade II-listed property, situated on a Georgian-era cobbled street, dates back to 1809. Internally, there's period charm in spades, including original chimneypieces, folding window shutters, panelled doors, architraves, dado rails, and resinous pine floorboards. The view comes courtesy of the river-facing garden that can be accessed via the kitchen or dining room; despite facing the O2 arena, it feels immensely private.
Price: £1,500,000, knightfrank.com
Balmoral House, SE1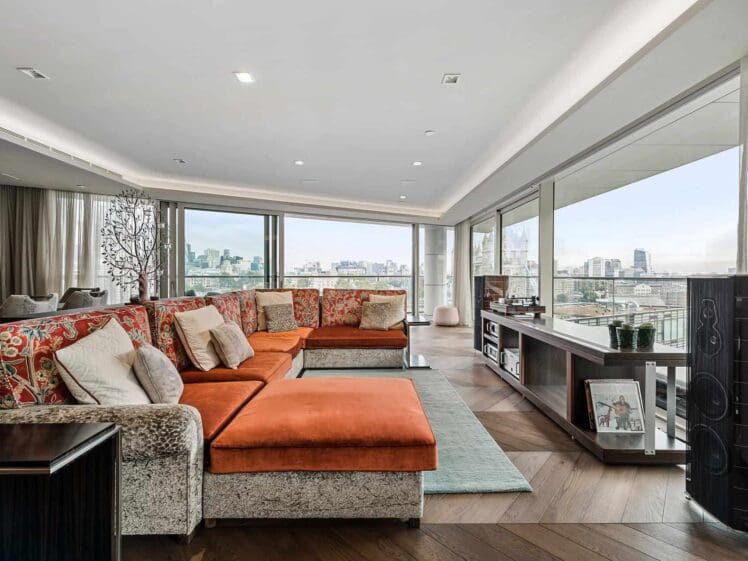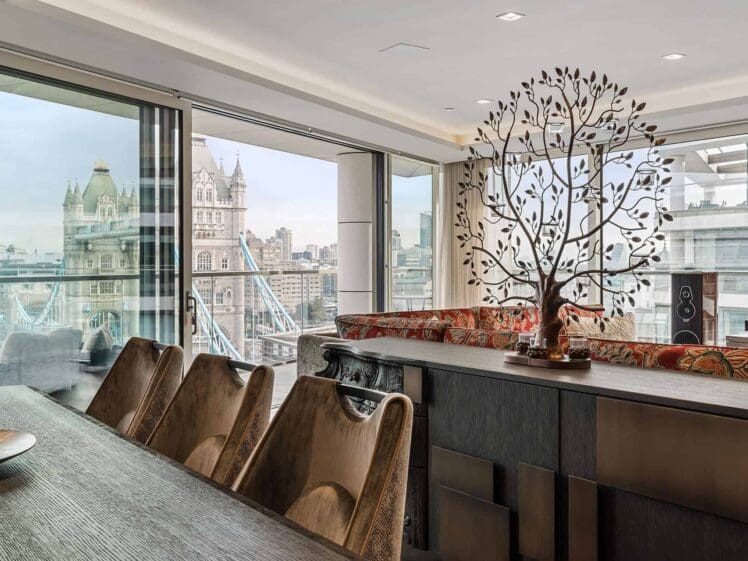 This two-bedroom home faces the river at Southwark, and really makes the most of it. Floor-to-ceiling wraparound windows reveal glimpses of the City, the Tower of London and Tower Bridge. If you enjoy the fresh air with your view, the private balcony spans the entire length of both orientations, and is accessed from the dual-aspect reception room and the principal and second bedrooms. Elsewhere, the kitchen boasts handleless gloss cabinets and there is a host of amenities for residents to enjoy, from the 24-hour concierge to a private spa facility with a sauna, steam room and jacuzzi.
Price: £3,650,000, knightfrank.com