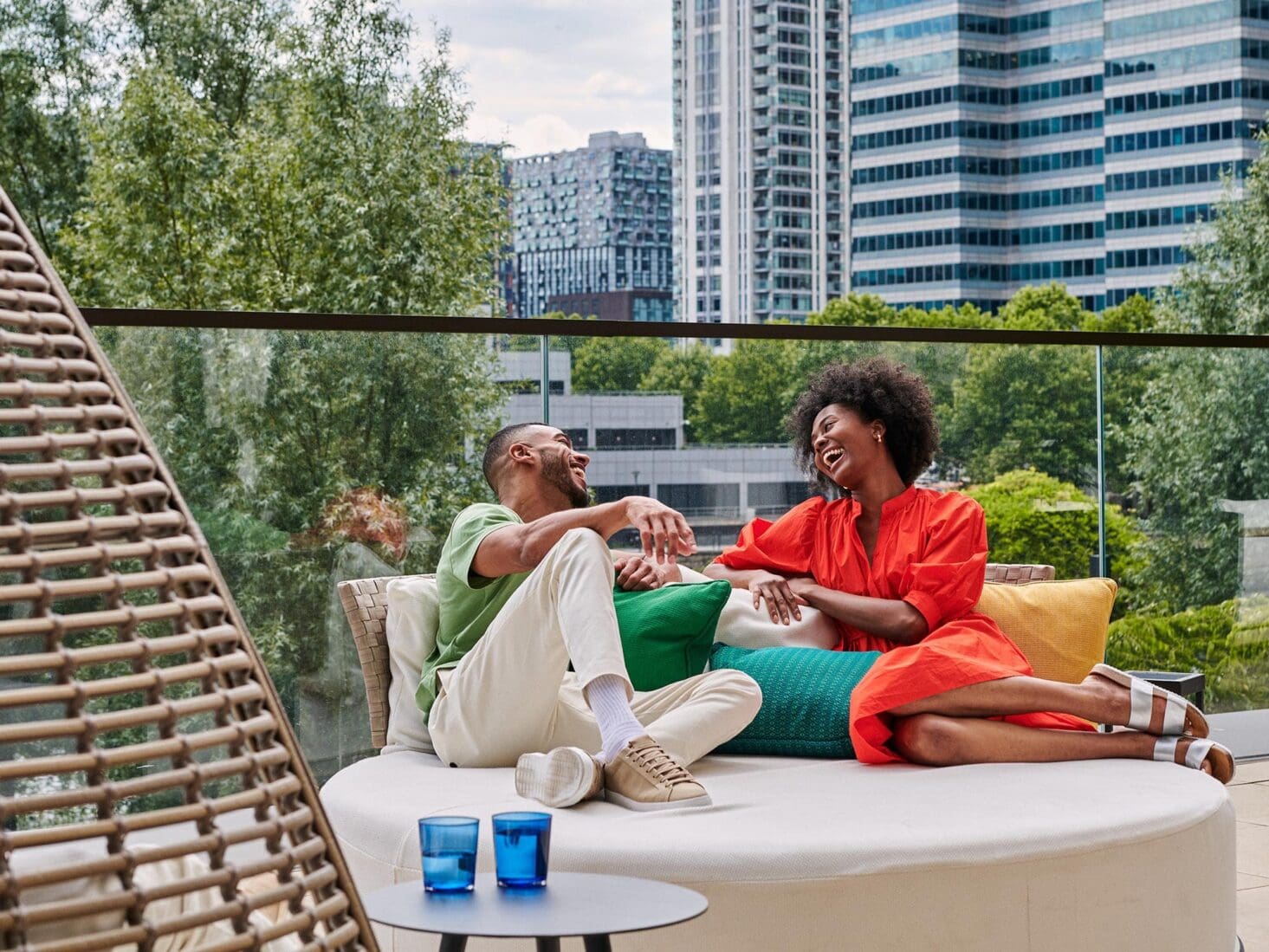 Vertus: The team making Canary Wharf the perfect place to rent
The three buildings managed by Vertus may have cracked the formula for a peerless renting experience
To find the elusive ideal leased apartment, a number of factors need to come together: the building itself, of course, needs to look good. Then there's the matter of 'extra curriculars' – what do you get services and amenities-wise? Community is important, too; all the better if you can mingle with like-minded neighbours. And don't forget location and surroundings – everyone wants to live somewhere convenient, vibrant and beautiful.
There's so much to consider, in fact, that the general consensus is that, when finding somewhere to rent, you'll have to sacrifice one or more of the above. If you choose to rent with Vertus in Canary Wharf, however, you may find yourself in the unprecedented position of ticking off every last one of your criteria.
Vertus manages the Estate's rental buildings – Newfoundland, 10 George Street, and 8 Water Street – and is saying 'no' to compromise. You can get everything you want here (and dare we say it, more). Let's put that statement to the test, shall we?
The homes
Newfoundland is the latest addition to Canary Wharf's living proposition, soaring 58 stories above the River Thames. It is the tallest build-to-rent tower in London, and views are unrivalled; look eastwards to the Docklands, and westwards over the rest of the capital. No expense has been spared on Newfoundland's design, which has won an award from the Council on Tall Buildings and Urban Habitat. Contemplating the majestic diagrid structure, you understand why.
Vertus' next building, 10 George Street, is also architecturally fascinating, contoured by generous east, west, and south-facing balconies. The 327 apartments boast comfort cooling and heating, open-plan living areas, and overlook Harbour Quay Gardens in Wood Wharf, Canary Wharf's newest neighbourhood. Residents agree that 10 George Street is a great place to live – it was voted the Best Rated Residential Development in London on independent review platform HomeViews.
Last but not least, there's 8 Water Street (which earned the same accolade on HomeViews in 2021). This building is home to 174 apartments which are, thanks to its low-rise configuration, intimately connected with the water that surrounds it – you can watch the paddle boarders in the South Dock from your terrace, or spot a GoBoat floating by. 8 Water Street is also pet-friendly, and boasts a landscaped roof garden with heaters, a BBQ and table tennis, as well as private gardens at ground level. Outdoors is a residents' sanctuary within Canary Wharf; inside, natural light floods in via floor-to-ceiling windows.
The amenities
All residents of Newfoundland, 10 George Street and 8 Water Street are members of Club Vertus, which grants access to a suite of exclusive privileges. These include access to a lounge – the perfect place to relax or meet friends; a terrace, which hosts events such as live music and wine tasting; and self-service bars. All buildings have private bookable dining rooms, which also have kitchen facilities, perfect for hiring private chefs. 10 George Street and Newfoundland boast fully-equipped gyms managed by Antidote, and screening rooms at 8 Water Street and Newfoundland are great for film nights or sporting events. Members of Club Vertus also get early access to new openings in Canary Wharf, and resident discounts across the Estate.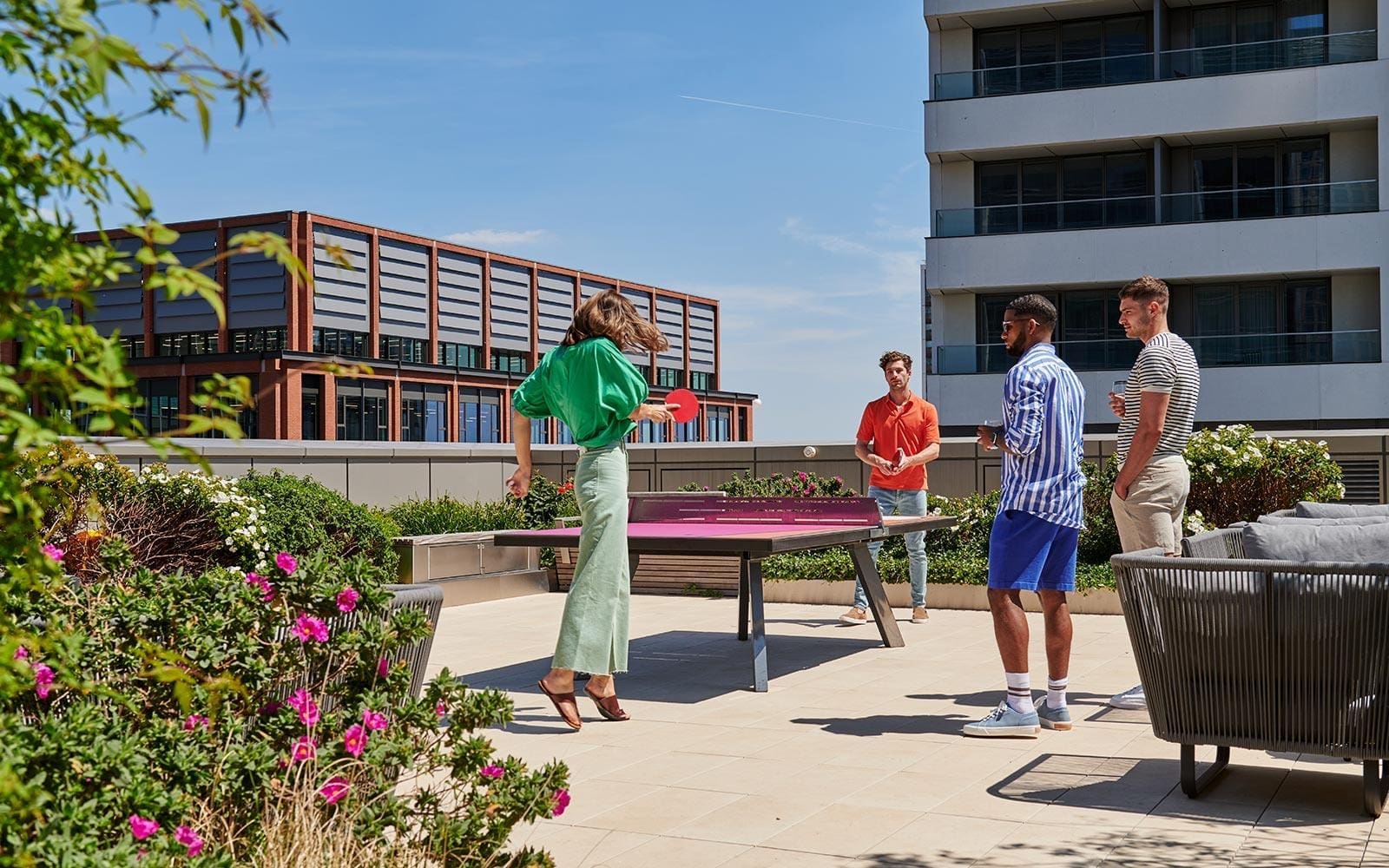 These are the core amenities of Club Vertus, but each of the properties is unique. Newfoundland's private lounge, for example, is an elegantly designed space with co-working areas and a games room. The west-facing terrace boasts a BBQ and a 'kidult' space, and the gym is fitted with cardio and resistance equipment, a free weights area and two separate fitness studios. The lounge at 10 George Street opens onto a terrace where residents can enjoy dockside views from Mediterranean-style day beds. 8 Water Street boasts the largest outdoor space in the Vertus portfolio, and, while this building might not have its own gym, its residents enjoy complimentary membership to Third Space luxury health club, gym and spa.
Finally, the work-from-home revolution is here, and Vertus has adapted accordingly. The lounges double as workspaces with dedicated quiet areas – the bean-to-cup coffee machine and Superfast Broadband (as well as an automatic wine dispenser for an after-work tipple) make for a great setup.
The community
As you might imagine, having access to all of these amazing communal spaces is a great way to get to know the neighbours. Especially when you combine them with Club Vertus' events programme, which is so popular that there's even an app to keep on top of things.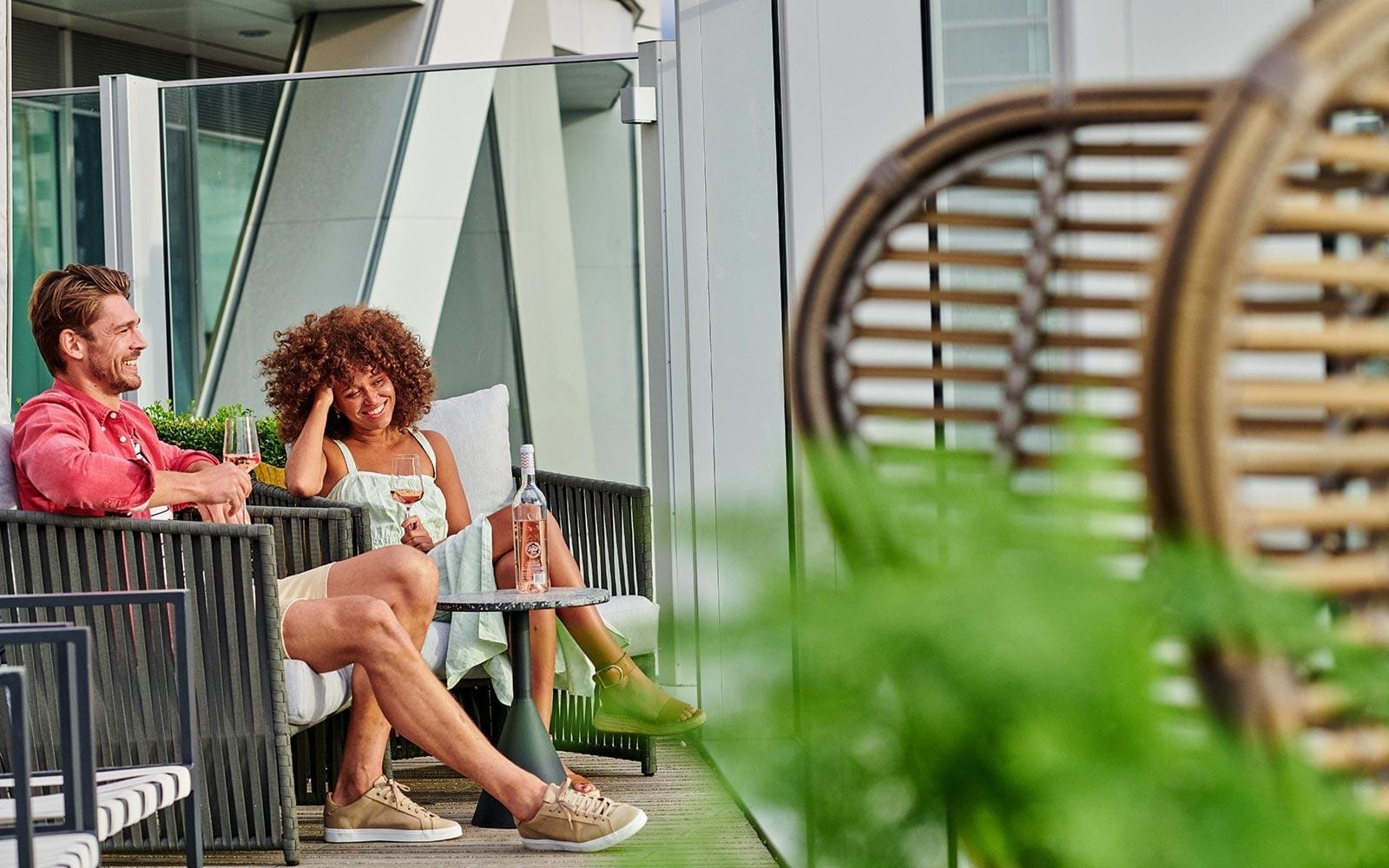 Club Vertus events are curated by the in-house events team, which is also available to help you organise your own. Feel free to use one of the Vertus spaces (the lounges, terraces and screening rooms would work particularly well) – alternatively, book out a bar or restaurant in Canary Wharf.
The surroundings
Canary Wharf is well-located in trendy East London, connected by the Jubilee Line, DLR and – most recently – the Elizabeth line. Here, grabbing essentials from the supermarket is just as easy as shopping for a new outfit, indulging in an evening of live music, or taking a waterside stroll. It's all on your doorstep – such is the benefit of being part of a private, managed Estate.
If you're popping out for a bite to eat, Canary Wharf has just welcomed Italian restaurant Emilia's Crafted Pasta and the California-inspired Feels Like June to its roster of food outlets. For Newfoundland residents, M Restaurant's new flagship bar and restaurant, which includes wine tasting, a cocktail bar, and a private members' lounge, is mere moments away – on the first floor of the development, to be exact. 10 George Square is located in the new neighbourhood of Wood Wharf, which is home to dining experiences such as Mercato Metropolitano, and two floating bar and restaurant pavilions housing steak joint Hawksmoor have recently joined 8 Water Street at its address. Also just around the corner from this building is new arrival TRIBE, an ultra-contemporary hotel with a unique vibe, which will be joined by the Bombay-inspired Dishoom come winter.
| | |
| --- | --- |
| | |
Across the Estate, there are 300 shops, bars and restaurants. Not to mention 100 cultural events per year ranging from waterside festivals to musical performances, and the UK's largest free-to-visit collection of outdoor public art. So if you're looking to live somewhere active and action-packed, Vertus has it in the bag again.
Plus, a thriving social and cultural scene doesn't come at the cost of wellness and beauty. Canary Wharf boasts over 20 acres of landscaped parks and squares. Waterways and boardwalks are largely free from both noise and traffic pollution, and the water is a constant, calming presence (open-water swimming at Middle Dock continues until mid-October).
The verdict
Modern homes? Check. Next-level amenities and a fantastic community to share them with? Check. A multitude of shopping, dining and cultural experiences, plus beautiful waterside surroundings? Check. The cherry on the cake is the fact that Vertus' team are on-site and on-hand to deliver exceptional service all the time. For those for whom buying isn't currently the right move, this truly does seem like the perfect solution.