Property of the month: artist Morag Myerscough's colourful home
In a lockdown project, Morag Myerscough revived her Shoreditch home with eye-popping colours and geometric murals – and now it's on the market
"Our Superheroes We Love You," reads the missive emblazoned on the exterior of this Shoreditch house, in which artist Morag Myerscough has lived for 15 years. Painted during the pandemic as a shoutout to key workers, the vibrant graphic design serves not just as an uplifting message to the local neighbourhood, but an indication of what to expect beyond the building's brick façade. Once a Victorian public house known as The Weavers Arms, the Drysdale Street property has recently been transformed into a veritable art installation that perfectly encapsulates the artist's vibrant and colourful aesthetic.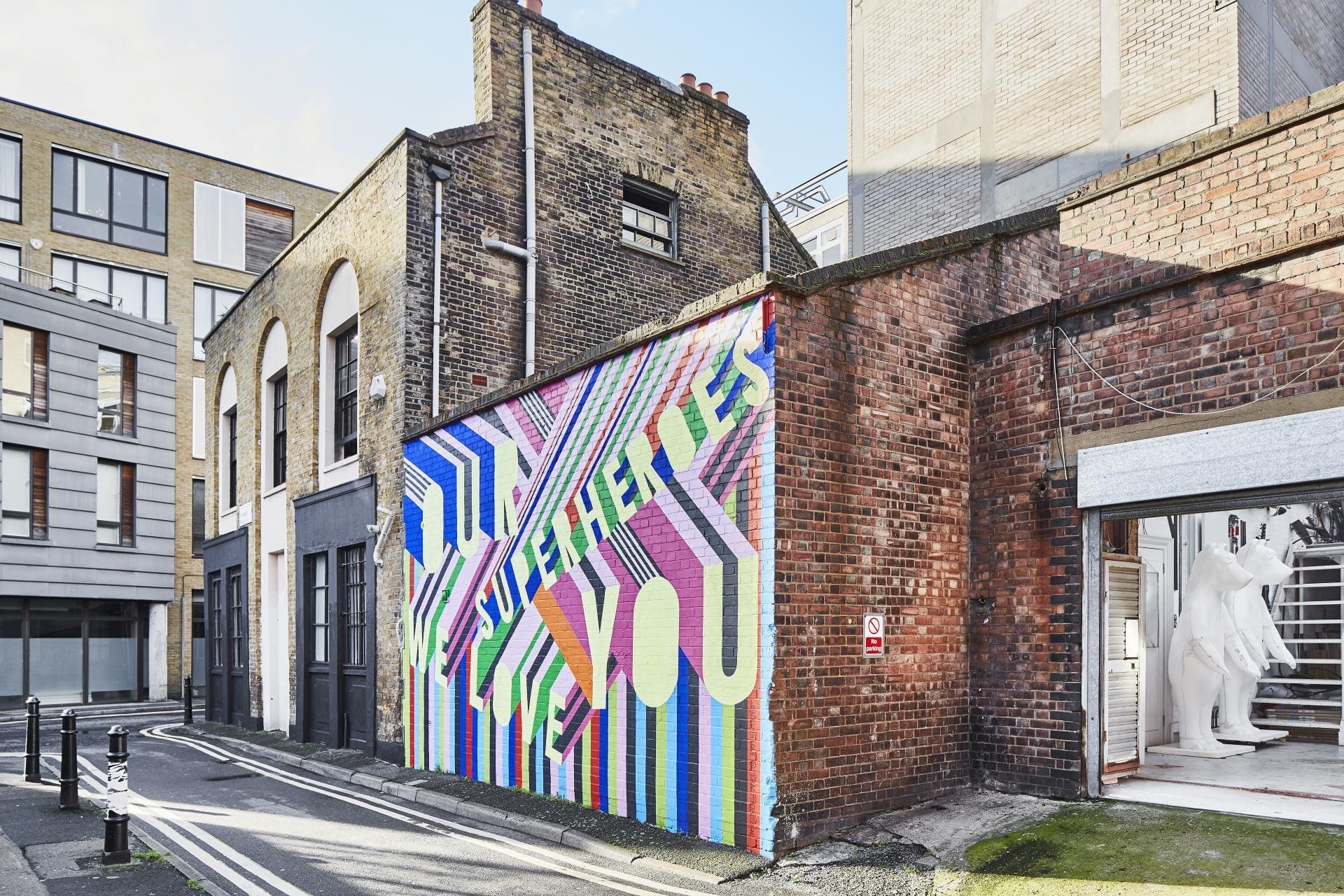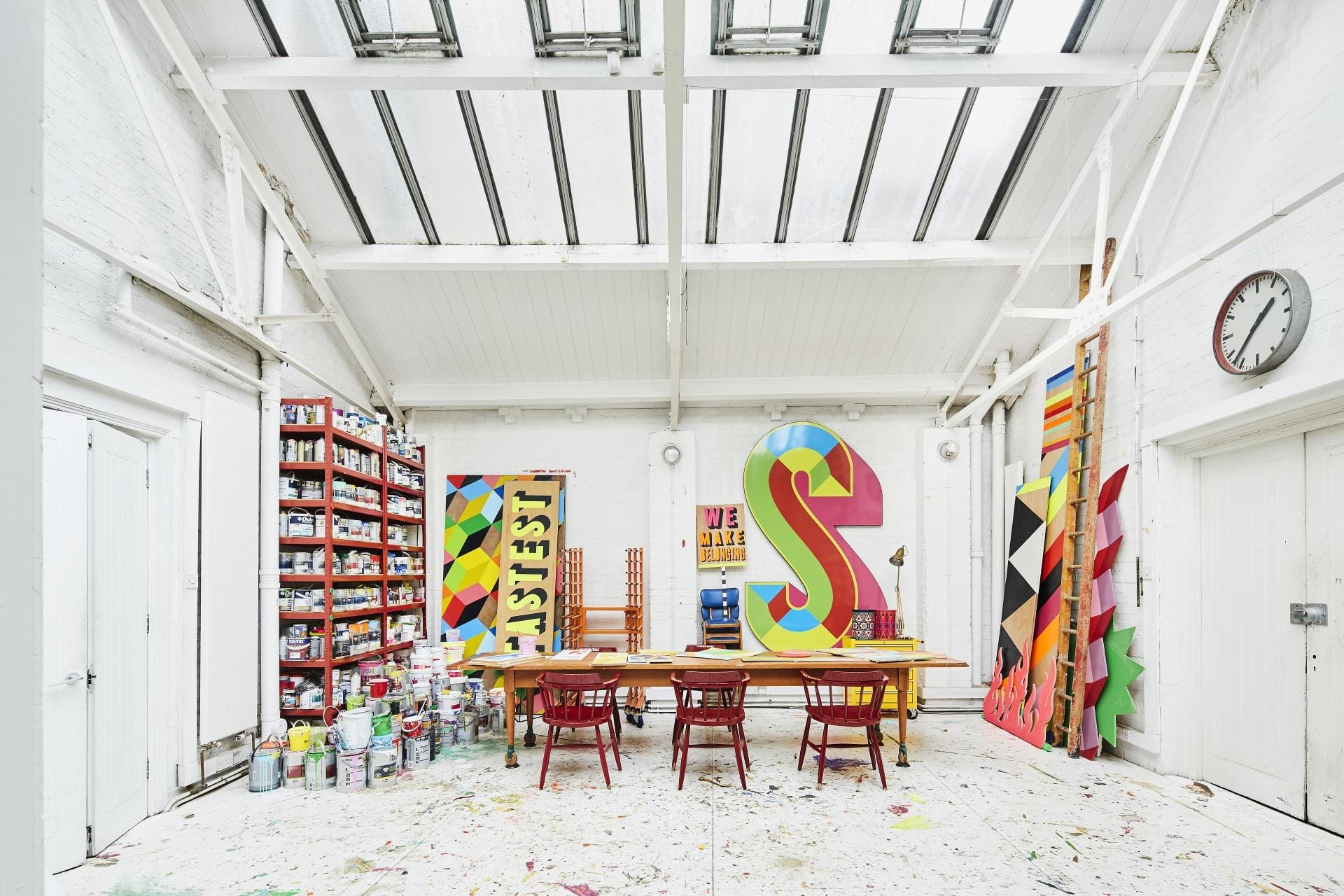 Having created eye-catching installations for projects in Cape Town, Greenwich and Mexico City, to name a few, Myerscough is more used to designing large-scale works for global audiences than she is interior spaces, which is perhaps why her own home was left largely untouched – until recently. When she moved in with her partner, fellow artist Luke Morgan, and their dog Elvis in 2005, she simply painted the walls white and let her collection of Modernist furniture do the talking. During lockdown, however, with her commissions cancelled and ample time on her hands, Myerscough sought a creative outlet within her own walls, transforming pockets of space into works of art.
Now for sale through The Modern House, the property offers a rare opportunity to live amongst Myerscough's vibrant designs. Doubling as both a home and workspace, the building has two entrances that provide a division between work and play. Accessed through the wooden shopfront are two large studios and an office on the ground floor, with exposed steel trusses and a roof-lit cathedral ceiling.
The residential entrance, meanwhile, leads onto a striking library with a beautiful gradient bookcase that wraps around the room, and an open fireplace reminiscent of the artist's signature style. A white staircase leads upstairs to the open-plan living room, dining space and kitchen, which is arranged in an L shape and features stripped-pine flooring throughout. This floor is also home to a bedroom, which is currently used as a dressing room, and a shower room.
The top floor is where Myerscough's design comes to the fore. In contrast to the rest of the house is the master bedroom, which is wrapped in grey felt curtains to create a cosy enclave. An open wood-panelled alcove gives space to a freestanding bathtub. The only splash of colour comes from the green French doors, which lead into the Summer Room. In here, you'll find marshmallow pink walls, a banquette bench wrapped in fuchsia fabric and a door painted with a rainbow geometric print.
The theme continues on the roof terrace. Already a sun trap, the space is all the more vibrant thanks to a brilliantly-colourful geometric mural that wraps around the walls and continues onto the decking.
Having spent lockdown transforming the house, Myerscough and her partner are ready to hand over the reigns to somebody new. "We want to pass this on to someone who will make it their own and love it as much as we have," the artist told The Modern House. "We're not precious about it though. It offers so many possibilities – the front could be turned into a shop, restaurant or gallery. It's just ready for another layer now."