Swim fan: London's best lidos and outdoor pools
Immerse yourself in the capital's prettiest outdoor swimming pools, from hotel rooftops to historic lidos, all set against views of the city's iconic skyline
Whether you're looking to get in some serious laps or are simply after somewhere pretty to sunbathe, London's bevy of lidos and outdoor pools will be a godsend when the sun comes out. As with most of the capital's beauty spots, you'll have to get there early to secure a prime position, but, should you be successful, you'll be rewarded with picturesque views, pristine (if arctic) waters and maybe even a poolside cocktail or two.
Shoreditch House and White City House
What swimming pool round-up would be complete without the aqua-based offerings of the globally-renowned Soho House chain? Members'-club-cum-place-to-be-seen, its London venues in White City and Shoreditch offer wonderful, sky-high escapes from the heat of the urban jungle. At 16 and 17 metres respectively, each rooftop pool is more than large enough for non-Olympians and is surrounded by scintillating views of London's skyline. Get down early to nab one of the covetable sun loungers and keep those signature picante cocktails flowing.
White City House, Television Centre, 101 Wood Lane, W12 7FR; Shoreditch House, Ebor Street, Hackney, E1 6AW, visit sohohouse.com
The Ned, The City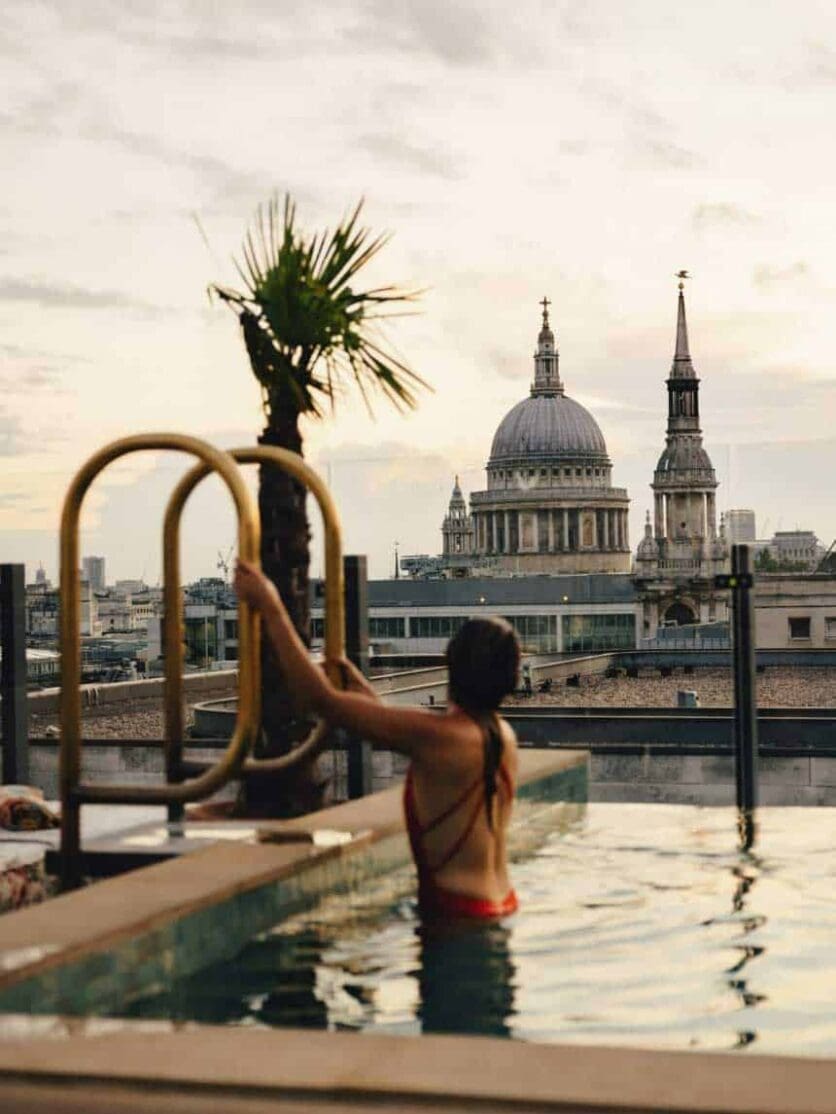 While The City can no longer be relied upon to become a weekend ghost town, you are, perhaps, more likely to secure a choice spot here than at some of the capital's more touristy hotspots. Beat the crowds at The Ned, a gargantuan bank-turned-members' club and hotel, owned by the Soho House group. It boasts nine restaurants, a gym, spa and hammam (with some facilities reserved solely for Ned's club members), as well as indoor and outdoor pools. The members' only rooftop pool boasts one of the best views on this list, with St Paul's Cathedral and the Gherkin both in scope.
27 Poultry, London EC2R 8AJ, visit thened.com
Hampstead Heath Ponds
Not to be confused with Parliament Hill Lido (more on that shortly), the Hampstead Heath Ponds are among the most picturesque in the country, and worthy of a painting by Monet. The three pools are open to ladies, men and mixed groups (including accompanied children aged 8-15, at the lifeguard's discretion) respectively. The ladies' and men's ponds are the UK's only lifeguarded open-water swimming facilities open to the public every day of the year — just be sure to book in advance. Probably the closest you're going to get to real wild swimming in London. Don't be surprised by the nudists at some specific spots.
Hampstead Heath Ponds, NW5 1QR, visit hampsteadheath.net
Parliament Hill Lido
Built in 1938 and Grade II-listed, this Art Deco, stainless steel-lined outdoor pool is the only one of its kind in the country. Diving into it is like entering a giant shiny metal bowl. A north London classic (and marginally warmer alternative to the wild ponds), Parliament Hill Lido is open year-round for those willing to brave a winter dip. Right on the edge of Hampstead Heath, the 61-metre lido has plenty of room for everyone to enjoy. Different booking systems operate during the summer and winter seasons so be sure to check the website before you go.
Parliament Hill Fields, Gospel Oak, NW5 1LT, visit parliamenthilllido.org
Love Open Water Canary Wharf
Fancy a splash under the lights of London's illustrious business district? Having opened just last summer, Middle Dock in Canary Wharf boasts a 600m, lifeguarded outdoor pool perfect for both solo swims and family frolics (waterside changing huts provided) as everyone aged 10 and above are invited to dip their toes in the water. You needn't be worried by the water quality either, as Canary Wharf works with NOWCA — the UK's largest network of safe open water venues — to ensure the water undergoes full testing twice a month to maintain its 'Excellent' EU Bathing Standards rating. 
Mackenzie Walk, London E14 4PH, visit loveopenwater.co.uk
Serpentine Lido, Hyde Park
Is there any other city in the world where you can swim in the capital's main park, right next to swans owned by His Majesty the King? We think not. The Serpentine Lido and its accompanying paddling pool are great for both adults and children. A little bit of history: the Serpentine Swimming Club is the oldest swimming club in Britain, and its members swim every morning, including during the famous (and chilly) Christmas Day race. We think we'll stick to the summertime option…
Serpentine Lido, Hyde Park, W2 2UH, visit royalparks.org.uk
Royal Docks, London Docklands
Perhaps the only spot in the capital where you can swim in waters provided directly from the Thames (don't worry, it's cleaner than it sounds), Royal Docks is the perfect spot for those trying out open water swimming for the first time. As well as offering 400m, 750m and 1,500m courses for competitive training, casual swimmers are welcome all year round. There's even a safety tagging system in place to keep track of each swimmer so you can paddle about with complete peace of mind.
Fishguard Way, E16 2RG, visit londonsroyaldocks.com
Brockwell Lido
This much-loved lido has been hosting south London's swimmers since 1937 and, in that time, has become a full-service fitness destination, with a gym, exercise classes and yoga studio housed in its Art Deco building. The main draw, however, remains the 50m outdoor pool, which is open year-round (including Bank Holidays) with 50-minute sessions available for swimmers of all abilities. There are also fun sessions available for children during the summer.
Brockwell Park, Dulwich Road, SE24 0PA, visit fusion-lifestyle.com
Beckenham Place Park Swimming Lake
The glorious Beckenham Place Park in Lewisham spans 98 hectares of ancient woodland, pretty meadows and historic buildings making it a brilliant day out any time of year. During the warmer months, however, expect the crowds to swarm to the picturesque swimming lake — the first purpose-built swimming lake in London. Open six days a week, sessions are open to anyone over the age of eight and spectators are strictly forbidden, meaning you can do your laps in peace.
Beckenham Hill Road, Beckenham, BR3 1SY, visit lewisham.gov.uk
Hillingdon Lido, Uxbridge
Not a fan of the cold? You'll be pleased to hear that Hillingdon Lido (formerly Uxbridge Lido) is one of the few outdoor pools in London to be heated. It also happens to be one of the capital's prettiest, boasting Grade-II listed status and accompanied by historic cascade fountains and tiled splash pools. The lido closes each year during the winter, reopening in early April alongside its three indoor pools so keen swimmers can keep up their momentum during the colder months.
Gatting Way, Uxbridge, UB8 1ES, visit better.org.uk
Read more: R&R: The best massages in London