Fine jewellery on film: high-drama diamonds of the silver screen
The most successful, sparkling collaborations between Hollywood and high jewellery, from blinged-up mob wives and staggering diamond heists to heady, Fitzgerald-fuelled glamour
"The only word Elizabeth knows in Italian is Bulgari" – Richard Burton
No Time To Die (2021)
The latest film in the 007 franchise, and Daniel Craig's swansong, was due to be released in April 2020 but has been postponed until October this year due to the coronavirus pandemic. Chopard, which has cameoed in Hollywood films for decades, is the official jewellery partner of No Time To Die. Bond girl Ana de Armas wears a one-of-a-kind, knock-out diamond suite in the trailer, which is part of the Genevan jeweller's Green Carpet Collection. Showcasing Chopard's ongoing commitment to ethical production, each piece is sustainably made using Fairmined certified gold and responsibly-sourced diamonds. From Omega watches to Aston Martin motors, product placement has always been an integral part of the debonair James Bond action. It mirrors Ian Fleming's nack for name-dropping in the novels, which were strewn with brands including Bentley, Cartier and Gordon's Gin. This is the first time, however, that a couture jeweller has offiically partnered with 007, demonstrating the modern appeal of the silver screen for fine jewellery houses.
Ocean's 8 (2018)
In this all-female spinoff of the Ocean's franchise, Sandra Bullock and Cate Blanchett plot a heist to lift $150m worth of rocks from the Met Gala in New York. Their all-star girl gang of glitzy criminals includes Rihanna, Helena Bonham Carter and Dakota Fanning. At the heart of the heist caper is the Cartier Jeanne Troussiant necklace, worn by Anne Hathaway. The staggering, two-strand diamond sparkler is based on an original 1931 Cartier design, created for the Maharaja of Nawanagar by Jacques Cartier, and so-called in honour of Cartier's former creative director. The necklace disappeared after his death, believed to have been broken up and reset into untraceable designs, but was recreated especially for the film. Cartier was the official partner for Ocean's 8 and loaned diamond pieces to Kim Kardashian West, Kendall Jenner and Zayn Malik, all of who cameo in the movie.
Jackie (2016)
The haunting image of Jackie Kennedy wearing a blood-splattered pink Chanel suit on the day that her husband, president John F. Kennedy, was assassinated is engrained in American history. "I want them to see what they have done to Jack," she commented, refusing to take off her suit. The aftermath of Kennedy's death is powerfully documented in Jackie, a stylish biopic starring a pitch-perfect Natalie Portman. For the film, Piaget loaned an original gold and diamond watch owned by the First Lady, with a vivid jade dial. Portman also wears pink Piaget pearls and shoulder-skimming tassel earrings, styled with Kennedy's trademark pillbox hats and elegant shift dresses – a look that set the tone for American glamour during the sixties.

Breakfast at Tiffany's (1961)
Contrary to popular belief, Audrey Hepburn did not in fact wear any of Tiffany's creations during the filming of Breakfast at Tiffany's, in which the American jeweller's Fifth Avenue flagship plays a starring role. She did however don the world-famous 128.54 carat yellow Tiffany Diamond for the publicity pictures. One of the largest yellow diamonds ever discovered, it has been worn only once since – by Lady Gaga, who was bestowed the colossal jewel for the 2019 Oscars ceremony. Tiffany aside, the iconic film is a timeless visual feast of costume pearls, trenchcoats and Givenchy dresses, which notably transformed eating a Danish pastry into a decadent, stylistic art form.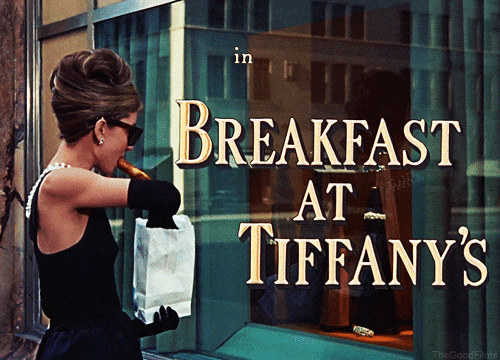 The Great Gatsby (2014)
Tiffany & Co. was also responsible for generously frosting the cast of The Great Gatsby in 2014. The American jeweller was one of the most prominent names in New York during the Roaring Twenties and Scott Fitzgerald was a regular customer, making it an authentic and irresistible collaboration for the bombastic Baz Luhrmann production. Jazz-age jewels were directly inspired by historical archival sketches, including the sparkling diamond and pearl Savoy headband worn by Daisy (Carey Mulligan), alongside elaborate hand jewels, which wrap around the wrist and finger. A real pearl necklace is torn from Daisy's neck in one dramatic scene, which reportedly had security running for scattered pearls during filming. Vintage Tiffany pieces also feature, including the diamond hat pins worn by Jordan (Elizabeth Debicki).
Casino (1995)
Bulgari has enjoyed a close relationship with Hollywood since the 1950s, when starlets including Elizabeth Taylor, Audrey Hepburn, Ingrid Bergman and Anita Ekberg would drop by the jeweller's shop in Via Condotti in Rome. The 2019 Cinemagia high jewellery collection was an ode to this era, inspired by La Dolce Vita glamour of the silver screen. In Martin Scorsese's stylish mob drama, Ginger McKenna (Sharon Stone) snuggles into a chinchilla coat while admiring a glittering spread of gold Bulgari bling, including Serpenti bracelets, chokers and chains. "Do you think it's too much if I wear these all in the same day?" She purrs.
How To Lose A Guy in 10 Days (2003)
With a rumoured remake on the cards, revisit this 2003 classic, starring Starring Kate Hudson and Matthew McConaughey. The story goes like this: a magazine columnist embarks on a story about dating and dumping a guy in ten days. The suitor in question, however, also has a bet on with his boss that he can make a woman fall in love with him during the exact same time frame. Cue a totally ridiculous but wonderfully watchable rom-com, which is also now an ode to early noughties style. Kate Hudson's backless yellow satin dress is worn with a scene-stealing 84-carat yellow diamond Isadora pendant necklace, made especially by Harry Winston for the film. The original jeweller to the stars, Harry Winston was the first diamantaire to see the potential of the red carpet when he loaned diamonds to actress Jennifer Jones at the 1944 Academy Awards.