Night fever: the most glamorous films set in the sybaritic seventies
The perfect foil to lockdown monotony? The outlandish glamour and chutzpah of the sexed-up seventies. Scroll through Luxury London's curation of the most popular films that capture the hedonism and style of the decade, spanning mafia movies, go-for-broke thrillers and all-out disco glitz
Saturday Night Fever (1977)
Fun fact about Saturday Night Fever: the majority of the movie had already been shot when the Bee Gees were commissioned to pen a few songs for it. The brothers were only loosely briefed about the storyline and knocked out Stayin' Alive, How Deep Is Your Love, Night Fever and More Than a Woman in little more than a weekend – helping create what would become the best-selling soundtrack of all time (until The Bodyguard came along 15 years later). So, when you're strutting along with Travolta as he syncs to the beat in the opening scene, remember, Stayin Alive hadn't yet been written. According to Travolta, he was dancing to Boz Scaggs and Stevie Wonder.
American Hustle (2013)
American Hustle is a raucously fun, fictionalised account of the FBI's notorious Abscam sting of the late 1970s, which caught politicians taking illicit payoffs. Christian Bale plays Irving Rosenfeld, a conman in a comic hairpiece and a flared three-piece suit, who falls for the fiery Syndey Prosser (Amy Adams) – all va-va-voom volume and plunging necklines. She becomes both his lover and partner-in-crime, before they are coerced by greasy FBI agent Richie DiMaso (Bradley Cooper, with a poodle perm) into assisting with the ultimate hustle. Jennifer Lawrence plays Rosalyn, Irving's neglected wife. Set in the louche underbelly of New York, this film revels in the sex and glamour of the 1970s, with a heady wardrobe of sparkling halterneck dresses, shagpile coats and Gucci horsebit jewellery. Embrace the spirit of the movie by pouring yourself a Stinger cocktail, made with white crème de menthe, brandy and ice.
Casino (1995)
The 'look' of Casino was crucial to Martin Scorsese when he made his 1995 Las Vegas gangster epic: Robert De Niro and Joe Pesci's conveyer belt of flamboyant suits and shiny ties; Sharon Stone's manicured nails and extravagant furs and the casting of real-life veterans from the Las Vegas strip. Neutral clothing was purposely worn to counteract the brutality of certain scenes. Kicked off by the car bomb in the opening credits, this mobster movie is a dialed-up, stylish Scorsese classic, which captures Las Vegas during the 1970s like no other film before or since.
Gimme Shelter (1970)
If the catchy songs and flared trousers of Saturday Night Fever extended the life of disco by half-a-decade, then the 1970 release of Gimme Shelter, a feature-length documentary that followed The Rolling Stones as they toured around the US the year before, was a watershed moment for the free-loving, amphetamine-taking counterculture movement of the decade before. After documenting a gig at Madison Square Gardens and the making of the Sticky Fingers album in Alabama, the biopic culminates at an infamous free concert at San Francisco's The Altamont Speedway on 6 December 1969, where Hells Angels security guards met with a thronging crowd of drugged-up teenagers to disastrous results. By no means glamorous, but undoubtedly one the most significant rock films ever made.
Almost Famous (2000)
Fifteen-year-old William Miller (Patrick Fugit) is a desperately dorky kid but knows how to write. So when Rolling Stone magazine asks him to accompany and write about a rock band called Stillwater, he sobers them up with his youthful innocence and they get him a little high. Also on tour are the 'Band Aids', a stylish pack of groupies in shaggy coats and mini skirts, led by the enigmatic Penny Lane (Kate Hudson's breakthrough role). Those expecting a Burroughs-esque exposé of rock and roll overdoses best look elsewhere; this is a joyous coming-of-age movie, a light-hearted power ballad. The film partly draws on the life of director Cameron Crowe – he was Rolling Stone's youngest-ever contributor and interviewed Bob Dylan, Eric Clapton and Led Zeppelin among others.
A Clockwork Orange (1971)
Jean-Paul Gaultier is just one of the many designers who've been influenced by this film – as have party-goers during Halloween. Noted for its grotesque violence, Kubrick's film was withdrawn from British release (at his insistence), because of real-life crimes supposedly inspired by the film. Set in a dystopian future Britain, it was a big middle finger to the relative stability of the swinging sixties. A meditation on violence and the discomfort (or lack of) which we associate with it, Kubrick's ultra-violence is ironic and satirical. The Droogs's, led by Alex DeLarge, have a dress code that is simple yet immediately iconic – white outfits accented with black bowler hats and canes. The use of these accessories is a clear mockery of class sensibility – they are rebellious yet uniform, perverse yet chic. Only Kubrick could get away with it.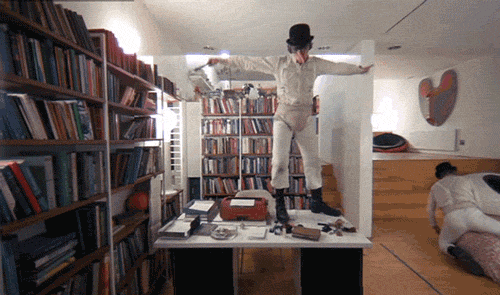 Blow (2001)
Blow is loosely based on the life on George Jung, the man who basically introduced America to cocaine in the 1970s through Pablo Escobar's Medellín cartel. In a line from the film, the protagonist says: "I went in with a bachelor's of marijuana and came out with a doctorate in cocaine." You can guess what happens next. The story plots the rise of Jung from small-time pot dealer to multi-millionaire cocaine kingpin, and his inevitable fall. A blonde, tousled Johnny Depp excels in the role, dressed in long-collared shirts, leisure suits and safari jackets, while Penélope Cruz brilliantly plays Jung's paranoia-riddled second wife.
Annie Hall (1977)
OK, so Annie Hall isn't strictly glamourous, but it is undoubtedly a stylish 1970s classic, directed by Woody Allen. He also stars in the Oscar-winning film as neurotic New Yorker Alvy Singer, who falls for Annie Hall (Diane Keaton). The sprawling, comic screenplay redefined the romcom, while taking an insightful and bittersweet look at relationships. A then-up-and-coming designer, Ralph Lauren created many of Hall's signature looks, directly inspired by Keaton's own wardrobe. Her easy, androgynous aesthetic set the decade's trend for mannish tailoring, spanning waistcoats, ties, floppy hats and fluid, wide-leg trousers. Annie Hall remains as funny, relevant and gloriously enjoyable as when it debuted in 1977, packed full of Allen's witty one-liners, stylistic kudos and sartorial swagger.