India's Most Enchanting Destinations
A riot of colours, sounds and smells, India is a joyful assault on the senses. Yet the vastness of the country can make navigating it a daunting prospect. Step in Abercrombie & Kent, which has conceived
India is fabulous, vibrant and complex in almost equal measure. From the splendours of the Mughal Empire and the Hindu rulers of Rajasthan and Uttar Pradesh to the wildlife of Madhya Pradesh and the urban blend of ancient and modern life in the cities, the country is spectacular, yet can also be bewildering. Its vastness and its rich history pose a challenge to the curious traveller. To move between palaces of mind-blowing architectural prowess (the glittering fort outside Jaipur; the royal lake residence at Udaipur), requires an expert guide, an authoritative driver, a certain determination and plenty of time (Indian welcomes are warm, but never rushed). Even better, seek the help of a discerning specialist, such as Abercrombie & Kent, who will seamlessly organise travel between far-flung reaches, arrange respite in the depths of central India's jungle, and line up a cultural introduction to the subcontinent in Mumbai – each destination singular in its delights.
Mumbai
Cosmopolitan glamour finds its expression in Mumbai, presenting an almost overwhelming mixture of colonial architecture from the British Raj era and fast-paced contemporary urban lifestyle. It is a place of two extremes: beaches of the western shores are juxtaposed by hectic traffic and huge, surprisingly industrious slums. Appreciating the apparent symbiosis between these Mumbai components is part of the challenge of a visit here. There is perhaps no better way than to join the locals on a morning jog along the Colaba promenade, followed by a meditation session, before either the sun or the city truly rise.
Overlooking the Victorian-era Gateway of India monument, the seafront Taj Mahal Palace Hotel is a lesson in metropolitan luxury. Much like Mumbai itself, it is a venue of contrasts (although this time, only stylistic): nearly 300 rooms are split between the original building of 1903 – full of cantilevered staircases, marble and white wooden beams – and a contemporary high-rise addition, with nine restaurants and bars between them. Petal footbaths await tired feet, plush furnishings are invariably fringed in gold and flawless service is de rigueur. With a masterful afternoon tea, sizeable swimming pool and new spa that hones in on hammams and traditional techniques, this grande dame is ideal for easing yourself into India.
Safari
While India is home to the majority of the world's wild tigers, these big cats are still shockingly rare. According to figures released by the Indian government in July 2019, there are now nearly 3,000 tigers living in the wild in India, which is a marked increase from four years ago – although conservationists are still anxious about the future. Almost in the centre of the country, the remote and ecologically rich Pench National Park is home to around 50 tigers. On the eastern fringes of the reserve is jungle-luxe Baghvan Taj safari lodge, a haven of just 12 bungalows. The accomodation is hewn from wood and surrounded by families of monkeys, each with a rooftop machan (viewing platform) for mid-afternoon lounging. The lodge's main building, meanwhile, serves an incredible variety of sweet curries and breads to fuel long days of wildlife tracking.
On a safari drive you quickly learn to keep a keen eye out for rustling leaves in order to spot well-camouflaged birds and mammals. In India, admission to tiger reserves is strictly controlled; at designated times in the morning and afternoon, travellers and their driver-guides may enter Pench park accompanied by a watchful government guide. Then, assigned one of three routes, they explore by vehicle, sticking to tracks – either natural or carefully created by controlled burning – that keep humans at a comfortable distance from wildlife.
This means that the Taj driver-guides are expert both in expectation management (there is every chance that your only encounter with a tiger will be the exhilarating sound of distant growls) and in the wonders of the forest's other flora and fauna. Wild dogs might tag team to chase a fawn in fateful terror into a lake; alarm cries from peacocks and deer echo through the silent forest; a leopard might prowl concealed along the tops of rocks; while jackals peer from behind pale kulu trees (which look so ethereal they are also known as ghost trees). The elusive tiger may be king of India's jungle, but it is by no means the only royalty.
Jaipur
Jaipur glitters in every sense, from the jewellery specialists for which it is perhaps best known, to the Rajput maharajas' magnificent Amer Fort near the town, its halls intricately decorated in thousands of mirrored mosaic pieces. In Jaipur itself, the City Palace is also a major attraction, and here colourful peacock sculptures guard a wealth of ornate archways. Just outside the old city, another of Jaipur's palaces has become a sumptuous hotel: partly decorated in the city's trademark pink, the Taj Jai Mahal Palace dates from the 18th century. Each room pops with Rajasthani colour. Nothing is done half-heartedly: sprawling grounds are home to peacocks (real), landscaped courtyards, pavilions, a formidable spa and pool, and a giant chess set. Just outside the Old City, sightseeing is but a short drive away, whether a guided tour of the astronomical instruments at Jantar Mantar, including the world's largest stone sundial, or visiting marvellous stationery stores off the beaten path.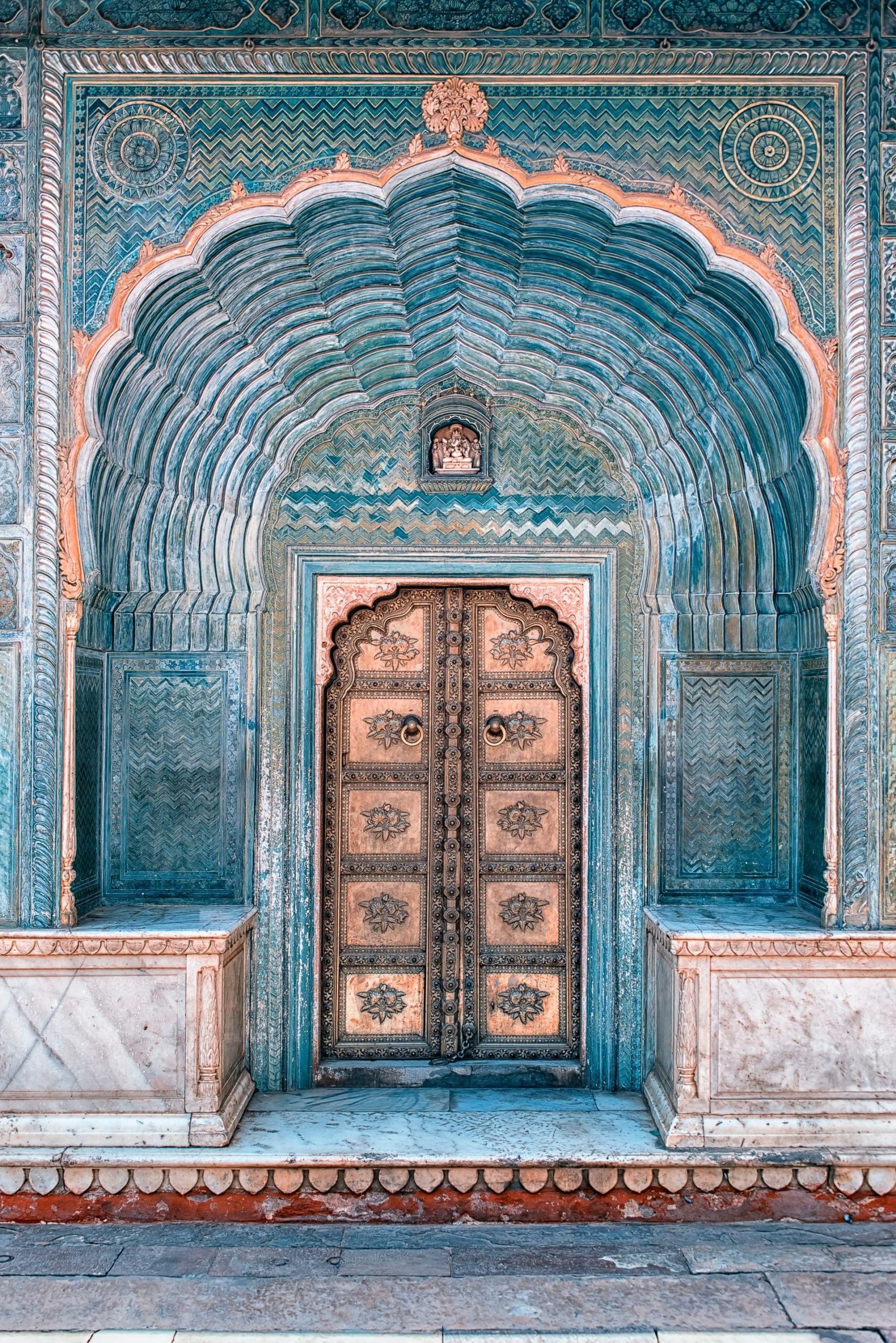 Udaipur
For all the bustle of other cities, Udaipur is the serene antidote, offering stunning palaces, Hindu temples and a sublime centrepiece in the form of Lake Pichola, crowned by the Taj Lake Palace: a whitewashed mirage of breathtaking elegance. Constructed in the 18th century as a summer getaway for royalty, it faces the restored City Palace across the water and has beautifully retained a sense of regal grandeur. To reach it, a small wood-panelled boat collects guests from a private jetty; a romantic flurry of petals scattered from the rooftop creates a fragrant carpet for new arrivals. Sharp 24-hour butler service is discreet and attentive in equal measure.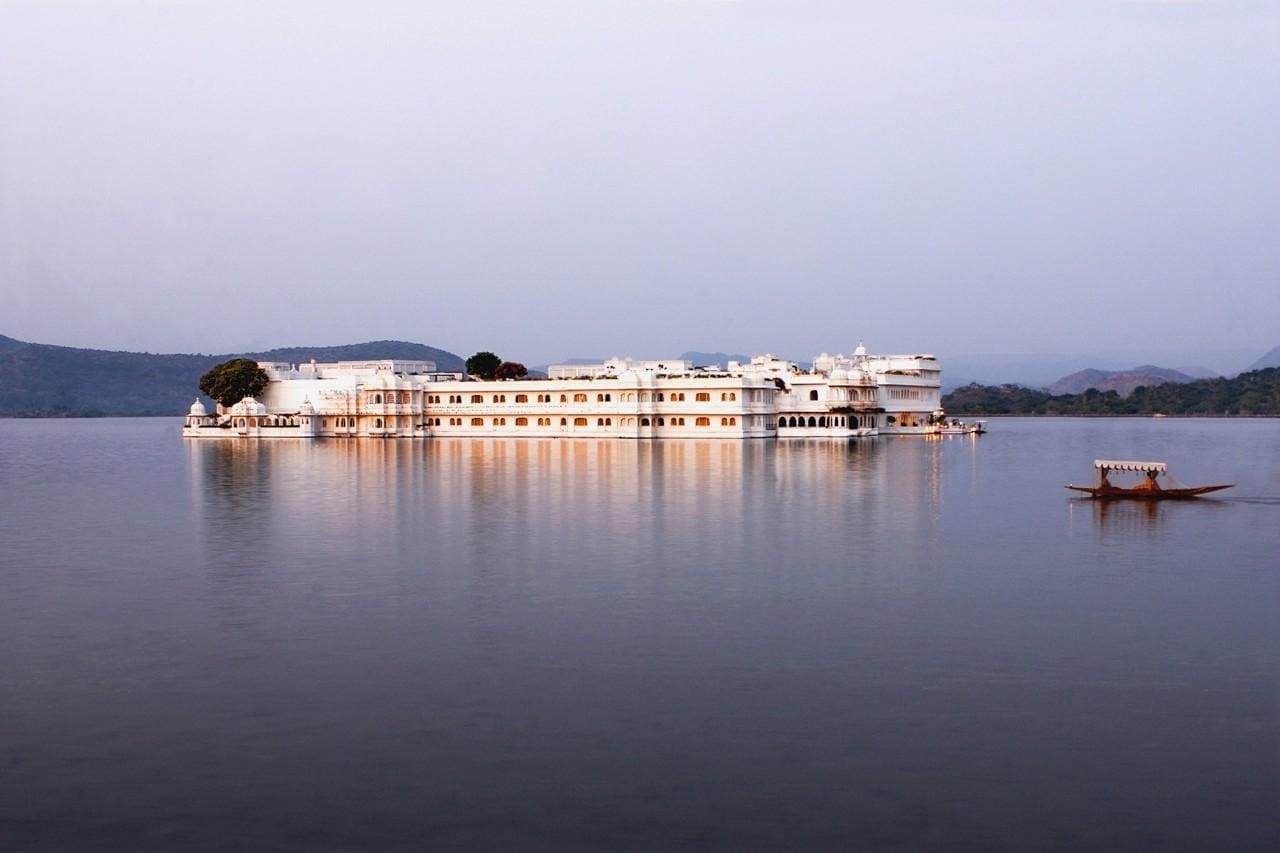 Albeit grand, this romantic marvel feels intimate. It is laid out around a picture-perfect courtyard, which is framed by lush palms. As dusk falls each evening, musicians and dancers put on a dazzling performance involving dizzying spins and piercingly high notes. The hotel's suites are elaborately decorated with lavish textiles, ornate antiques and wood furniture inlaid with mother of pearl. Inviting cushioned lounge nooks and marble bathrooms beg ultimate relaxation. Best of all are the suites, where jewel-toned glass windows light up the entire space, or a private terrace sees hundreds of bats fly overhead from the mainland every night. Romance is at an all-time high here, no more so than a table for two that might magically appear on the rooftop, with a thoroughly majestic view and dishes that are flavoursome without fault.
Abercrombie & Kent offers a trip starting from £3,425pp including all flights, private transfers, sightseeing and accommodation based on a bed & breakfast basis at The Taj Mahal Palace, Mumbai; Vivanta by Taj Ambassador Hotel, New Delhi; Jai Mahal Palace, Jaipur; Taj Lake Palace, Udaipur and Baghvan; A Taj Safari, Pench National Park on a full jungle plan (breakfast, lunch and dinner per day, park fees, forest guide charges and tea/coffee service), as well as flights with British Airways, abercrombiekent.co.uk