Is 1 Hotel Toronto the best new hotel in Canada?
Named best new hotel north of the border, the first Canadian outpost from the American eco chain provides a breath of fresh air in a city increasingly consumed by steel and glass
Do you remember when, near the start of the pandemic, the government launched its national retraining scheme and everyone had a right old giggle because waiters were being told to retrain as boxers, and classical music conductors were being asked if they'd ever considered a career as a chimney sweep? Well, if I lived in Toronto and my life suddenly went down the swanny, I know what I'd retrain as. I'd retrain as a window cleaner. Hear me out.
For half the year temperatures flit between a clement 16°C and a tropical 30°C (things get a little chilly come winter, I'm told, but I figure the blizzards will do the hard work once things get properly Arctic). You'd be plying your trade at the edge of Lake Ontario, three times the size of Devon, so ocean vistas (basically) and an enlivening sea breeze. It'd keep you fit. The views would be top. And you'd get to work by yourself (the dream, right?). Mostly, though, I'd retrain as a window cleaner because in Toronto you'd never go out of work.
If you thought the march of the soul-crushing high-rise apartment block was purely a London phenomenon, think again. Cheap-looking glass towers are hot in Toronto. They're called condominiums here, of course, but you already knew that from all those Botox-and-sunset-filtered American 'realty' TV shows.
The nasty glass buildings trudge all along the Queen Elizabeth Way. They peter out around Humber Bay, but not before making you wonder whether it's all some sort of racket; whether a group of window-cleaning wiseguys, in cahoots with a bunch of mob-affiliated developers, have muscled into the city's planning department and given everyone inside the shakedown with the threat of a squeegee up the jacksie. How else to explain how these canyons of doom towers ever get built? No one asks for them. Not in London, not in Toronto. It's not the sort of thing you expect to see in Canada. For whatever reason, romanticised preconceptions probably, you expect Canada to be better than that. It's not, sadly.
You can see just how filthy rich I'd be from Harriet's. The view from the ritzy rooftop bar of 1 Hotel Toronto is one big construction site of towering green glass and how'd-they-get-those-up-there cranes. Peer beyond and you can just about make out Toronto's lower-rise Entertainment District and historic Old Town, where buildings are made of brick and stone, and those that aren't aimed their architectural ambitions a little higher than the bottom line.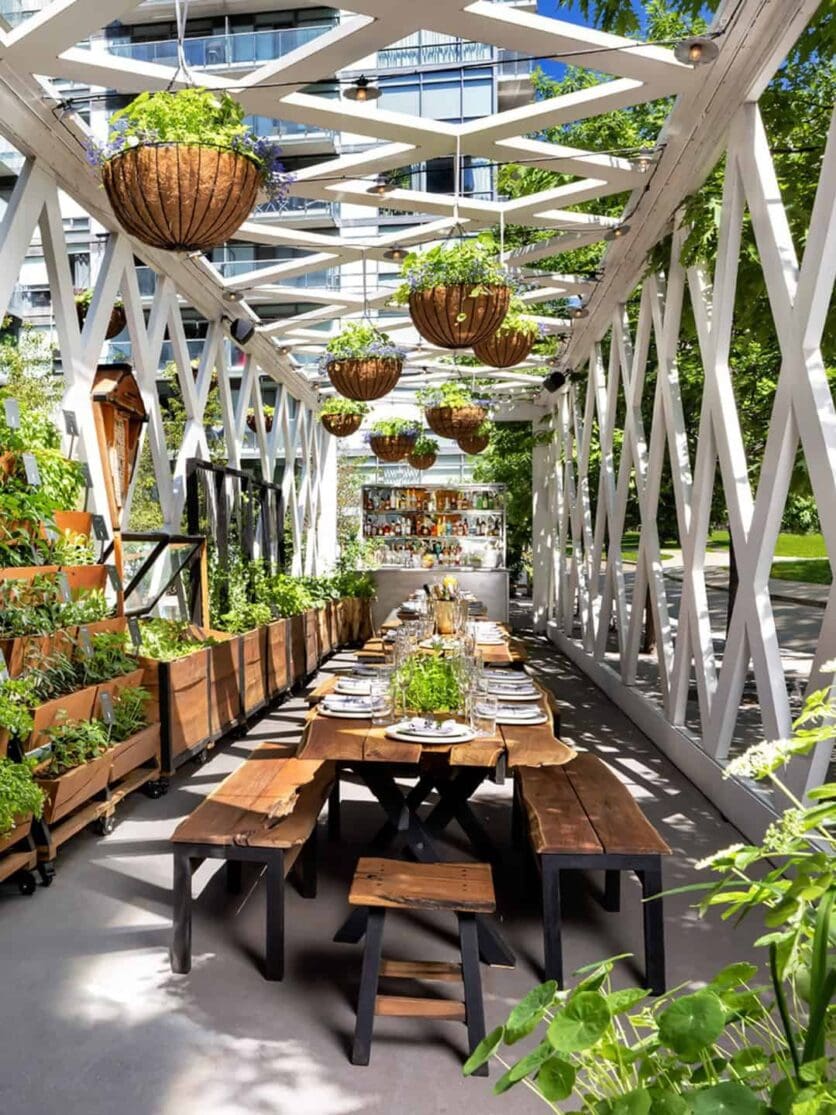 It will cost you tens of thousands of pounds to stay in the hotel below the bar. It's not that rooms at 1 Hotel Toronto are astronomically expensive. It's just that once you're home, the wife will insist on redecorating the entire house in a palette of greys and beiges. Those polished floor tiles in the hall will have to be ripped up and replaced with bleached floorboards; the living room furniture traded for tables and chairs made of reclaimed wood and carved stone; a living wall will have to be installed somewhere in the kitchen. And house plants. You'll need to get used to watering a lot more house plants. For your impending top-to-bottom home renovation, you have David Rockwell to thank.
At the beginning of 2020, the New York-headquartered biggest-name-in-interior-design was employed to turn the ageing Thompson Hotel, famous for throwing MBA after-parties, into the first Canadian outpost of the US-based eco-luxury hospitality group, 1 Hotels.
As well as a forest of salvaged wood and a reception desk carved from a chunk of polished white stone, upon the hotel's August 2021 opening, guests were welcomed to a lobby littered with giant granite boulders, shelves made from a dismantled barn (now bowing under a jungle of crotons, dracaenas and Madagascar dragon trees), and a stunning wall installation made from (what looks like) massive potpourri (I've massively undersold it there).
'Sustainable luxury' – buzzword klaxon – is 1 Hotels' shtick. So, an internal courtyard that doubles as a herb and vegetable garden, an on-site composting programme, and a promise to divert at least 85 per cent of waste away from landfill. The luxury bit? Stylishly-dressed staff, bottles of Clase Azul in the lobby bar and bedrooms that offer filtered water on tap and Veuve Clicquot from the minibar.
Bedrooms pay deference to that wood-heavy, rustic-chic, mid-century-modern, Japanese-Scandi aesthetic that's taken over interior design in the past half-decade: bleached woods, taupe walls, potted plants, stone tops, marble floor tiles, potted plants, wicker lampshades, beige sofas, potted plants, pattern rugs, hefty black taps, potted plants, pops of duck-egg blue and greyer-than-green sage and more potted plants. It's a little overdone.
In what can be a heavy, suffocating city, 1 Hotel Toronto is a breath of fresh air. And not just because of all those snake plants. Flora, its ground-floor cocktail bar, is as sophisticated as any drinking spot in Toronto's Financial District; the food served in its 1 Kitchen is as accomplished as it is IMMENSE; and it's not hard to see why the hotel's rooftop pool became the place to be among movers and shakers.
Last year, 1 Hotel Toronto was named on Condé Nast Traveller's Hot List of the world's best new hotels – the only digs in Canada to make the cut. The celebs are back too. We had breakfast next to a genuine Game of Thrones A-lister (clue: House of Lannister).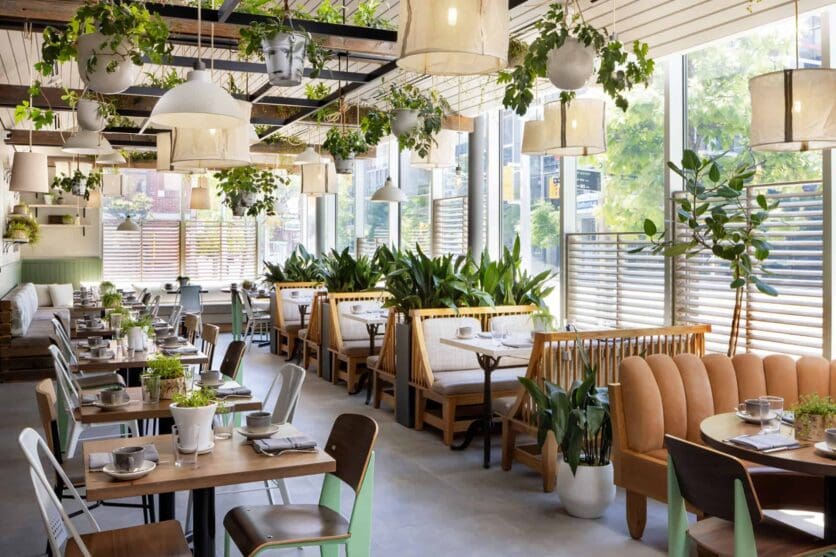 Back to my window cleaning ambitions. While we were in Toronto, a video of a construction worker went viral after the unlucky soul ended up dangling from a crane several hundred feet in the air. His screams somewhat put me off my career in glass maintenance. Thinking about it, I'd get into house plants. They're big business in Toronto. And in my house too. It's all about bringing the outside in, don't you know.
From approx. £425 per night, 1hotels.com
Read more: In conversation with Relais & Châteaux's Laurent Gardinier