Cheval Blanc Paris: Inside LVMH's luxurious new hotel
LVMH has plugged into the growing trend of luxury retailers investing in hospitality and property with the opening of a brand new hotel in Paris
The luxury travel market is growing – according to Business Wire, it is set to expand by $1.2 billion between 2021 and 2025.
Fashion brands are increasingly looking to get a slice of the pie: Versace, Bulgari, Armani, Christian Lacroix, Ralph Lauren and Dior are just a few examples of many that have put their names to luxury hotels, residences or resorts. The logic behind these investments is a halo effect – if you love the clothes, bags, and jewellery, why wouldn't you love the deluxe suite?
Always the early adopter, LVMH has been in on the action since 1998 when it launched Cheval Blanc. Named after a vineyard in Saint-Emilion owned by the luxury conglomerate, the first Maison was opened in the upscale ski resort of Courchevel in 2006. Cheval Blanc has since found homes in St Tropez, St-Barth Isle de France, Randheli, and now, Paris.
The first draw of the newest outpost is its enviable location – bang in the middle of the City of Light, facing the Left Bank and a stone's throw from the Louvre and the Marais. Then there is the building itself: the iconic La Samaritaine, a former department store designed by Henri Sauvage in 1928, and fitting home for a hotel that boasts LVMH sister brands including Christian Dior, Givenchy and Celine.
The interior of this Art Deco bastion has been reimagined by Peter Marino, who has worked on boutiques for Louis Vuitton, Fendi and Chanel among others. His signature flourish of French savoir-faire is detectable in every trim, tile and texture – Marino has integrated French artistry as often as he can, commissioning more than 600 native artists from ceramists and sculptors to painters, textile designers, furniture makers and photographers. Unsurprisingly, LVMH brands are omnipresent, from uniforms designed by Patou to a Dior spa on the ground floor.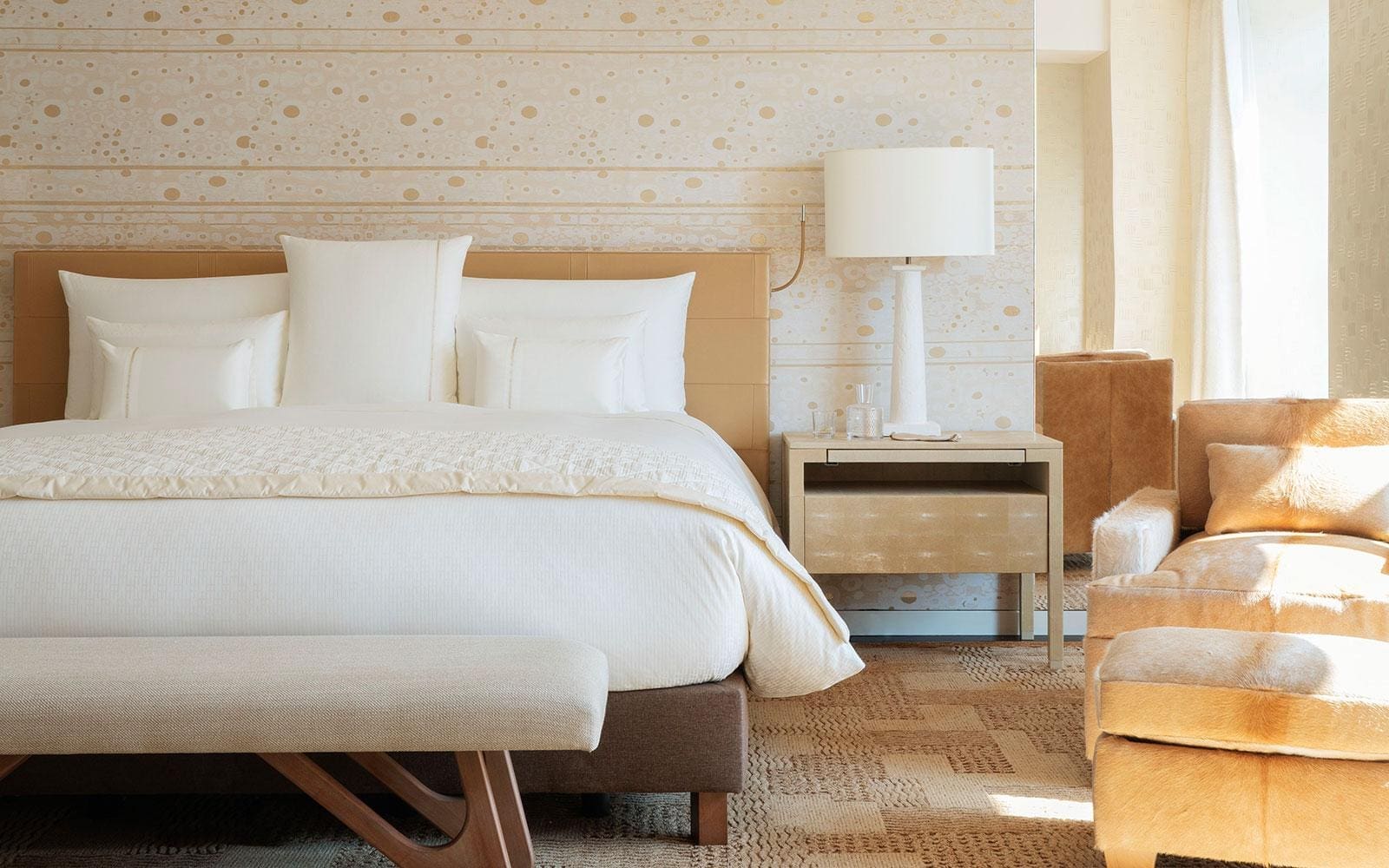 The spa is resplendent in textiles and homewares by the LVMH megabrand. Each of the six treatment rooms is individually themed: 'Sauvage', for example, has a table covered in alpha-quartz that appears to float. In 'Bonne Étoile', you look up at a ceiling adorned with light-up constellations. The spa also features a 30-metre swimming pool and a Rossano Ferretti Salon – we're already predicting queues out-the-door come Paris Fashion Week.
Cheval Blanc Paris ticks all the requisite boxes when it comes to cuisine, too. There are four restaurants here: brasserie Le Tout-Paris resides on the seventh-floor, while Limbar is the hotel's most casual eatery. Langosteria, the first to open outside of Milan, offers Italian fine dining. Finally, Plénitude is a crash course in French gastronomy run by three Michelin-starred chef Arnaud Donckele.
This is what is meant when people talk about elegance à la française – luxurious and painstakingly tasteful, yes – but also somehow confidential and exclusive.
Read more: Tuscany's Villa La Massa offers the best of all worlds